My husband and I both grew up near freshwater lakes and had so many wonderful memories of summers on the water with friends and family. We always had a dream that life would come full circle; with lots of hard work and sacrifice during the early years while raising our three sons, we could eventually settle in our own lakefront home.
When our youngest was in his last year of college, and my husband continued to travel a great deal with his job, we decided it was time to begin looking seriously for our retirement home. This led us to Charlotte, North Carolina. Charlotte felt like the perfect combination of convenience for travel, access to what the city had to offer and a beautiful lake that we quickly fell in love with. It was peaceful, beautiful and surrounded by woods and nature.
We are happier here than we ever could have imagined! Our family loves coming here; and hopefully, our home will be filled with a few "grand-littles" in the years to come.
Choosing a Lakefront Home
My advice to anyone thinking or dreaming about life on the lake is to consider a home that has potential but might need to be updated or might require repairs. Be patient—lakefront homes are in high demand everywhere.
Because our lakefront home has such a magnificent view, I wanted to enhance—not distract—from it. Here are my do's and don'ts for decorating lakefront home.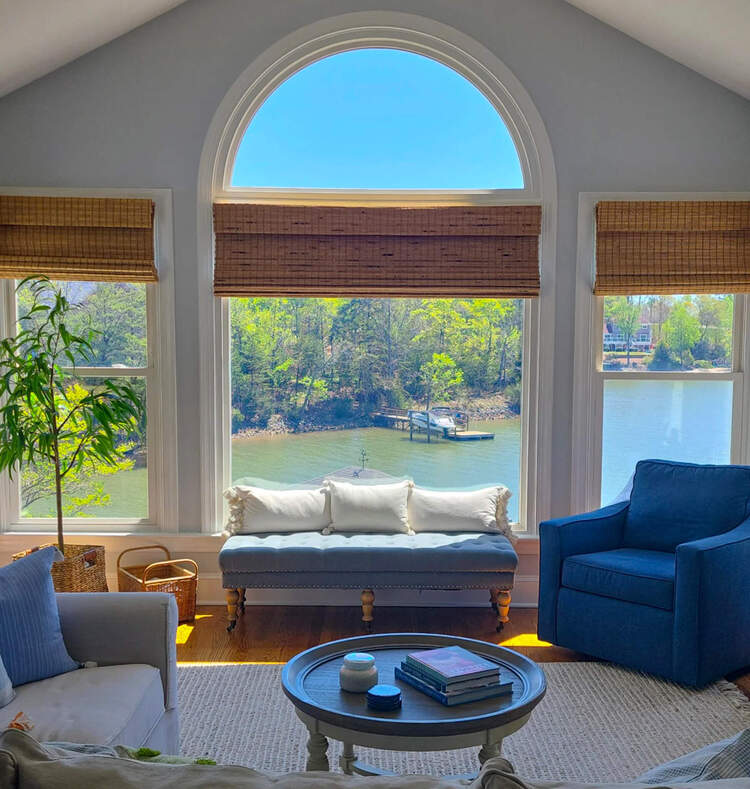 DON'T—
Shy away from color in your pillows and accessories! A bit of whimsy and an unexpected pattern make a space cheerful and inviting.
Hide your view or natural light with heavy draperies or window treatments. There are many options that provide privacy and are energy efficient. Cordless bamboo and Roman shades are two great possibilities.
Forget that rooms need to flow, especially with an open floor plan. Keep the paint and color schemes similar so that each living area flows seamlessly into the next.
DO—
Consider the size and scale of furnishings when purchasing and arranging a furniture layout to maximize the view.
Opt for balance in the furniture layout, considering the style and color of your pieces.
Utilize hidden storage options to keep your view uncluttered (baskets are always a great option).
Create cozy conversation areas and "lookout points" with your furnishings to optimize your enjoyment of Mother Nature.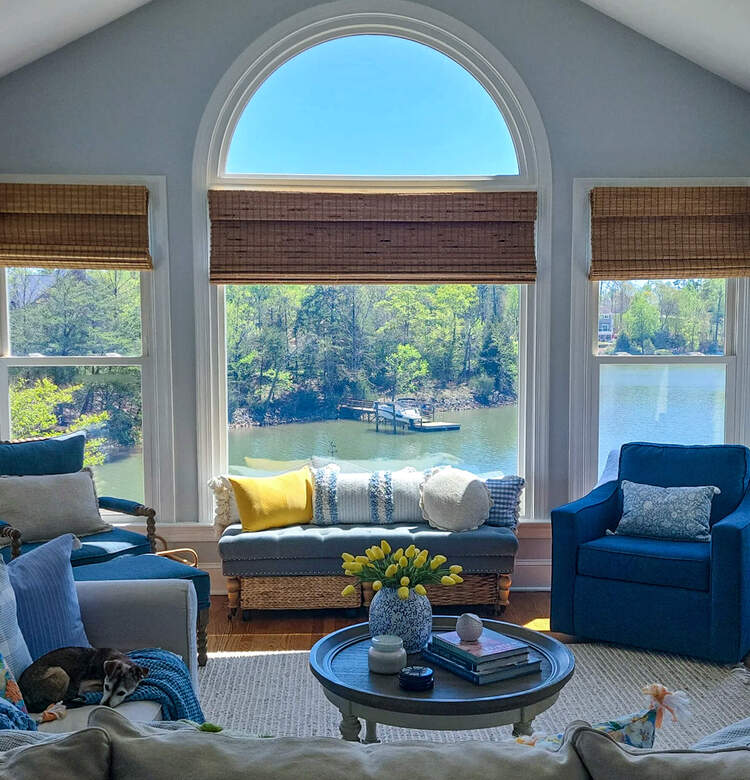 To see more of Lisa's cheery home, visit her on Instagram @asimplystylednest.
Feeling inspired by lakefront home design? Check out "A Modern Lakeside Dream: A Bathroom Transformed."
And of course, don't forget to follow us on Instagram, Facebook and, Pinterest to get your daily dose of cottage inspiration!