Whether you're renovating, updating or embarking on a custom build, the windows you choose will have a bigger impact on the look and feel of your room that you may realize. We chose Marvin for our Project House build because we loved not only for their timeless selection, but also for their innovative technology and commitment to quality. Thinking about choosing windows for your home? Here are 7 things to think about:
1. Weather Protection
Live in an area with extreme heat or cold? Marvin windows were a stylistic fit in our search for an aesthetic of a cottage/farmhouse, but they are also made to protect your home from harsh weather. "Our exterior finishes are designed to stand up to wind, rain and extreme sun," says Kris Hanson, Director of Group Product Management at Marvin. "A variety of glass packages (triple pane and with coatings) can also be selected to ensure that your home is as energy efficient as possible given the amount of sun that your home is exposed to," says Kris.

2. Storm Protection
One of the biggest factors in choosing windows is safety. Even extreme storms or hurricanes aren't a problem, as manyMarvin® products are also available with Impact Zone-ratings to meet hurricane requirements. "Windows and doors with impact ratings resist shattering when hit with intense wind, driving rain or debris. Depending on the requirements of your area, you can choose the level of protection you need to keep your home safe," Kris says.
"A variety of glass packages (triple pane and with coatings) can also be selected to ensure that your home is as energy efficient as possible given the amount of sun that your home is exposed to," says Kris.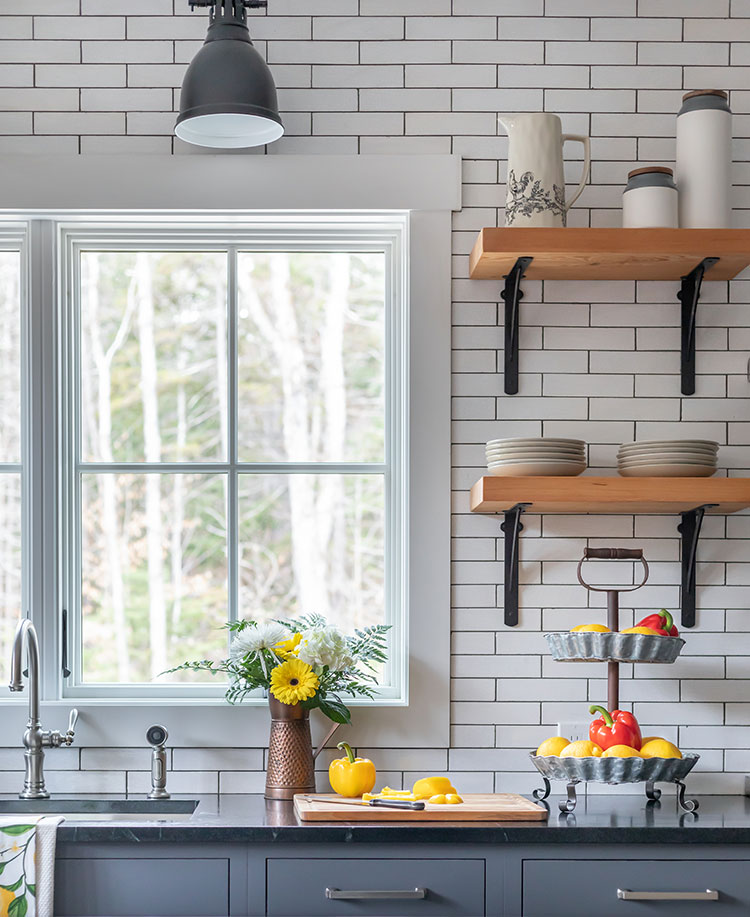 3. Durability
One of the tenants of the cottage and farmhouse philosophy we wanted this project house to uphold is the idea building things to last. Marvin's durability testing was a big draw. '"Energy-efficient dual pane glass with insulating gas is standard on all of our windows and doors," Kris says. "Whether it's our extruded aluminum cladding or our tough Ultrex® Fiberglass, our finishes resist fading, chalking and cracking, even in the darkest colors."
4. Form and Function
Most importantly, these qualities won't have an impact on how these windows look in your home, as balancing both the strength of the windows and their design is one of Marvin's priorities. When choosing windows, consider this marriage between design and visual match. "Our engineers work hard to ensure that the materials we use look as good as they perform, and that any structural elements required for the durability of the window don't change its profile," Kris says.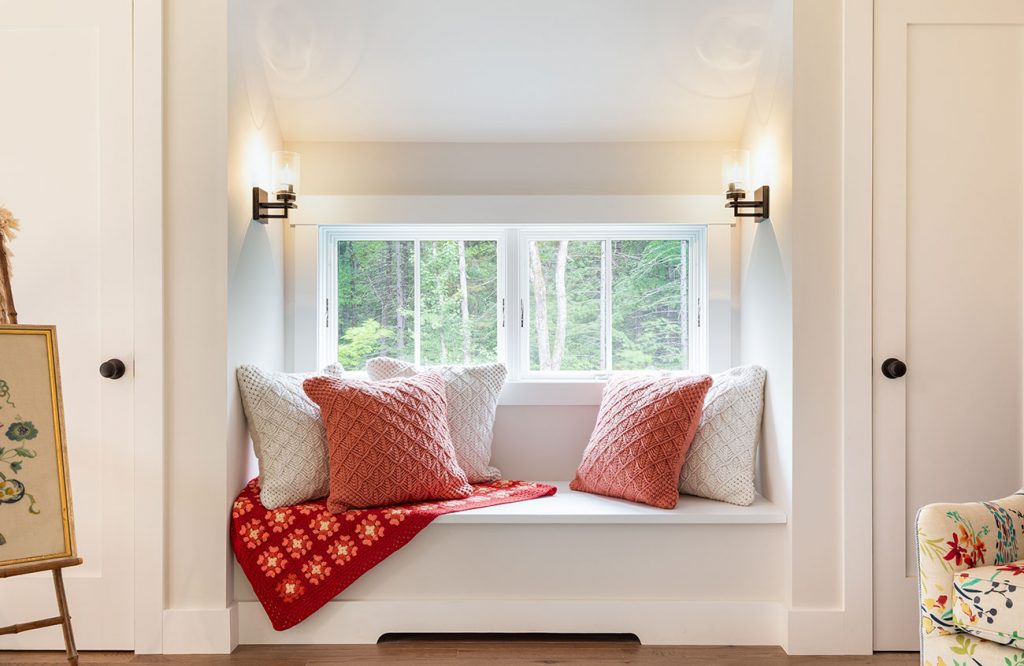 5. Customization Options
Anyone who lives in a historic home knows, peculiar nooks and crannies are part of the charm– and inconsistent sizing is often par for the course. While we built the Project House from the ground up, we were inspired by traditional architecture with lot of this unique charm. When choosing windows, think about how they will fit into the ambiance you're trying to create. This meant things like windows seats and awning windows in the Project House. Window seats are not only fun, inviting places to sit, but they can also serve a hidden purpose. "In this house, they conceal the baseboard radiators," says Jeff Rosen, Creative Director of Yankee Barn Homes. "In other houses, they can provide extra storage."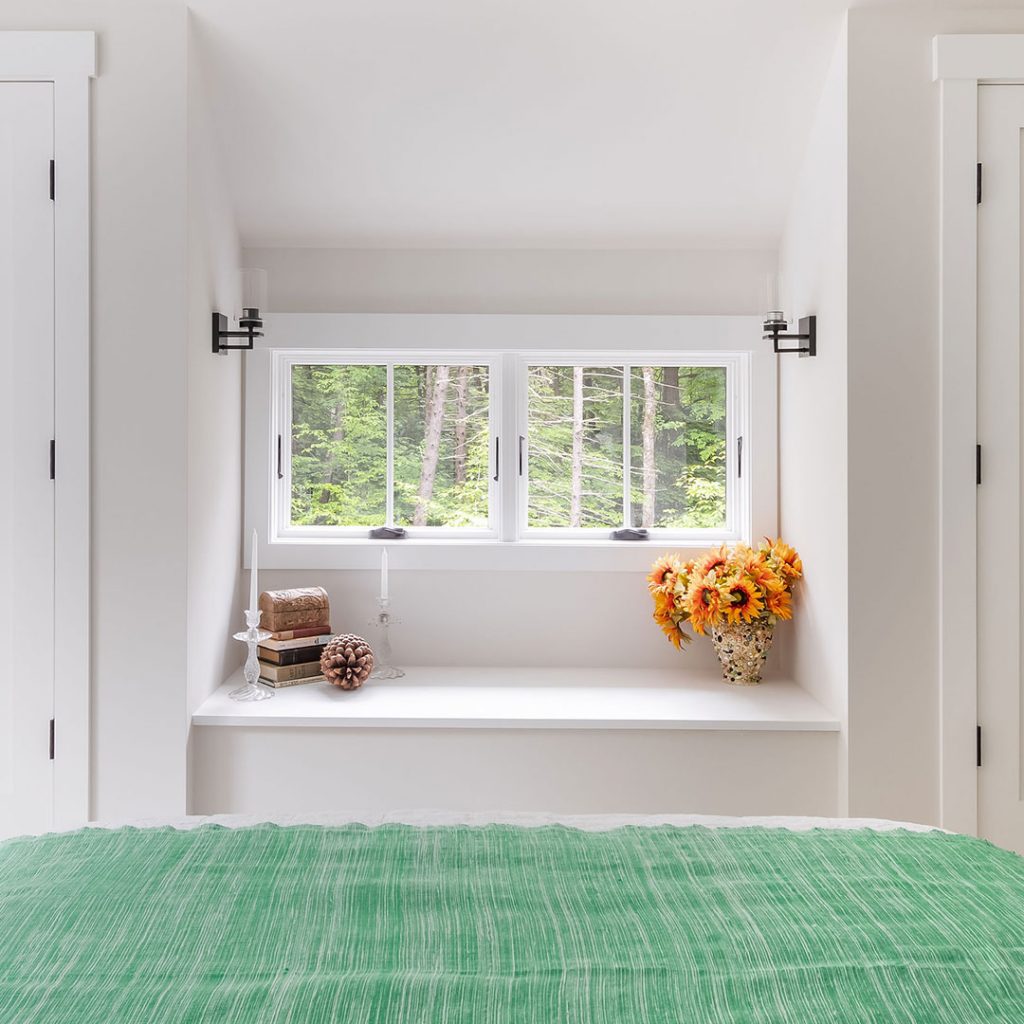 6. Ease of Use
Marvin's wide selection allowed us to find the best windows for our project. To let light into the charming window seats, Marvin's Essential Awning windows offered clean lines with top-hinged operation that can be ideal for hard to reach areas. The awning configuration also means the windows can be opened slightly for fresh air even on a rainy day. Flexibility in design allowed the look of these windows to integrate seamlessly with the other double hung and casement styles featured throughout the home.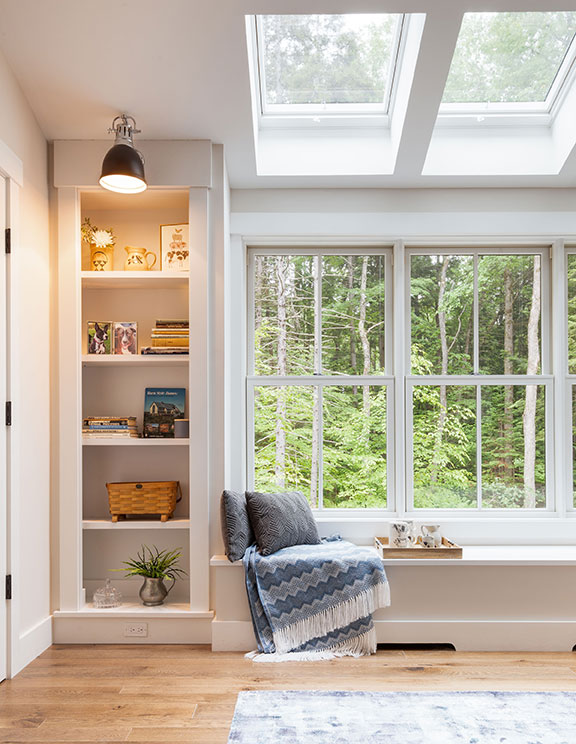 7. Wow Factor
We'll be honest, with the gorgeous landscape which surround our Project House property, we really wanted to create some wow moments. Marvin offered some stunning option in their vast product line that allowed us to be true to the farmhouse look while opening up the home with huge windows that let the light stream in and connect the home to calming nature views around it.
Want to get caught up on our Project House 2019 build? See how it all began here.
Of course, don't forget to follow us on Instagram, Facebook and Pinterest to get your daily dose of cottage inspiration!