Ethel is 78 years old and lives in a quiet neighborhood in the suburbs of Chicago. She's charming, timeless, welcoming—and Ethel is a house. When Londen Huffman and her family bought a 1,200-square-foot charming Cape Cod home in 2014 and immediately started renovations, the house didn't seem willing. Things weren't going the way Londen planned, until a friend gave her some unconventional advice.

"My friend said, 'You really need to name the house. Tell her about your family,'" Londen says. "So we named her, told her we wanted to make her pretty, and things started working after that."
Since then, it's been a labor of love for Londen to bring Ethel to life and make a home for her family: husband Mark, their 12-year-old daughter and a cat.
Charming Cape Cod Renovation
Londen chronicled some of the renovation progress on her blog, Sixty-Fifth Avenue. As with all good construction, they started with the base by uncovering and restoring the hardwood floor—and, in the case of the kitchen and living room, by laying new oak hardwood floor and sanding and staining throughout to match.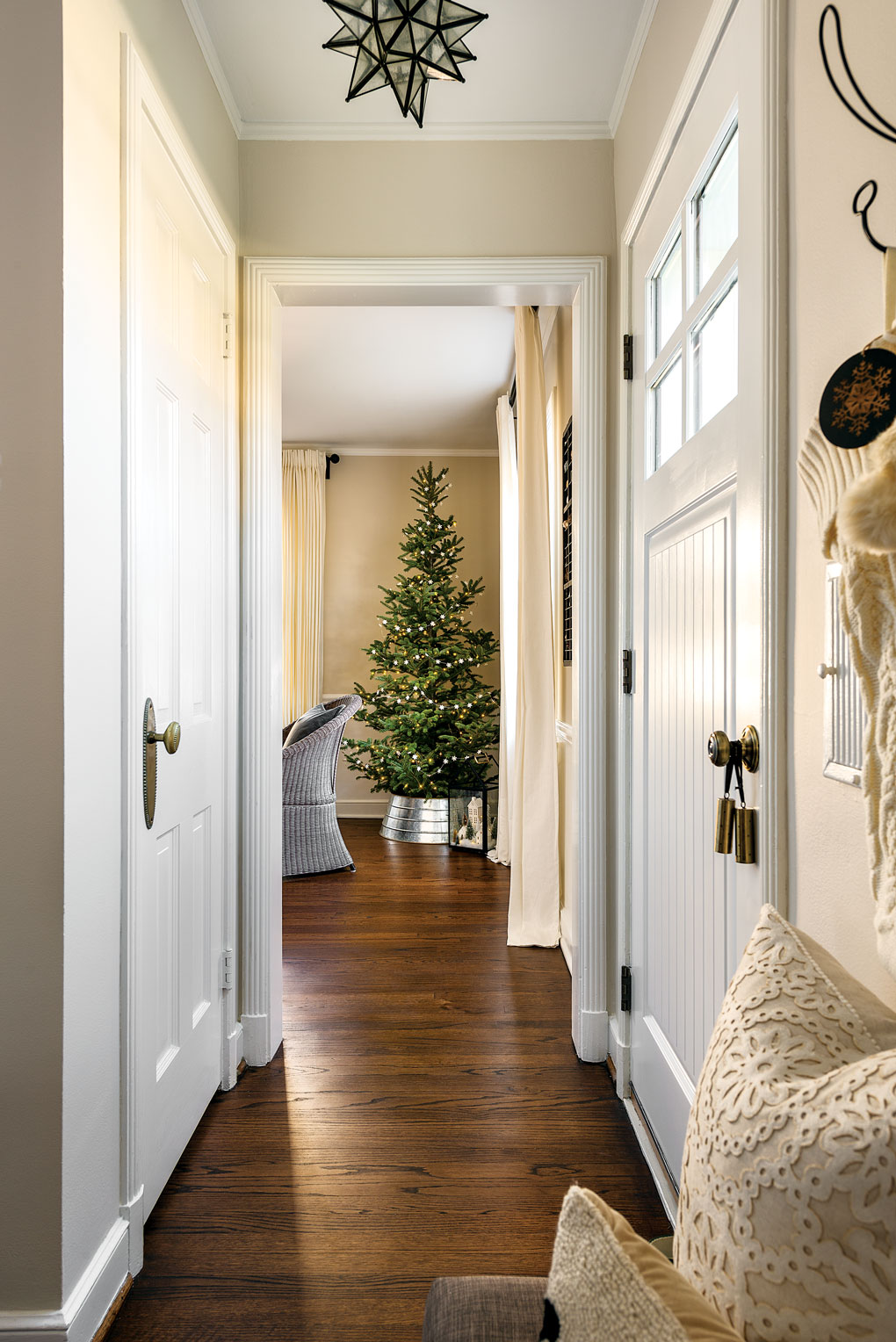 The first room to get a makeover was the kitchen. White, Shaker-style cabinetry, wood countertops and a farm sink replaced bland, outdated hardware, and they installed a dishwasher for the first time in the almost 80 years since Ethel's construction. Subway tile from the countertops to the ceiling polished off the look. In all, from start to finish, the Huffmans spent two years renovating the kitchen, from the early steps of replacing the floor and new drywall ceiling, to the finishing touches of crown molding and subway tile.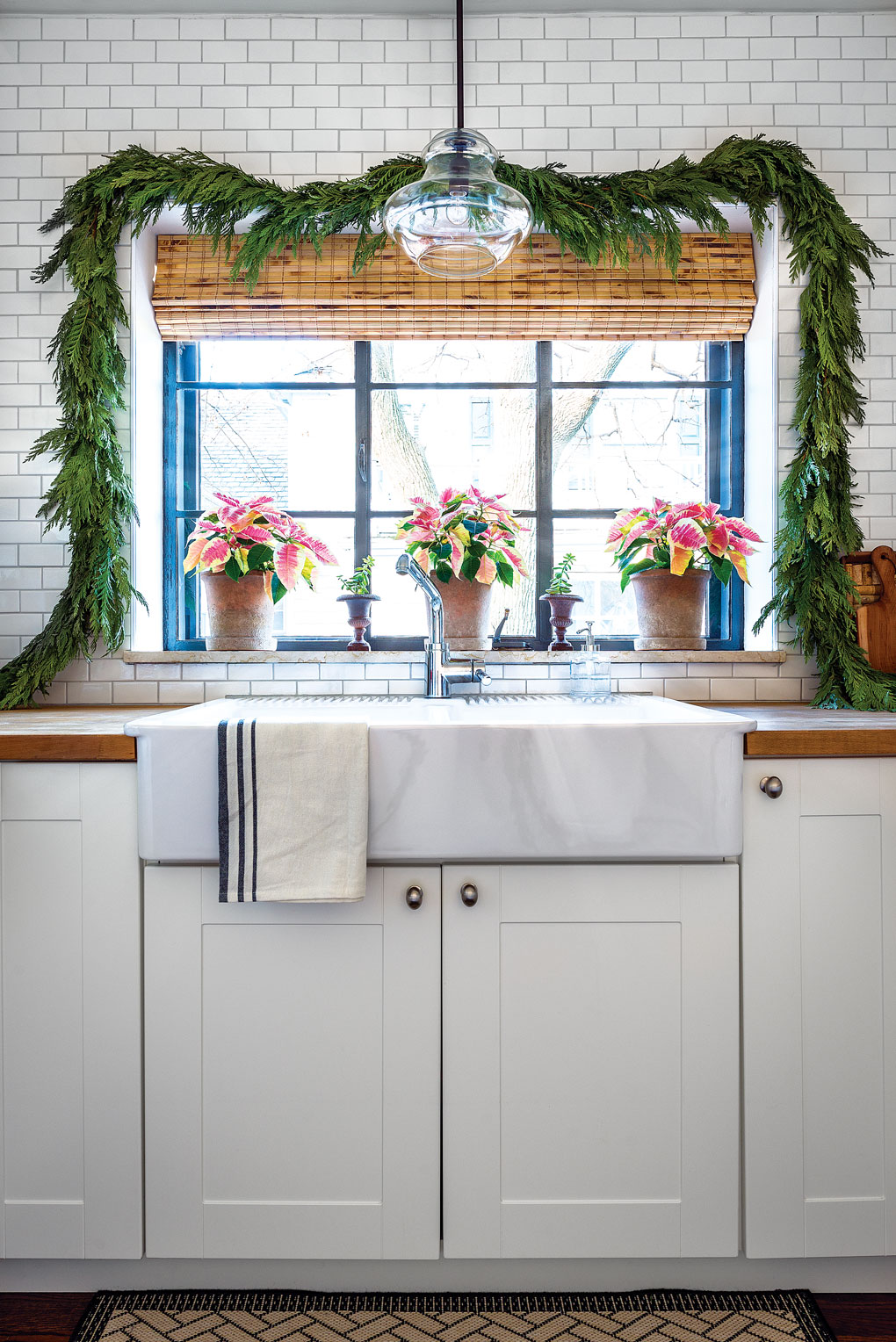 Another bit of makeover magic was the dining room. When the Huffmans moved in, the room's busy, red, floral wallpaper was a major eyesore. "I really couldn't handle being in this room for very long," Londen recalls on her blog. So about six months in, once some larger projects were handled, they tackled the dining room.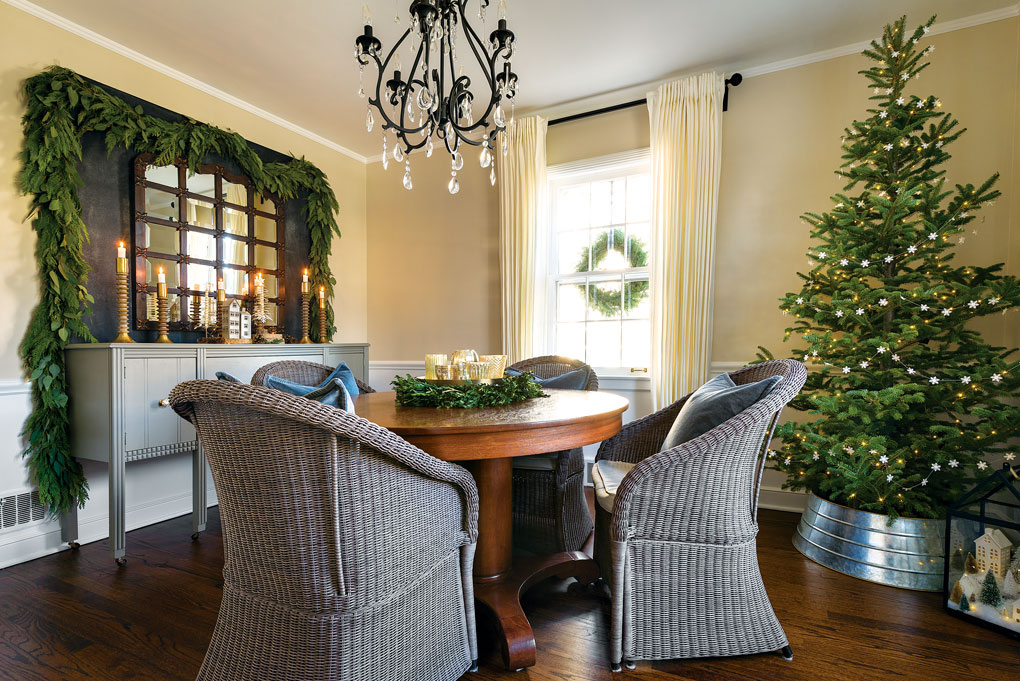 They painted the room a soothing oatmeal color, and Londen couldn't resist adding a section of chalkboard paint above their buffet. The Huffmans had chalkboard paint walls in their old house, and Londen writes that she knew she'd miss it, so it was a must in the dining room.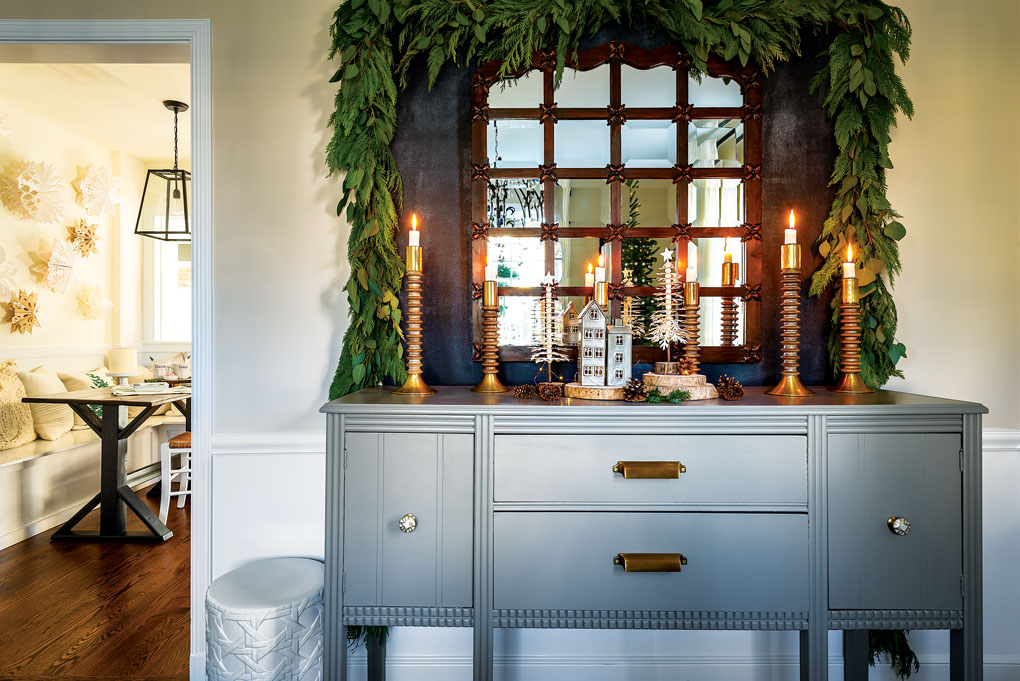 Once the paint was taken care of, the rest of the dining renovation was relatively simple—just a matter of choosing the right chairs. After some experimentation, Londen went with a set of four large, comfortable wicker chairs.
In Tune with Nature
For her, plants certainly don't just belong outdoors. They're a major element in making this charming cape cod feel like a home. "Always have plants," Londen says. "I really think that makes the space feel cozy and brings it to life."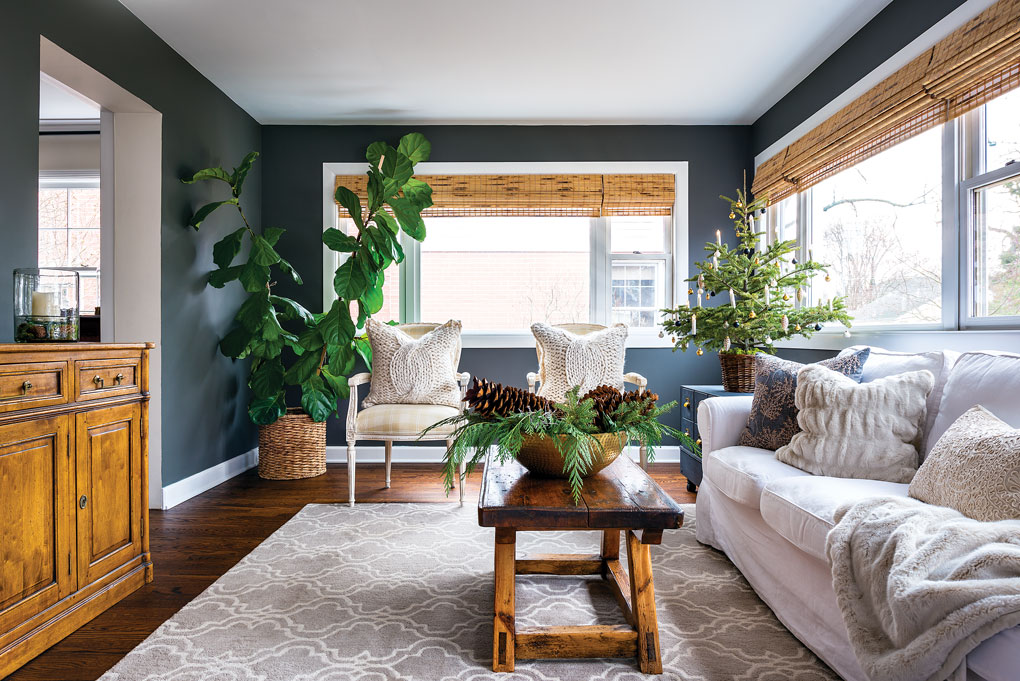 In a home with a neutral palette, like Londen's, the greenery of plants and their brightly colored flowers shine all the more. There's no shortage of choice either; house plants come in all shapes and sizes, from fiddle leaf figs that can grow taller than the windows, to hanging ferns that spill over pots to drape down from the ceiling, to tiny succulents that grace side tables.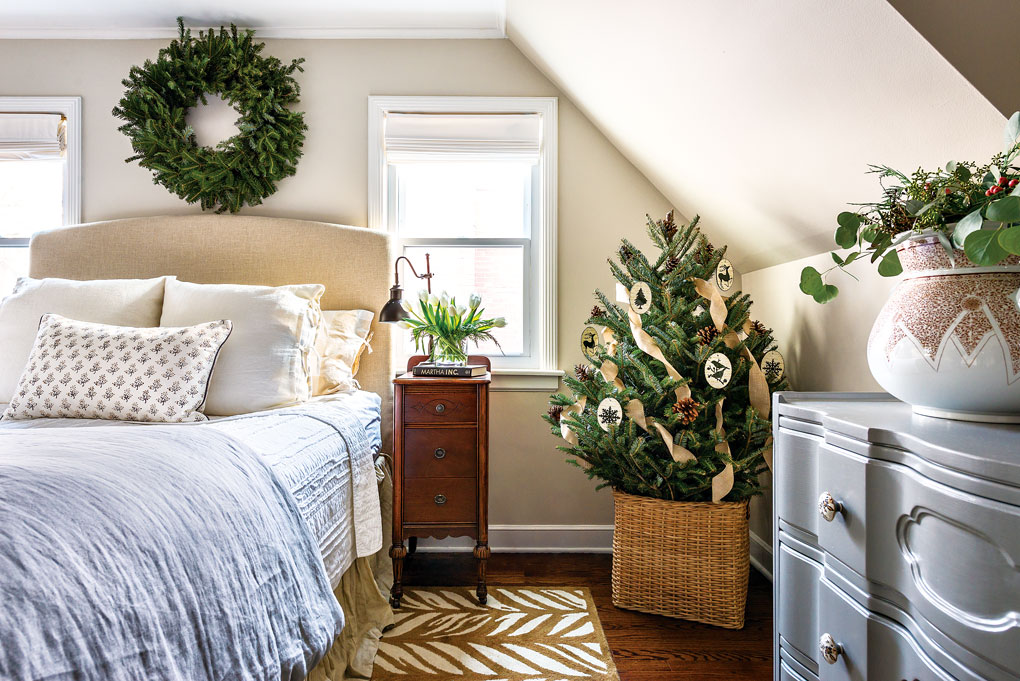 "I always bring in different things from the seasons," Londen says. During spring, for example, she'll decorate with tulips. And during the holidays, greenery fills the home with color and freshness.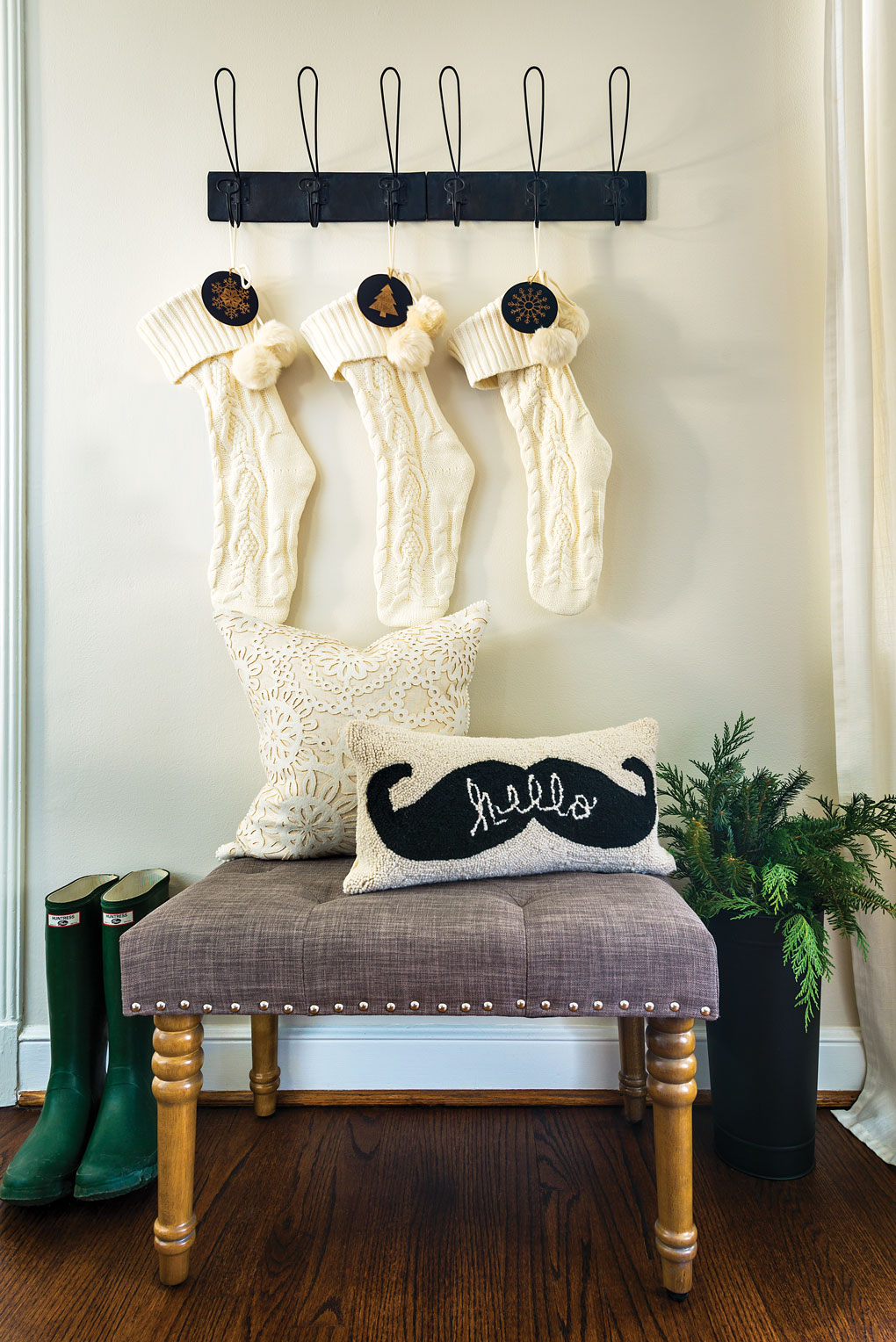 They have two Christmas trees this year, one in the dining room and one in the living room, and go with fresh, real trees every year. It's a family tradition to go out the day after Thanksgiving to pick out a tree, cut it down and bring it home to decorate. "It makes the house smell so good," Londen says.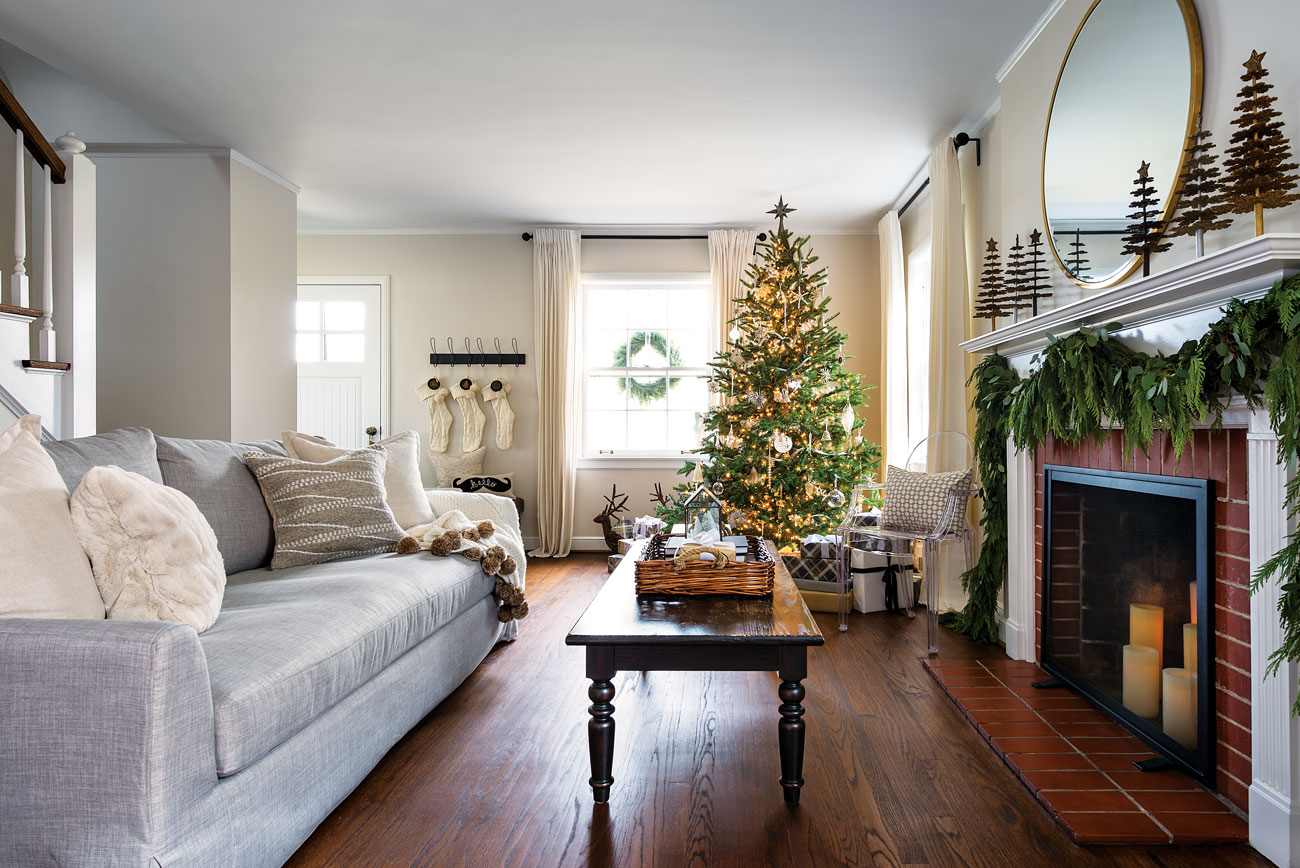 Teamwork Makes the Dream Work
Homemaking is a team effort in the Huffman household. Londen, the designer, says she comes up with the ideas, and Mark does the heavy lifting. "He's the one who makes all my ideas come to life," she says.
Small improvements that give the home character are everywhere; in particular, the kitchen banquette. Mark cut a hole in the door leading to the basement for the cat, since that's where the litter box is. The banquette itself was one of their larger projects. Mark constructed the built-in bench himself, using plywood from Home Depot to create a shiplap look. The bench includes some much-needed storage space, and the seat has a generous lip to create room for feet, so sitting feels more natural than just perching on a flat bench.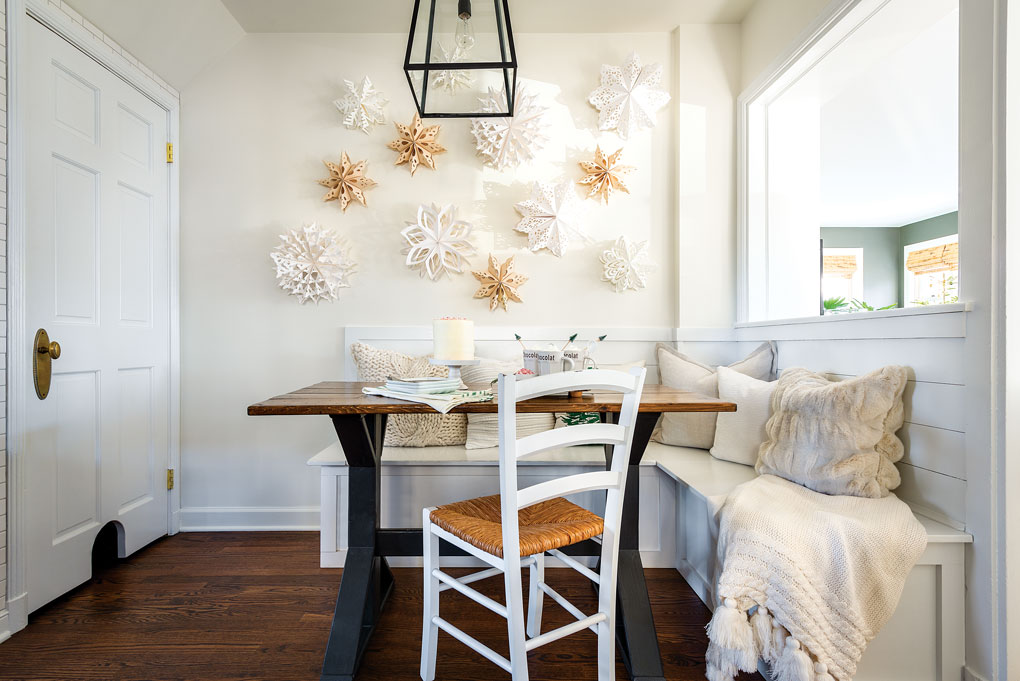 Outside of the family room, Londen says the kitchen banquette is one of their favorite spots in the house. "We do spend a lot of time there," she says. "We play a lot of games on that table, and my daughter does her homework there."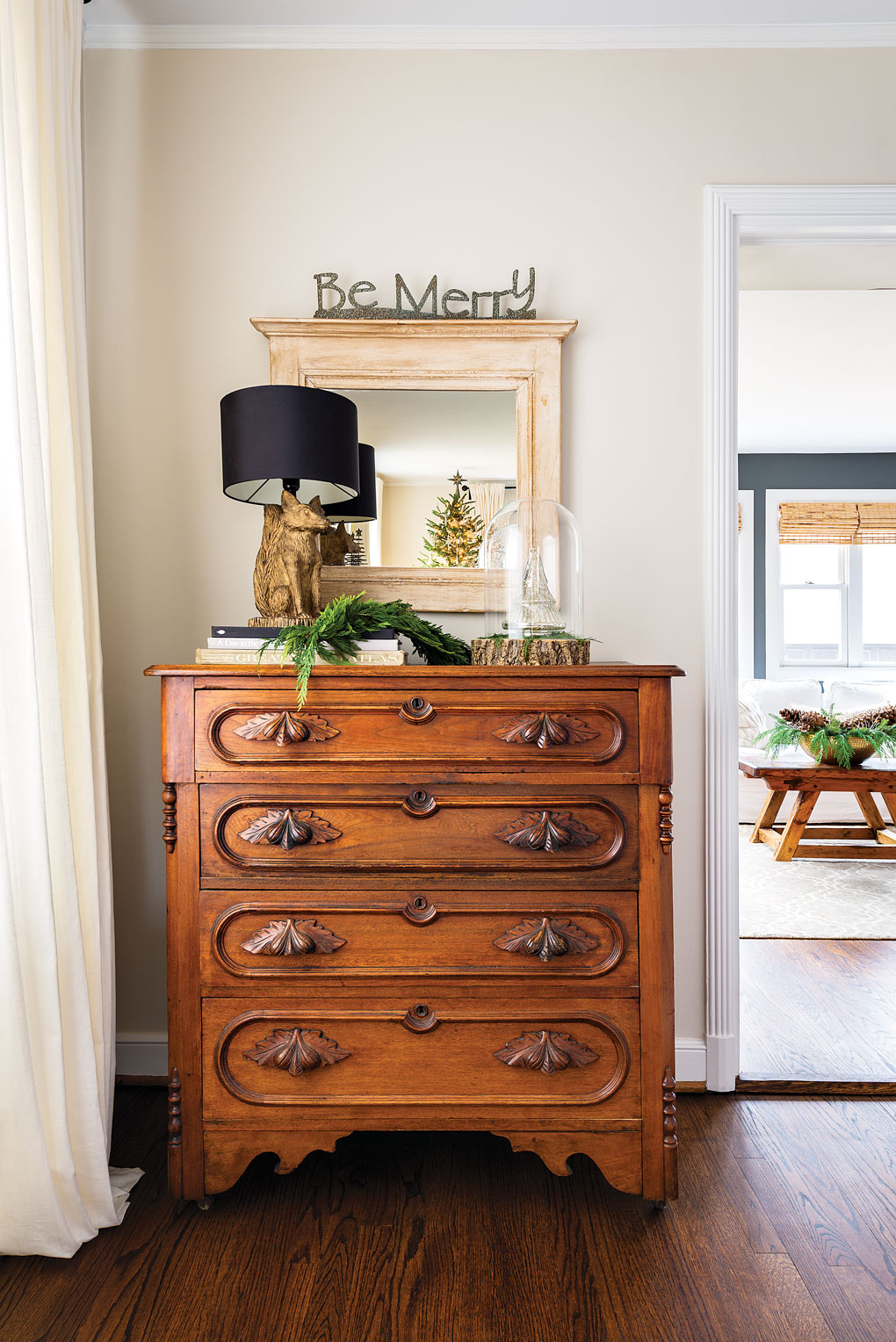 While Ethel may have been hesitant at first, the love and devotion the Huffman family has poured into this charming cape cod has paid off over the years.
Want more simply beautiful ideas? Check out this post on A Christmasy Bungalow.
Of course, don't forget to follow us on Instagram, Facebook and Pinterest to get your daily dose of cottage inspiration!