Welcome back to our weekly column, where we find beautiful cottages for sale in cities around the U.S. This week, we put the spotlight on Seattle and found plenty of classic cottages looking for new owners! Last week, we toured Austin. This week, take a look at what we found while exploring the cottage market in the Evergreen State! These 5 handpicked Seattle area cottages for sale are perfect for the classic cottage lover. From floating on the lake to utilizing small living spaces, these Seattle cottages for sale are as unique as they are beautiful. We hope you enjoy our favorite picks!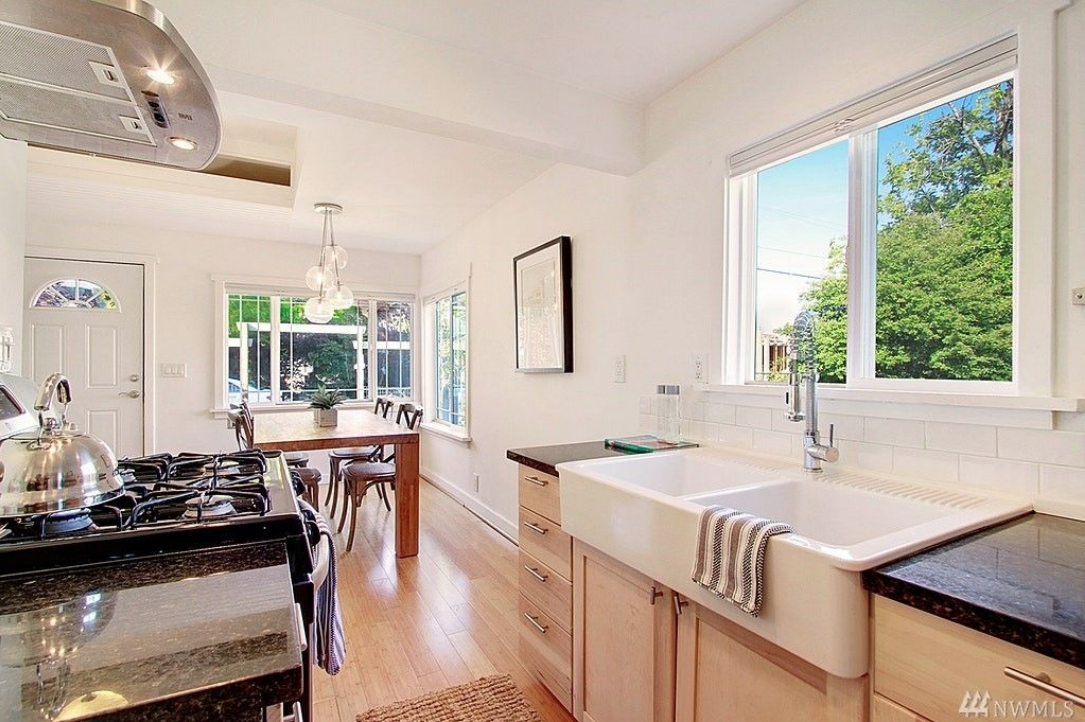 $415,000, 630 sq. ft.
Originally built in 1917, this adorable cottage melds modern and classic together. The 2 bed/0.75 bath may sound cramped when you hear 630 sq ft, however a clever open floor plan makes this cottage feel airy and bright. The exterior gives off a classic cottage vibe, thanks to warm wooden panels and playful blue front door. The simple white-framed paned windows are a key element in classic cottage design. The modern interior is light yet homey, beautiful bamboo flooring laid through warms cottage's interior. This cottage even hides a spacious backyard, perfect for gatherings, gardening, and play!
Well placed in Greenwood, a busy, family-friendly, and affordable neighborhood in Central Seattle, this cottage has the convenience of living next to top rated schools, chic coffee shops, and fun specialty shops.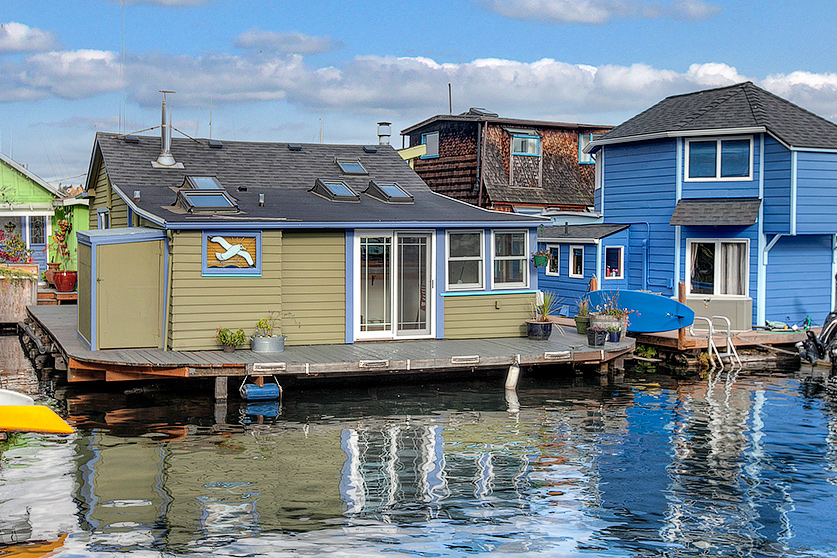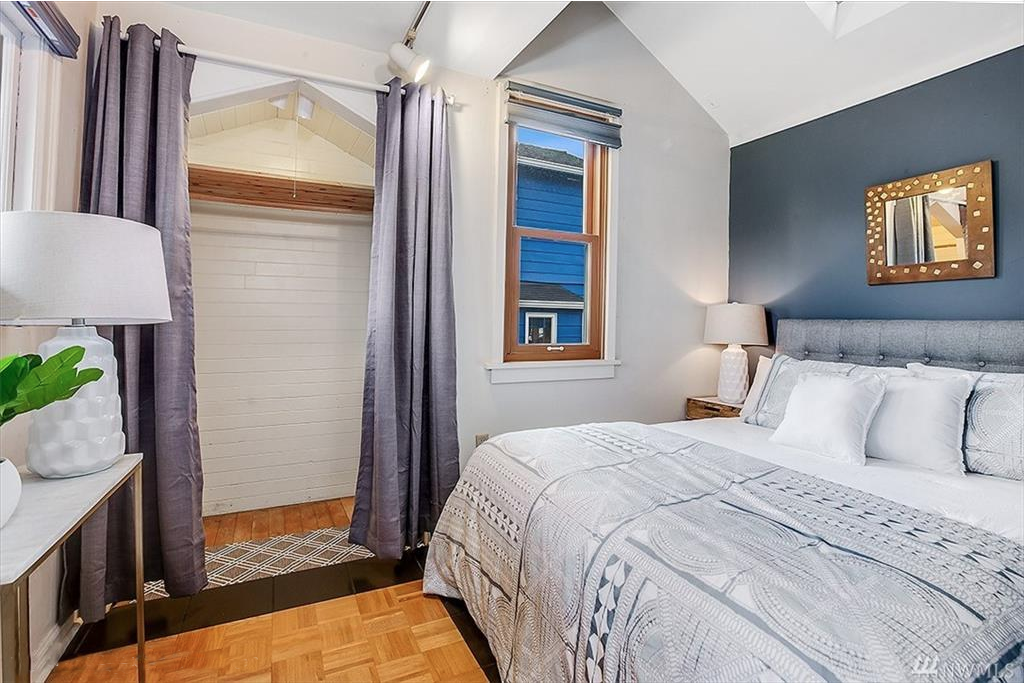 $699,000, 700 sq. ft.
This 1920s classic cottage has an unique twist: It's floating on Lake Union! Its interior is crafted for comfort, with hardwood floors and spacious ceilings, additional skylights for natural light and openness to the 2 bed/1 bath home. Contrary to typical boathouses, this cottage has a full bath with plenty of space to relax and the bedrooms are complete with sunny skylights of their own. The kitchen's smart open-concept design, as well as its windowed dining nook, showcases this cottage's wide spanning views of Lake Union while a sliding door out to the back patio gives homeowners the chance to take a quick dip or grill lakeside.
Located near in the upcoming neighborhood of South Lake Union, this cottage gets lake views and the comfort of booming community growth. New businesses and shops open frequently, while the corporate headquarters of Amazon.com recently relocated to the area, bringing a wave of new residents to rejuvenate the area.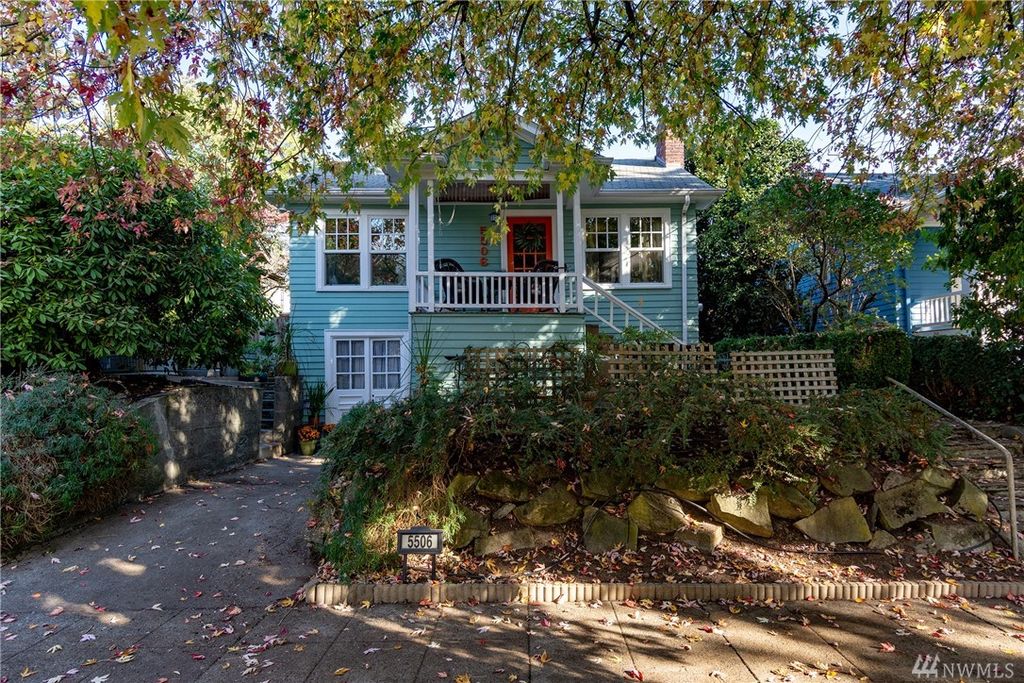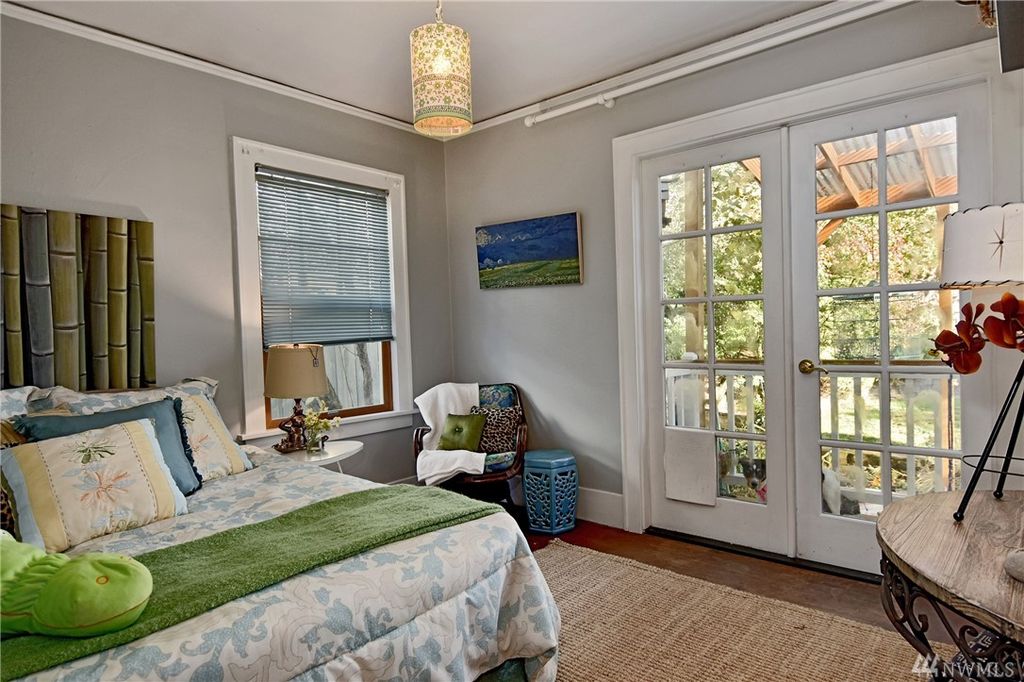 $769,950, 1,880 sq. ft.
This charming cottage was constructed in 1925 and is located in the cozy neighborhood of West Woodland. Painted an eye-catching aqua, this 3 bed/2 bath cottage features an open floor plan and abundant backyard, with a spacious living room, dining, and kitchen area inside. The tiled wood fireplace in the living room gives the cottage rustic charm, while the hardwood flooring throughout provides cohesion to the connecting rooms. You feel a natural flow through this classic cottage, thanks to its floor plan and well-matched interior architectural elements. The cottage even houses a semi-finished basement, perfect for a dream office or den.
The small neighborhood of West Woodland, "feels like a small town within the larger City of Seattle." The residents of West Woodland enjoy a tight knit community with restaurants, cafes, and shopping just a short walk from their homes, as well as plenty of highly rated schools to choose from!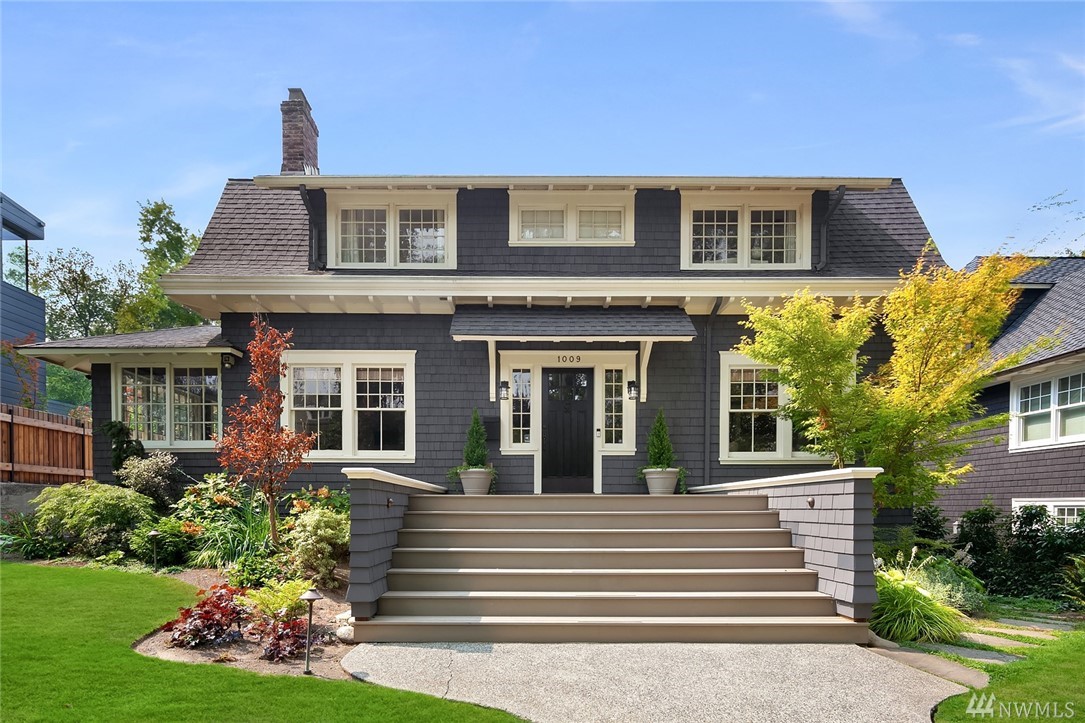 $2,850,000, 4,300 sq. ft.
This stylish 1905 cottage renovation combines classic design with vintage charm. The exterior charcoal paint creates a modern curb appeal, while the classic, clean interior is a great canvas for cottage furniture pieces to shine. This spacious 5 bed/4 bath cottage is every cottage lover's dream! Its circular floor plan provides a unique flow, each room designed with simplicity and refinement in mind. The modern kitchen is airy and fresh, all accented with stainless steel, while the adjoining dining room is the perfect gathering place around a rustic, wooden round table. Each bedroom offers plenty of room to grow and design, windows providing the perfect peek of the outside. This cottage even features a finished lower level, complete with guest room and a 600-bottle wine cellar!
Located in the highly-coveted neighborhood of Washington Park, residents of this east Seattle neighborhood enjoy trendy coffee shops, beautiful public parks, and easy commutes due to its great location near Downtown Seattle.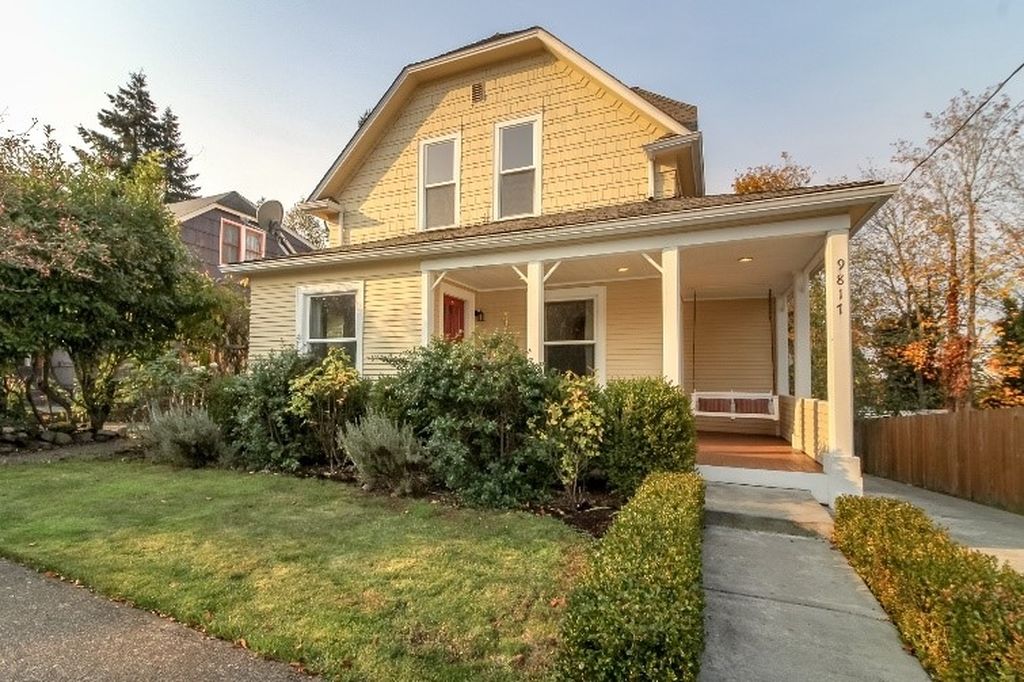 $515,000, 2,230 sq. ft.
This darling yellow farmhouse-style cottage was built in 1914, and was carefully renovated to keep up with modern conveniences. Located in the neighborhood of Rainier Beach, this cottage is enjoying a resurgence in popularity as residents look to move to the quiet neighborhood for more affordable housing with great views. This classic cottage keeps its original Craftsman style intact, the frame of the home distinctly vintage in appearance. The interior has an open, yet still traditional cottage design, begging for the perfect pieces to be arranged within. The cottage also features a great backyard for playing or partying, including a back porch and patio extension, as well as a finished lower level.
Within the neighborhood of Rainier Beach, residents are surrounded by nature and touch the corner coast of Lake Washington. The neighborhood is proud of its cultural diversity and houses many different parks to visit. Rainier Beach High School is also highly rated, Seattle's 2018 School of Distinction Award winner.
Want more of our cottages for sale? Check out our Austin cottage finds!
Don't forget to follow Cottages & Bungalows on Facebook, and never miss a new post!