Finding your ideal cottage in the perfect location may be easier than you think if you know where to look! We scoured the listing for cottages for sale in Atlanta and found the most promising properties. It's a town rich with culture and historic home gems. So whether you are looking for a fixer-upper with some good bones, or a fully renovated cottage ready for your dream designs, there's something here for every budget. Check out our picks below to see what we found!
1361 Middlesex Avenue NE, Atlanta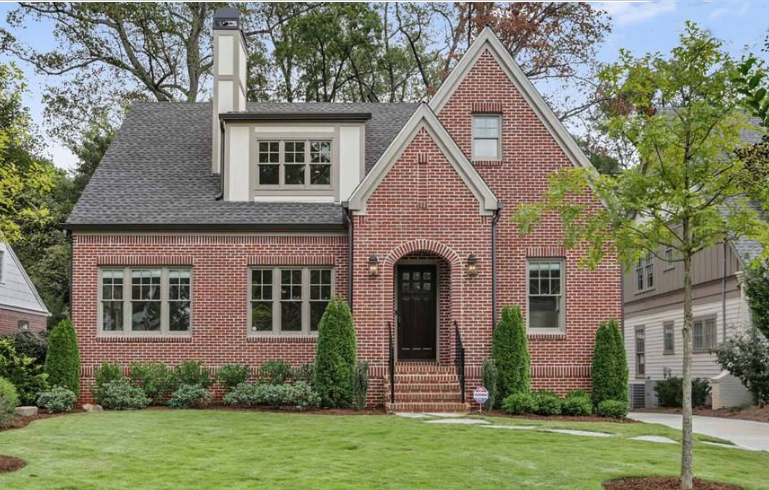 $1,589,000, 5,000 sq. ft.
This classic Tudor makes you swoon just from its curb appeal. A new build from 2017, this home is advertised as "much bigger than it looks." A whopping 5,000 sq ft, this 5 bed/5 bath Tudor is generous on space as it is with style. It's simple yet chic interior gives way to its classic design, the multiple rooms throughout the home painted a clean white, a perfect blank canvas for your own furniture pieces. This Tudor features a few unique additions, such as the detached 2 car garage, complete with a finished guest suite located directly above.
Located across town from the prestigious Georgia Institute of Technology, our Tudor on Middlesex Avenue lies in historic Morningside, an exclusive neighborhood with old grown trees lining the streets and considered one of Atlanta's "walkable neighborhoods." The community enjoys the commercial districts just a short trip away, great schools, and the local farmer's market open every Saturday morning, year round.
1019 Parsons Street SW, Atlanta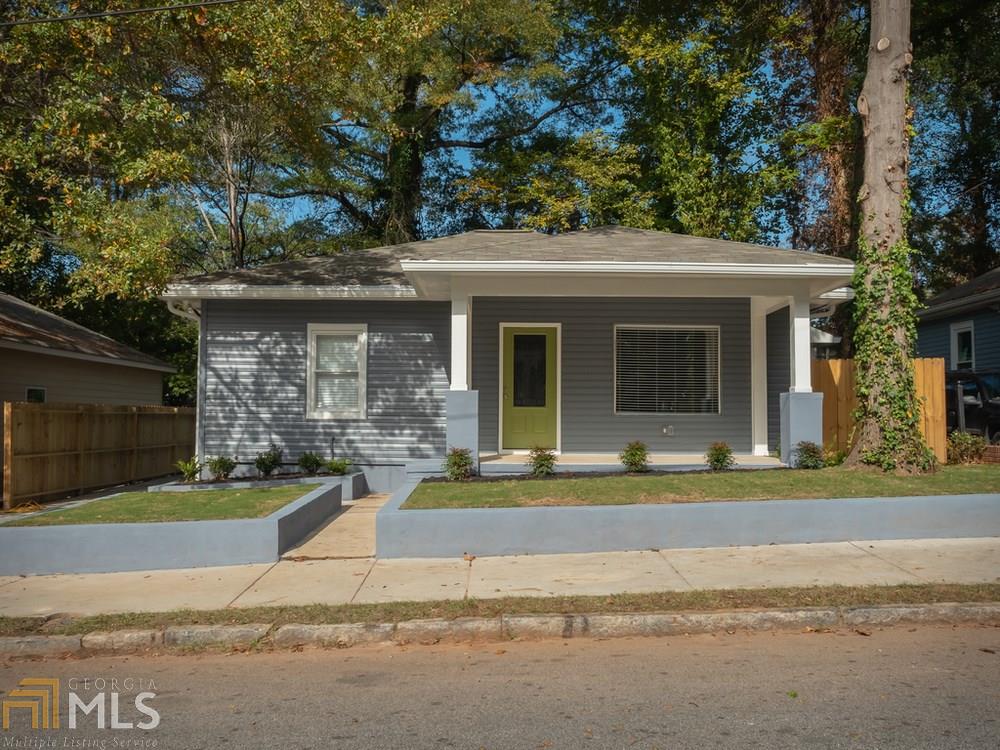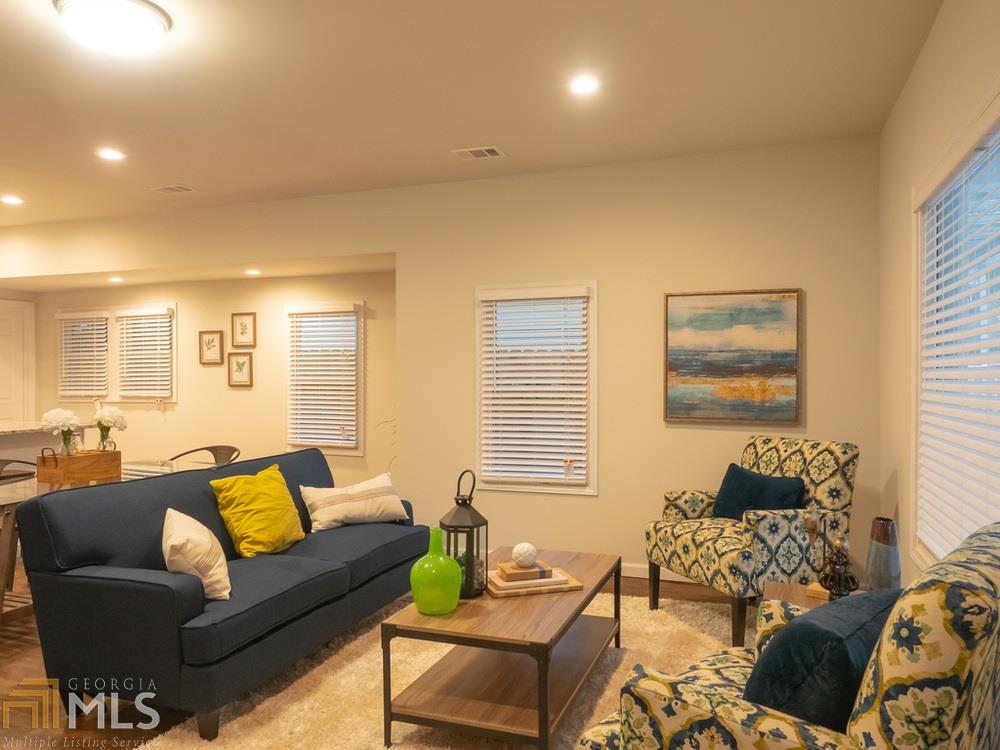 $295,000  1,311 sq. ft.
This 1930s bungalow is making waves, thanks to its promising market position and a new look. Renovated in 2018, this cool 3 bed/2 bath cottage has a calm, collected vibe from the outside. Painted a modern slate blue, it stands refined yet simple from the curbside with a pop of playful color from the grass green door. Inside, the simplicity of the white walls make it easy for you to imagine your own decor hanging on the walls, while the dark wooden flooring throughout gives a sense of warmth and cohesion from room to room.
Thanks to this cottage's neighborhood, this home has become a listings darling. Located in historic Ashview Heights, neighboring Atlanta University Center and just north of West End, this neighborhood's community is anticipating a rise in property value thanks to the City of Atlanta's promised Gulch project bringing in revenue and new residents to the surrounding areas. Already, Ashview Heights enjoys close community, the neighborhood's slogan "Bring Unity to the Community."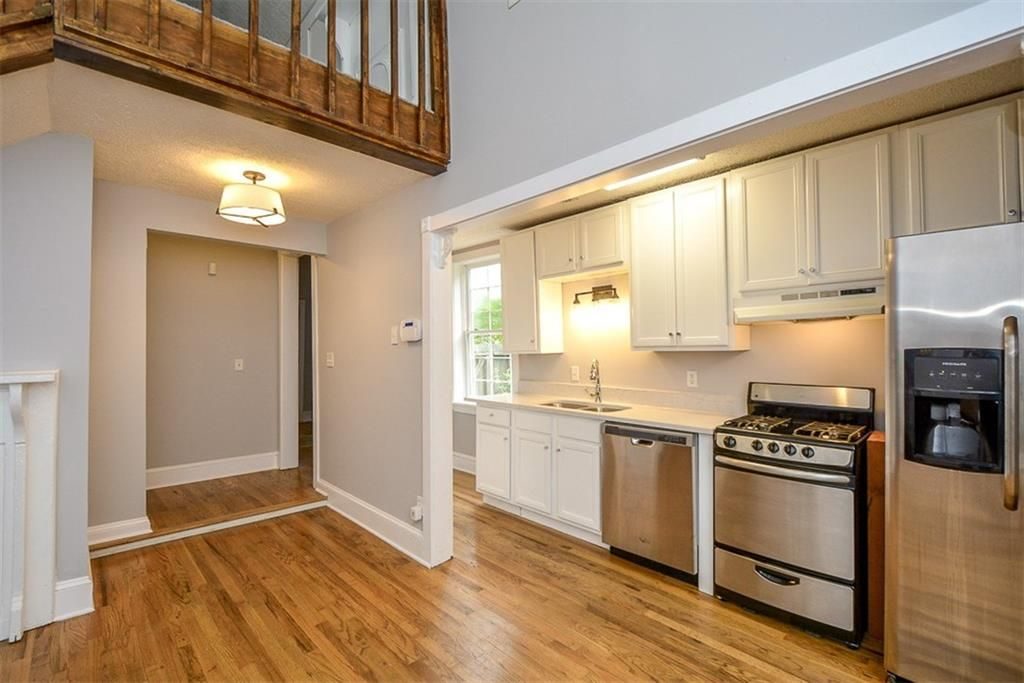 $399,500, 1,341 sq. ft.
A teal treasure located in Atlanta's Cabbagetown, this historic cottage is an eye catching home. The bold red door gives contrast to its vivid teal paint, the interior painted a mellow gray. Recently renovated, this 2 bed/2 bath cottage has replaced hardwood floors and brand new appliances outfitting the slim kitchen. The home features two outdoor buildings, one potting shed and another personal office, while the upstairs loft is a unique place to create a living room or reading nook.
Cabbagetown, the neighborhood that Gaskill Street resides in, is an artsy, trendy community that is proud of its cultural history and conservation. The residents of Cabbagetown enjoy plenty of community events, like their yearly bluegrass-themed chili festival called the Chomp and Stomp.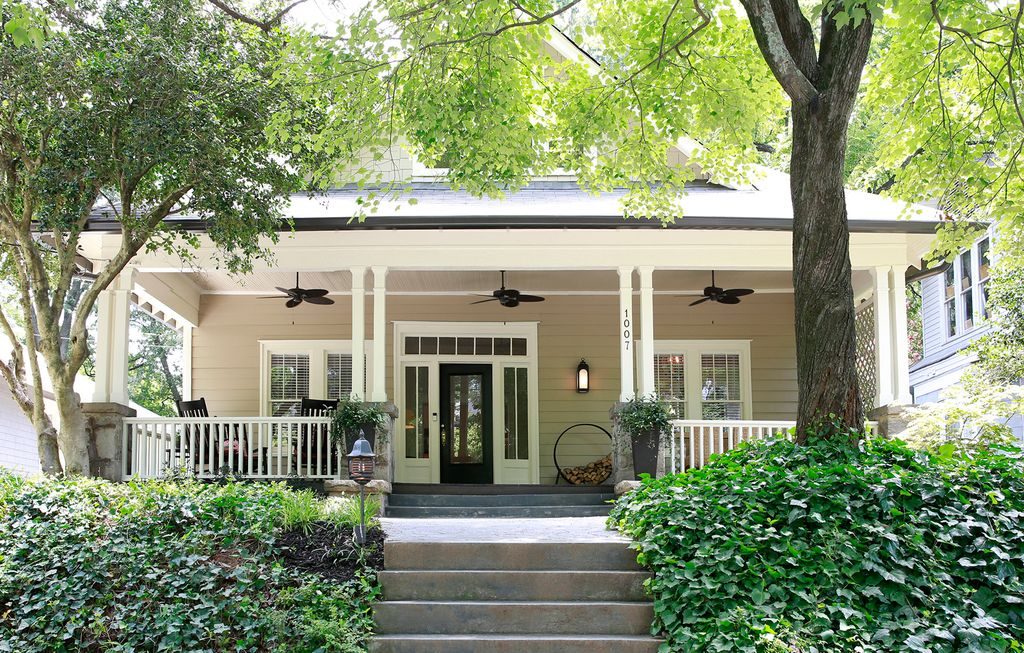 $1,195,000, 3,624 sq. ft.
Newly updated and restored, this historic bungalow holds onto its old-school charm while keeping with modern cottage style. The open, bright redesign includes features like additional finished attic space with a kitchen/wet bar but kept true to its roots, holding onto the original hearts of pine wood flooring and 1920s antique brass hardware. The balance between classic and modern is brilliantly struck, each room in this 4 bed/3 bath bungalow carefully renovated to match both the modern and traditional elements of the home.
Located in Virginia-Highland, or "VaHi," this Atlanta neighborhood holds small-town vibes with its tight-knit community. Residents get to enjoy live music venues, fine dining, and local dives all within walking distance. While on a stroll to the neighborhood's center, be sure to check out the stylish bungalows that line the streets.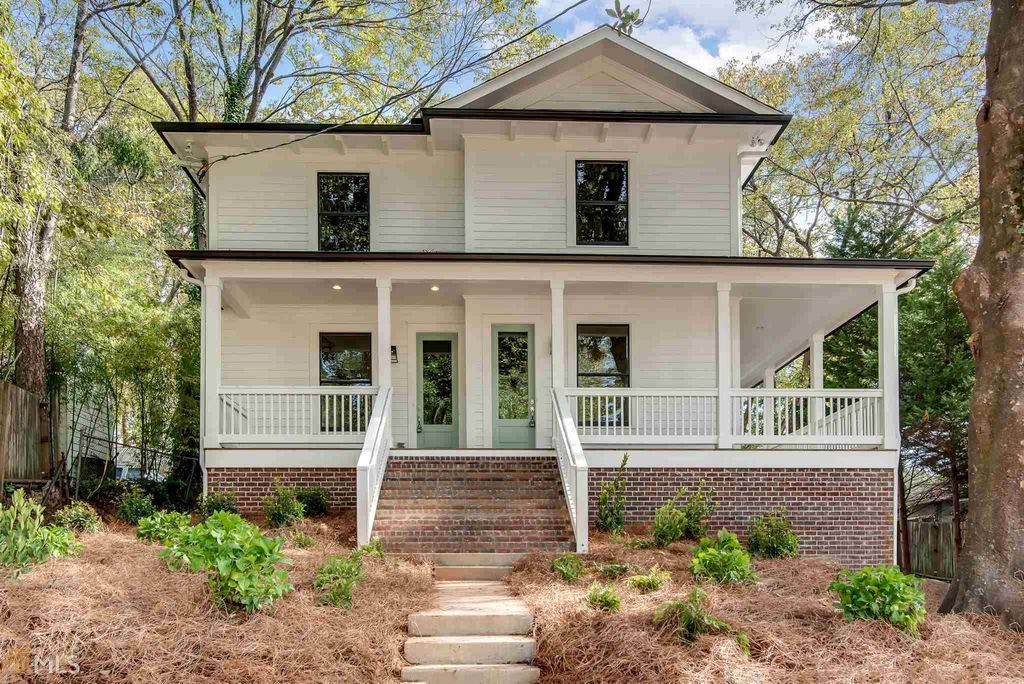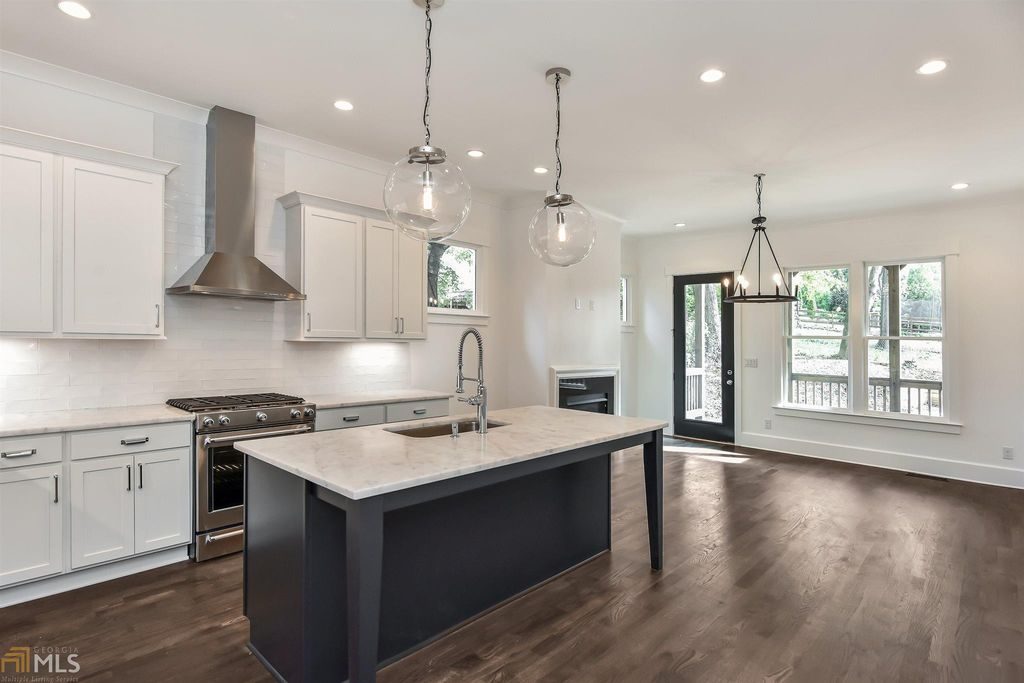 This more traditionally styled bungalow is a modern build from 2018, and offers a fresh take on cottages for sale in Atlanta. Designed with simple style in mind, this home can easily be turned into anyone's dream cottage, thanks to its airy interior looks and classic color scheme. The dark wood flooring and sleek stainless steel appliances give that taste of modern convenience, popular with newer home builds, while the master suite is completed with a full bath and double vanity. The exterior mixes brick with board and batten siding, a classic look with another twist, and accented with dark brown roofing to create an attractive contrast.
Park Avenue is placed squarely in the mixed modern and historic neighborhood of Grant Park, known for its Victorian mansions and Craftsman bungalows. Residents are close to local favorite Atlanta Zoo, and other parks, offering great places for children to grow and play. The community of Grant Park is also known to have events scheduled every month of the year, so you'll never be stuck at home with nothing to do.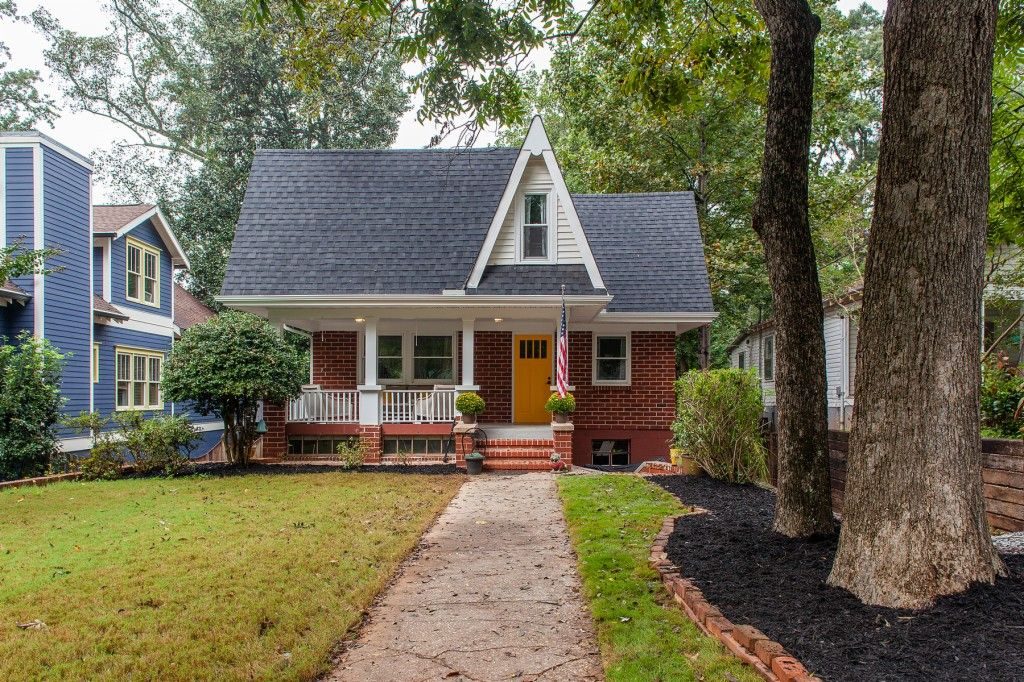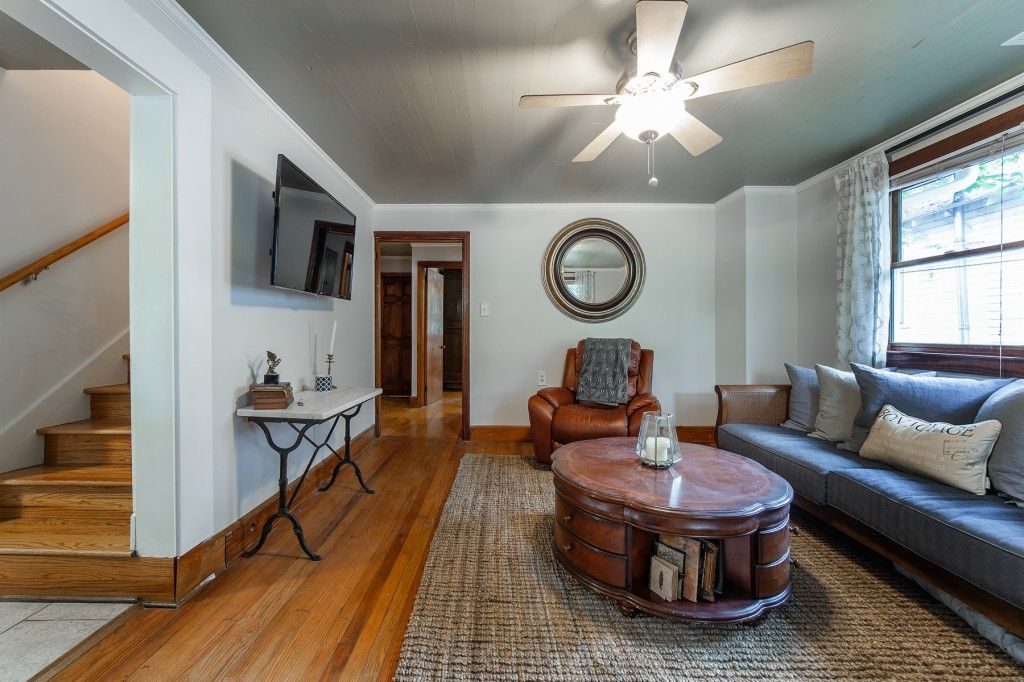 $475,000, 3,159 sq. ft.
Built in 1935, this classic Tudor holds its renovations to a minimum. The home is surrounded by old grown trees and tucked into a perfectly sized lot with a substantial backyard for entertaining. Newly installed hardwood and tile flooring compliment the Tudor's simply painted walls, while also revitalizing the look of the rooms. Slanted ceilings throughout the house provide interesting design and differing silhouettes, great for people who want to decorate rooms with unique shapes. Overall, the features added to this Tudor are kept to a minimum, the only new addition is an in-law suite with a separate, private living room.
The neighborhood of Woodland Hills tends to be quieter, but also has fun cafes and restaurants. Even though it is an often forgotten neighborhood in Atlanta, it still holds highly rated schools and parks to visit. Don't forget to stop by their annual, neighborhood-wide BBQ!
Still want more? Check out our Kansas City cottage finds!
Follow Cottages & Bungalows on Instagram for more beautiful pictures of cottages and magazine teasers!