When it comes to renovating a kitchen or bathroom, there's a lot to think through.The surfaces where you get ready for the day or prepare meals need to be functional workspaces. They create an environment and set a tone, so finding the perfect style and design is top priority. Here we give you all the details on today's trending countertops, including pricing, durability and maintenance tips. Take a quick inventory in your mind, think about your needs, and read on to find the perfect countertops for your home.
MARBLE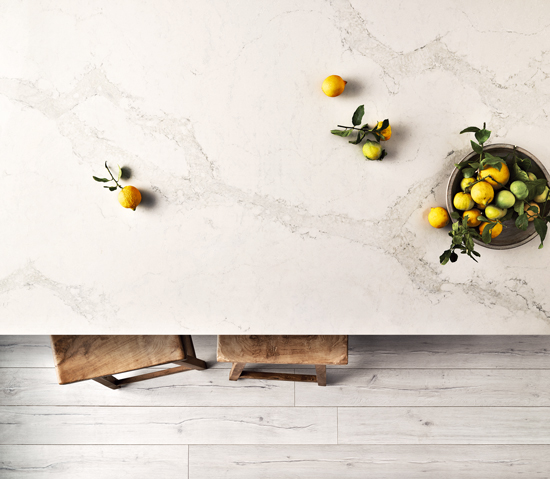 Average cost: $50–$100 per sq. ft.
The natural veining and shine of this stone means no two are alike. With a variety of colors and finishes, marble brings an inimitable depth and elegance. Handpick your design for the price that suits your budget. High-end marble, such as Italian Calacatta is pricey but most marble is moderately priced. The strong stone withstands daily wear and tear, and resists high temperatures. Marble is susceptible to acid etching and staining too, so be ready to embrace imperfections. Use a reputable stone fabricator to install your marble countertops to help prevent future damage.
Care and Maintenance:
Blot spills with a paper towel, apply water and mild soap to flush the liquid away, and rinse and dry.
For tough stains, a baking soda poultice may be substituted for soap.
Reseal every 1–3 years.
BEST FOR: Bringing individualized style and timeless appeal into the home.
GRANITE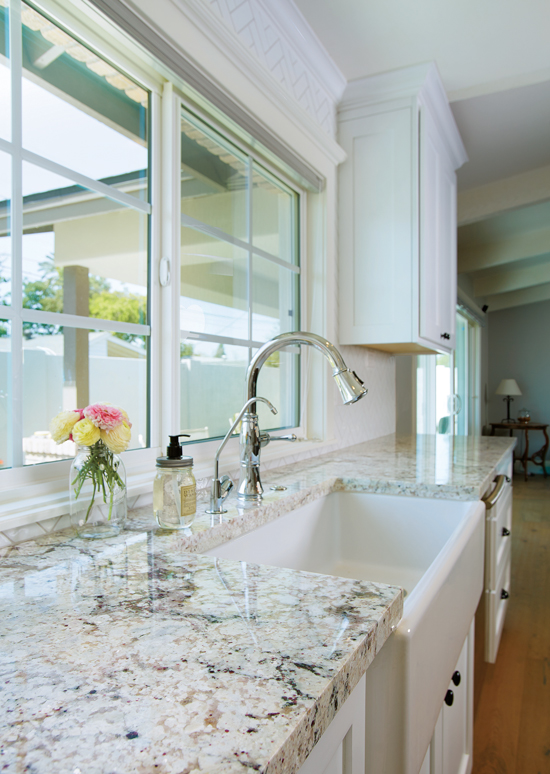 Average cost: $50–$170 per sq. ft.
Granite offers the most exotic color and design options on the market. It is considered to be scratch- and heat-resistant, water-sealed and easy to clean. While leaving hot pans on the surface or cutting directly on granite is not recommended, it is unlikely to crack or chip. These benefits do come at a price, however, as granite is one of the most expensive countertops today. But once purchased, the
material requires minimal upkeep and repairs.
Care and Maintenance:
Use water to wipe up spills. For periodic cleaning, use a gentle
stone cleaner.
For tough stains substitute a baking soda poultice for soap.
Reseal every 3–5 years.
BEST FOR: Investing in lifelong beauty. Bonus: Its durability makes it a fantastic choice for an avid baker.
QUARTZ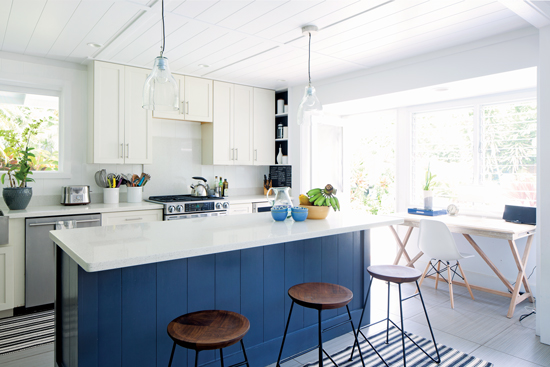 Average cost: $40–$100 per sq. ft.
Quartz, often referred to as engineered stone, is a manmade material that offers uniformity in its design. It is available in many colors and can mimic the look of a natural stone countertop. Durable and nonporous, quartz is stainproof, crack-resistant and heat-resistant. To clarify, quartz does not need to be resealed, waxed or polished. If you're skeptical about the price, remember that quartz requires little maintenance and few repairs. Tip: Although quartz and quartzite sound similar, quartzite is porous and must be resealed annually.
Care and Maintenance:
Clean with water, mild soap and a soft cloth or sponge.
Use a glass or surface cleaner to get rid of the tougher stains.
BEST FOR: An easy-care solution and unique design.
TILE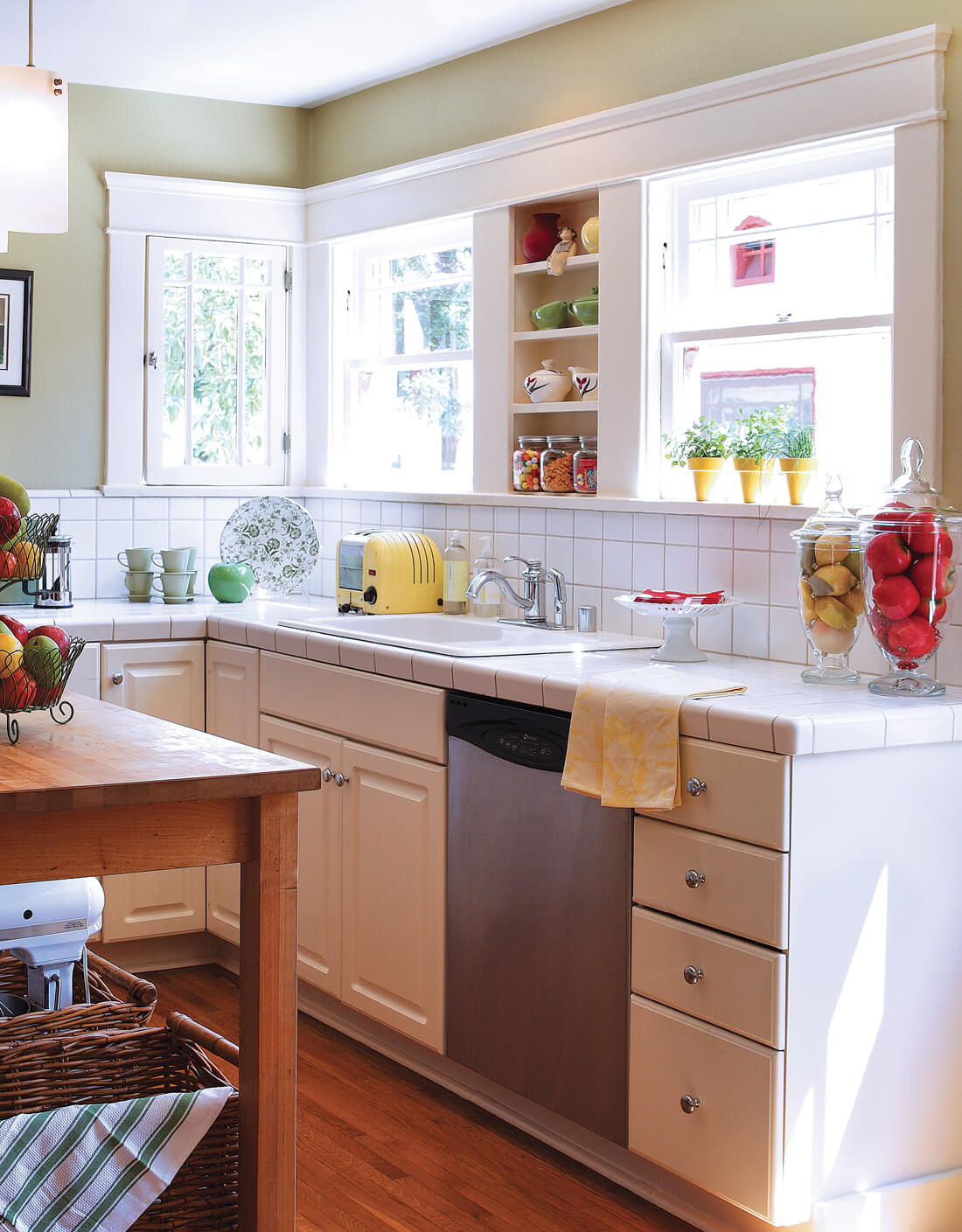 Average Cost: $2–$7 per sq. ft. for materials, $30/hr or more  for installation.
Nothing says period style quite like ceramic tile countertops. If you prefer an authentic, well-worn look and homey feel, tile is the choice for you. One of the most customizable options, it comes in a variety of colors, patterns and textures. Unfortunately, ceramic tiles can crack, and finding a perfect match to replace a single tile can be a challenge. Keep in mind that the material may require maintenance, consequently, your grout also requires frequent care and resealing to avoid staining.
Care and Maintenance:
Clean with water, mild soap and a soft cloth or sponge.
To clean grout lines, create a mixture of equal parts water and vinegar. Apply and scrub with a toothbrush; rinse and dry.
Reseal grout yearly.
BEST FOR: Refreshing kitchen or bath surfaces on a budget.
CONCRETE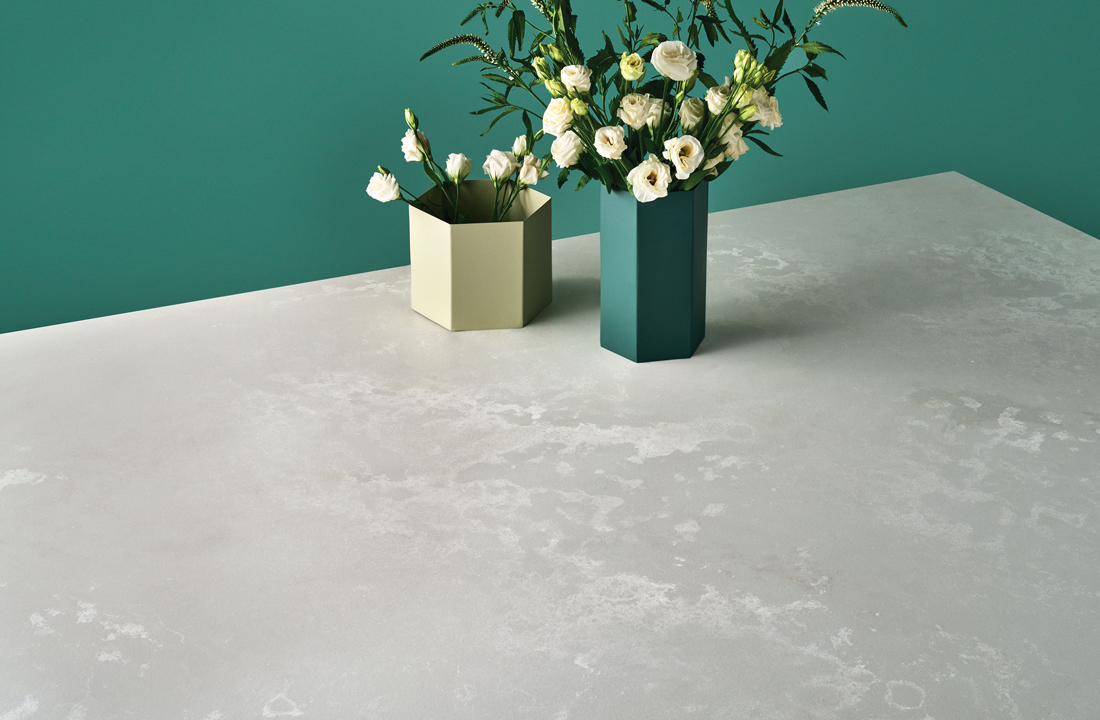 Average Cost: $70–$130 per sq. ft.
The popularity of concrete countertops can be attributed to the current farmhouse trends. Concrete has natural pigment and versatility that will complement any style, from industrial to eclectic. It can be colored or stained to create the look of  natural stone countertops. Concrete accepts inserts and inlays and can be cast in any shape. It's highly durable, resists heat and is unlikely to crack. It is susceptible to staining.
Care and Maintenance:
Clean with water, mild soap and a soft cloth.
Soak a cotton ball or paper towel in bleach and apply to remove tough stains but check with your manufacturer before using bleach. A baking soda poultice may be substituted for soap.
Reseal every 1–3 years.
BEST FOR: Custom and tailor-made countertops. Bonus: Concrete is weather-resistant, making it an ideal material for an outdoor kitchen.
WOOD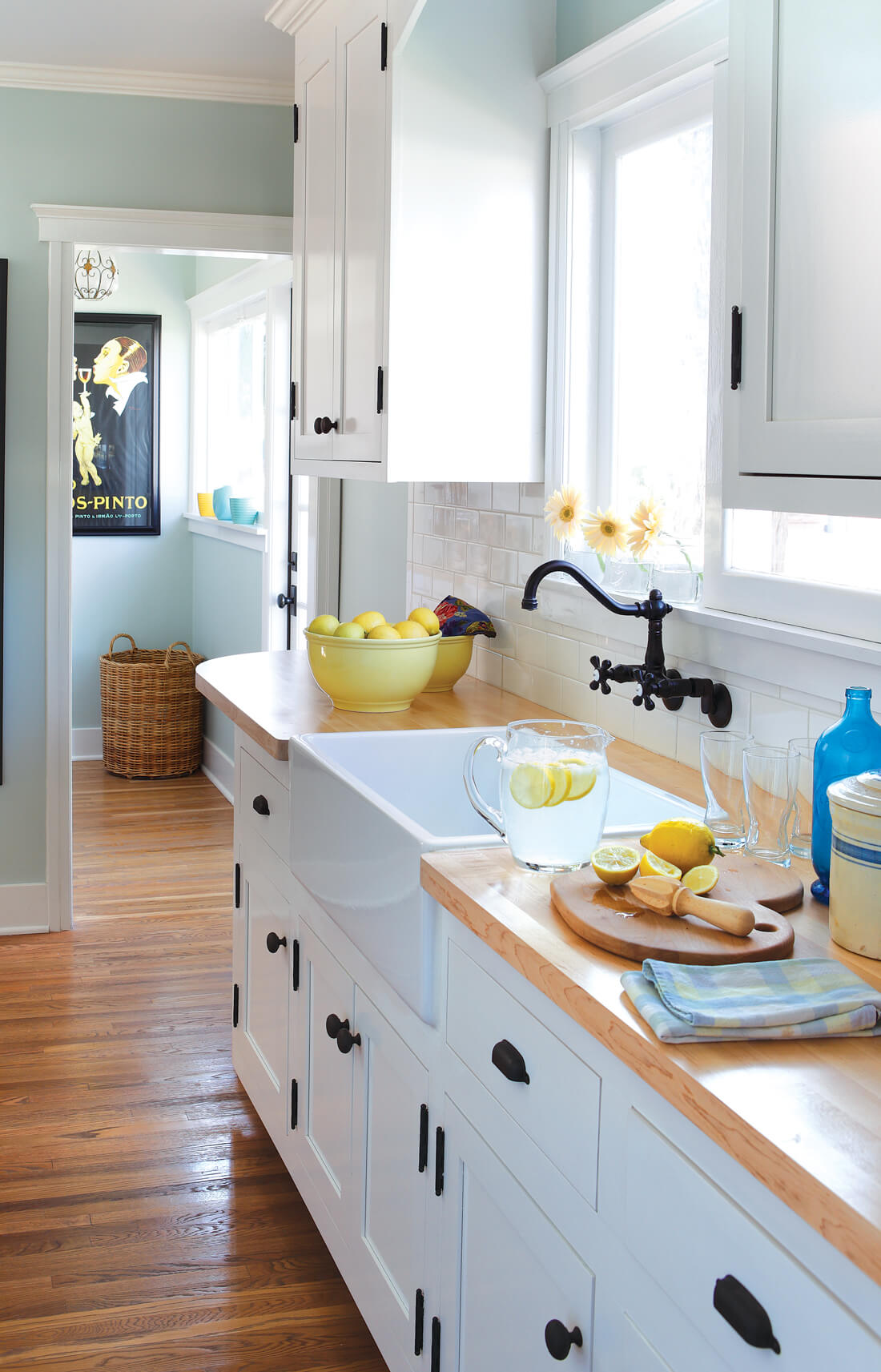 Average Cost: $40–$70 per sq. ft.
Invite earthy appeal and rustic charm with natural wood. Choose from a variety of types, including maple, cherry, oak or teak. Stylistically, options range from butcher block to parquet to panels. Keep in mind that this delicate material is prone to dents and scratches, which means it deteriorates over time. Wood is susceptible to staining, water damage and excessive heat. Treat wood countertops with mineral oil to prevent such damage. Wood requires resealing to keep your surface sanitized and fresh.
Care and Maintenance:
Clean with water, mild soap and a sponge.
Sanitize with a mixture of white vinegar and water and let it sit for several minutes. After that, wipe your wood with a damp cloth and dry completely.
Remove stains with lemon juice or a hydrogen peroxide and warm water mixture.
Sand down to remove nicks and scratches.
Reseal annually.
BEST FOR: Creating a warm and natural environment.
ZINC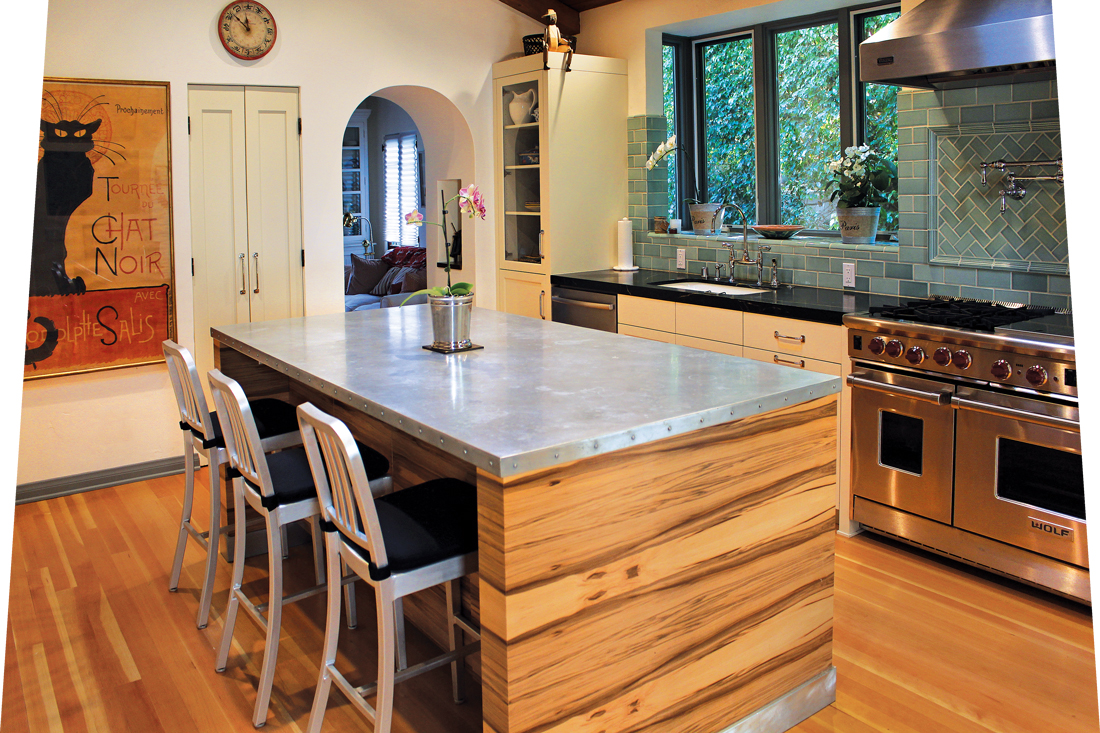 Average cost: $130–$170 per sq. ft.
Malleable zinc allows designers to create a variety of edge shapes and treatments. Zinc also develops a wonderful natural patina over time—spots, fingerprints and marks are part of its appeal, so embrace them. Nonporous and antimicrobial, zinc won't stain or mold on the other hand it will warp when exposed to heat. A note on zinc safety: Custom manufacturer Mio Metals, Inc. explains that it is safe to prep food directly on zinc.
Care and Maintenance:
Clean with a mild cleaner, like Windex, and a soft cloth.
Metal polish can remove unwanted spots, however, most zinc manufacturers recommend allowing a natural patina to develop over time.
BEST FOR: Investing in a modern and functional countertop.
Want more simply beautiful ideas? Check out this post on an inspiring Traditional Meets Modern Kitchen. 
Of course, don't forget to follow us on Instagram, Facebook and Pinterest to get your daily dose of cottage inspiration!