I love anything and everything Sprouted Kitchen makes. Sara's recipes are not overly difficult and the taste is always amazing! She has a beautiful blog and two lovely Sprouted Kitchen cookbooks so she never leaves you lacking for inspiration. Sara and her husband Hugh team up and make all the magic that Sprouted Kitchen is. Sara is the creative genius behind the tastes and recipes and Hugh styles and photographs her creations. The blog is filled with eye-candy that will make you drool all over your computer and leave you excited to get your hands dirty in the kitchen.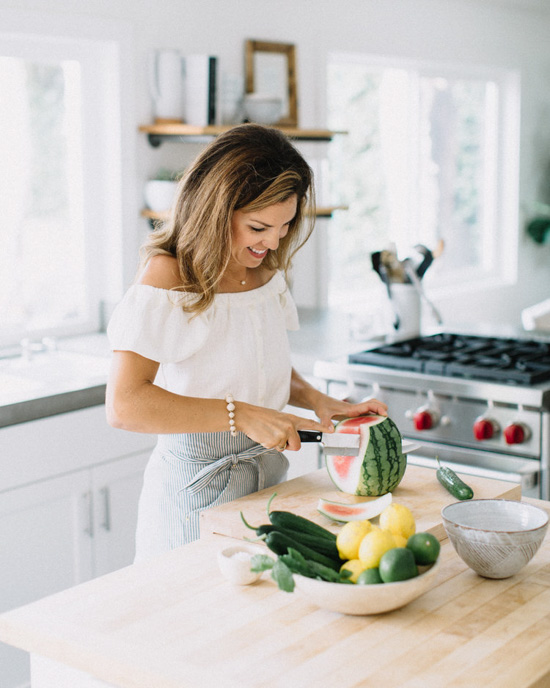 SPROUTED KITCHEN'S WATERMELON + CUCUMBER SKEWERS
Makes 12
The skewers shown are available at World Market or here.
INGREDIENTS
2 Tbsp. minced shallot
1/2 tsp. dried oregano
1/4 cup fresh chopped mint, divided
2.5 Tbsp. white wine vinegar
4 Tbsp. extra virgin olive oil
2 ounces feta cheese
sea salt and fresh ground pepper
1 mini, seedless watermelon, cut in 1" cubes
3 Persian cucumbers

INSTRUCTIONS FROM SPROUTED KITCHEN
In a small mixing bowl, combine the shallot, oregano, half of the mint, vinegar, oil and a pinch of salt and pepper. Give it all a stir. Crumble in the feta and give it another stir, a few chunks are ok. 
Shave the cucumbers into strands with a vegetable peeler, lengthwise. Assemble them on the skewer by putting a cube of watermelon, folding a slice of cucumber like an accordion, and then another cube of watermelon on top. Arrange them on your serving tray and drizzle the feta vinaigrette over the top. Garnish with a sprinkle of fresh mint, a grind of fresh pepper and serve. Viola, Sprouted Kitchen Skewers!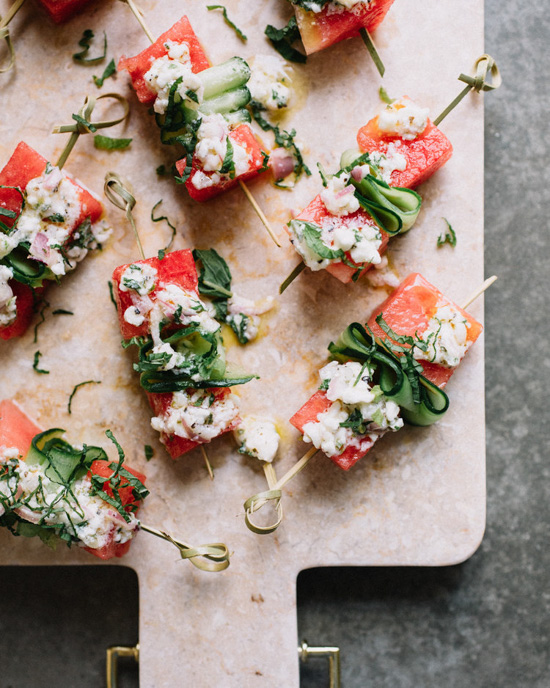 Eating well shouldn't be difficult.
If you like what you see and you're short on meal ideas let the pros plan it out for you! Sprouted Kitchen's latest adventure is SK Cooking Club. Complete with photos, meal plans, creative swap ideas and shopping lists this weekly cooking club is perfect for anyone looking for kitchen inspiration. Find out all the details here, and happy cooking!
Want more creative recipe ideas? Check out this post on an Amazing and Easy Dry Rub Recipe. 
Of course, don't forget to follow us on Instagram, Facebook and Pinterest to get your daily dose of cottage inspiration!