NO Beef? No Problem! If poultry and seafood are on the menu, you've come to the right place. The new TREAD Grill Guide comes at just the right time for outdoor cooking, Mothers Day and Fathers Day!
Grilling isn't all about steak and burgers. Here are some tips and top recipes for chicken and fish.

Actual cooking time for the Jamaican Jerk Whole Roasted Chicken is just an hour and a half.
JAMAICAN JERK WHOLE ROASTED CHICKEN
(From our friends at www.CampChef.com)
PREP 24 HRS
COOK 1.5 HRS
FEEDS 6-8
We love jerk chicken. The spice, smokey flavor, and that warmth the allspice brings to the overall dish. It brings awesome memories and nostalgia to us, and hopefully after you try this recipe, it will do the same for you.
INGREDIENTS
1 full recipe of jerk chicken marinade (see below)
Honey ginger glaze (see below)
1 whole chicken
2 red bell peppers, split in half
2 jalapeños
2 onions, halved
2-3 habanero peppers
10 garlic cloves
2 cups of water
2-3 cups of pineapple juice

When preparing a Jamaican Jerk Whole Roasted Chicken, the chicken should stay in the marinade overnight.
Jerk Marinade
2 tablespoons jerk seasoning / rub (1 tbsp onion powder, 1 tbsp garlic powder, 2 tsp cayenne pepper, 2 tsp salt, 2 tsp black pepper, 2 tsp dried thyme or 1 tsp ground thyme, 2 tsp brown sugar, 1 tsp ground allspice(pimento), 1 tsp dried parsley, 1 tsp paprika, ½ tsp hot pepper flakes, ½ tsp ground cinnamon, ½ tsp nutmeg, ½ tsp ground clove, ¼ tsp cumin)
8 green onions, root trimmed off
8 garlic cloves
2 limes, juiced
½ batch cilantro
1 inch piece fresh ginger, peeled and rough chopped
1 tablespoon salt
1 tablespoon fresh thyme
1 tablespoon ground fresh allspice
1 jalapeño, or scotch bonnet or habanero
3 tablespoons sugar
2 tablespoons honey
1 tablespoon molasses
¼ cup soy sauce
1 cup vegetable oil
½ cup water

Roasting a whole chicken in a smoker is all about the prep before you even turn up the heat.
Malisa Nicolau / Dreamstime.com
Honey Ginger Glaze
1 inch chunk of ginger, peeled and rough chopped
10 garlic cloves, peeled
¼ cup orange juice
1 teaspoon salt
½ cup honey
½ cup soy sauce
PREPPING
Step 1
Remove the chicken from its bag and pat it dry, be sure to remove any gizzards.
Step 2
Truss up the legs to keep them in position easier, and fold the wings under the back, also tying them together.
Step 3
Place the chicken in a large zip lock bag and pour in the jerk marinade, seal the bag in a way where you can squeeze the excess air out of the bag ensuring all of the chicken is filled and coated with marinade no matter how it rests.
Step 4
Allow it to sit overnight, bathing in the marinade.

COOKING
Step 1
The next day, preheat your smoker to 350ºF and smoke 9.
Step 2
In a large cast iron, place the bell peppers, whole jalapeños, whole habaneros, garlic, and onions.
Step 3
Set the whole chicken, breast up, on top of the vegetables and place the pan into the smoker.
Step 4
Add the water and top off with pineapple juice until about ½-¼ inch below the lip of the pan.
Step 5
Cook at 350ºF for about 1.5 hours basting the chicken with the Honey Ginger Glaze every 10-15 minutes.
Step 6
When the chicken reaches 165ºF internally remove it and allow it to rest (still in the pan) for 15-20 minutes before carving.

BBQ Chicken Nachos are sure to be a crowd pleaser. Traeger offers its own version of this dish.
stockcreations / Dreamstime.com
BBQ CHICKEN NACHOS
(From our friends at www.Traeger.com)
Prep Time: 10 Minutes
Cook Time: 45 Minutes
Serves: 4 people
1 1/4PoundBoneless, Skinless Chicken Breasts
Traeger Pork & Poultry Rub
1/2CupTraeger 'Que BBQ Sauce
1Bag Tortilla Chips
3CupShredded Mexican Blend Cheese
1/4CupSliced Pickled Jalapeños
1/2CupBlack Olives, Sliced and Drained
3Scallions, Thinly Sliced
1/2CupGuacamole, For Serving
1CupSour Cream
1/2CupCherry Tomatoes, Halved
Season the chicken breasts with the Traeger Pork & Poultry rub.
When ready to cook, set Traeger temperature to 350˚F and preheat, lid closed for 15 minutes.
Arrange the chicken breasts on the grill grate and cook, turning once halfway through the cooking time, for 25 to 30 minutes, or until the internal temperature when read on an instant-read meat thermometer is 165˚F.
Transfer to a cutting board and let rest for 3 minutes. Leave the grill on if you are making the nachos immediately.
Shred the chicken. Transfer to a mixing bowl and pour 1/2 cup of Traeger 'Que BBQ Sauce over the chicken. Stir gently to coat evenly. Set aside, or cover and refrigerate if not making the nachos immediately.
Lay the tortilla chips in a single layer on a rimmed baking sheet or pizza pan. Sprinkle evenly with half the cheese and a few of the jalapeños. Spoon barbecued chicken mixture on each chip. Top with black olives and more pickled jalapeños, if desired. Sprinkle the remaining cheese evenly over the chips.
Put the baking sheet on the grill grate. Bake until the chips are crisp, and the cheese is melted, 12 to 15 minutes.
With a spatula, transfer the nachos to a plate or platter. Top with sliced scallions, guacamole, sour cream and cherry tomatoes. Enjoy!
(For more poultry recipes, go to www.traeger.com/recipes/poultry. Or download the Traeger App for free recipes.)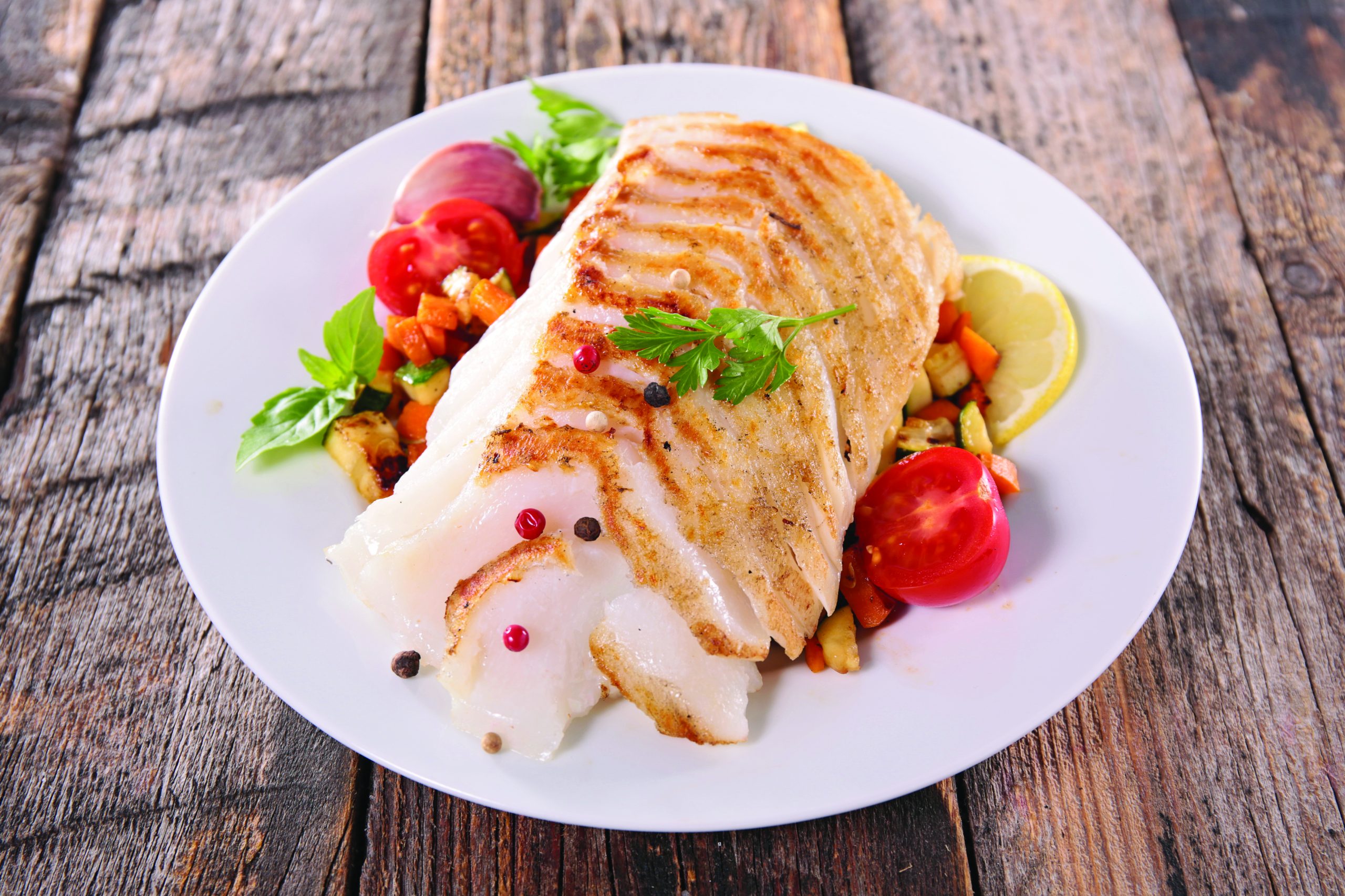 Some types of fish tend to fall apart when grilled and are easier to cook in foil packets. Fish with milder flavor are better candidates for liberal seasoning.
Margouillat / Dreamstime.com
TIPS ON GRILLING FISH
(From our friends at Traeger)
The two most important things you need for grilling fish are the right type of fish, and a clean grill. Fish is more likely to stick to grill grates than steak, chicken, or pork. Fish is also more delicate so if it sticks, it may fall apart. That's why it's good to stick to certain types of fish for direct grilling.
Hearty, dense fish are the best fish for grilling. Those include: salmon, swordfish, tuna, snapper, mahi mahi, yellowtail amberjack, grouper, sea bass, and haddock.
Fish that are light and flaky — like flounder and sole — can fall apart if placed directly on the grill. You can still use your grill to cook these types of fish using foil packets.
HOW TO SEASON FISH FOR GRILLING
Seasoning will usually include some sort of fat (butter or oil), as well as salt and pepper, and an acidic element like lemon. With strong-flavored fish like salmon, those elements may be all you want to use for seasoning, thus allowing the natural flavor of the fish to be the star. White fish, or other fish with lighter flavors, can be a blank slate for seasoning. Some popular seasonings for fish include Cajun spice, Italian seasoning, and of course simple salt and pepper. Traeger's Fin & Feather Rub includes notes of garlic, onion, and paprika.
HOW TO MARINATE FISH FOR GRILLING
Soaking a fish in a marinade can help add flavor and keep the flesh from drying out while you cook. To marinate fish, cover it with a non- or slightly-acidic liquid mixture for under an hour. Because fish is so delicate, you can't marinate it for hours or days like you might with chicken or beef. And you have to be careful not to make your marinade too acidic. A marinade heavy in lemon juice can start firming up the flesh before you even get it to the grill. Common ingredients in fish marinades are olive oil, soy sauce, garlic, lemon juice (in small amounts), and fresh herbs.
HOW LONG TO GRILL FISH
On a grill set to high (500 degrees Fahrenheit), a 1-inch thick fish fillet will take approximately 10 to 15 minutes to cook. Thinner fillets may be done as little as six minutes. The best way to ensure perfectly cooked fish is to use a digital instant-read thermometer. Take the fish off when the internal temperature reaches 145 degrees.
HOW TO KEEP FISH FROM STICKING TO THE GRILL
The best way to keep fish from sticking on the grill is to make sure your grill grates are as clean as possible. Cooking debris on the grates can cause fish and other foods to stick. Also, to make the grates even more fish-friendly, brush them with a cloth that has been dipped in oil just before placing the fish on the grill.
Even with these precautions, the fish may stick anyway, but they will usually loosen up as the cooking process continues. If you go to flip the fish and feel it sticking, that usually means it needs to cook for a few minutes longer. Usually, the fish will release from the grill grate when the surface has started to firm.
(This information was taken from a longer article on grilling fish. To read the entire article, go to www.traeger.com/learn/how-to-grill-fish.)

Salmon is a popular choice for cooking on a grill or in a smoker. Traeger has its own take on cooking this fish with its Jalapeno Candied Smoked Salmon recipe.
Mika Viitanen / Dreamstime.com
Recipe
JALAPENO CANDIED SMOKED SALMON
(From our friends at Traeger)
Prep Time: 5 minutes
Cook Time: 1 hour
Serves: 4 people
INGREDIENTS
½ Cup hot water
2 Whole jalapeños, roughly chopped
Red pepper Flakes, as desired, optional
¼ Cup soy sauce
¼ Cup granulated sugar
2 Tablespoons garlic powder
2 Tablespoons ground black pepper
8 Cups cold water
1 Salmon fillet, pin bones removed
1 Cup brown sugar
2 Jalapeños
3 Tablespoons Dijon mustard
Make the brine. In a small saucepan over medium heat, add 1/2cup of water, the jalapeños, and red pepper flakes, if using, and bring the water to a boil. Remove from heat and steep the jalapeños in the hot water for 5 minutes.
Add the soy sauce, granulated sugar, garlic powder, ground black pepper, and stir until the sugar is dissolved. Pour in the cold water. Once the brine has cooled, pour into a large resealable bag and add in the salmon. Refrigerate the salmon in the brine for 3-4 hours, depending on the thickness of the filet.
When ready to cook, set the Traeger temperature to 180°F and preheat with the lid closed for 15 minutes. For optimal flavor, use Super Smoke if available.
Remove the salmon from the brine, discarding the brine, rinse under cold water, and pat dry.
Make the glaze. In a blender or food processor, add the brown sugar, jalapeños, and Dijon mustard, and pulse until the jalapeños are fully incorporated. Apply the glaze to the salmon. Insert the probe horizontally into the center of the fish filet. Place the salmon skin-side down, directly on the grill grates. Close the lid and smoke for 30 minutes.
Increase the Traeger temperature to 225°F. Cook the salmon until the internal temperature reaches 130°F for medium-rare, the glaze is shiny and the salmon flakes easily, or is cooked to desired doneness, 45-60 minutes.
Remove the salmon from the grill and serve. Enjoy!
For more great recipes and tips, grab our new TREAD'S GRILL GUIDE, on newsstands everywhere or order a copy from our online store HERE.
And for daily decor inspiration visit us on Instagram.