You don't have to grow up on a ranch in a fourth-generation ranch family to embrace the earthy look, but Patricia Edwards did, and she does. Her gorgeous home in Hollywood Heights in Dallas, Texas, infuses an old 1941 Tudor cottage with the earthiness of European style. The Hollywood Heights neighborhood is a modern historical relic, featuring houses constructed as early as the 1920s. With its large collection of Tudor-style cottages, the neighborhood achieved Conservation District status in 1989, meaning that all old property must be left intact.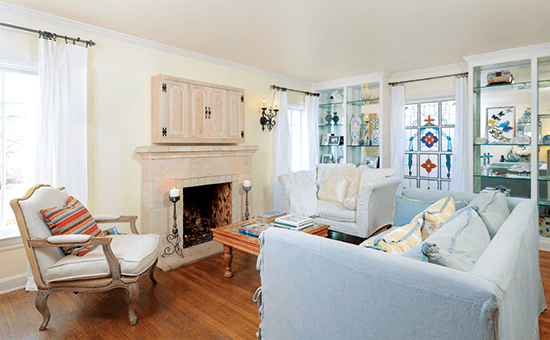 Patricia, a designer, artist and photographer, loved the Tudor cottage, the first home she has owned, from the time she moved in. As a designer, her philosophy is to bring the exterior in. So she designed the interior based on the stone exterior, which featured a pineapple from the house's original construction—a European symbol for welcoming, with origins in Columbus' travel. Following this motif, Patricia opted to carry the hospitality, and Old World culture, into the home. From the Swedish gray of the kitchen island to the 19th-century French veneer backsplash, the house exudes European warmth.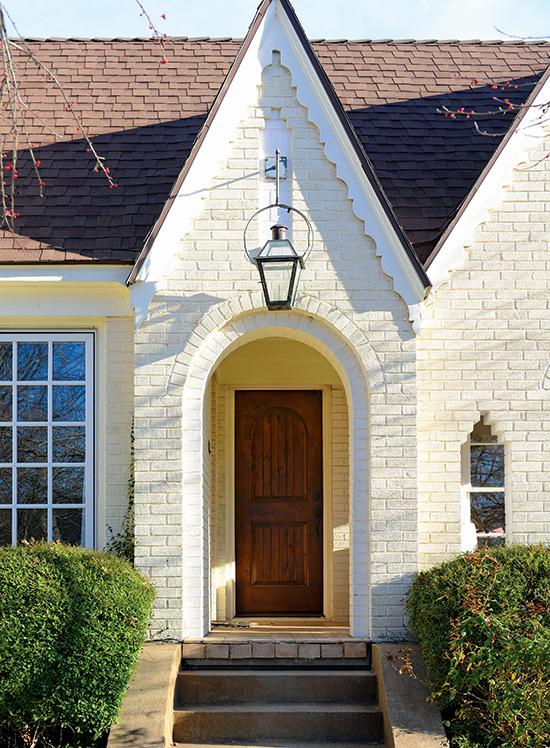 Keep It Fresh
European style "is a little bit earthy," Patricia says. "I think that to embrace a European feel, you need to incorporate Old World with modern." That means styling with wood and stone whenever possible, and making every effort to bring the outdoors in. "I like planting herb gardens and cutting herbs for my guests," Patricia says. Patricia also chooses fresh, natural materials for textiles. "It's important to have textiles that are made from things that are from the earth," she says.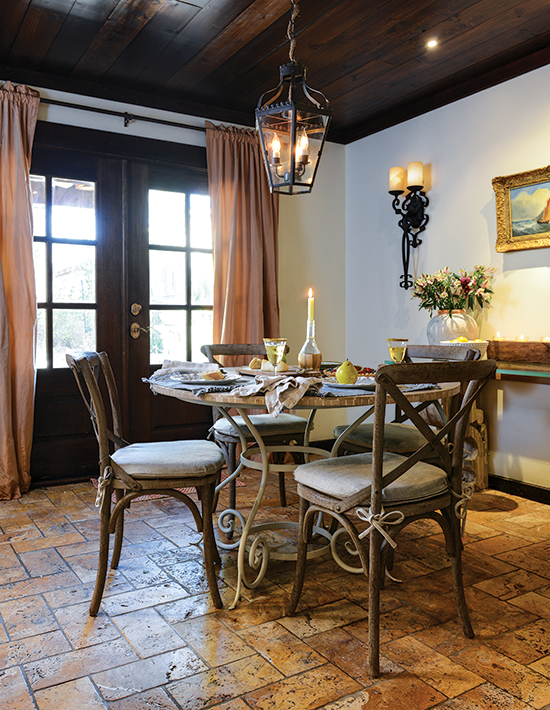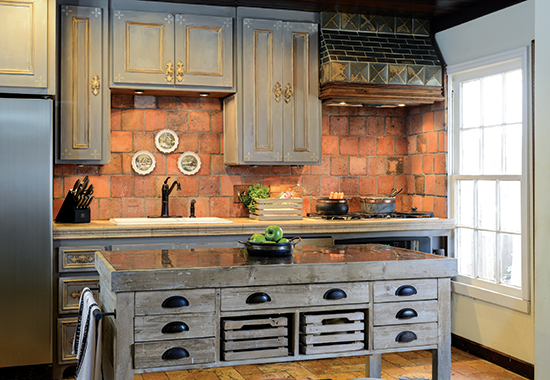 Styling the Tudor Cottage on a Dime
Patricia prefers linen and cotton fabrics, and recommends mixing and matching for an inexpensive, but authentic European look. "I've been known to mix my handmade bedding with items from less expensive places," she says. That way, you get a great look at a lower price.
Another tip for styling on a dime? Combine old and new in your furniture choices. You can pick out a charming dresser, for instance, that looks antique (even if it really isn't). Then, add some true antique feature. "Find an inexpensive piece," she says, "and put an expensive knob on it." You can find an antique doorknob from the 1800s on eBay and pair it with a simple stand from World Market. Voila! Now the whole item looks like it's from the 1800s.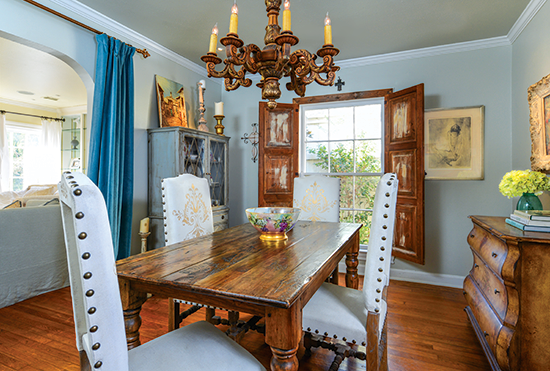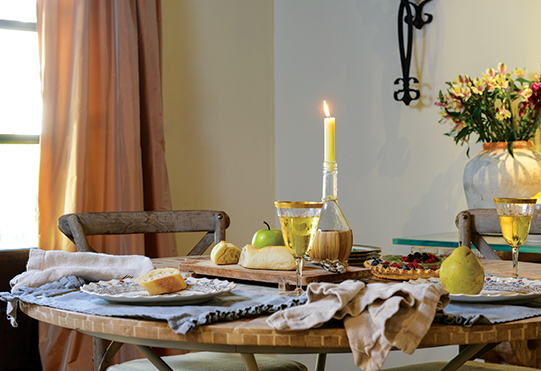 How to Decorate with Antiques
Antiques are an essential component of Old World décor, but too many antiques can run the risk of making a room feel heavy, so it's important to use antiques wisely. Heir to her grandmother's impressive antiques collection, Patricia brings in antiques like salt: just a dash here or there, and in moderation. "I am working my grandmother's antiques collection into the house slowly," Patricia says, "so it doesn't look so old." To create European style in your cottage, you should amass your antiques and flea-market finds over time, like Patricia. In addition to her grandmother's antiques, she's garnered her own collection of décor-to-be from estate sales and antiques shows.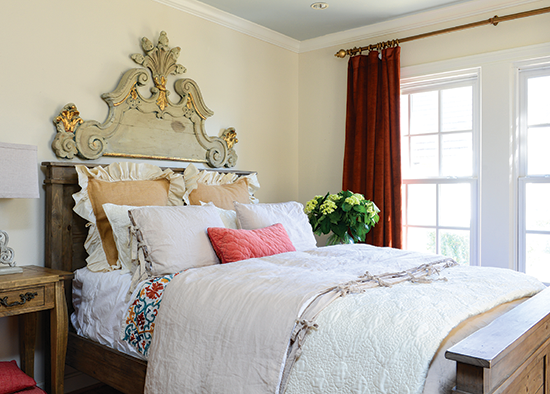 ---
Make Your Own Antique Art
Patricia creates Old World art in her Tudor cottage by using pages from old illustrated books. You can create your own using her simple method of aging paper.
• Pick your material. Pick your book pages, and carefully cut them out, making sure to give yourself as much space as you can for a centered design.
• Give it a dip. Patricia ripped the corners of the paper to give it a more weathered, rugged look. Then she dipped the paper in tea. "Put tea bags in a bowl or on a cookie sheet," she recommends. Leave the paper there to stain it.
• Get framed. Once the paper is stained, allow it to dry. Then insert the artwork into the frame. Finish off your frame with gilding wax, and make it a treasure.
---
Designs By You
As an artist, Patricia has been able to design a number of fascinating pieces for her own house. The living room features two prime examples: the stained glass windows and the television cabinet. Patricia combined her educational background as an artist and her expertise as a nature photographer into the stained glass pattern. It's an ode to the outdoors, with a bird design. She also designed the wooden television cabinet above the hearth. Following her French-style motif, she chose to construct the cabinet from French hardware, which works with the iron candle sconces beneath and adjacent. Patricia also designed her own kitchen cabinets.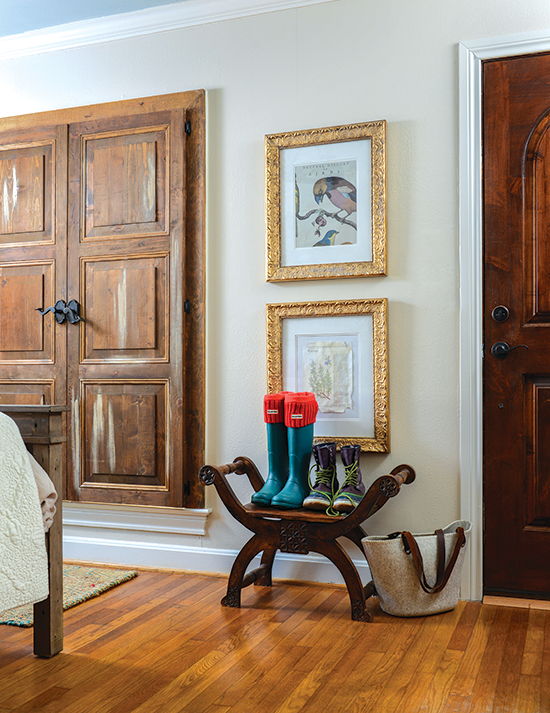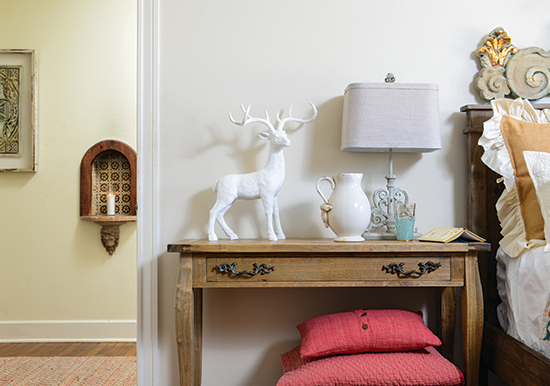 Homey Stories
"I like to have stories in my home," Patricia says. "… when someone says, 'Oh, I like your slipcover,' I can say, 'Thanks! A woman in Fort Worth made it.'" That's something you don't really find in contemporary homes with mass-produced objects. And Patricia allows her furnishings to tell their own stories. "You don't always have to have a photo in frames," she says. "I have this collection of empty frames from the early 1900s. I thought I'd do a little architectural story on the wall. The frames speak for themselves."
"I think that to embrace a European feel, you need to incorporate Old World with modern."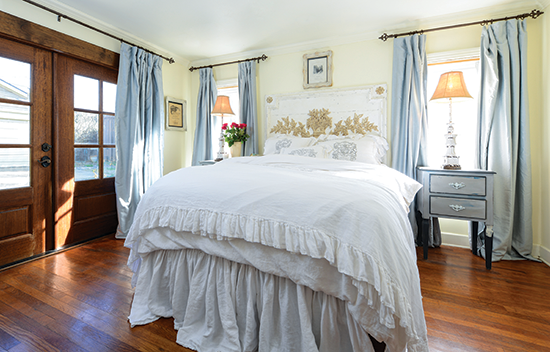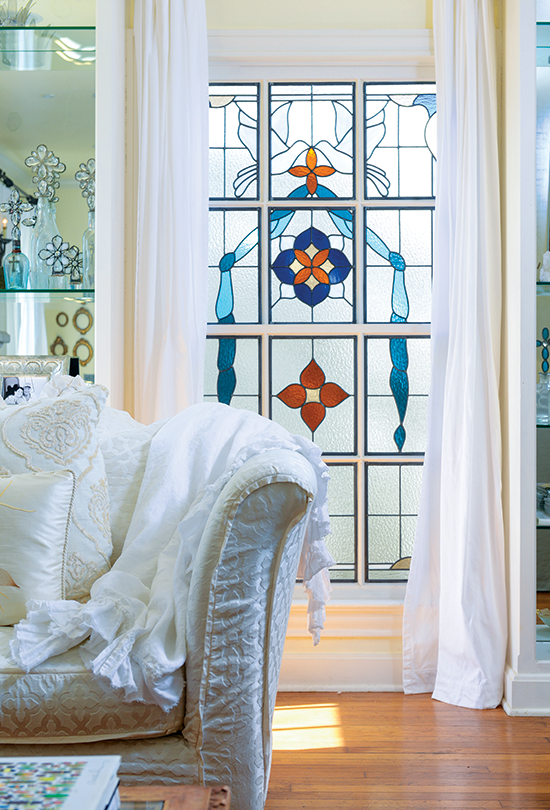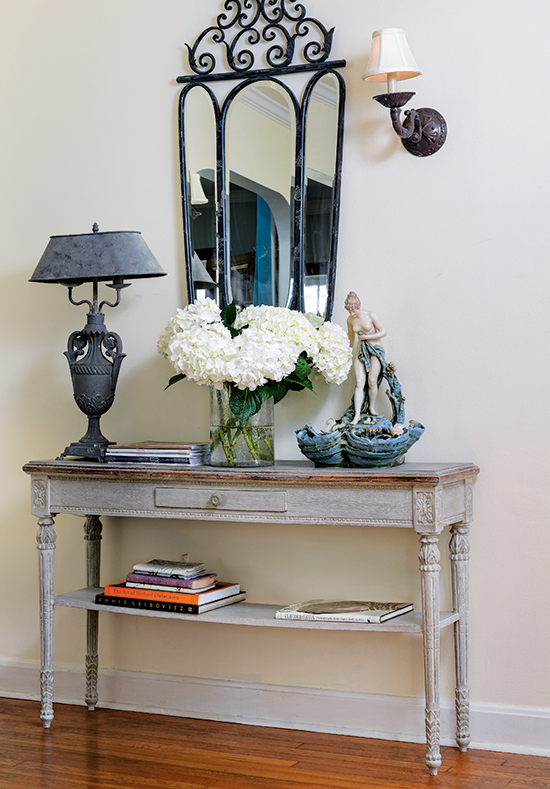 Need more Tudor cottage inspiration? How about this post for tips on creating an elegant garden perfect for a Tudor.
Of course, don't forget to follow us on Instagram, Facebook and Pinterest to get your daily dose of cottage inspiration!