Having carte blanche with your home's design can sometimes be cut and dried. Have a specific need? Plan the details, and avoid costly or time-consuming "fixes." But for Katie Busenitz (@therusticboxwood) of The Rustic Boxwood and her family of four, the vision for her farmhouse porch and entry was more about creating a feeling and matching up the space to how they knew they'd always envisioned they'd like to spend their time there.
With a view looking out onto a few acres of pasture, a fence with what Katie calls the perfect patina and, hopefully someday, an orchard of pecan trees, Katie knew the front porch would be more than a pass-through space. "We'll definitely spend lots of nights relaxing with family and friends on the front porch," she says. "We're especially looking forward to sitting in our rockers at night and listening to the beautiful and peaceful sounds of nature."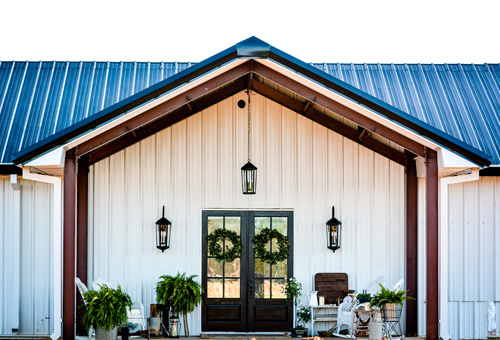 With such a clear mood in mind for the space, Katie simply had to match up her design elements to suit the vibe and set the tone for the rest of the home. "I love mixing different styles, such as incorporating reclaimed finds into our modern farmhouse," she says. "Blending different genres adds interest and brings balance to the space. We're designing our interior with this style, so we'll keep this same aesthetic on the front porch too, to ensure that our farmhouse is cohesive. For the porch, this means painting the front doors a high-gloss black, choosing to go with black-framed windows to keep with the modern-farmhouse style.
Katie and Ryan wanted statement style for their dream home, and they got it with the impressively tall vaulted ceilings and the large, 8-feet-tall by 6-feet-wide black doors against the white walls. "In the near future, we'd really love to mount some reclaimed wood to the ceiling and wrap our steel beams with some distressed, faux-wood beams," Katie adds.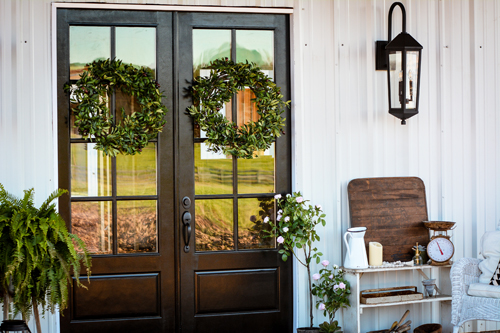 Gorgeous outdoor light fixtures (all from the Ellsworth Collection from Capital Lighting) share attention in this space with over-sized scale, clean lines and minimal design, underscoring the modern farmhouse vibe perfectly.
Katie's personal style definitely comes through in the charming accents that make their farmhouse porch feel warm and inviting. "Our looks-so-real potted roses, the candles with timers and the gorgeous Olive Branch Wreaths from Balsam Hill really provide a relaxing setting on the porch," Katie says.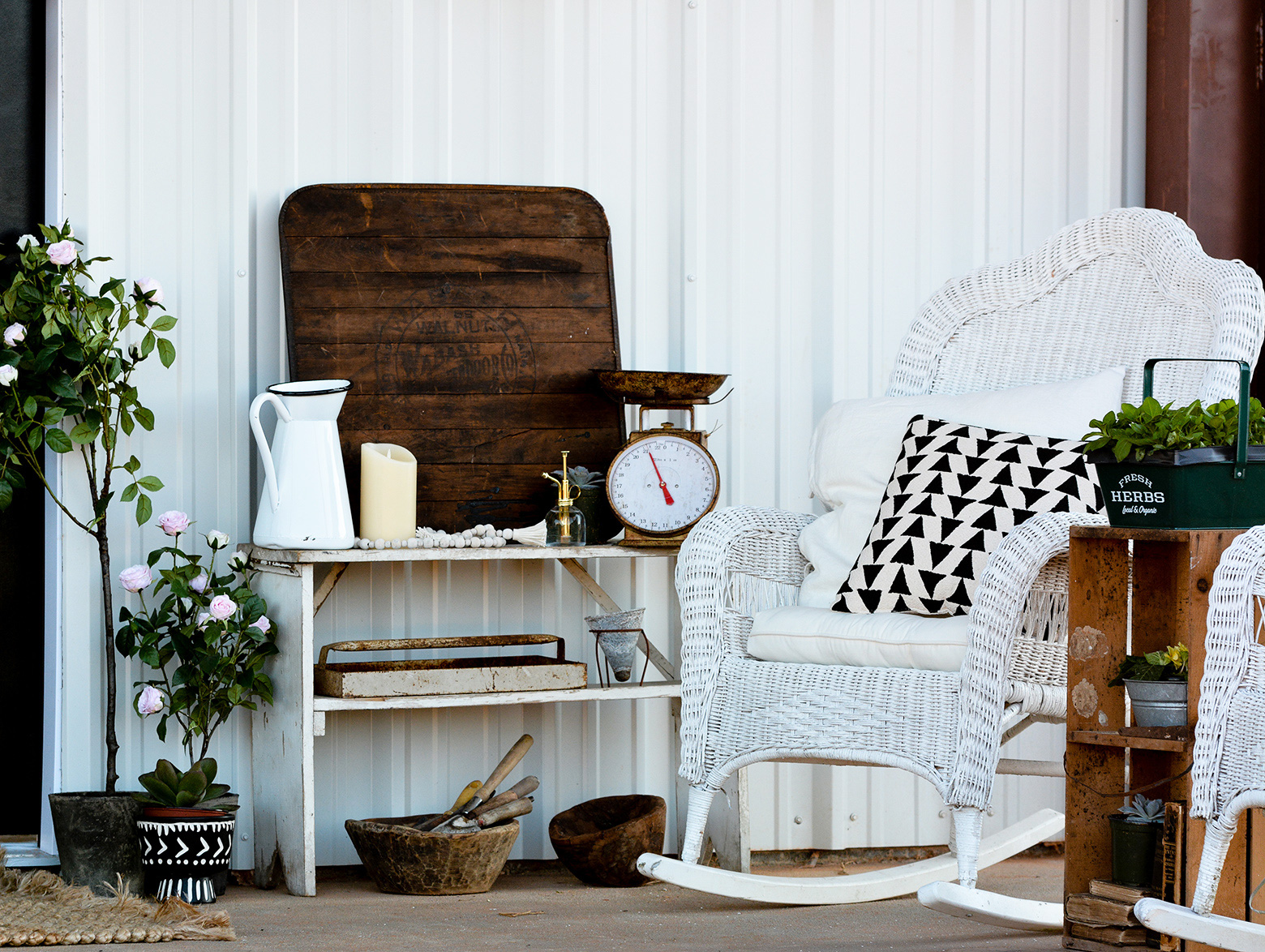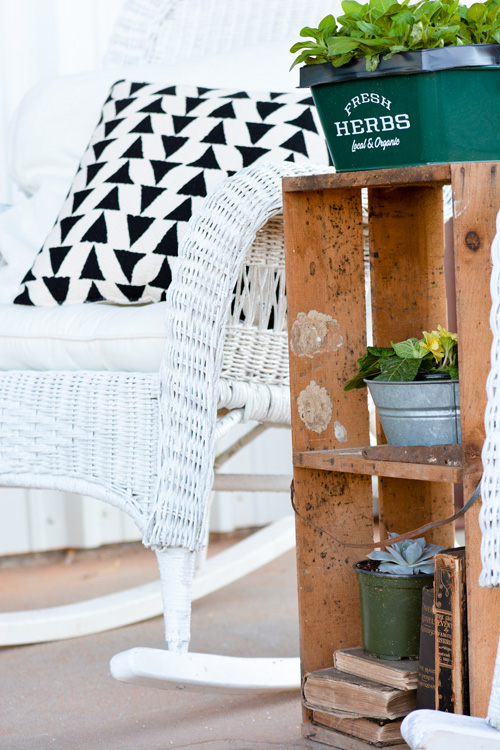 Katie says the old, reclaimed fixtures, such as the antique furniture and the chippy ladder and shelving, help to soften the look. "I really love to hunt for pieces at estate sales, thrift stores and yard sales," Katie says. "It's such a fun hobby, not only because we save like crazy, but also because you never know what you'll find. It's the thrill of the hunt that excites me."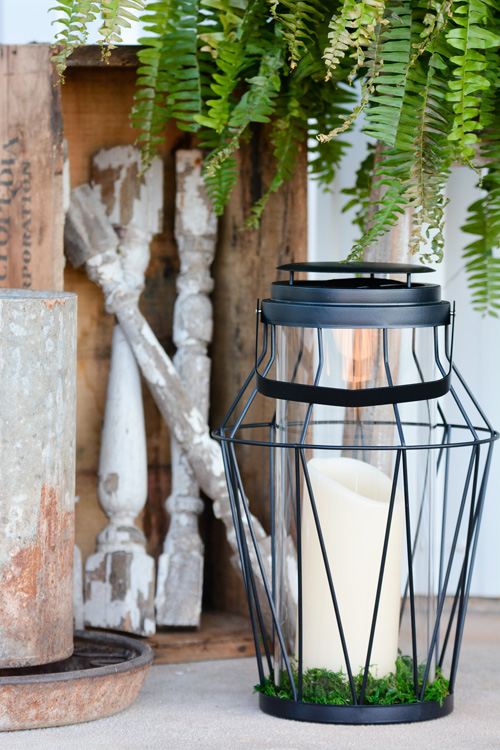 The rockers were a favorite find and a classic Katie score. "I'd just left a big-box store that sells wooden rockers for over $150 a piece. The next day, I ran to an estate sale that was just down the road," Katie explains. "The owner was asking $85 each for the four rockers, but since it was the second day of the sale, he came down $45 each. I asked him what his bottom dollar was if I were to buy all four and pay cash, and he came down to $100 for all four. I wanted to jump for joy! But I kept my cool and immediately said, 'Yes!'" After a quick pressure wash by Ryan, the chairs received a couple coats of high-gloss, white spray paint to give them a refresh. "They look gorgeous now! When all is said and done, we want our farmhouse porch to be welcoming and beautiful …and a fun place for family and friends to relax."
To catch up on earlier posts in the Project House series click here and here!
Of course, don't forget to follow us on Instagram, Facebook and Pinterest to get your daily dose of cottage inspiration!