Have you ever gotten the DIY itch? If you have, indulge it! You never know where it can lead. In Melaine Thompson's case, it's turned her into a home décor and renovation guru, as evidenced by her popular Instagram and lifestyle blog, My Sweet Savannah. Her posts revolve around her Seattle home and understandably so. Melaine and her husband purchased a 900-square-foot rundown caretaker's cottage and completely renovated it themselves, transforming it into a stylish yet cozy home for their family. It features a kitchen with a stunning skylight, a high-ceilinged dining room, and an entertainment-focused living room, all decorated with vintage farmhouse style, most of which Melaine thrifted or made herself.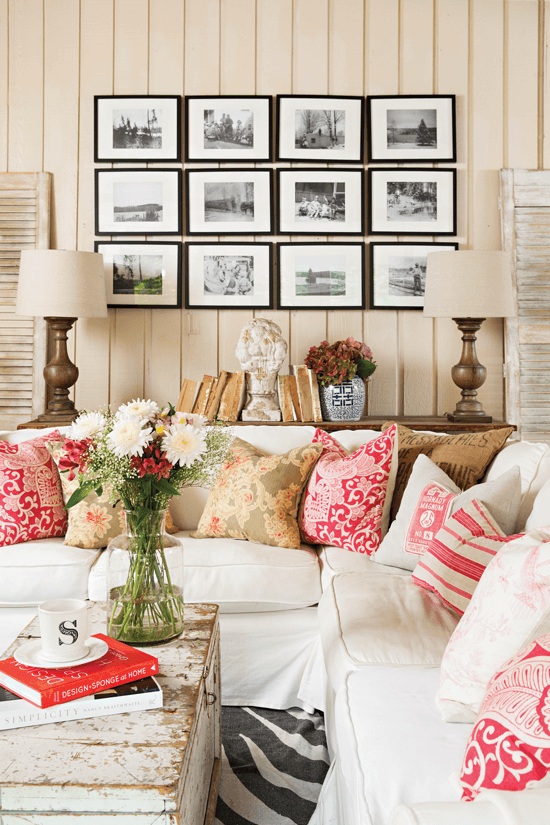 "My husband and I are self-taught remodelers. I would never have thought I would lay tile and stonework, side a house or use power tools," Melaine says. "But now I have my own studio that is filled with chop saws, reciprocating saws, table saws—you name it, I love it!"
First Thing's First
With only Internet instructions and advice from friends, the Thompsons first tackled the kitchen, which had mushy ceilings, dilapidated cabinets and fogged-over windows. Since they were expecting their first child at that time, they quickly added new floors, cabinets and a skylight to brighten up the space. Melaine was inspired to write "kitchen" words" on the inside of the skylight for a whimsical, literary touch. Later, they gave the kitchen more personality, adding black honed granite and Carrara marble countertops; wallpaper in the baking nook; and nickel-plated, antique-inspired light pendants. The different types of granite gave the kitchen dimension, while the baking nook, wallpapered in a French textile replica print called Chenonceau, was a graphic pop against the walls, which were painted in Benjamin Moore Revere Pewter.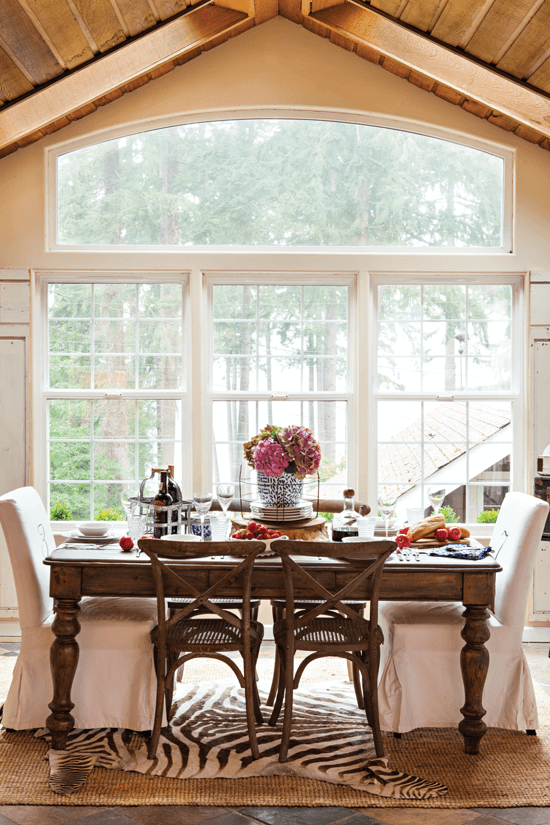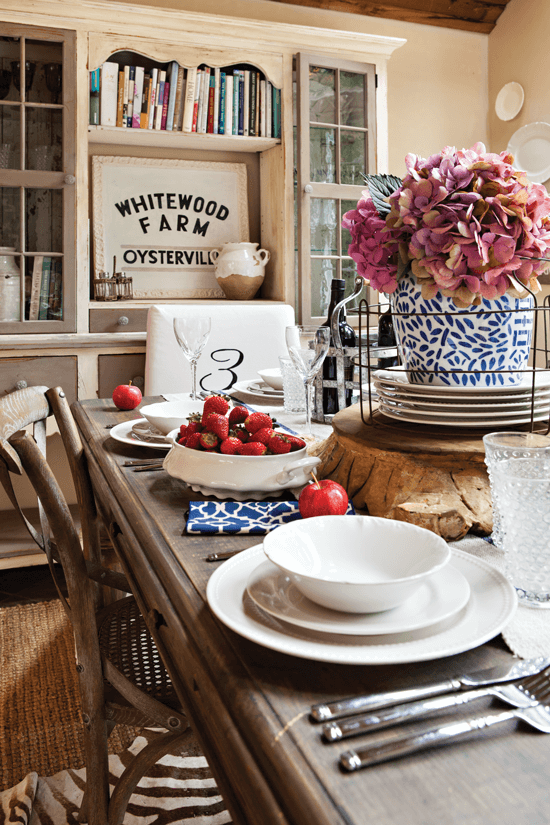 "I spend a lot of time on Pinterest, blogs, and interior décor magazines," Melaine says about the dramatic wallpaper. "This pattern kept popping up and I started drooling every time. So when we did our work on our kitchen for the second time, I added it to the baking nook. I was a little nervous, but I am so glad I took the leap."

Farmhouse Must-Haves
The Thompsons also added a spacious dining room to the living room, repurposing the original master bedroom walls as the dining room's ceiling, to tie the different sections of the house together. Melaine chose warm Swiss Coffee paint by Behr to give the room a comfy, inviting feel and added a wall of windows to let in the leafy view and moody Seattle sky.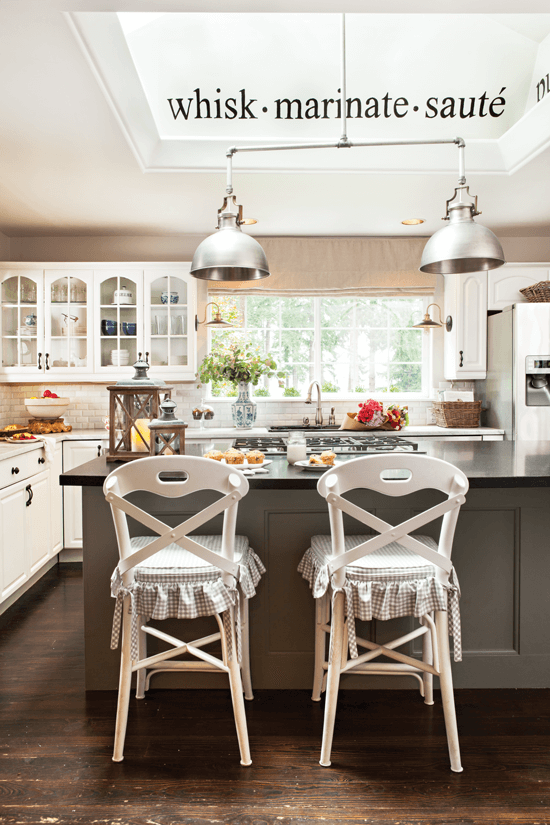 "It's like dining in a treehouse," Melaine says. "We love it!" When it came to decorating the dining room, she purchased a farmhouse dining room set but sold off the chairs, instead opting for four cane-bottomed Restoration Hardware chairs and two white upholstered Ikea chairs to give the room contrast and add that vintage farmhouse style. She stripped the original "orangey" finish off the table and changed it to a subtle gray, setting it atop an unexpected yet chic Zebra hide that Melaine found on eBay. She also set an old thrift-store suitcase atop a TV table in the corner, where it functions as dish storage and, during parties, as a beverage bar.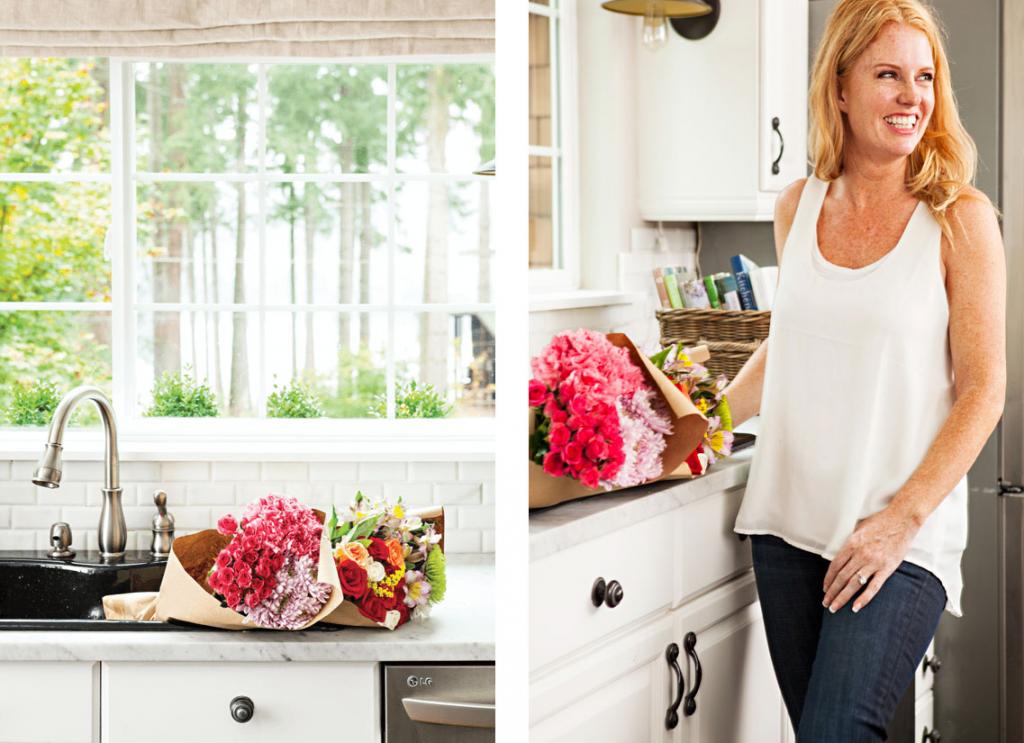 More Décor
The living room was one of the few places that the Thompsons did not renovate. Pleased with the tongue-and-cedar steeple ceilings and spacious layout, Melaine focused on giving the room a facelift in lieu of a remodel. The walls were painted with the same Behr Swiss Coffee color as the dining room, and Melaine added a series of black and white photographs on the walls and tons of throw pillows on the couches, making the room the perfect place to watch movies on rainy days. Since Melaine's style constantly changes, the pillows are an easy way to transition through different phases.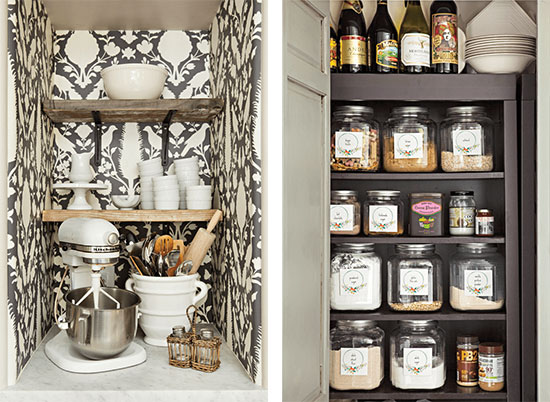 "I switch them out a lot," Melaine says. "There really isn't any rhyme or reason to it. I just start throwing them onto the couch until I think it looks good. I like change."
Related Reading: Melaine's tips for How to Make it Easy to Decorate with the Trends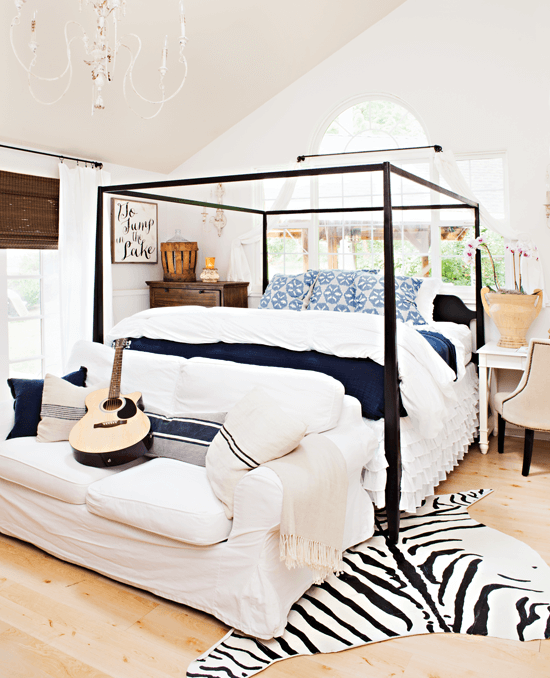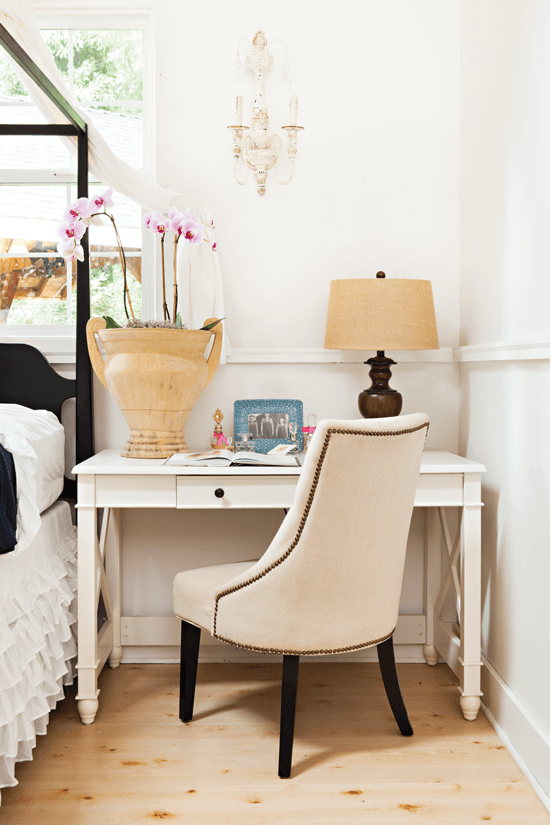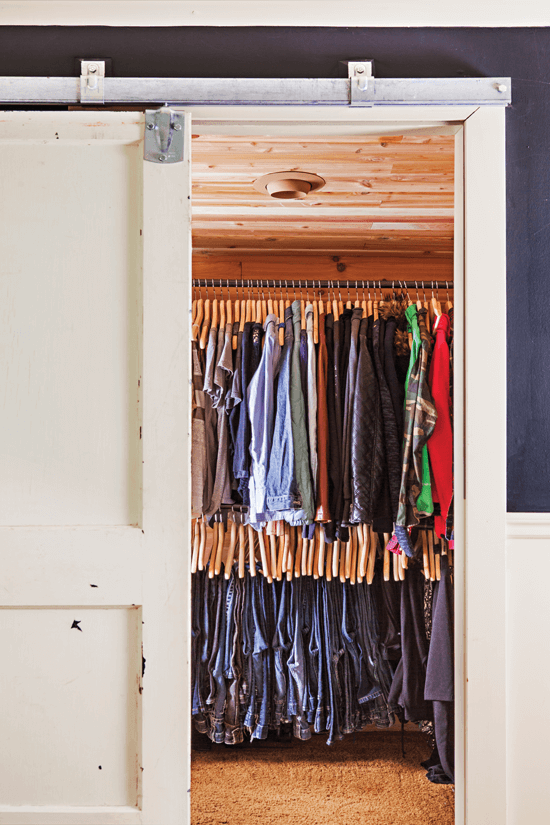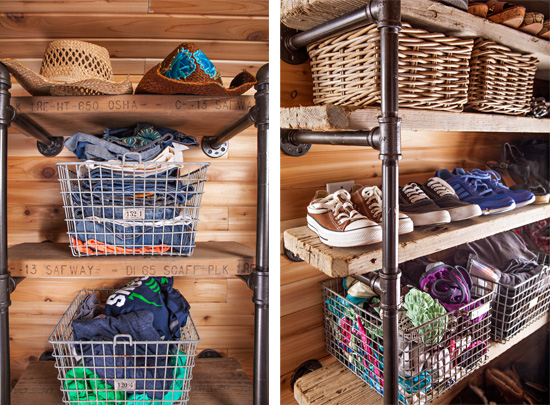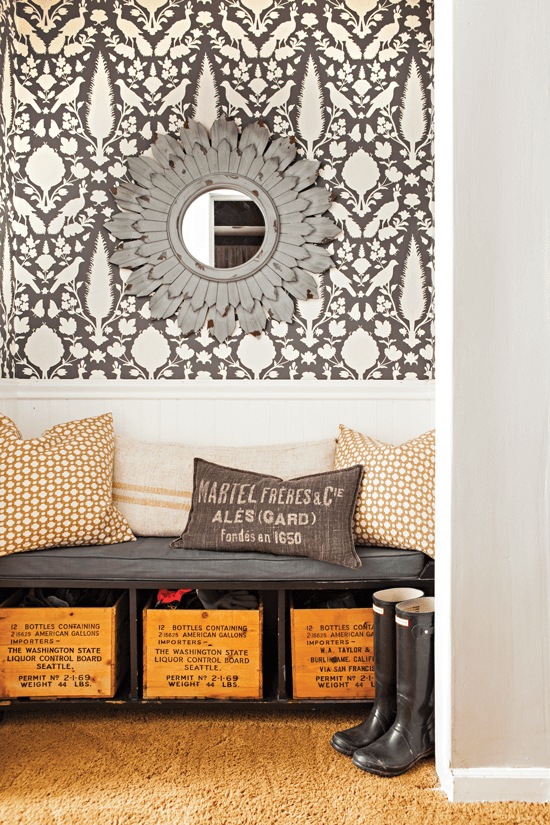 It's a concept that's apparent throughout Melaine's home. Her house is an ever-changing love letter to her family, as she finds new and different ways to beautify their lives. Her readers get to be an extension of her family as well, as she happily chronicles both adventures and misadventures in farmhouse décor and remodeling for her readers. As she says, "We have been working on our house since we first bought it 17 years ago. I am sure it will never fully be finished!"
Inspired by Melaine's style? Check out this post to get her tips for designing rooms that are easy to update.
Of course, follow us on Instagram, Facebook and Pinterest to get more travel tips for cottage lovers and a daily dose of cottage inspiration!