If your home doesn't have a beautiful front porch and your backyard feels too secluded, how do you enjoy the front of your house? Enter: The Front Courtyard Movement.
Designer James Judge is using front courtyards to promote neighborly interactions during his home renovation crusade in the historic Ashland Place neighborhood in Phoenix, Arizona.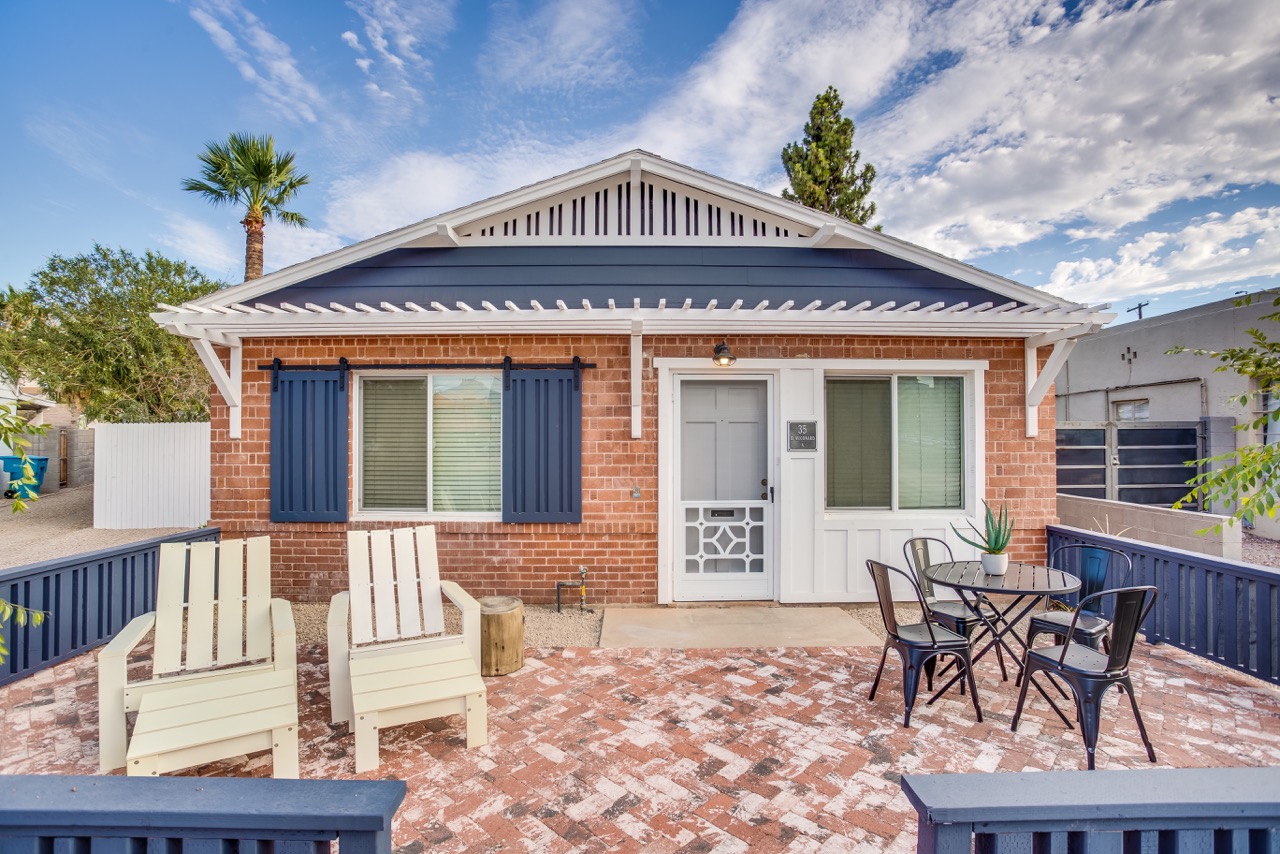 While the hot Phoenix sun makes enjoying the outdoors a chore during the day, residents with courtyards often host cocktail hours right in their front yard.
Related Reading: 5 Boozy Porch Punches
"We have all these cute cottage historic style homes, and these courtyards create so much curb appeal and community," Judge said. "For a while, being that the neighborhood was a more urban setting, it was not very social. But these courtyards have really brought people out front."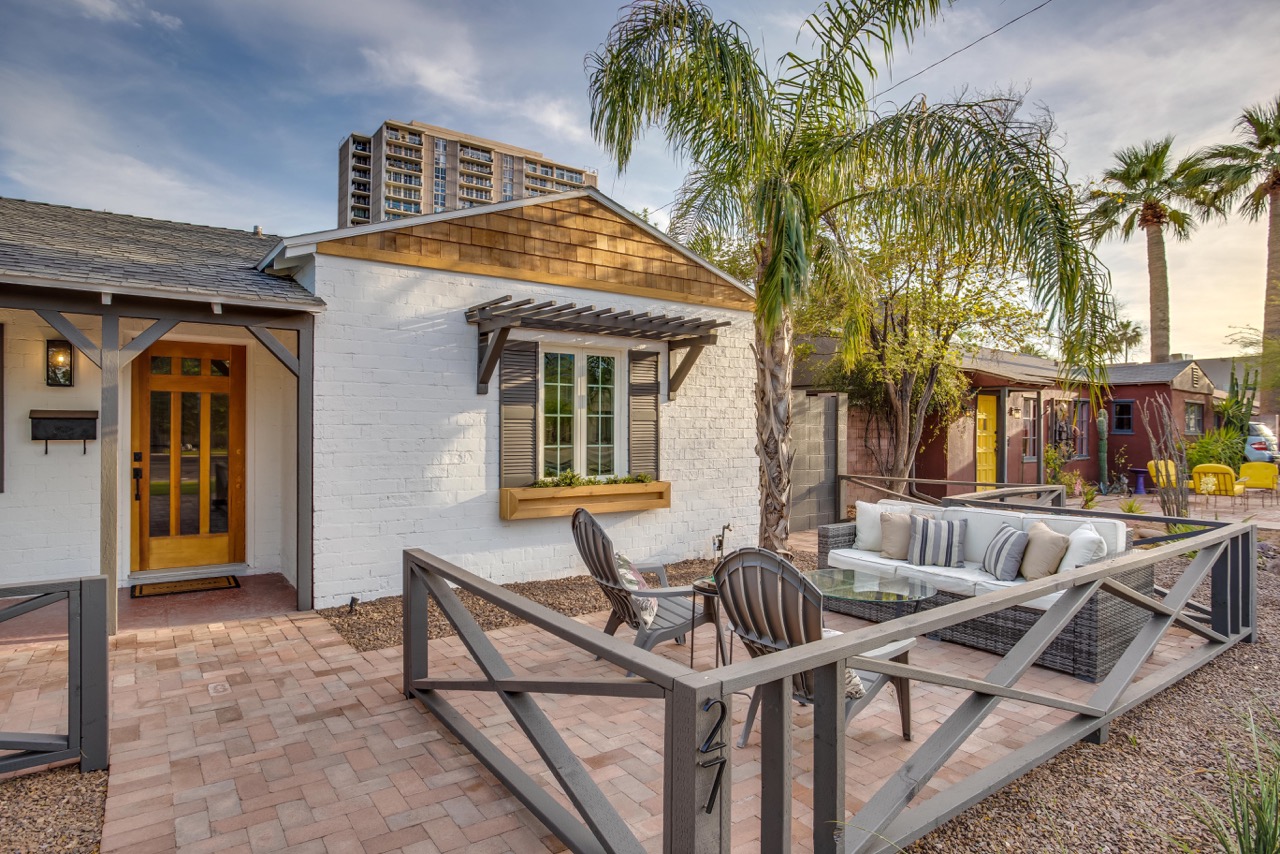 Judge's Latest Front Courtyard
Judge added a front courtyard to his most recent project in the neighborhood, a renovation of a 1930s home. He took visual cues from the home's original architecture to reflect the intended lines, instead of creating a flat courtyard.
"The courtyard bumps forward in the same fashion as the front bedroom with the cedar shingle gable," he said.
The courtyard fence's design mirrors the home's original front porch railing: a classic farmhouse X-shape. Judge coated the treated wood with his favorite paint color, "seal" by Martha Stewart, which is now unavailable. He said the closest color is Behr's "chinchilla," which has warm brown undertones.
The brick patio is comprised of bricks from at least six different locations to pay respect to the courtyard's historic roots, James said.
"It's beautiful to see the bricks all come together," he said. "You have that natural variation of classic vintage brick that you wouldn't have if you were just buying brick from Home Depot."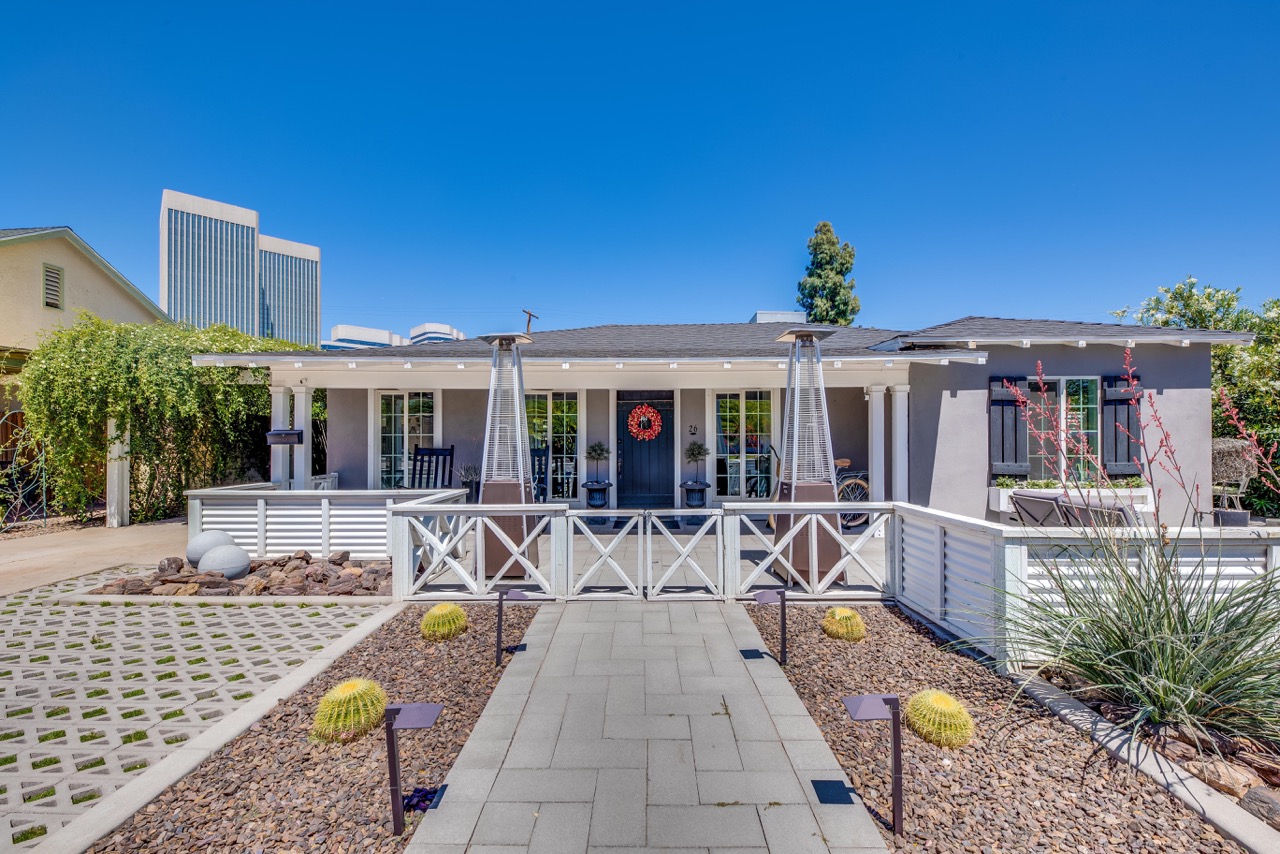 Mixing and Matching Courtyard Materials
Judge's courtyard stretches the entire width of his house. He switched up the fencing between a classic farmhouse X-shaped design and section made from corrugated plastic and vertical wood pieces.
"The wood pieces give the fences a much more traditional style and creates that element for a more modern material on a historic house," he said. 
Judge said he initially added the solid fence sections to ensure his dog could still enjoy the courtyard with him without escaping!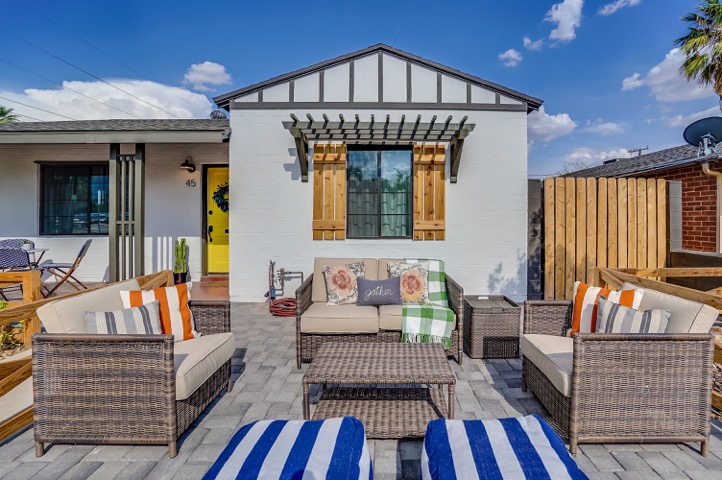 Building Your Own Front Courtyard
Judge said to understand which materials will last the longest in your climate so you don't worry about weathering effects. He mixed materials like wood, metal and corrugated plastic to withstand the Phoenix heat.
He added that front courtyard builders should aim to make the space feel welcoming, which can be achieved with additions like fire pits and patio furniture. But Judge said to ensure that the style is appropriate for your home.
"You want it to feel natural and you want it to be a true asset to your home," he said. "Really connecting and understanding the intended style of the home and creating your courtyard accordingly is essential."
For more courtyard content, check out this 1920s Spanish Colonial courtyard or this breathtaking New Orleans courtyard.
Of course, don't forget to follow us on Instagram, Facebook and Pinterest to get your daily dose of cottage inspiration!