Consider this: Butterball's Turkey Talk-Line is staffed by 50 turkey experts, who answer 10,000 turkey questions every year on Thanksgiving Day. Meanwhile, over at the Ocean Spray Consumer hotline, reps are fielding frantic callers' concerns about fresh cranberries and cranberry sauce. The poor USDA gets 130,000 calls leading up to the holiday, with questions on stuffing safety and poultry defrosting. My point? Thanksgiving can be a very stressful experience. There's the actual cooking part, and then there's also the hosting, adding to the fun and excitement. But there's nothing better than having friends and family gather around the Thanksgiving table, making all the work worthwhile. Here are some ideas, inspired by Hunter Fan Company, for ways to make Thanksgiving planning and entertaining much easier. Learn more about their beautiful collections of ceiling fans!
Utilize Outdoor Spaces

Setting the table in an outdoor space such as a porch or sunroom allows everyone to enjoy conversation, crisp air and fall foliage, so consider having your meal outside this year instead of in the dining room. Outdoor spots can also be used for overflow areas, such as if you need a children's zone, or for serving drinks and appetizers before retiring inside for the main meal of turkey and all the trimmings. However, outdoor sunrooms, patios and porches can get a little brisk at this time of year. The solution: indoor/outdoor ceiling fans such as the Cedar Key. By reversing the blades, warm air is drawn up, so even larger spaces still feel cozy.
Ventilate Cooking Areas with Ceiling Fans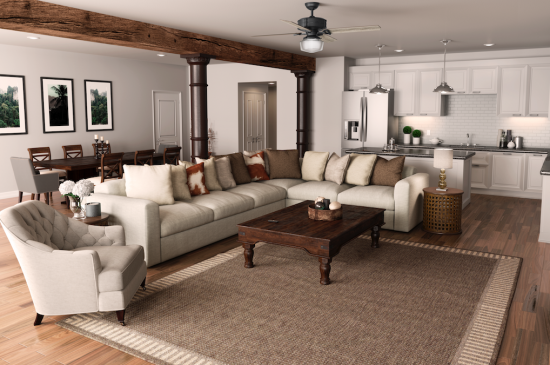 In this home's layout, the kitchen opens up to the living room and flows into the dining room. It's great for lively chats while you're finishing up cooking. But to keep the room from getting too hot, a ceiling fan is key. We like the Brunswick, since it is smart home enabled (SIMPLEconnect®), and integrates with The Google Assistant, Amazon Alexa or Apple HomeKit, making it a breeze—literally—to control the fan's cooling power. A three-position mounting system and choice of downrods ensure you can optimize the air movement for any kitchen design or a more open layout, as seen here.
Circulate Air Around a Table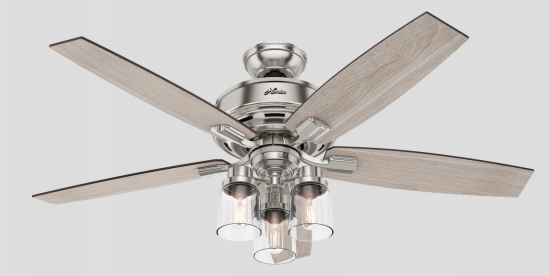 For a classic dining room look, choose a ceiling fan with a formal, but not stuffy, appearance. Our pick: the Bennett – 3 Light.  A 13-degree blade pitch is optimized to ensure just the right amount of air movement around a table. Dimmable bulb(s) give you complete control of the light output and create the ideal ambiance for dinner conversation. A reversible 3-speed motor delivers whisper-quiet performance so that you can hear the conversation with no problem, but whether that is a good thing or a bad thing depends on your relatives… Pass the gravy!
Dress to Impress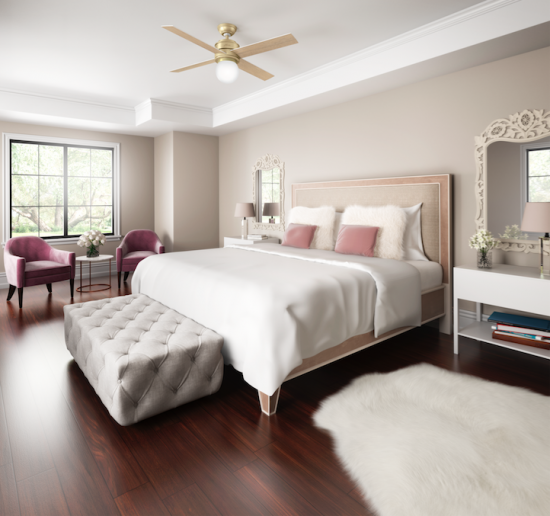 Dazzle friends and even the pickiest Instagramming sister with a gorgeous guest room. How? A Hepburn ceiling fan. The fan is sleek and polished, with an understated midcentury style that bumps up the glam factor.
Check out more ways to get inspired with Hunter.