Stepping into this coastal home overlooking the town of Laguna Beach, California, you're greeted by sweeping ocean views, floor-to-ceiling windows, and a nautical color palette of navy, white and orange with accents of aqua. The Schneider family hired interior designer Darci Goodman to bring a sense of continuity to their space, allowing it to transition seamlessly from room to room—and from relaxation mode to comfortably hosting their children and grandkids. The result? A fall beach house with bold, colorful décor doesn't distract from the surrounding landscape but enhances it, creating a look appropriate for every season.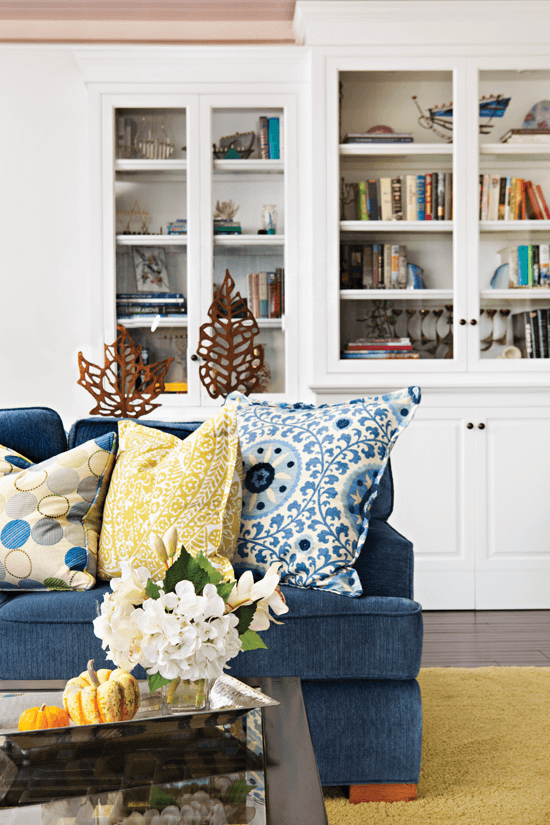 Creative Continuity
Although the home was built within recent years, its style was inspired by the look of a traditional California craftsman cottage. When Darci began the project, the beach house had been completely painted but was otherwise a blank canvas. On the family's wish list? White sofas, maximum seating and extra sleeping areas. Darci set the stage for the home's continuity by establishing a color palette, beginning in the living room, and carried it throughout the three bedrooms and the outdoor space. Arguably the best spot in the house, the grand living room has neutral walls and couches but playful patterns, through accents like ottomans and pillows. The bright orange side tables nestled into the room were the original inspiration for the color scheme; after Darci discovered them, the decisions to bring in navy and touches of aqua came naturally. "Those tables led me to what I ultimately wanted to do—bring a pop of color without overdoing it," Darci says.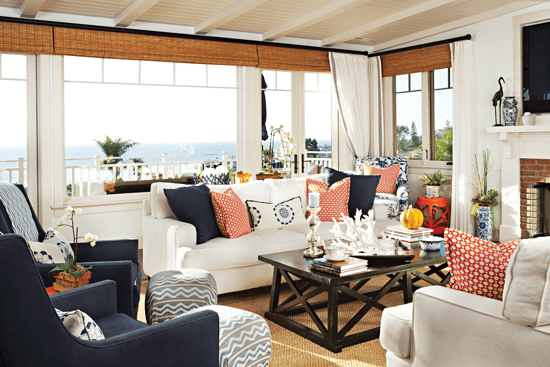 Transition to Fall with Color
Throughout the other rooms, bright, cheerful variations of navy and orange make an appearance as solids and as striped, floral and geometric patterns. While one guest bedroom models a cobalt-blue area rug and orange upholstered armchair, another features a floral quilt with aqua and orange tones, anchored by a citron-yellow sofa at the foot of the bed. The master suite has lighter, soothing tones to help complement its clear crystal chandelier. Each room carries the color scheme in a unique way, adding plenty of visual interest while maintaining a feeling of unity. "I chose a lighter color palette in the master suite to capture the serenity of the ocean and sky," Darci says.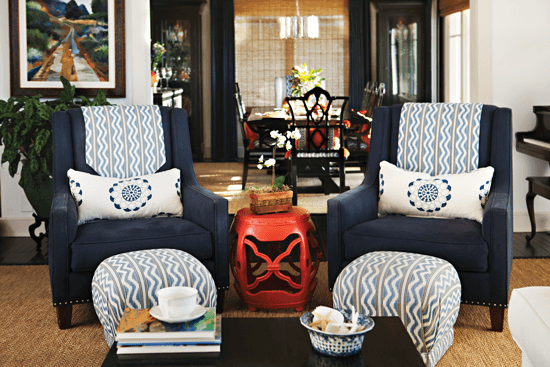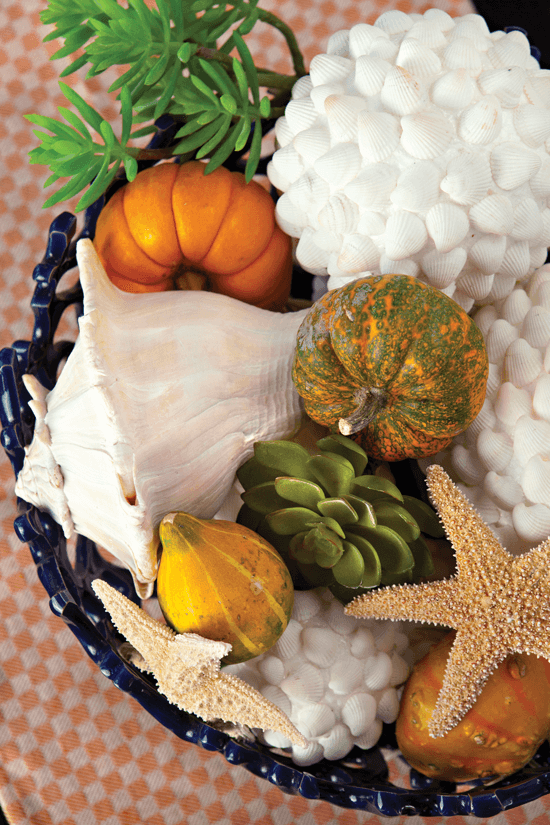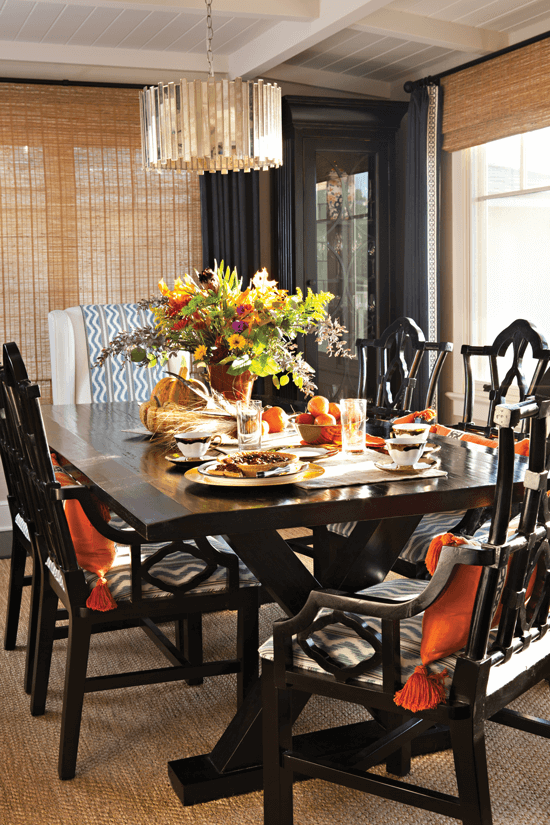 Get Ready for Hosting Season
The beach house can comfortably host three generations of family and entertain guests. With three grown children and young grandchildren to enjoy, it was important to the Schneiders to maximize the sleeping space in each of the guest bedrooms.
Clever touches were added to this purpose, such as a twin-size trundle bed in the home office and a pullout sofa at the foot of a king-size mattress in one of the guest bedrooms. While the additional bunking spots enhance the family-friendly function of the home, extra seating in the living room and outdoor space provides ample room for entertaining. With an umbrella-shaded table and chairs on the patio and a charming bistro set, watching the sunset on the main deck is made all the more cozy. "It was a priority to make sure every space was equipped for entertaining," Darci says.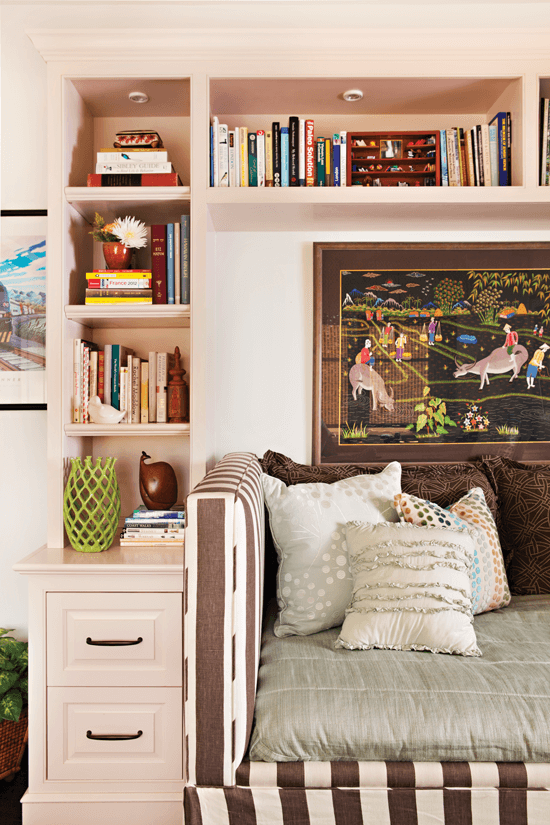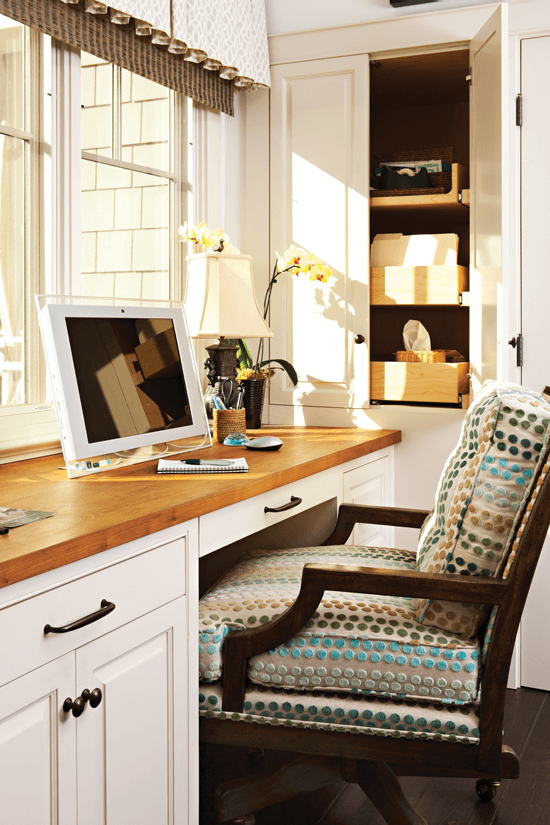 A Natural Complement
With any home that has a prominent natural setting like this one, it's just as important to complement the external surroundings as the interior architecture. With ocean views from several of the rooms, it was a priority to ensure the décor and textures inside didn't distract or compete with the outdoors but played well with it.
Bold, colorful décor doesn't distract from the surrounding landscape but enhances it, creating a look appropriate for every season.
"I wanted to honor the home's architecture and honor the surrounding nature as well," Darci says. Darci accomplished her goal by using neutral tones for larger pieces such as sofas, dining tables and window treatments, and then with the blinds in the living room adding in elements with natural textures like seashells, woven jute and bamboo.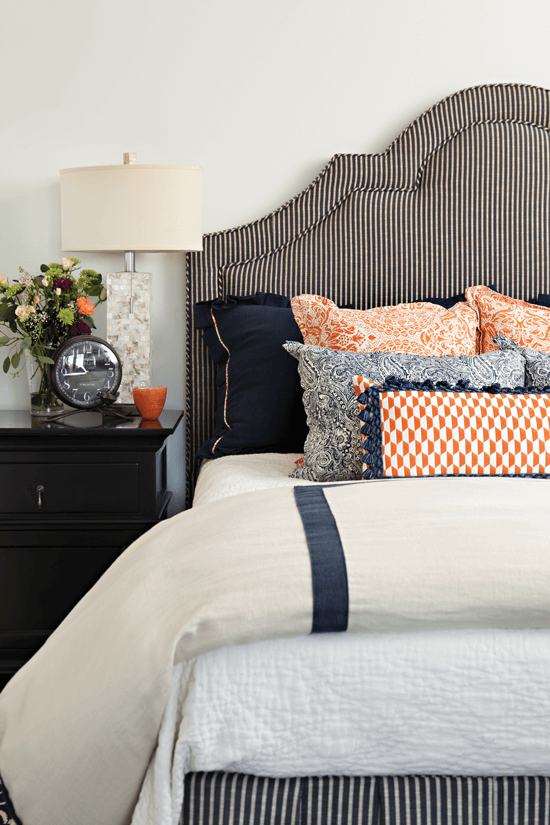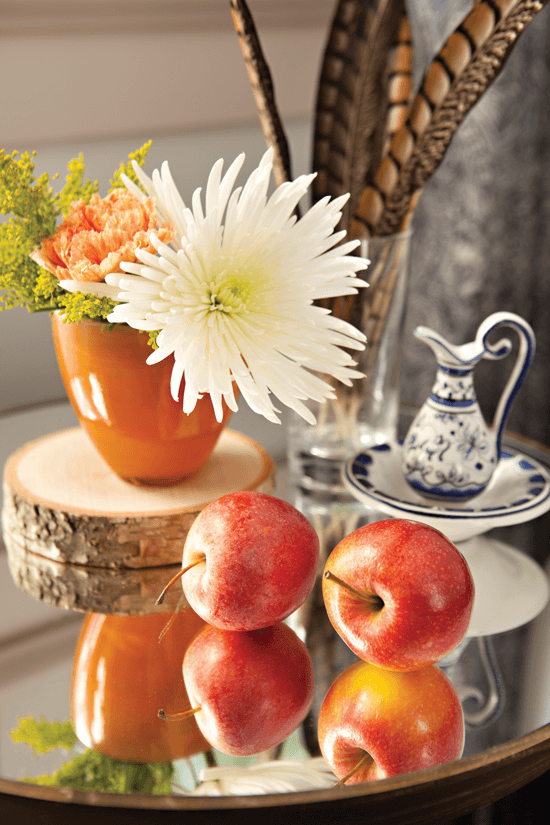 Choosing décor that complements nature allows seasonal touches to blend right in with your existing design, looking perfectly at home, whether it's warm red and orange tones in autumn or green and white shades in winter. Neutral colors on the walls and major pieces of furniture set the stage for adding a tiny montage of seasonal bounty to a tablescape or
freshening up a vase with fall foliage or feathers. Going bold with accent pieces and accessories gives the freedom to decorate for all seasons!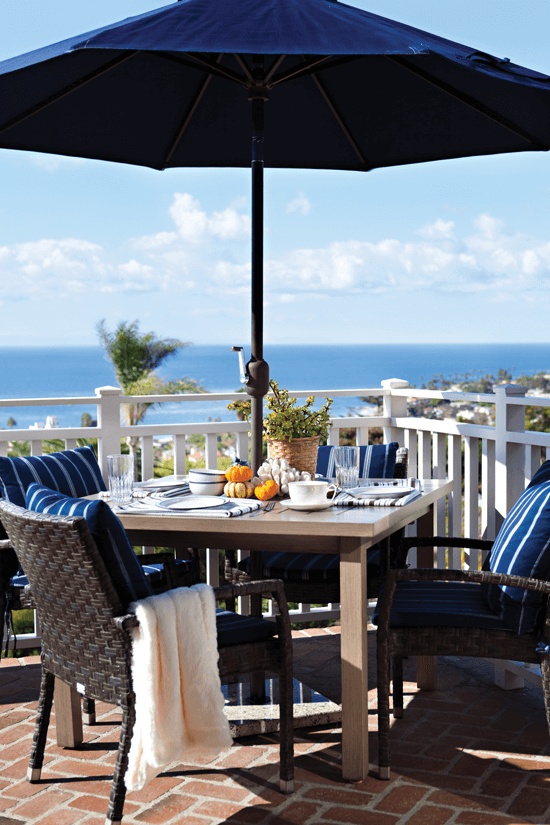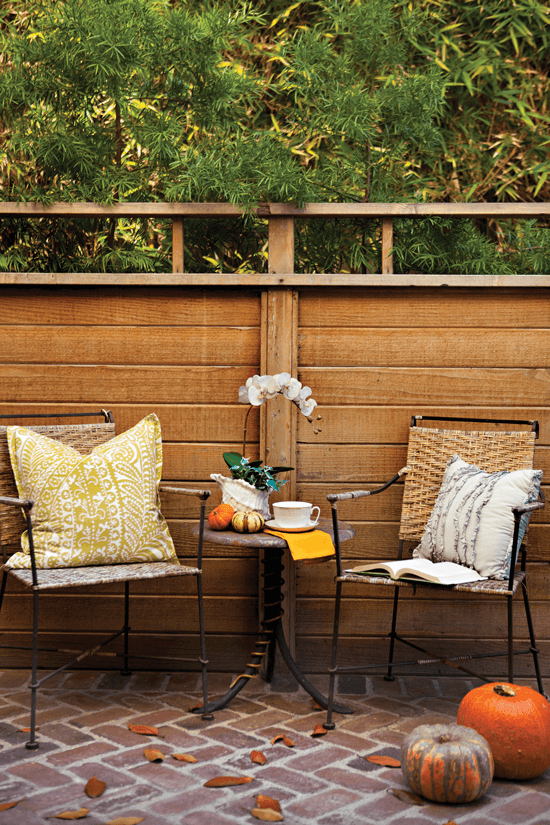 How to Add Fall Décor to a Beach House
With its pumpkins, seasonal foliage and warm colors, fall décor might seem out of sync with the blue and white tones that often characterize a coastal home. But with the right natural textures, autumn décor can actually enhance the coastal look. Here are our tips for adding fall décor to any beach house.
Bring outdoors inside, but remember less is more: Placing a few branches in a tabletop vase or filling a bowl with fresh pinecones can have a big impact when set against coastal accents.
Choose natural textures, such as shells and jute rugs or woven baskets, wherever possible. The rough fibers and neutral colors of these items will enhance seasonal oranges and reds.
Play with negative space: Add lightweight, thin items like feathers or branches to a larger clear-glass fixture. The transparency of the fixture will allow light to come through, accenting your neutral, seaside-inspired background.
Add in layers through pillows and throw blankets. Feel free to stick with your coastal color palette, but swap in cozier knits and thicker fabrics that will bring a touch of comfort for
cooler temps.
Go for warm tones, such as burnt orange or deep red. Set against shades like these, even the bright white that coastal homes and cottages are known for will begin to feel autumnal. For example, style a few mini, white-colored pumpkins near an orange lantern or vase.