Whether they are neighborhood trick-or-treaters or relatives visiting from out of town, you want your guests to feel welcome as they walk up to your doorway. There's no better way to set up that inviting atmosphere than by decorating your front porch with painted pumpkins.
Amanda Heer, floral designer and owner of Fantasy Floral Designs, crafted a colorful array of pumpkins and picture frames that looks like a scene straight out of Alice's Wonderland. Rather than sticking with the season's harvest-related tones and themes, Amanda took a creative approach to vintage-inspired décor.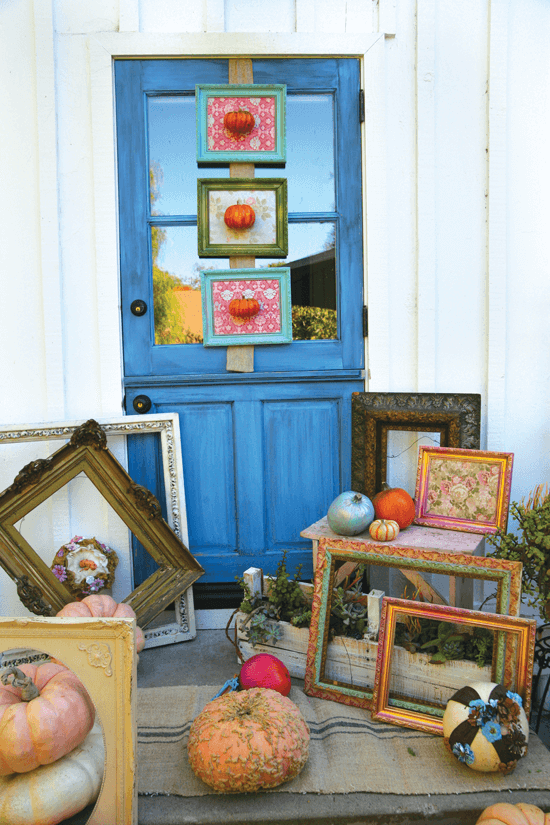 Refresh Your Memory
As mementos of the past, vintage elements never fail to add a little charm. Even though they are painted and repurposed in a contemporary style, the overall look retains an aged feel. Details like the molding on the picture frame corners and the floral and Victorian patterns also help establish the romantic roots of Amanda's design.
Full Spectrum
Shades of sunny orange, golden yellow and creamy beige generally dominate autumn décor, but just because a color isn't commonly associated with the season doesn't mean it will be out of place in a design. Amanda painted pumpkins, picture frames and furniture in just about every color of the rainbow for her porch. Incorporating unexpected hues such as bright blue and fuchsia makes a bold statement, and the house exudes a fun, friendly character that makes it stand out from the rest of the houses on the block.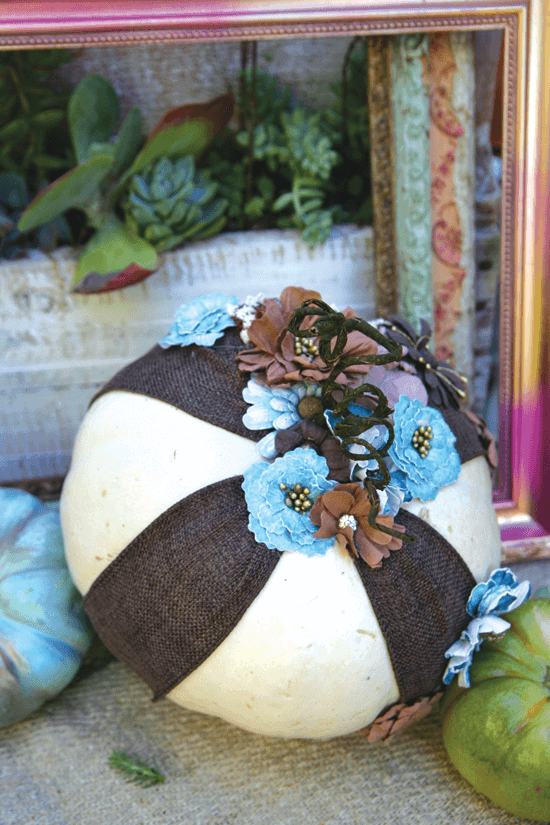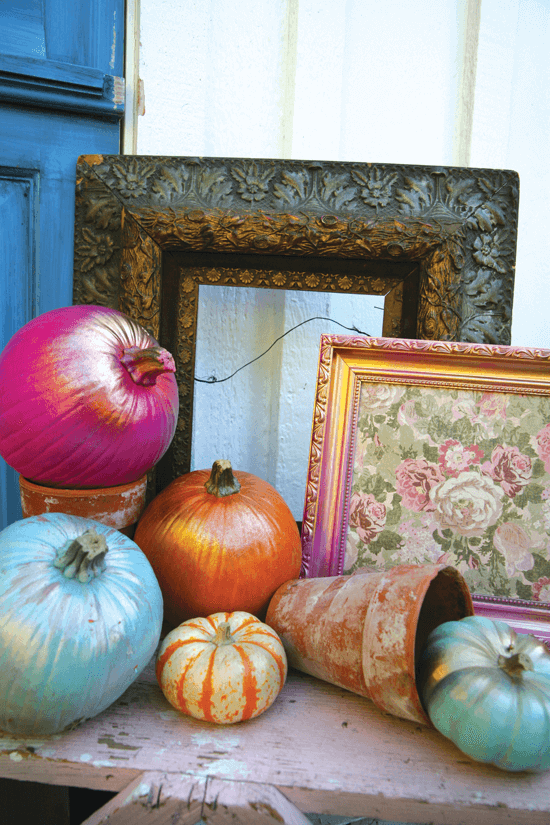 Cover All Grounds
Just as it's important to layer on sweaters and jackets in the fall, you should layer various elements of a decorative feature to create a warm, balanced look. There aren't any strict rules for what should go in the foreground versus in the background, but simply make sure to fill up the space. While clutter is usually to be avoided, the number of items on Amanda's porch actually works to convey the message of a bright and exciting home.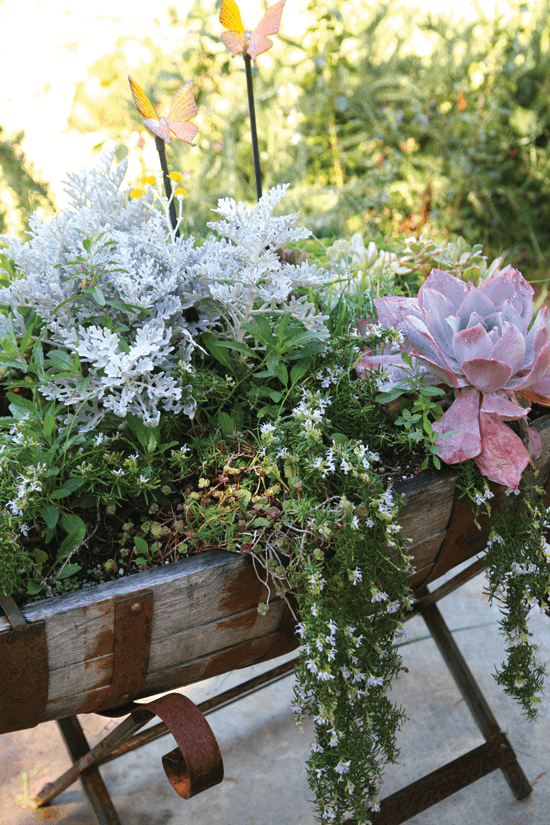 Mix and Match
Using a jumble of sizes and shapes, from petite to extra-large and flat to rotund, adds visual interest and dimension. Setting the elements up asymmetrically with skewed angles instead of straight, rigid lines adds whimsy and warmth to the look.
Trial and Error
Play around with placement. Moving a pumpkin a few inches to the left or moving a picture frame in front of a display rather than behind it can completely change the look and feel of your design.
DIY: Portrait of Painted Pumpkins
Showcase these 3-D pumpkin portraits anywhere in your home for a pop of fall.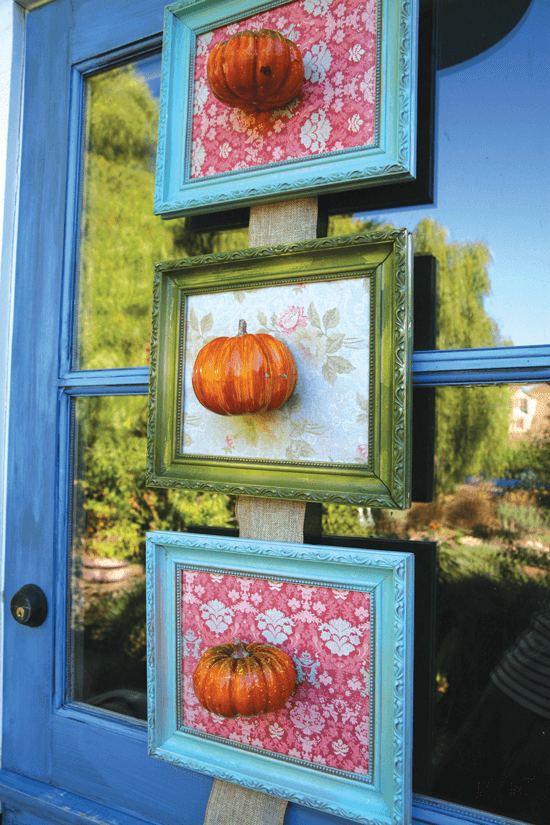 Materials:
Small Styrofoam pumpkin
Picture frame
Patterned scrapbook paper
Orange spray paint (optional)
Knife
Glue
Instructions:
1. Cut off a third of the Styrofoam pumpkin behind the stem to create a flat surface.
2. Spray paint the pumpkin for some extra color, if desired.
3. Cut the scrapbook paper to fit into your picture frame, and glue the paper on the edges behind the glass.
4. Glue the pumpkin on top of the glass and lay everything flat to dry.
5. Hang on a door or wall, or prop up on a side table for one-of-a-kind décor.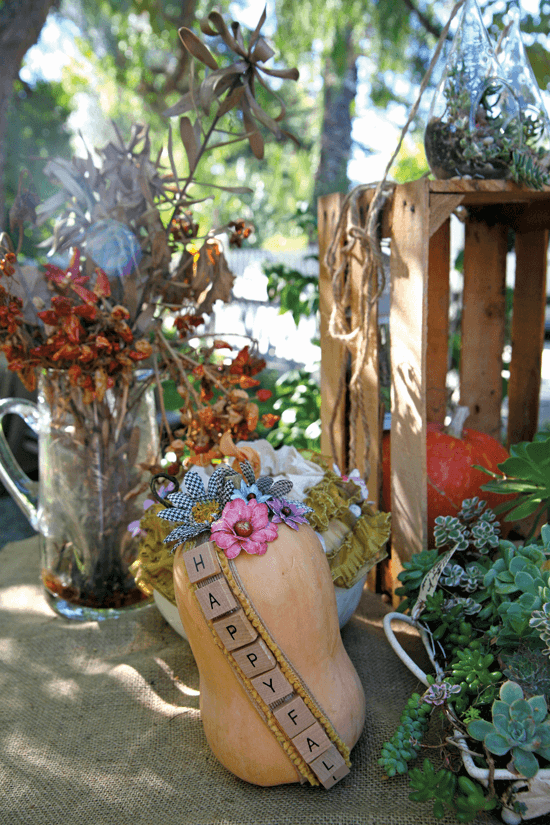 Repurposing Tricks
Make the most of your antique finds by following these simple tips.
Stand strong. Make sure that whatever you are hoping to upcycle has structural integrity, especially furniture, so that your project will last a good long time.
Hold on. Save anything you think you can reuse, revamp or recycle in the future. It might look like trash today, but maybe in a few months it'll look like a treasure.
Think outside the box. This old cliché is more than just a trite saying when it comes to repurposing. Thinking creatively may lead to a wonderfully unique piece.
Functional change. Take an item and make it into something completely new, like turning a clock into a mirror.