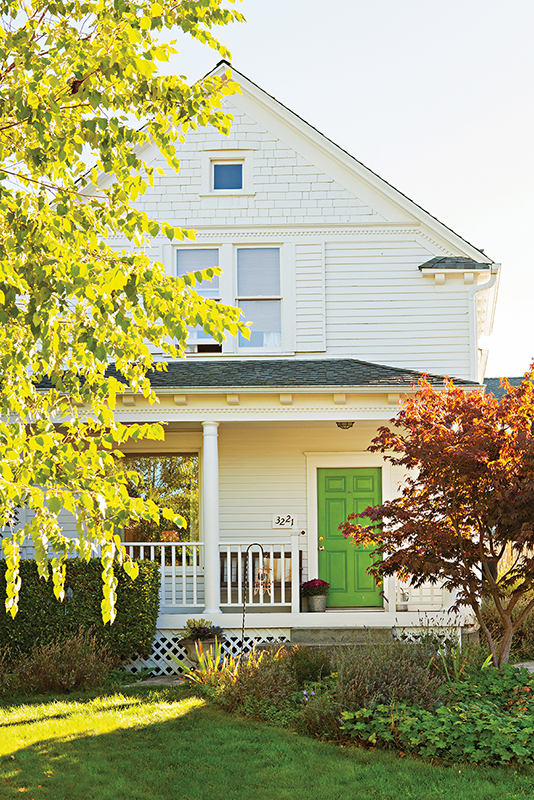 Fall can be a challenge when it comes to decorating in style. The summer's bright colors and casual accessories no longer look right, but it's too early to break out the heavy textiles and dark colors of winter. When you think of fall décor, what comes to mind first? Chances are, gourds and pumpkins … lots of pumpkins. But you can be more creative than that, and this home will give you a hearty crop of ideas for decorating beyond the pumpkin.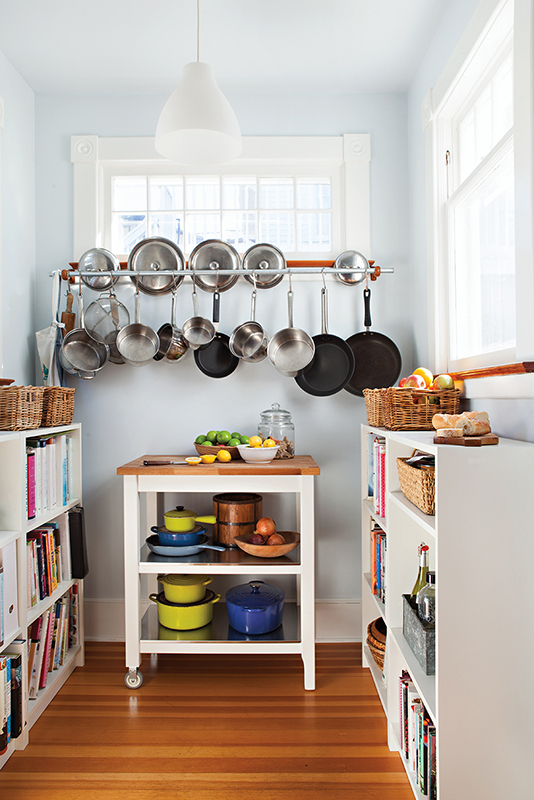 Amy Duncan's décor exudes the ambience of fall, but not in the traditional ways. Amy takes vintage items you can find at flea markets or may already have at home and gives them a fresh look for the season by upcycling them as part of layered compositions and creative vignettes. She often documents them on her blog fourcornersdesign.blogspot.com.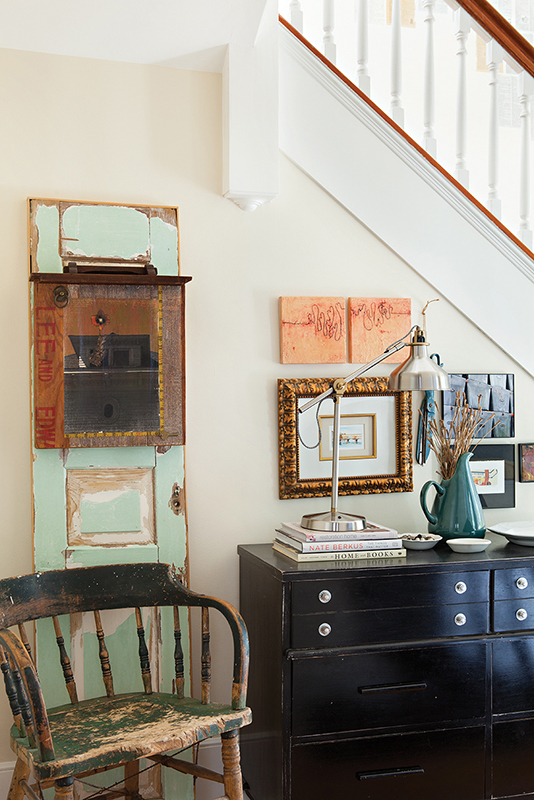 Amy lives in a 1902 Victorian home in Everett, Washington. The décor reflects the down-home charm of the area and the building's classic architecture. She finds decorating for fall to be a creative opportunity rather than a challenge.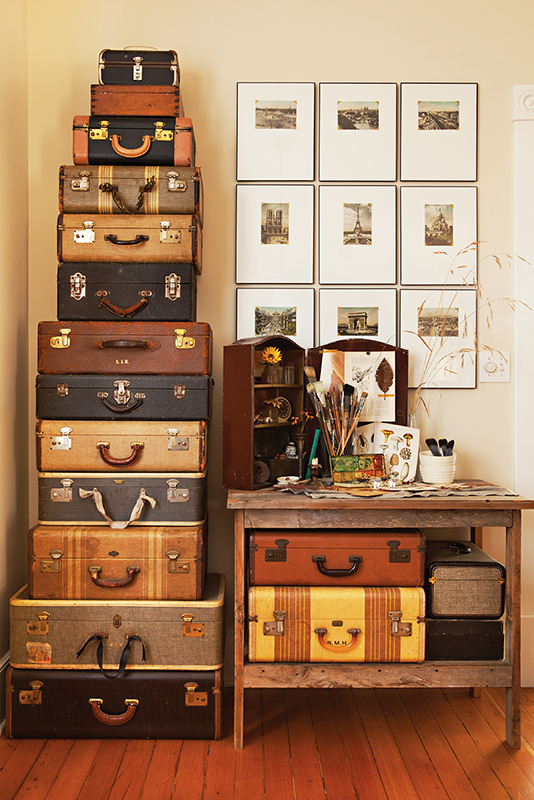 FALL REFLECTIONS
"I see fall as a winding down after sum- mer, a time to slow down a bit, a pause before the holidays get crazy," Amy says. "It's a marker for the passage of time. I think vintage elements suit the season well as introspective throwbacks to an older time."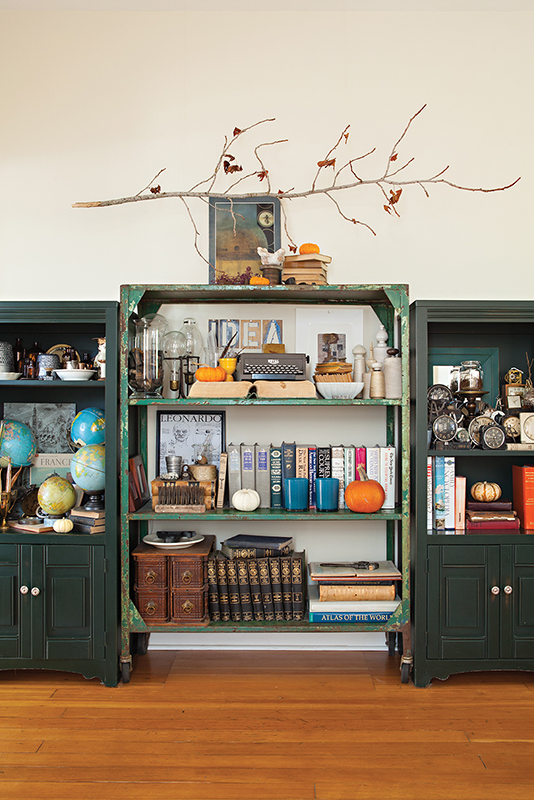 But Amy doesn't usually place her vintage items in their original form. As a multimedia collage artist, she looks for ways to repurpose and upcycle them, such as the vintage cardboard globe that she cut in half to become a ceiling light fixture and the old doorknob she uses as a stopper on an apothecary jar.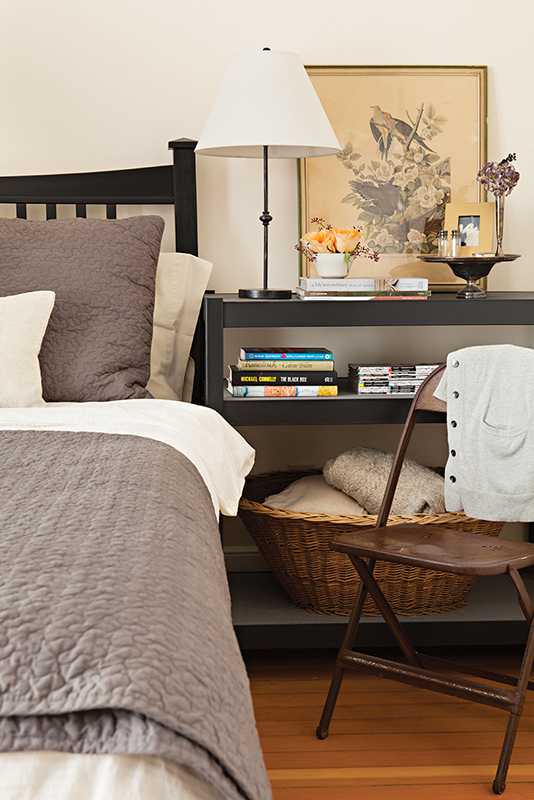 DISPLAYING COLLECTIONS
One of her favorite fall displays that has become popular—and for which she is con- sidered a pioneer—is a stack of vintage suitcases that she uses for storage in the brown, gold and tan colors of the season.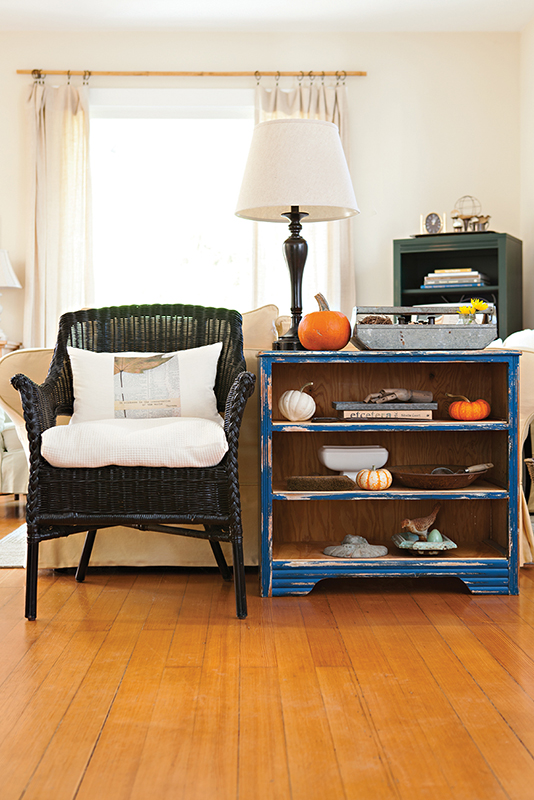 "I love to travel, and vintage suitcases have a story to tell," Amy says. "The different tones and textures all work together well."
Amy likes to incorporate photography into her fall décor. "It's a great time for photographing elements. Summer is bright and vivid, whereas fall becomes more subdued," she says.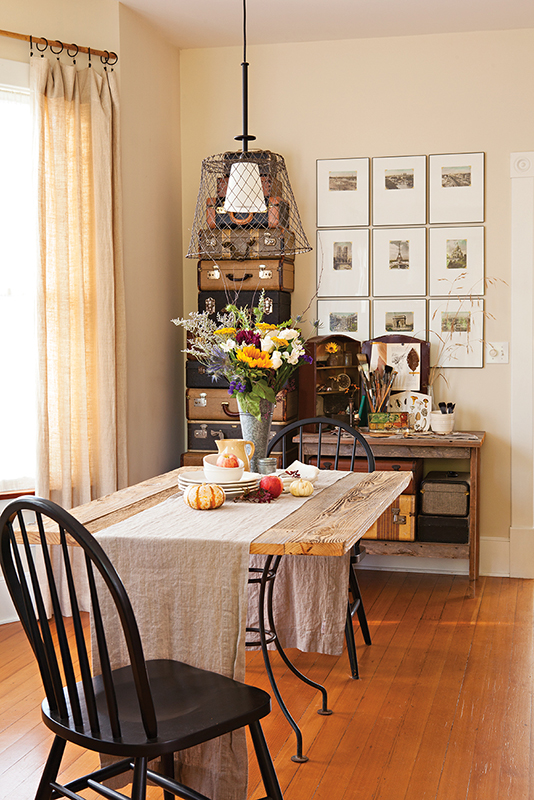 Clocks are among Amy's vintage collections. "The majority of them don't work, but that doesn't bother me," she says. "I often repurpose the clock faces, keys, gears and workings." She is attracted to the graphic quality of using numbers in her artwork, from clocks to rulers and tape measures. "I like objects of measurement that reflect the passage of time, measuring things," she explains.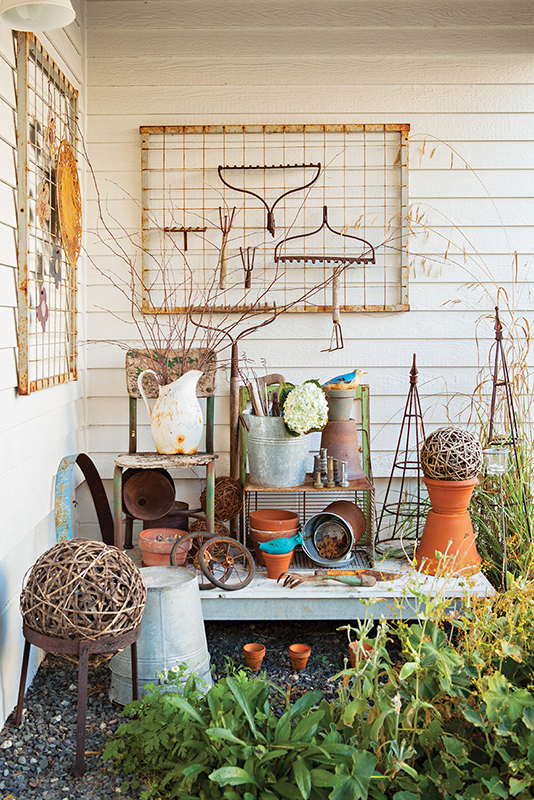 GARDEN ART
Amy's fall décor continues outside, in her backyard garden, where she has fashioned intricate vintage-industrial compositions using mundane elements. A rusted box spring is layered with a bicycle wheel, trashcan lid, bike gears and a faucet handle. On one wall hangs an iron grate with metal flowers and willow reeds, while another composition showcases fall gardening equipment, such as large and small rusted rake heads.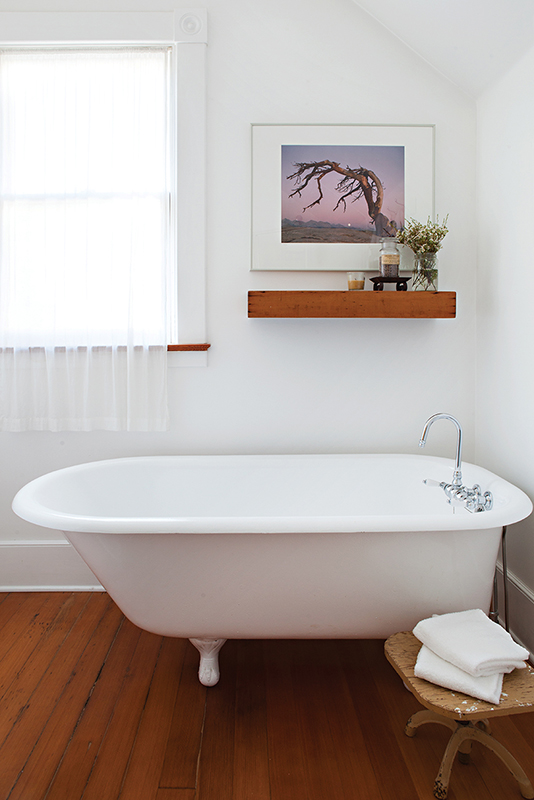 Next to the garden is the studio where Amy hosts creative-art classes. Her best advice for vintage decorating for fall: "Consider not just what something has been, but what it could be."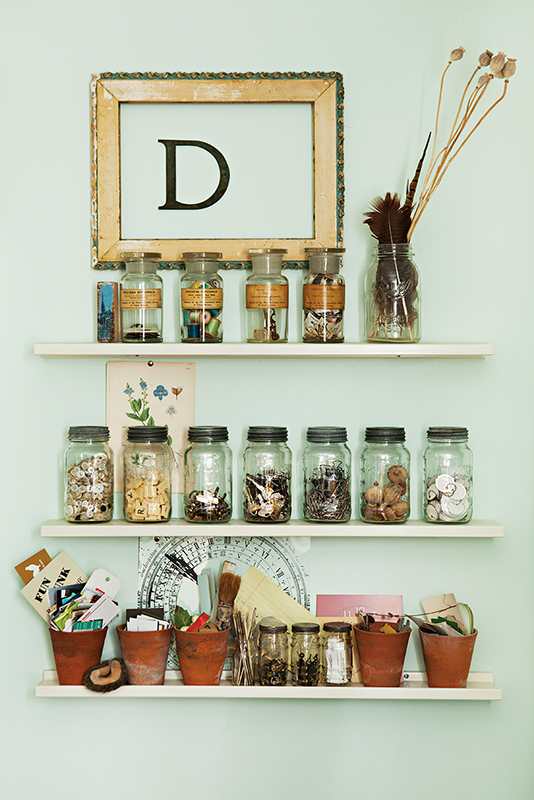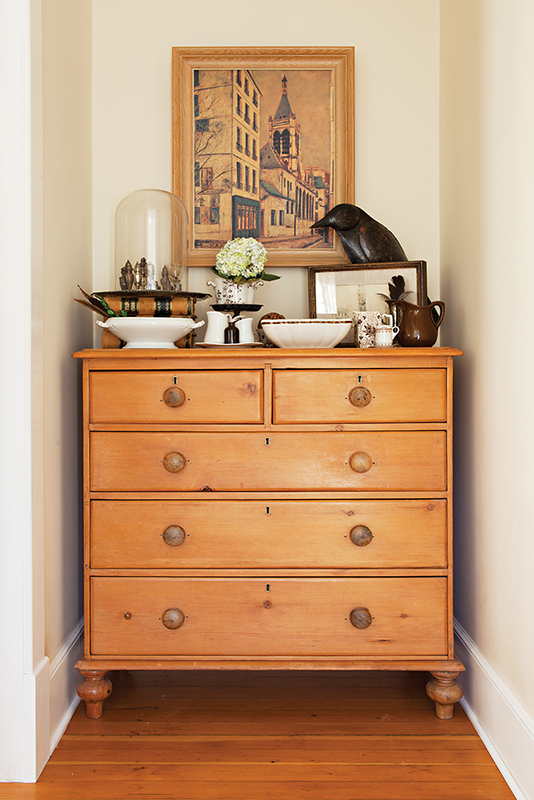 Front door:
Eddie Bauer paint in Balsam, visit lowes.com. 
Living-room print of eggs in bowl, kitchen bookshelves, butcher-block cart, wicker baskets, hanging light, front-hallway desk lamp, home-office light fixture, bookshelves, bedding:
Ikea, visit ikea.com.  
Sofa and overstuffed chair: Ballard Designs, visit ballarddesigns.com.
Sitting area in dining room, wicker chair:
Pier 1, visit pier1.com. 
Industrial metal garage shelving:
Lowes, visit lowes.com.