Can fall style be light and fresh? If you combine bright color and natural accents it can be. As a well-known jewelry designer, Amanda Keidan has an eye for aesthetics. So when it came to decorating her own Venice Beach, California, cottage, she achieved what many people find impossible: the successful combination of 1940s architecture with clean, modern lines that adapt perfectly to fall.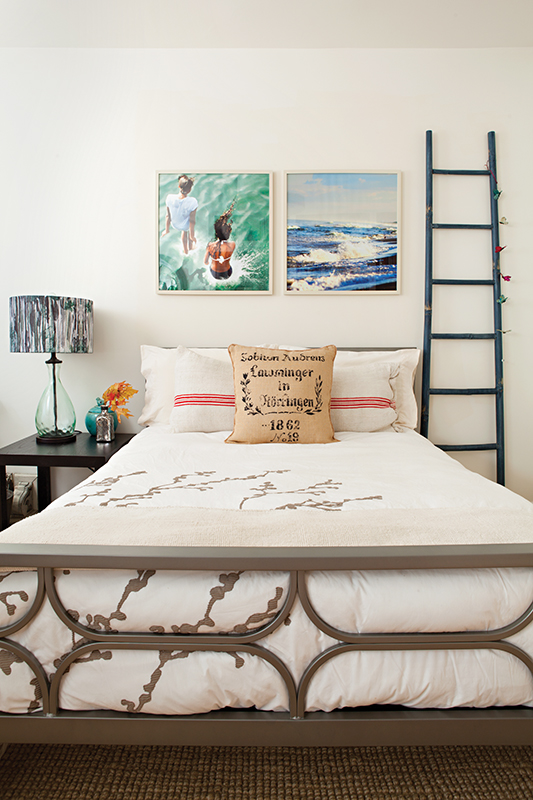 Amanda bought her home three years ago and set out to simplify what had become an almost jungle-like exterior. Using a neutral palette both inside and out, she changed the dark-blue stucco home to a smooth, white look and removed ivy from the outside to lighten the feel.
"Landscaping was a big part of the process as well," Amanda says. "The house was 'jungly,' and I prefer a more streamlined look with lots of space to, for example, lie on the lawn and feel like you can breathe."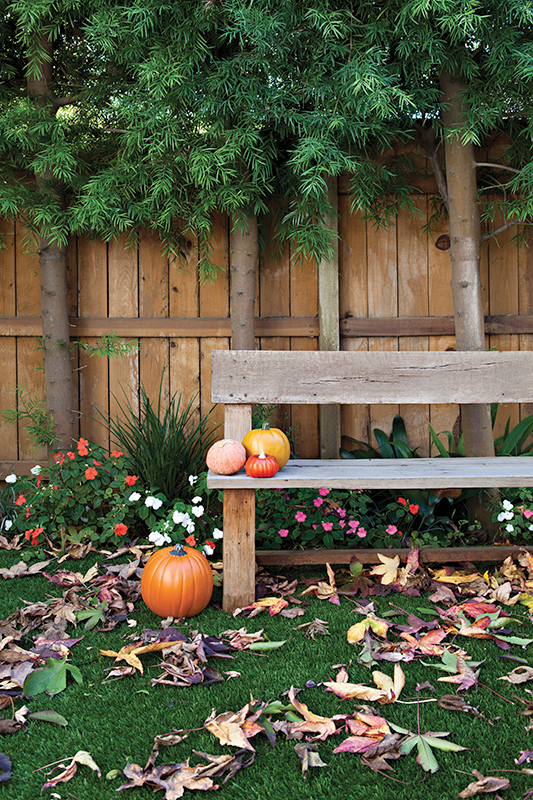 She also benefits from a charming backyard oasis featuring sitting areas with benches and flowers that can be changed out for the season to create an autumn or spring look with just the adjustment of a few plants. A wooden fence and well-spaced trees offer privacy.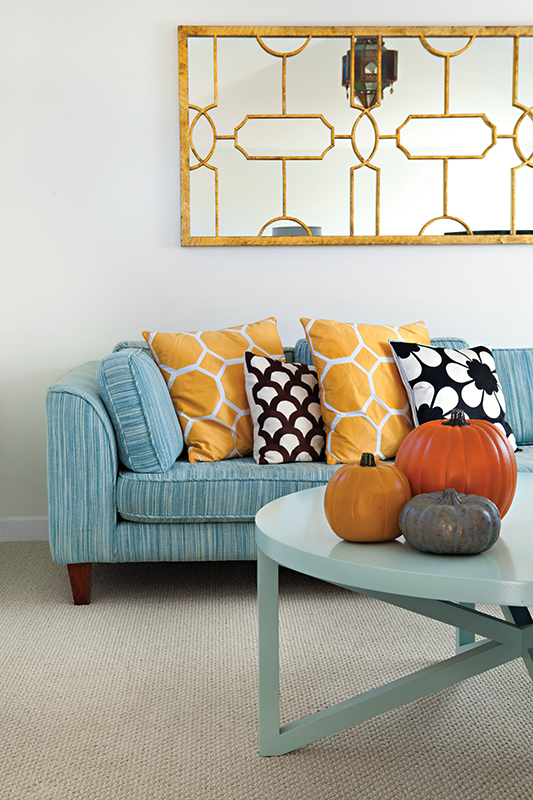 Get the Right Light
When it came to designing the interior, Amanda used light colors to ensure a clean, minimalist look that was also relaxing. Adding to the warmth and light tones was an abundance of natural lighting that she achieved through several methods.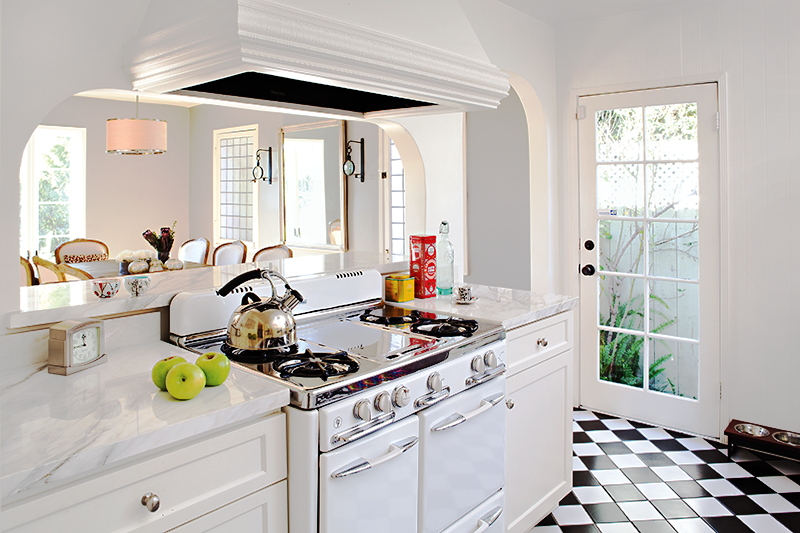 "There are big skylights in three parts of the house that let in a ton of light," she says. "In addition to that, high ceilings and big windows in the front and at the sides allow for light to stream in."
What is most unique about the home's lighting is that the warmth changes throughout the day, thanks to an old-school touch and fortuitous positioning.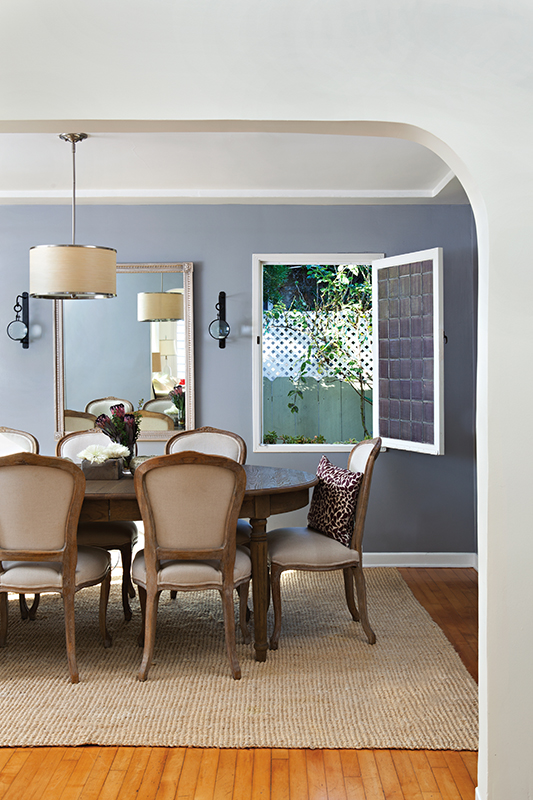 "Some of the vintage windows are made of leaded glass," she says. "At different times of the day, they cast a warmer, more romantic light. I have to think the lighting has something to do with how the house is positioned as well. Light streams in so beautifully every hour of the day. It was what first made me fall in love with it."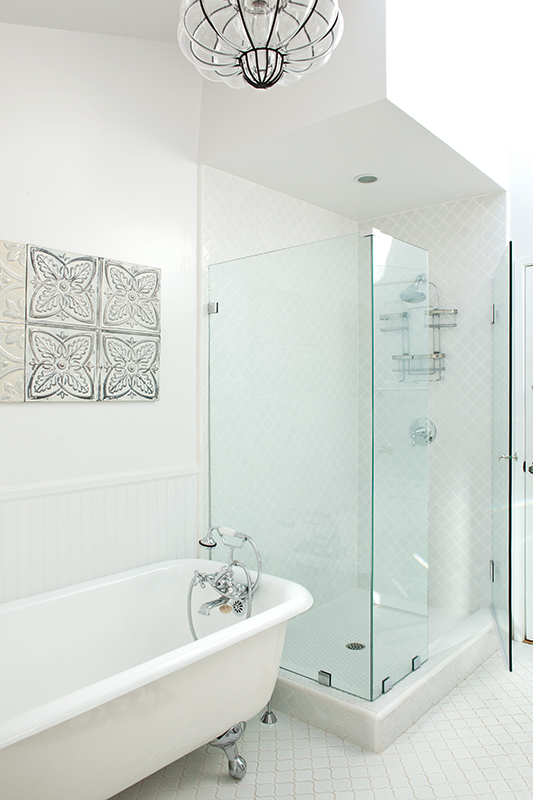 Simple, Seasonal Sparkle
Because of the simple, clean aesthetic, it's easy for Amanda to change out the style every few months to get into the spirit of the season. Pumpkins, colorful silk leaves, silver and orange painted branches, and other pops of autumn color throughout the home give it the essence of fall, but these touches can quickly be adjusted as the weather turns so it takes on a more festive holiday mood.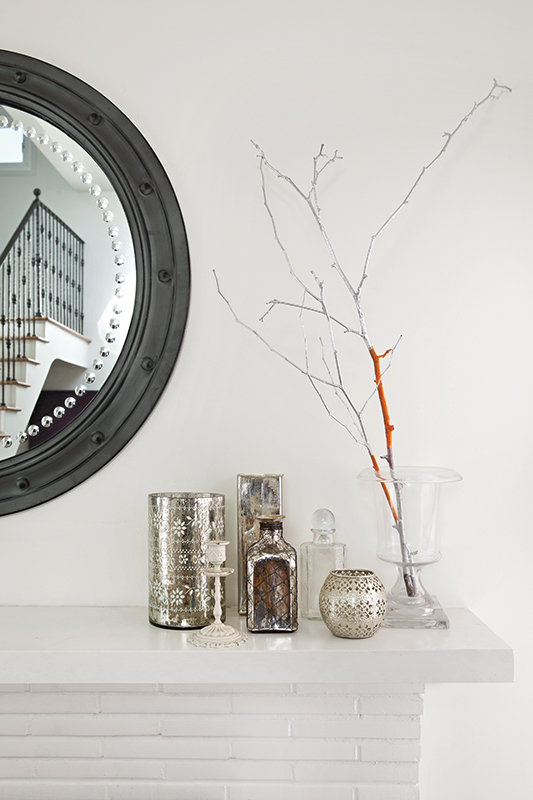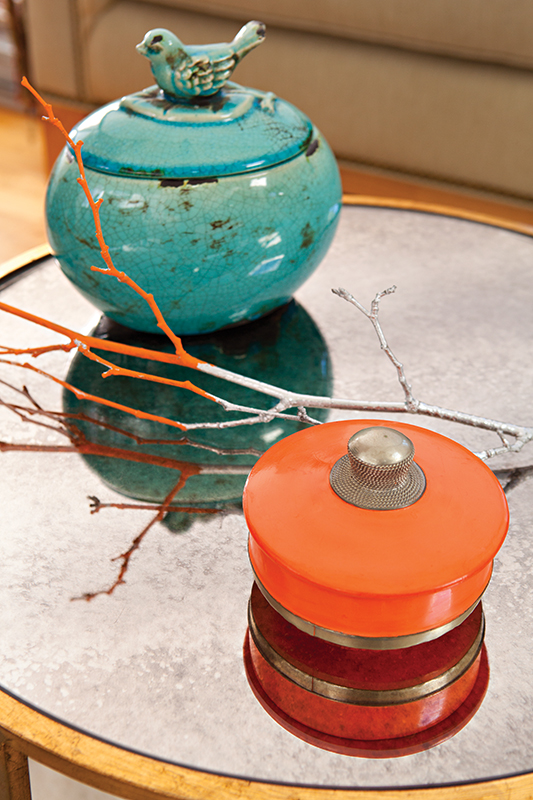 Pets Are Welcome
Amanda is not only passionate about design, she's also committed to her work with animal-rescue groups. This means that four-legged friends are welcome to explore her home and she's able to keep it looking sophisticated and charming despite their furry presence.
"I have two little rescue-poodle mixes named William and Woodruff," she says. "When I return home, there are toys all over the place! I keep a basket of dog toys in one room and periodically just have to collect them around the house and put them back."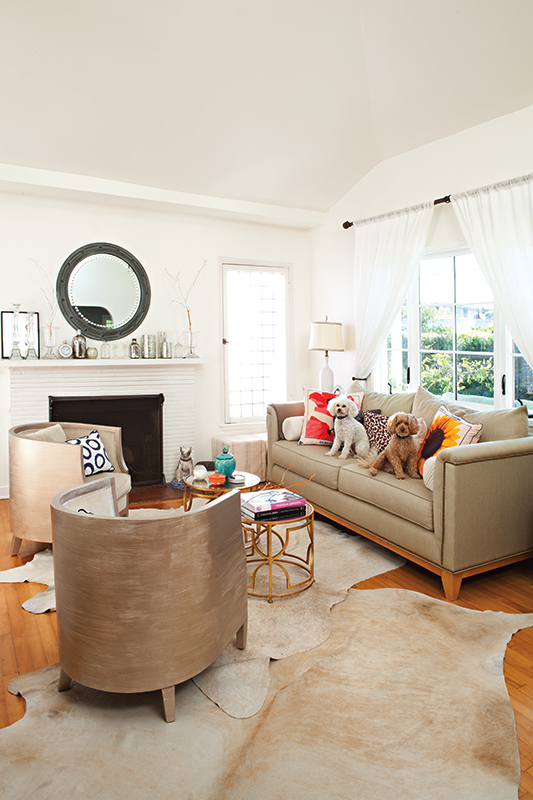 Most would-be pet owners hesitate to adopt a dog because they fear dirt being tracked throughout the home, but Amanda has found a unique solution to that concern. "One of the best secrets to keep the house clean with pets is to have faux grass in the yard," she says. "Their feet are never muddy."
Artful Autumn
Even a home with neutral tones can benefit from a sophisticated fall style for the season—and you don't have the break the bank to achieve it. Rather than changing out all of your décor or investing in autumn-hued slipcovers, you can use accents throughout your home to give it an autumn feeling.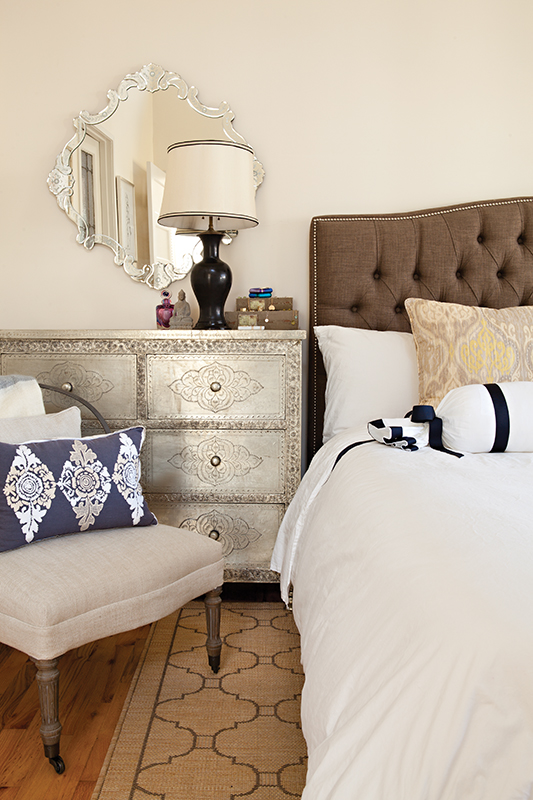 "I like to keep cozy throw blankets around in every room when it gets cooler out," Amanda says. "I won't start making fires until December, but when fall comes around, I bring in the firewood—it makes the house feel cozy and rustic, even though it is Southern California!"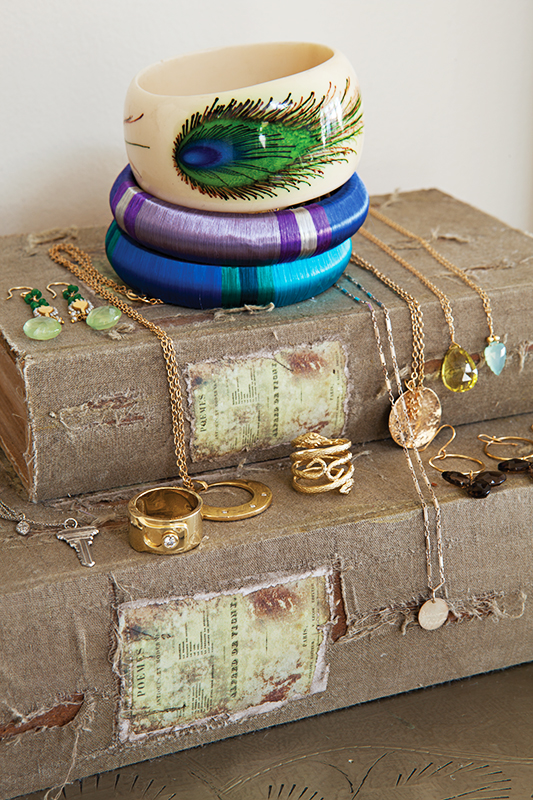 5 Ways to Add Warmth to Any Room:
1. Natural décor, such as fresh pumpkins and autumn wreaths, will not only give your home a fall look but will bring in the seasonal scents.
2. Throw pillows are a great way to add autumn-toned accents.
3. Swap materials. Trade cottons for wool and fleece for instant coziness.
4. Change bedding from summer colors to darker fall tones.
5. Lighting candles will give your house a great aroma and will also lend a simple glow to the home for autumn.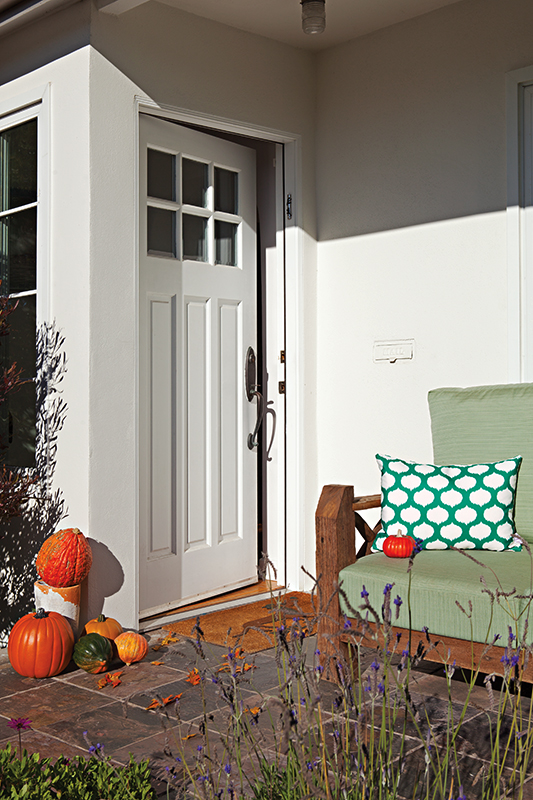 References
Guest-bedroom artwork:
Photograph by Christopher Kerr, christopherbkerr@gmail.com.
Vintage ceiling-tile artwork in bathroom:
Santa Monica Flea Market, visit santamonicaairportantiquemarket.com. 
Bathroom pendant:
Ballard Designs, visit ballarddesigns.com. 
Living-room sofa: Livestyle, visit livestyle.com.
Living-room mirror over mantel:
Serena and Lily, visit serenaandlily.com.
Living-room coffee tables:
Gilt Home, visit gilt.com. 
Loft sitting-room blue sofa:
Custom.  
Loft sitting-room gold mirror, silver bedroom dresser:
Vintage. 
Brown upholstered headboard:
One Kings Lane, visit onekingslane.com.  
Champagne-colored bedroom chair, dining table:
Restoration Hardware, visit restorationhardware.com.
Kitchen stove:
O'Keefe & Merritt, visit antiquegasstoves.com. 
Dining chairs:
HD Buttercup, (310) 558-8900 or hdbuttercup.com.