This week at Victory Farms I will walk you through the progress in the open-concept living room and kitchen!
A Place to Cozy Up
Our amazing tile company "Cowell Custom Flooring," finished the fireplace surround and kitchen backsplash wall, which looks fantastic! I used London Brick Series Tile, which looks identical to real old school vintage Chicago brick. I wanted the brick to look authentic, so I went with a 1-inch grout line and used a greyish color grout so that the brick would be the attention-getter! To catch the wood popping ashes from the fireplace, I used the same stylish brick in a 4 x 4 section on the wood floor with a herringbone inlay—this is darling!   

Since the brick tile was complete on the fireplace, my construction team then started wrapping the fireplace in Windsor One Shiplap to complete our modern farmhouse style. To give the TV a built-in look, we took advantage of the open cavity around the fireplace. I designed a built-in box specifically for the TV making it look as though it were part of the fireplace wall. The electricians ran a cable connection tube to an open space in the laundry area that was directly behind the fireplace cavity. My carpenters built a custom shelf that would hide all of the components for the satellite box and music system, which gives the front room a component free look.  
Storage is Key in Open-Concept Living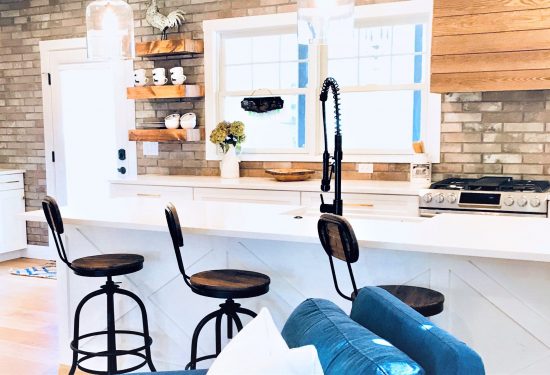 V really wanted some shelving in her living room for fun décor, so I added two industrial wood shelving units. I used one on each side of the fireplace from Antique Farmhouse that showed off the Simply White wall paint by Benjamin Moore. While I was searching for the rest of the living room and kitchen furnishings, the kitchen cabinets and quartz countertops were installed. I decided to go with White Willow Quartz for the kitchen countertops since I wanted the brick and finishes to pop in this open-concept floor plan.

Finishing Touches
Now that the countertops were installed, I met with my plumbers to hook up the farmhouse sink and matte black chef faucet, wow… how exciting to see my vision now come together. The appliances were delivered and installed and my electricians finished installing the island pendant lighting and the beverage center lighting. While the electricians were busy at work, my painter finished the last coat of chalk wall paint for the beverage center, so it was ready for my friend Amber from "I Do Signs". Amber is a talented chalk artist who I found through one of my styling jobs for Cottage & Bungalows—she is truly amazing. I sent Amber a photo of a cow print that I loved since this renovation was a true farmhouse design. We then met at the job site to incorporate a name to go with this Cow Art, "Victory Farms." When meeting with my client at the project a few weeks back, she mentioned that her name translates to Victory. She discussed house nicknames with many of her friends and they were down to Victory Farms. I wanted to surprise V on the final reveal of her home with this special artwork once the furnishings were complete.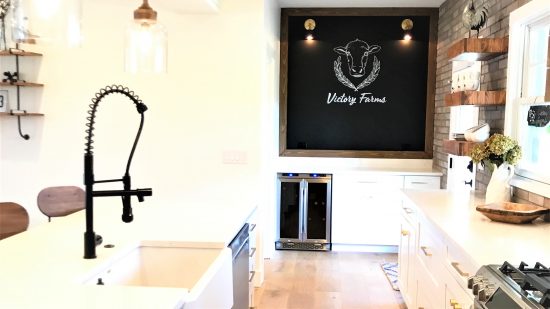 When I arrived at the job site the next day, the rest of my furniture deliveries arrived. My team and I got busy unwrapping, putting together and arranging furniture. This was the fun part! So, while the team was finishing up, I ran to some local markets in search of unique décor. Not only did I find the décor I was looking for, but I found some beautiful fresh hydrangea flowers to accent the space. In Harbor Country, there are so many local vendors that have amazing art, furnishings & décor that represent the southwest Michigan area—I can get lost in the cruise up the Lake Michigan coastline. Now that I had everything needed to style the home, I was busy at work. I found these cute island stools from Antique Farmhouse, wood farmhouse kitchen shelves from Etsy, leather side chairs from local vendor, Hearthwood's Custom Furnishings, large farmhouse area rug from Birch Lane, and an extra deep feather down sofa and navy side chair from Joss & Main.

How exciting! The open-concept living room and kitchen were finished being staged and styled, and the new custom cow art had finished drying. It was time to move on to the new laundry room off the kitchen, which we will discuss in next week's blog. Hope you enjoy, and stay tuned for more of "Victory Farms". 
XO,
Betsy Glass 
"The Flippin Designer"
Miss any of Betsy's latest renovation updates? Check out the open-concept dining space she created here, and take a peek inside the redesigned bathroom here!
For more on Betsy, visit her website and check her out on Facebook and Instagram.