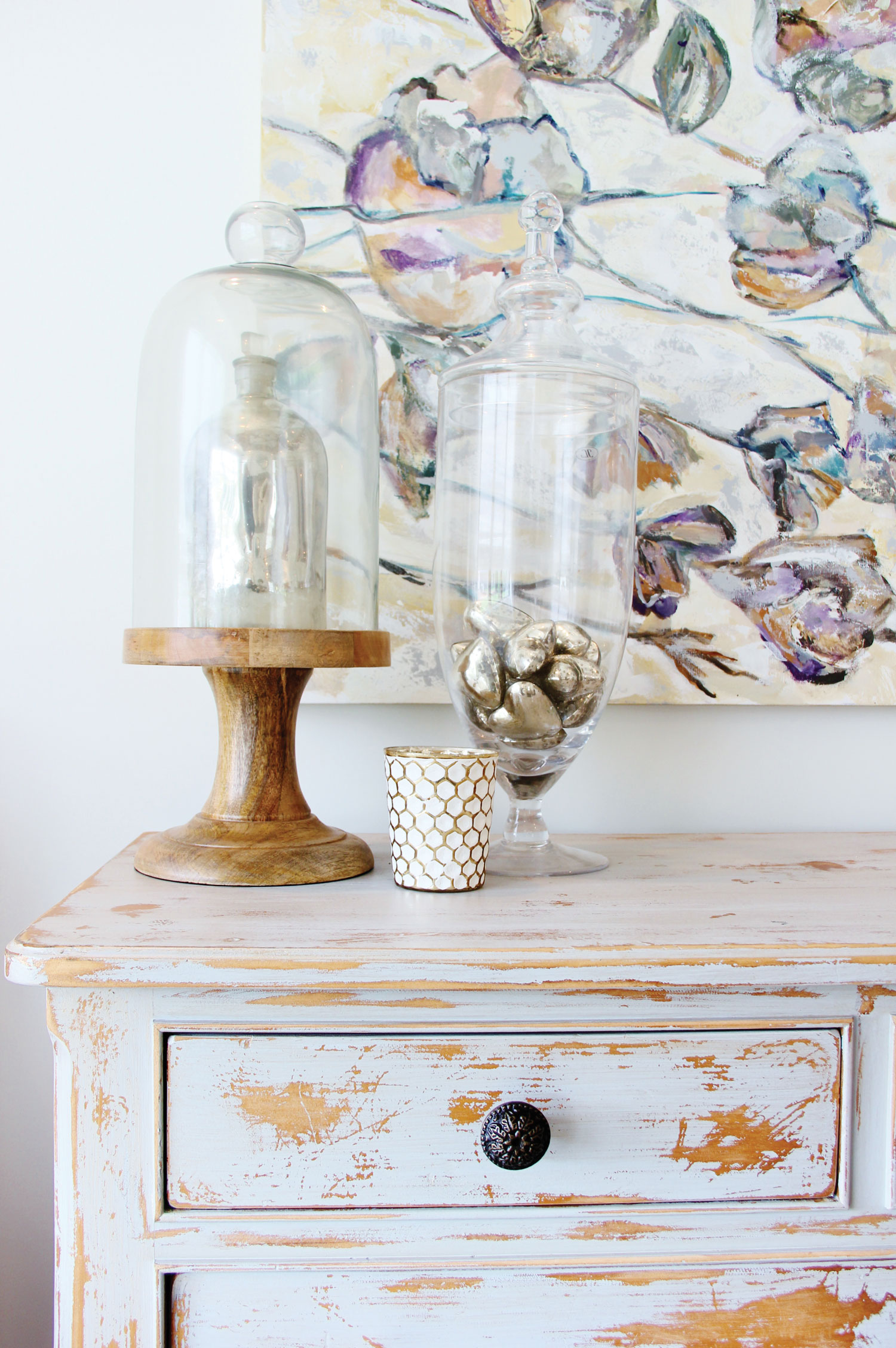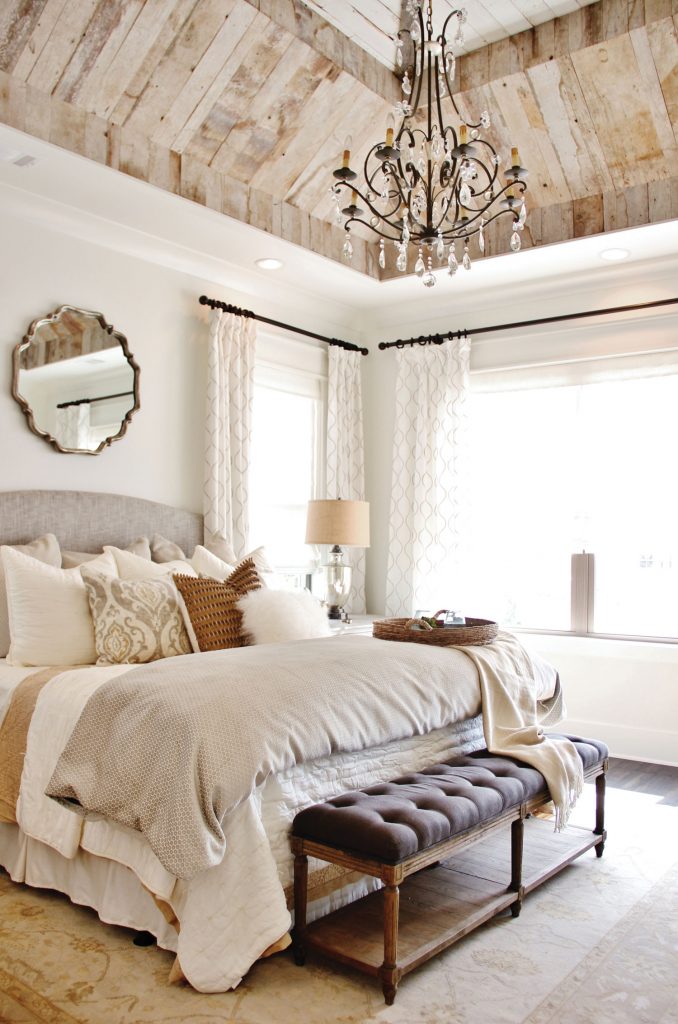 Sisters-in-law Kara and Lauren Blalock of Refresh Home were asked to participate in the 2015 Middle Tennessee Parade of Homes—challenged by Landmark Homes to come up with a show-stopping, innovative, yet realistic home to showcase. Kara and Lauren rose to the occasion, putting their passion for reusing and repurposing to good use in creating a rustic-chic bedroom.
Living History
Lauren says that the design duo started the project with the goal of creating a timeless, livable space that whispered retreat and history. "We wanted a home that was stunning but still
entirely functional."
Falling under the stunning category is the show-stopping ceiling. "Before the project started, Nick Wisniewski from Landmark Homes, the builder, happened upon three Civil War era barns that had to come down. We stripped the barns of all salvageable materials for the sole purpose of reusing them throughout the house."
Rustic touches repurposed wood and a creamy color palette make this new-build home feel like a well-worn retreat.
Starting out as a large pile of old 4- by 8-feet sheets of wood that came off the walls of a milk barn, the wood had what Lauren describes as "a fabulous, creamy, dirt-colored patina." Once cleaned of red overspray and concrete, they were cut to fit every angle of the ceiling. The inset of the tray ceiling features tongue-and-groove boards that were part of the original milk barn. "The 'X' was added to tie the two materials together and pay homage to the original barn structure," says Lauren. "All of the colors of the old wood make it a visual masterpiece."
Chic Retreat
"This home is English country revival with rustic-glam flair. It is all about light and bright, with enough contrast to anchor the space," says Lauren.
Layers are the key to turning this new-build home into a welcoming retreat. Lush, plush layers on the bed make it a welcoming spot to land at the end of the day, while layers of finishes allow the furnishings to reflect years of well-loved charm. "Bring every organic material you can into the space: silk, linen, cotton, fur, wicker, glass, wood, wood and more wood!"
Rather than bold, eye-catching patterns, Kara and Lauren opted for simple patterns—and lots of them. From stitching in the coverlets and a muted rug to shimmering miniature hexagons on the duvet and gentle damask on the curtains, the patterns work together to hint at an overall scheme of luxury and rustic beauty.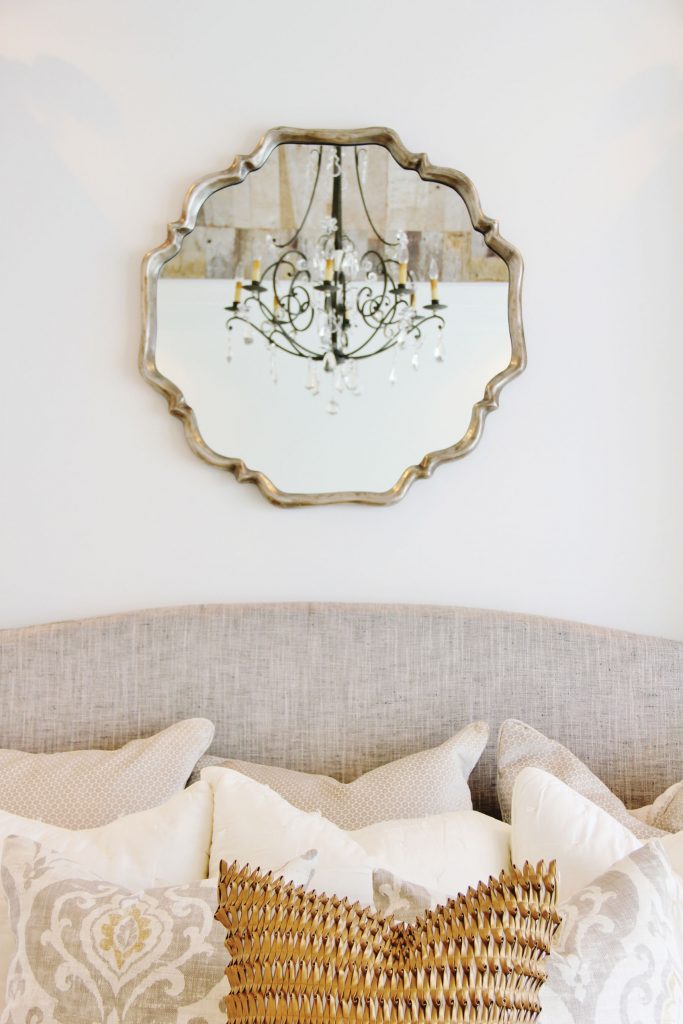 SOURCES: Dresser paint: Argos Brass bench: Taylor Burke Home 
For additional design tips and home décor inspiration, check out Kara's blog: thistlewoodfarms.com.