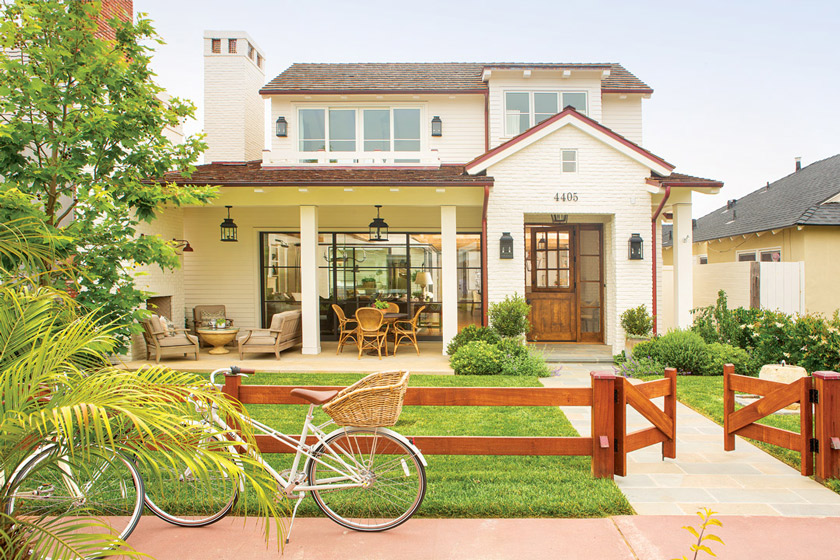 Tucked away on a quiet lane in Newport Beach, California, close enough to the ocean to hear the sounds of the sea, is this stunning three-story home. With the lightness and openness of a beach cottage, but the design aesthetic of a classic European farmhouse that is welcoming and warm, it's a true oasis. It is homeowner and designer Trisha Bass's dream house, a place that she, her husband and two kids love, and a project that thrust Trisha and her daughter, Lane, into an entirely new career.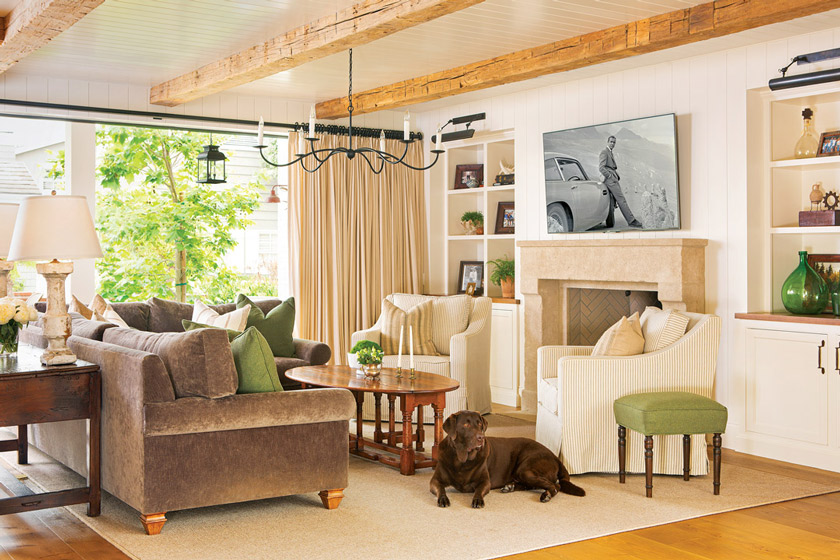 What first began as an opportunity to design their family's dream home from the ground up turned into a career for both mother and daughter. "It became a complete passion, and my daughter got totally involved in it too," Trisha says. "We went back to school to study the business and skill of interior design and are thrilled to be diving into our practice with Bass Interior Design."
European-Farmhouse Beach Cottage
While this was their first project, as designers they were uncompromising in their vision to combine their love of beach cottage living with their appreciation for country life. It shows in the intricate and custom details of the project that they worked with architect William Belden Guidero and interior designer Kim Woods, who advised the mother-daughter duo. As with most properties near the beach, limited space was a consideration, but Trisha still wanted a formal entrance. "Typically, with beach cottage houses you get a box and you build to the lot size," says Trisha, "so when working with the architect, we tried to create spaces that felt like a house that you might find and fix up."
They were uncompromising in their vision to combine their love of beach living with their appreciation for country life.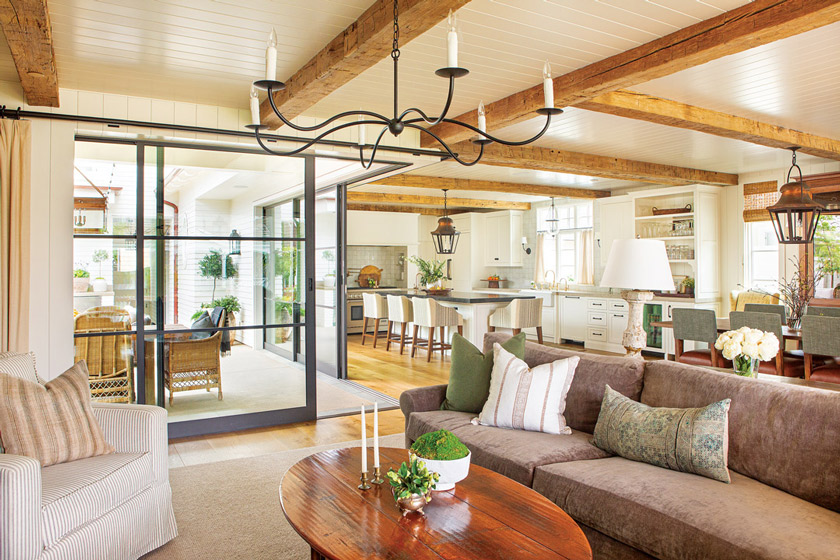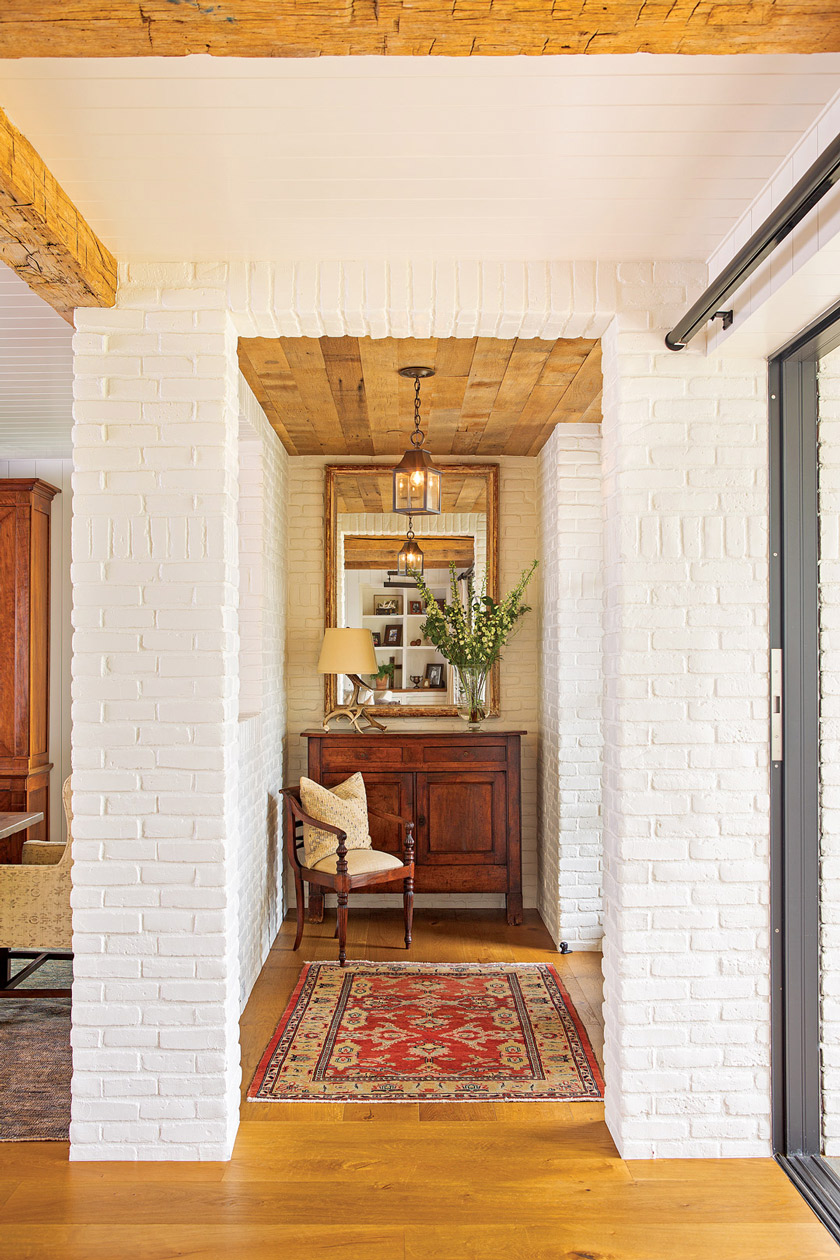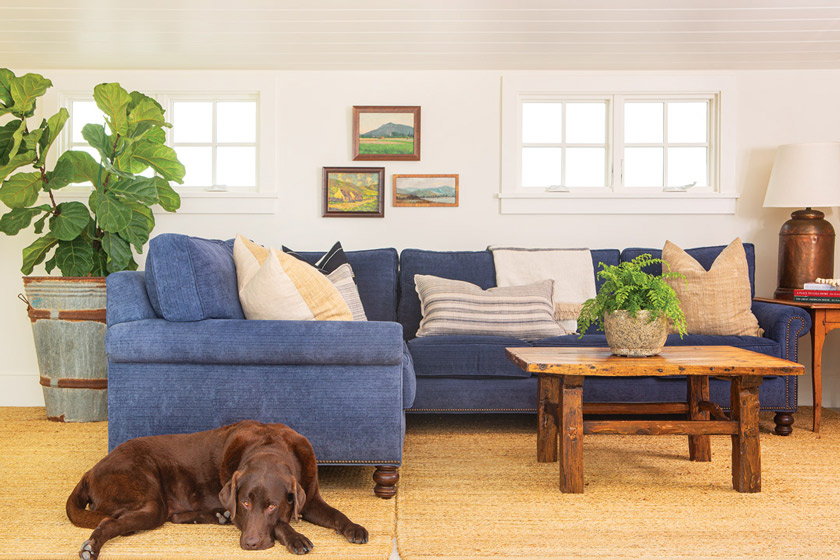 They also love to welcome guests into their beach cottage, so the three massive, sliding pocket doors on the ground floor were a must. "The home can handle a ton of people and that is how we like it," says Trisha. When all three doors are open, it's difficult to tell where the outside begins and the inside ends, as both the front porch, living areas and an exterior courtyard become one massive, open entertaining space.
Every corner of the home  was intentionally designed with European farmhouse style in mind.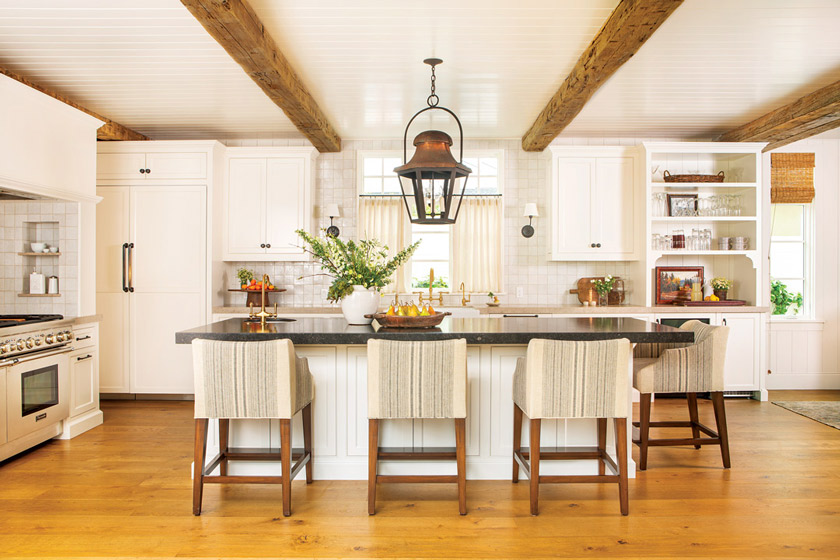 Made in the Details
In every detail, Trisha kept the theme and aesthetic in mind. "We fell in love with the warmth and sense of history of European farm homes, but hoped to find a way to strip it back and create something a bit different," Trisha says. Also, it really helped that Kim has what Trisha called "a love for old crunchy things like we do," she says. "It was a good fit." The details include everything from the warm tones of the vintage ceiling beams to the Belgian Zellige tile backsplash in the kitchen, one of Trisha's favorite details. "It reminds me a little bit of an oyster shell, so it gave us our beach flair, but it still was consistent," she says.
"We fell in love with the warmth and sense of history of European farm homes, but hoped to find a way to strip it back and create something a bit different."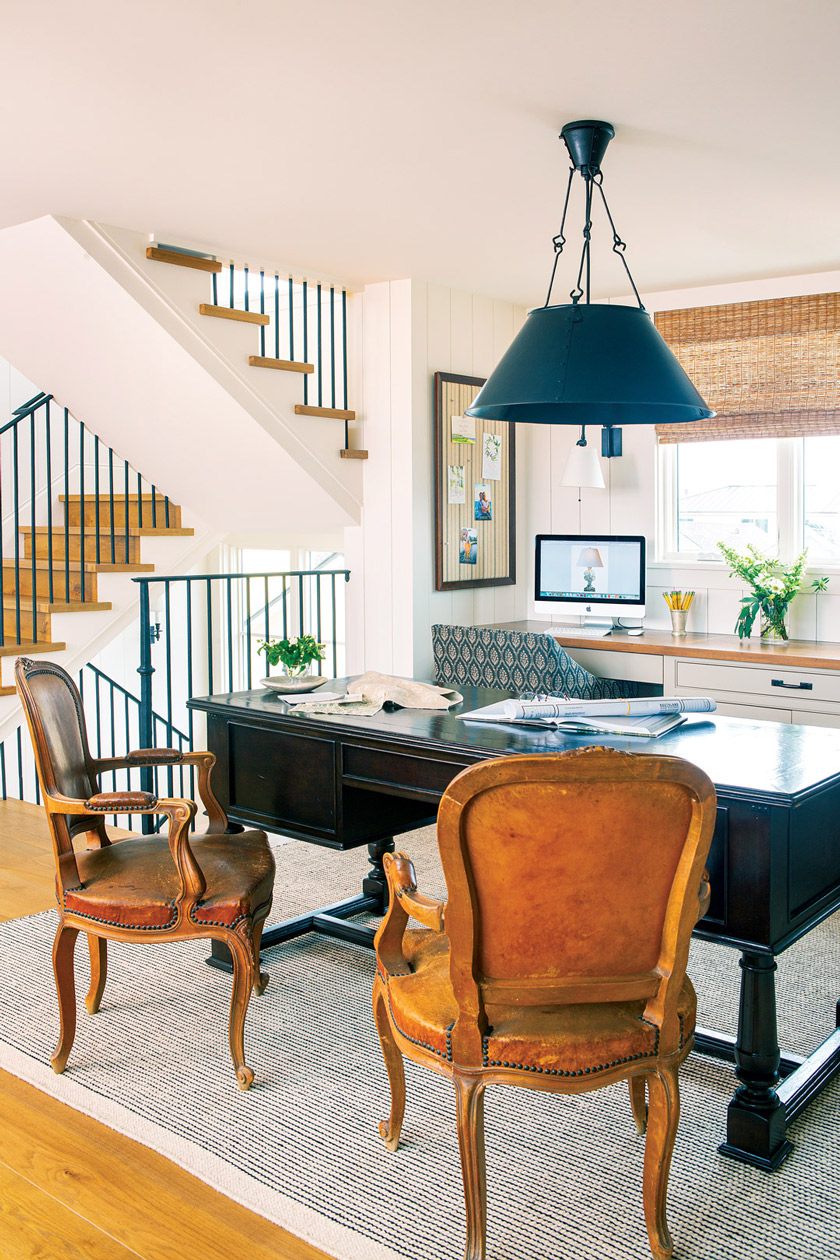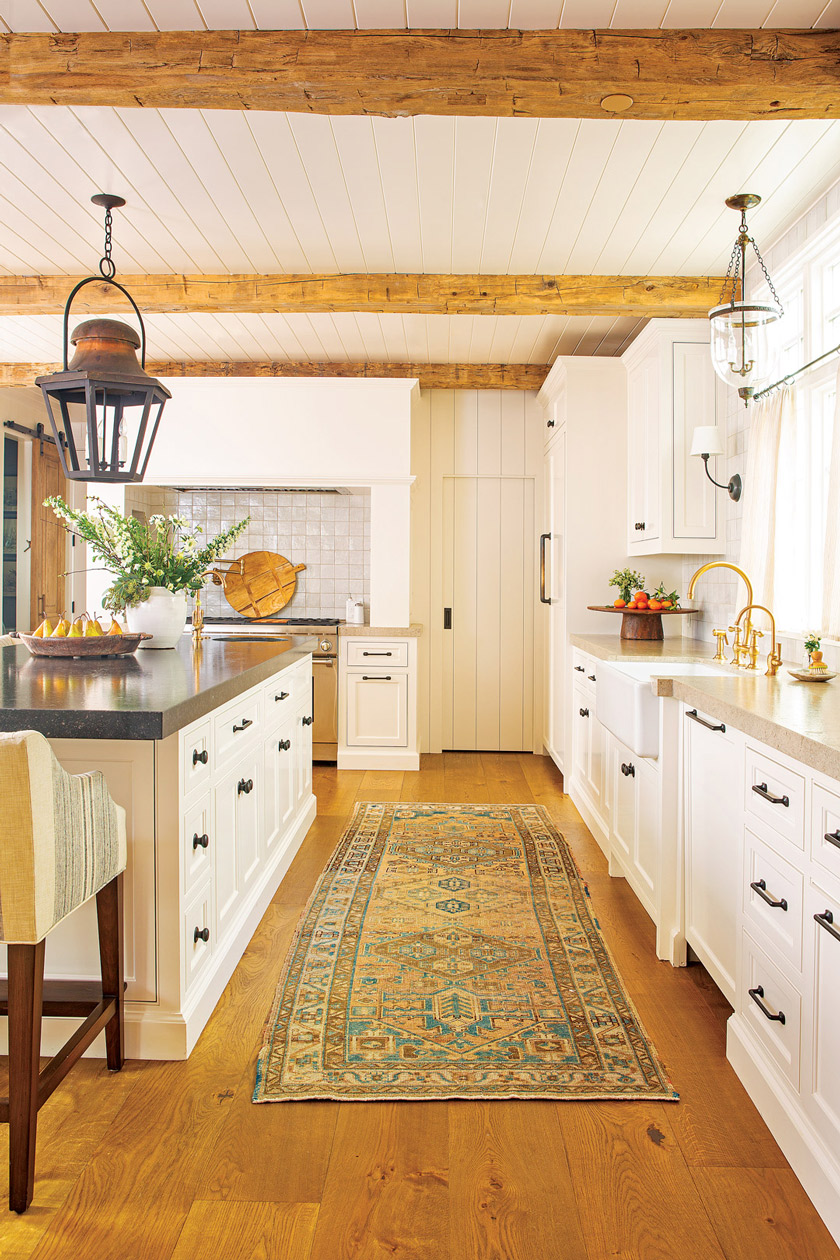 When it came to the shiplap that covers the walls of the entire ground floor, Trisha chose a narrow gap between planks and had the woodworkers miter the edges instead of casing it for a cleaner and more finished look. "Because our home is almost entirely painted a warm white, the woodwork adds a little architectural interest and a clean backdrop for the other design layers," Trisha says.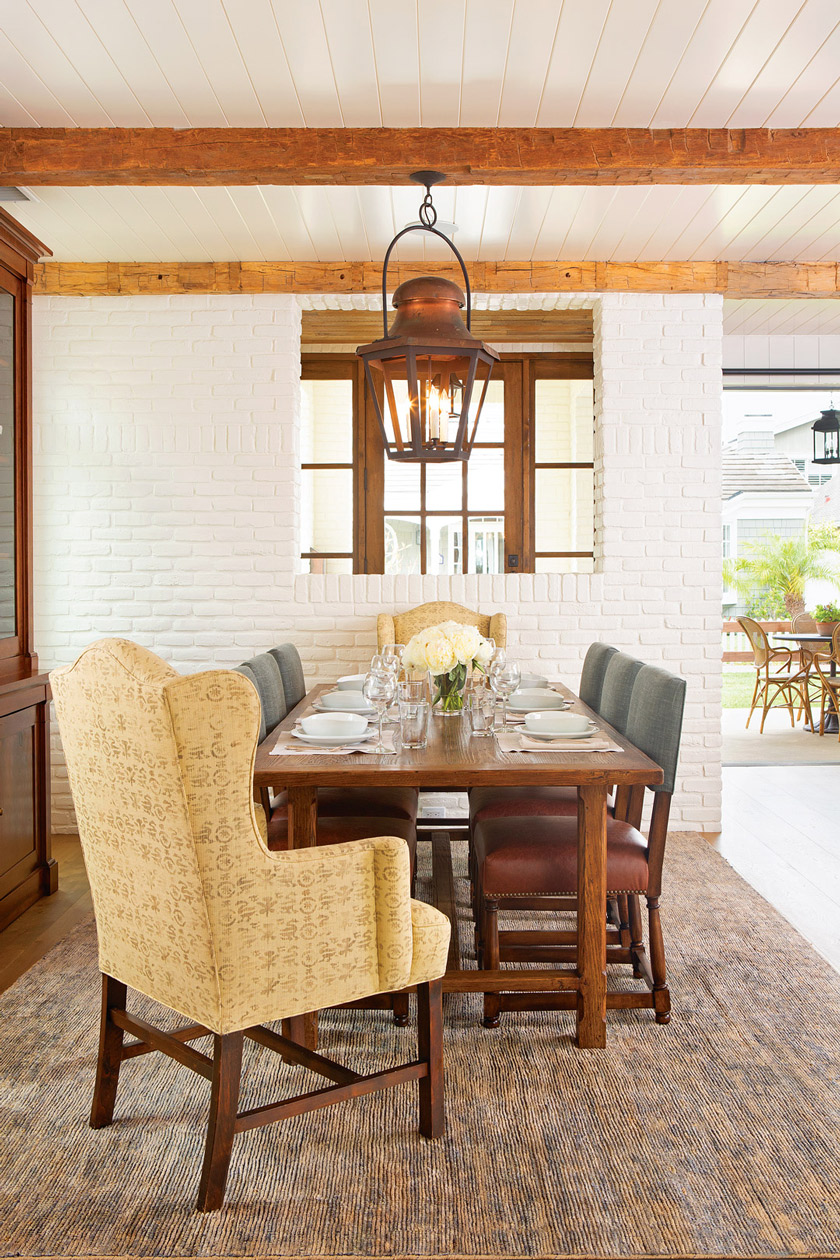 The warm white paint she chose covers almost the entire interior and exterior of the home, so it took a few tries to get the exact shade. "It's Dunn-Edwards' Birch White, but we cut it by 50 percent. It's a nice and warm white, and it reflects the light down here really well," Trisha says.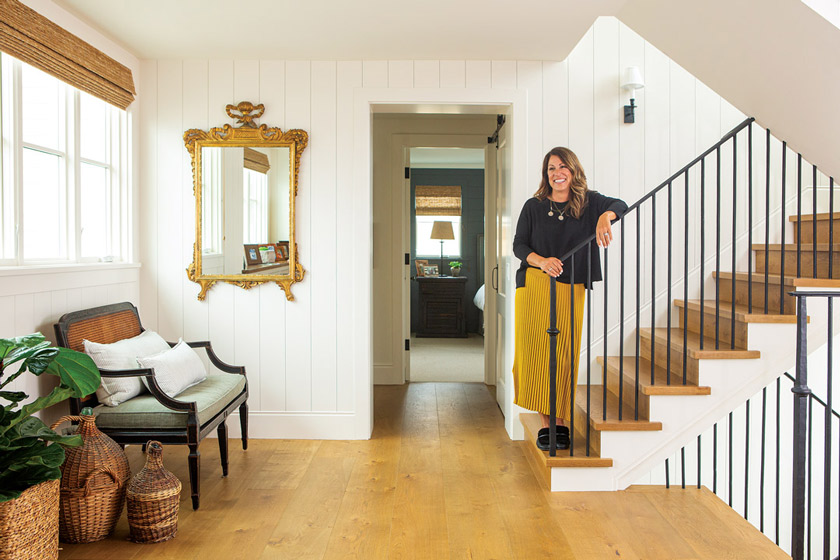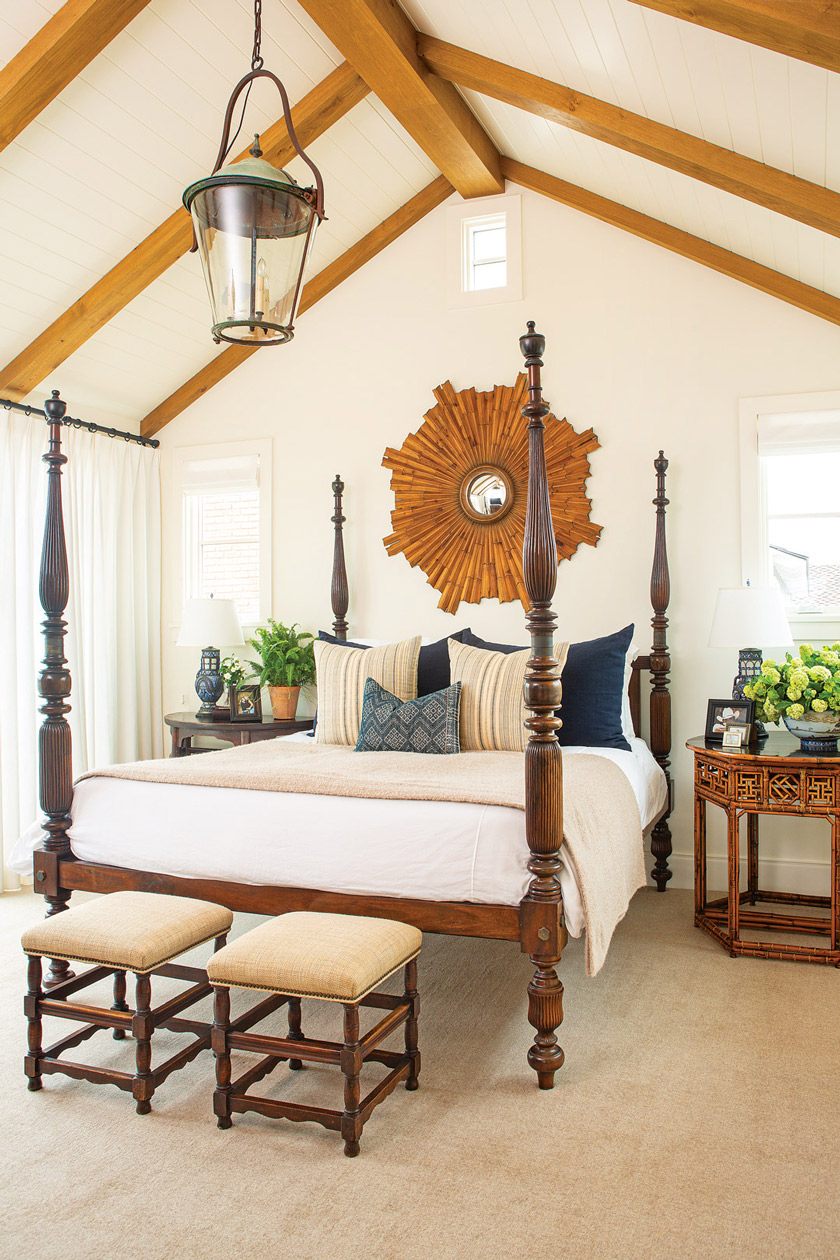 ---
European 
Farmhouse

Musts

Want to incorporate the delicious details of a European farmhouse in your home? Here are Trisha and Lane's must-haves for creating your own peaceful and warm European oasis.
Limestone. This stone is a European farmhouse classic and captures warmth and history when used for countertops, fireplaces and more.

Antiques.

"Antiquing gives you that warmth that not a lot of people go for," says Lane. Finding the right piece for your home can be time consuming and add to budget costs, but Trisha and Lane believe it is always worth the wait.
Vintage Rugs. Incorporating a few of these well-worn pieces softens a room with texture and adds a true European flair.
Unique Lighting and Hardware. Finding metals that have unique design and seem like they've been around forever adds what Trisha and Lane like to call "jewelry" in a space. The magic is in the details.
---
To read more on beautiful neutrals see Sweet Simplicity
Gathered Finds
Before they even built the home, Trisha and Lane took a trip to Round Top, Texas, with friend and fellow designer, Kim Woods, to hunt for everything from lighting fixtures to furnishings. "We brought back pieces, and we actually made rooms around them," Trisha says. A dough table and two lamps from Round Top grace the living room; a set of vintage chairs finishes their second-floor office space; and a hanging light fixture in the master bedroom with a piece of broken glass still bears the scars of the journey from Round Top.
You might also like Hunting for Treasure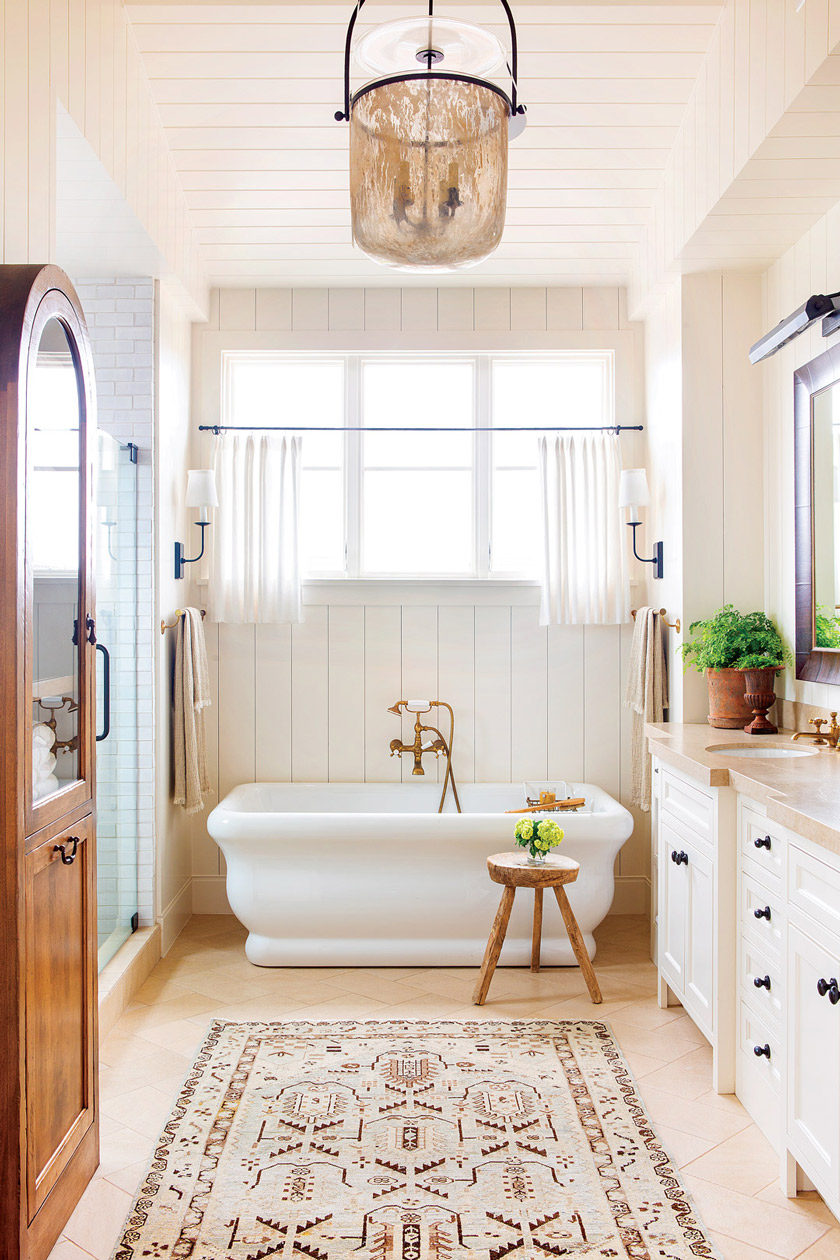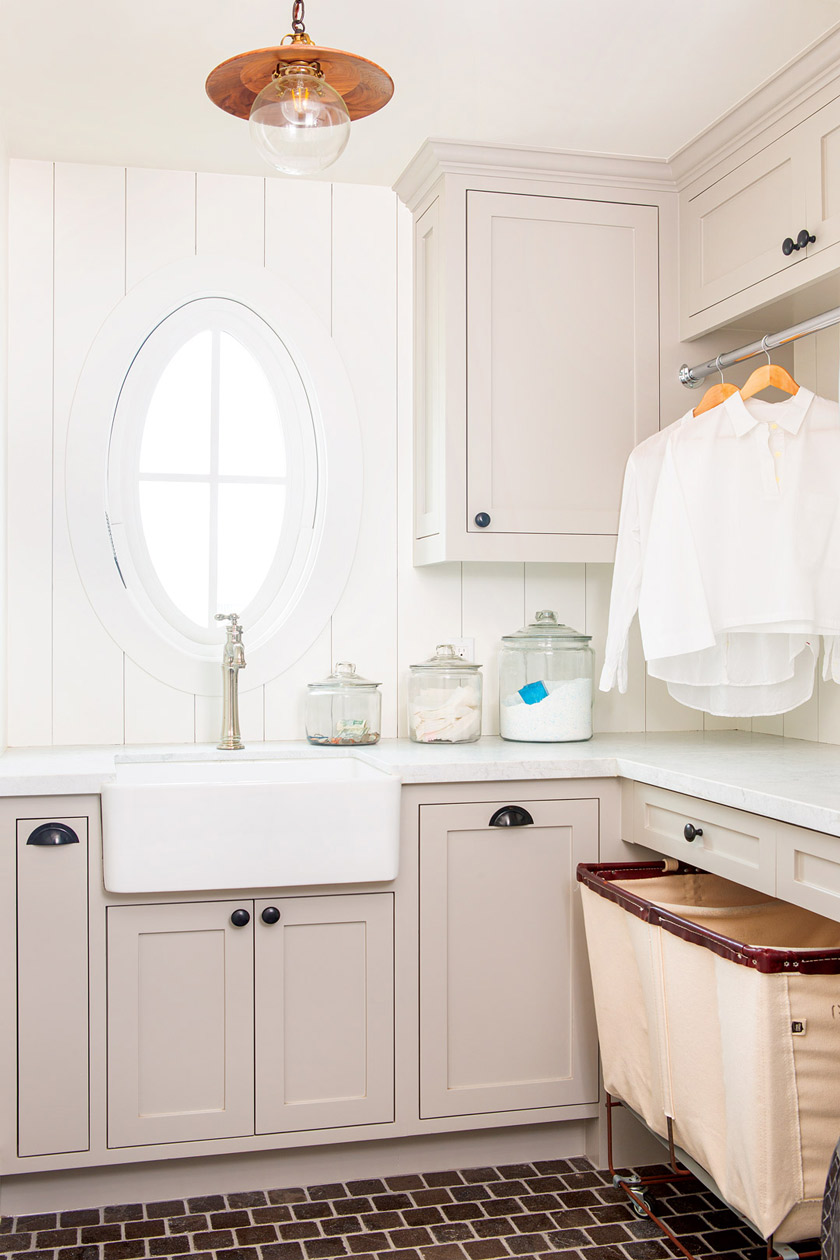 Both Trisha and Lane love to employ antiques and vintage items in the spaces they design, and the home is filled with a mix of found pieces like Turkish rugs, demijohns, mirrors and large wood pieces. "The antiques are beat up and glorious," Trisha says. "They give our home character and an instant story." Other pieces were custom-built for the home based on items that Trisha saw and loved, like the statement-making limestone fireplace or the dining room table.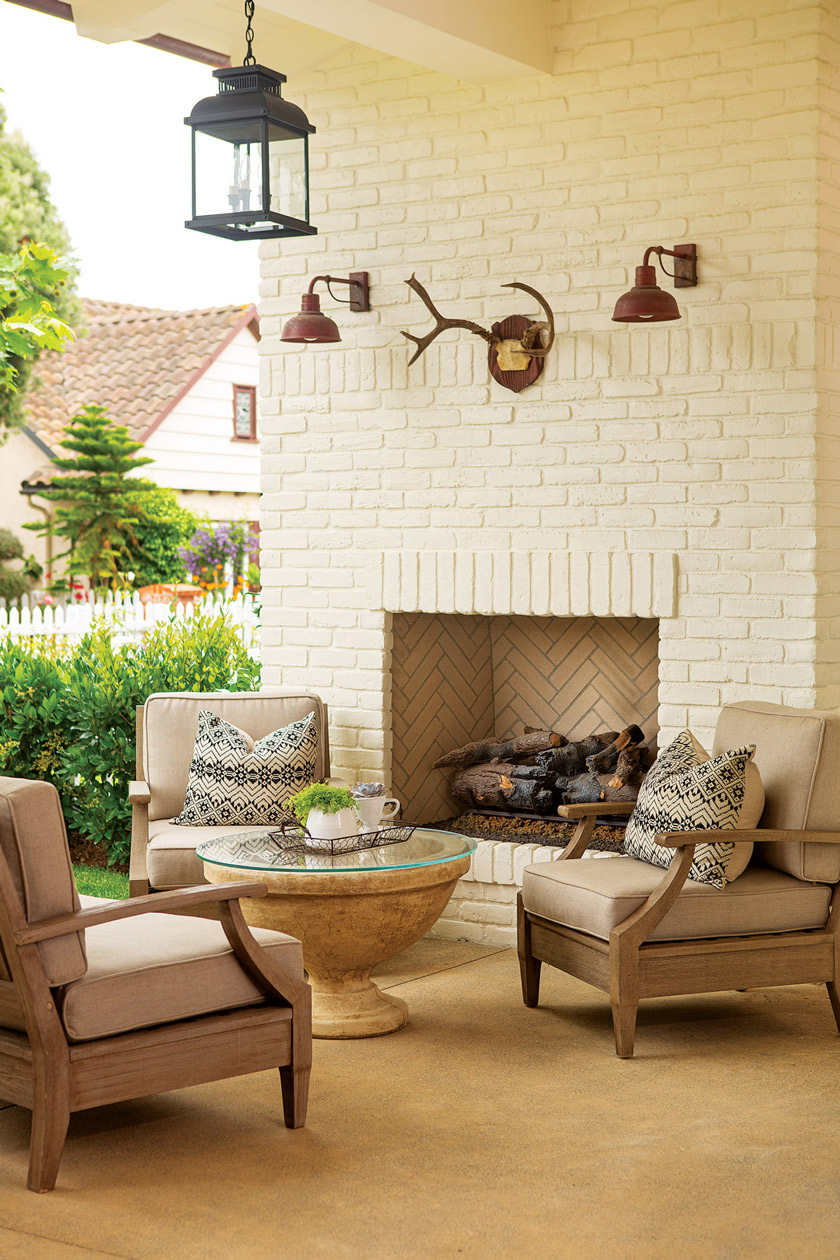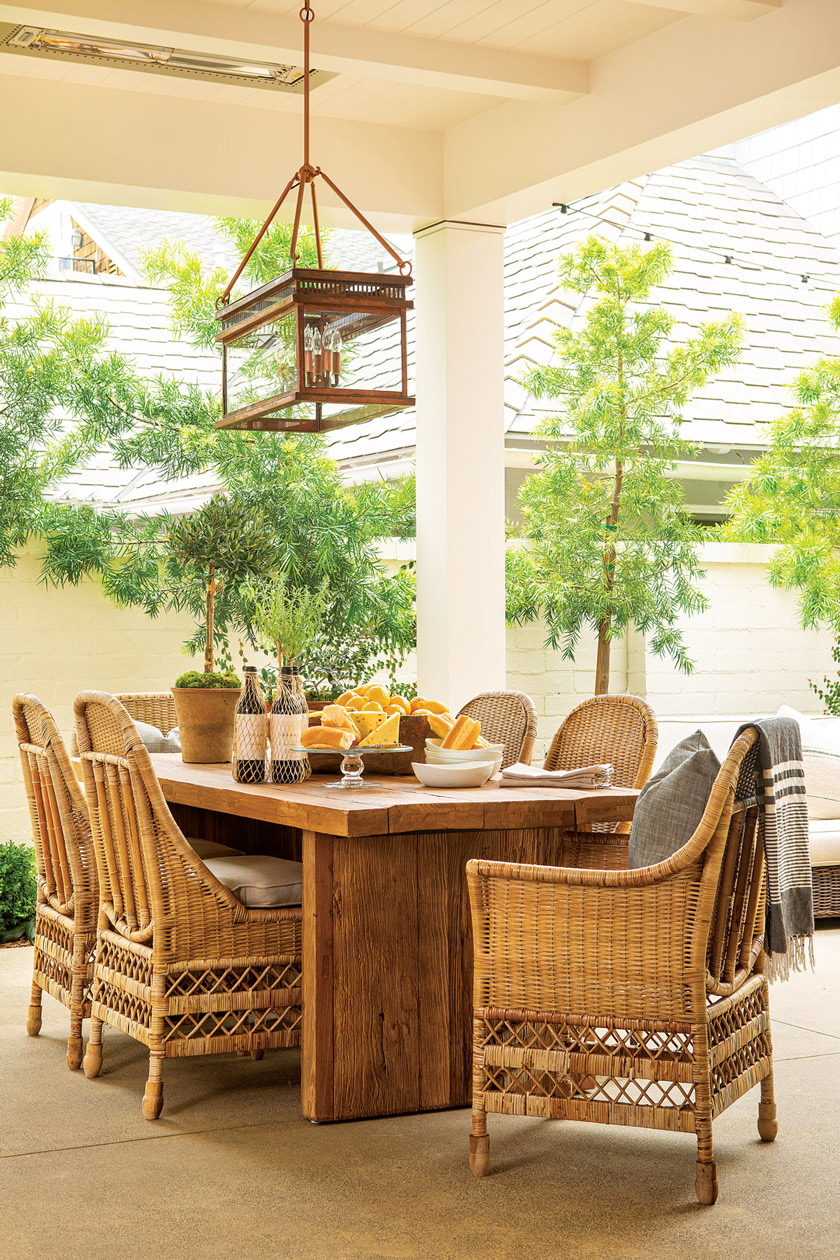 The third floor captures the essence of beach cottage living with a comfortable living space and an open deck. "This home is so close to the ocean, so the third-level deck is an amazing space. Up there you can hear the waves crash, the seals bark, foghorns blow," says Trisha. With a fun mix of both beach-life elements and country notes, this impeccable home, a project the family affectionately nicknamed "surfboards and saddles," is a tasteful and intentional nod to their own lives and stories.
Need more design ideas for a beach cottage? Check out A Beach House with Fall Flair
Of course, don't forget to follow us on Instagram, Facebook and Pinterest to get your daily dose of cottage inspiration!