Not all makeovers have to be big to make an impact. One of the easiest ways to freshen up a cottage bedroom is by adding color and stylish art. There's a shade for virtually every taste and style!  You can go bold, in the middle or you can keep it neutral.  The point is to create a space that you love, is peaceful, and one that expresses your own personal bedroom style.
 Step 1: Add A Pop of Color
Sometimes all a room needs is a fresh coat of paint or bright color for maximum impact.  If you are afraid to commit to a vibrant color, perhaps an accent wall may do the trick.  An accent wall is a great spot to play with color or pattern.  Wallpaper is another option!  For my bedroom, I kept the walls neutral and went with wallpaper in a soft and calming blue.  A modern design that is soft and easy on the eyes.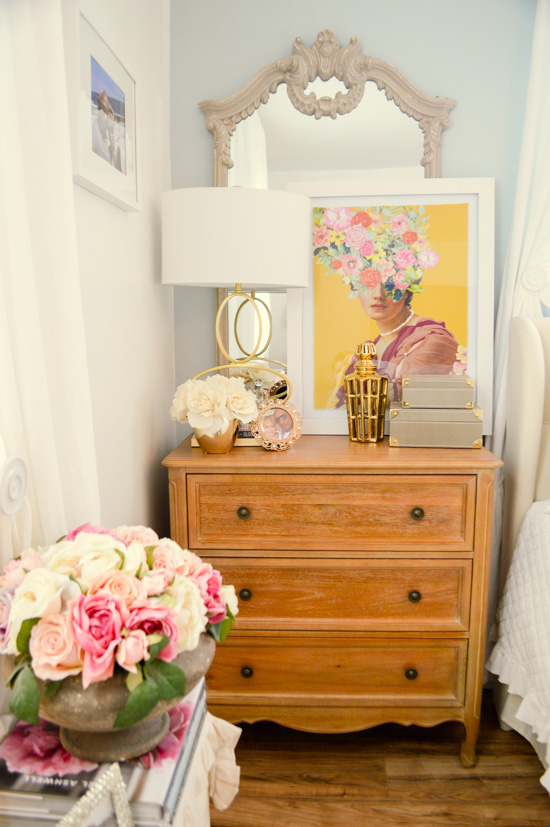 Step 2: Play with Art
Artwork is a great way to bring color in a room without having to paint the walls.  Add a modern piece that is big on color and unique stylish such as the piece of art displayed on my nightstand.  It adds scale and expresses my passion for bold color and the unexpected.  Most importantly, it makes me happy.
Step 3: Mix Old and New
You do not have to break the bank to freshen up a cottage bedroom.  Combine vintage  with something modern to cozy up a space.  Don't be afraid to mix it up!  Introduce a few flea market finds such as nightstands or vintage chandelier to add a luxurious touch and sophistication in your room.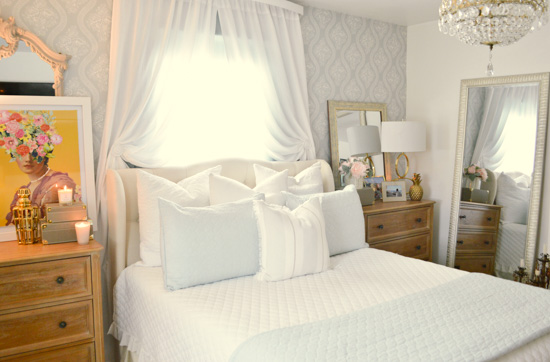 Step 4: Invest in Comfy Bedding
Make your bed the focal point.  It's your little relaxing heaven after all so invest in comfy bedding.  Bring on the soft fabrics and pile on the pillows.  You'll create a sleeping space that will make you want to stay in bed all day.  Today bedding has so many possibilities – pattern, color and fabrics abound so make it stand out yet choose bedding that compliments your space.
Step 5: Add Special Touches
When it comes to the details that serve as the cherry on top, think of those extra touches that would be in a luxury hotel.  A bench at the foot of the bed, candles, window treatments, table lamps, trays, a vase with flowers.  Small details always prevail.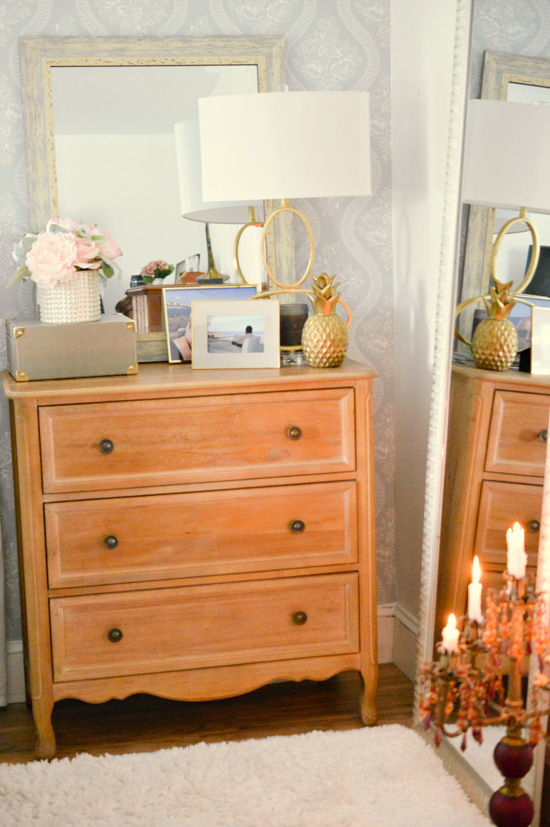 In the process of creating your perfect cottage bedroom, remember not only beauty but comfort and function.
Of course, don't forget to follow us on Instagram, Facebook and Pinterest to get your daily dose of cottage inspiration!