When it comes to summer entertainment, what better way to celebrate than with an ocean-themed luncheon or seaside dinner party? Here are 10 elements you can use to throw the ultimate romantic seaside party.
1. Rustic Table. Any wood left outside will weather, but near the ocean where there's more salt in the air, the aging process happens more quickly. Celebrate the rustic nature of the sea with a weathered wood table as the foundation for your party. If you want an upscale feel, pair the rustic table with elegant wrought-iron chairs.
2. Ocean Color Palette. Aqua, teal and blue are the obvious colors when it comes to a sea-inspired palette. But don't just stick to one shade. The color of the ocean changes, depending on location—from the clear aqua of the Hawaiian shoreline to the royal blue of a California beach and the light gray of a stormy day in New England. Use many shades of blue and green to reflect all the colors of water.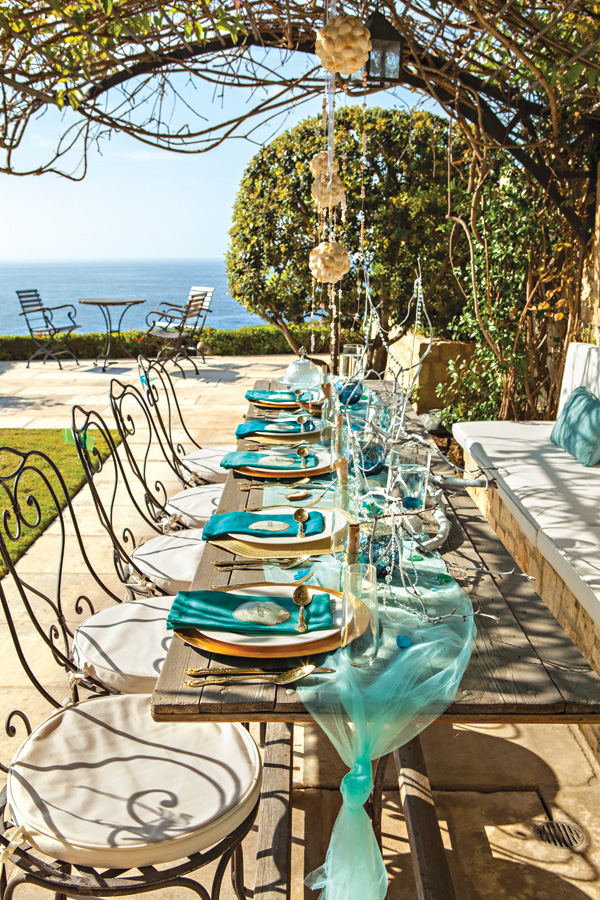 On a sunny day, the ocean sparkles as if a million diamonds were shifting on the surface.
3. Sea Texture. Don't stop at color—recreate the texture of the ocean too. Use a gauzy table runner that looks like the foam on the crest of a wave, or scatter sand as part of your centerpiece. Have guests come barefoot to the party, or give them a pair of flip flops as if you really were at the beach.
4. Gilding. Gold is the perfect complementary color to aqua, perhaps because of legends of mermaids who wear gold crowns and ruby necklaces from sunken ships. Use gold as a layering color, through chargers under the plates, cutlery and even salt and pepper shakers.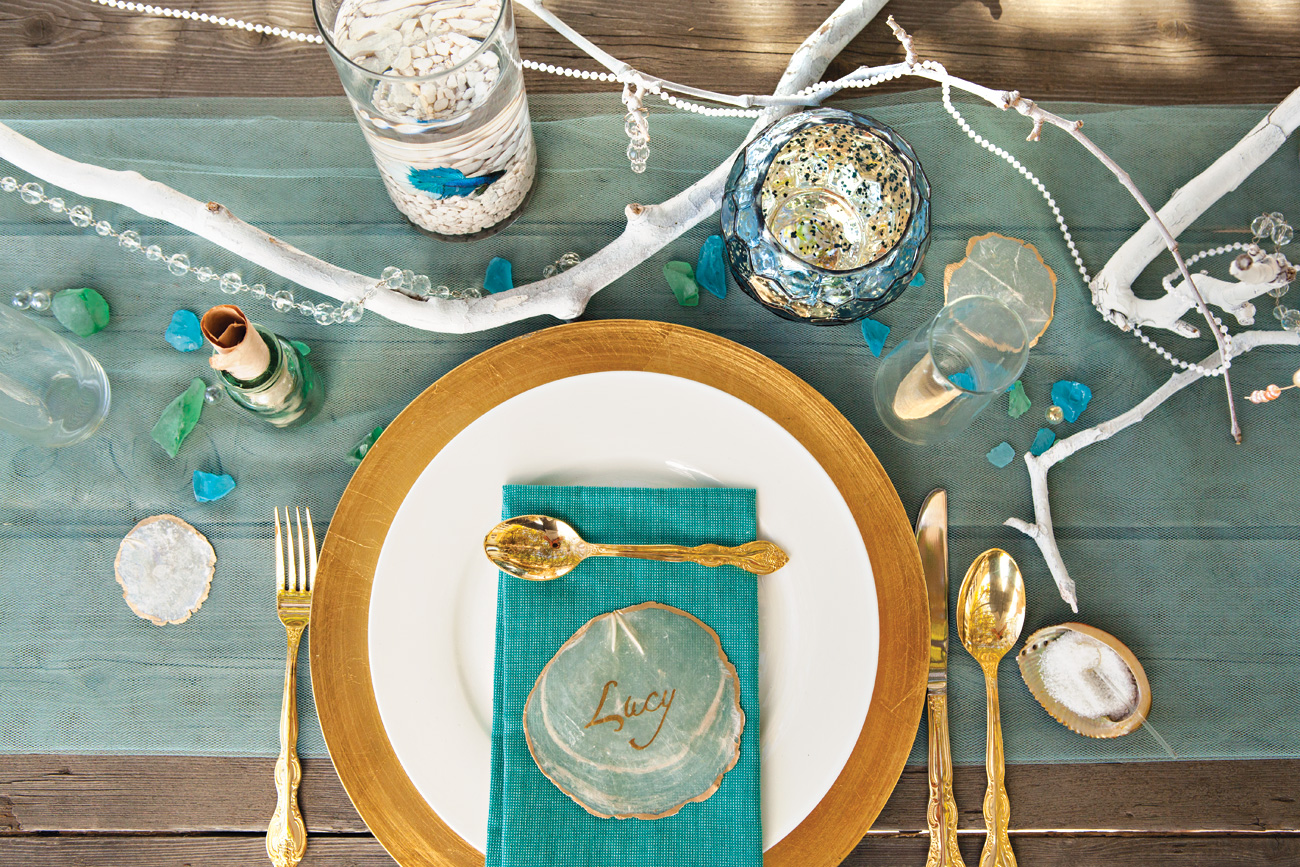 5. Driftwood. Not only is driftwood beautiful, but it recalls the power of the ocean to smooth away rough edges. Use driftwood as part of your centerpiece, or tie short sticks around a candle with twine for rustic lighting. If you don't have access to driftwood, you can make your own. Collect a few fallen branches; then sand or chisel off the bark to create a smooth surface. Finally, add a coat of white paint to recreate the sun-bleached look.
6. Sea Shells. These are a given for an ocean theme, and you can use shells in creative ways. Tie a sea star onto the back of each chair, or paint the names of your guests on a scallop or buttercup shell to use as seating cards. Hot glue a layer of tiny shells onto several Styrofoam balls and hang them with clear fishing wire above your centerpiece.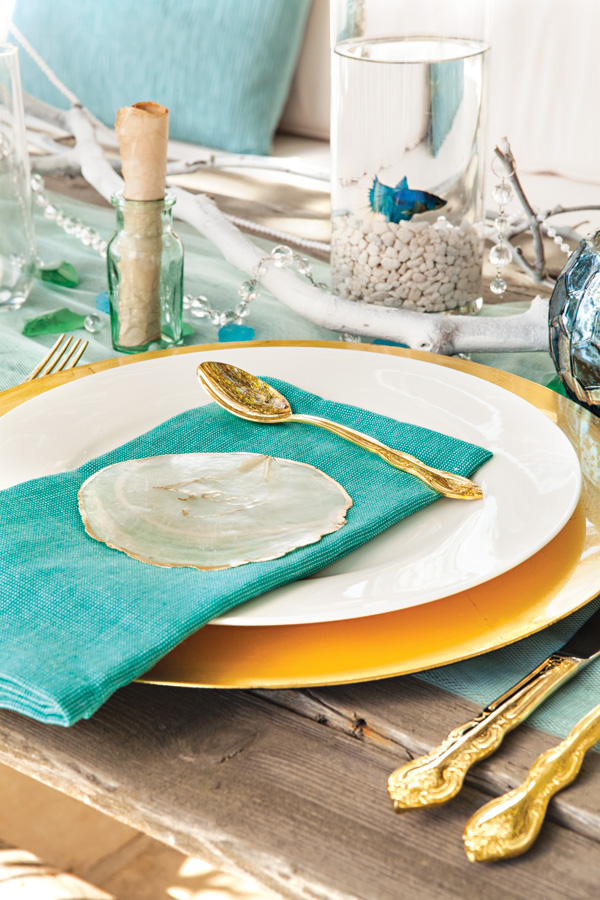 7. Sparkly Accents. Have you ever noticed that on a sunny day, the ocean sparkles as if a million diamonds were shifting on the surface? Add glittery items to your table to recreate this feel. Drape strings of glass beads over driftwood, or fill the crook of a conch shell with crystal gems to catch the sunlight.
8. Sea Glass. Sea glass is a treasure to find, and you can use it to add both sparkle and color to your table. Drop individual pieces amid your centerpiece to add an additional layer, or add a few pieces to your collection of sparkly gems. You could even use green glassware to serve lemonade and champagne.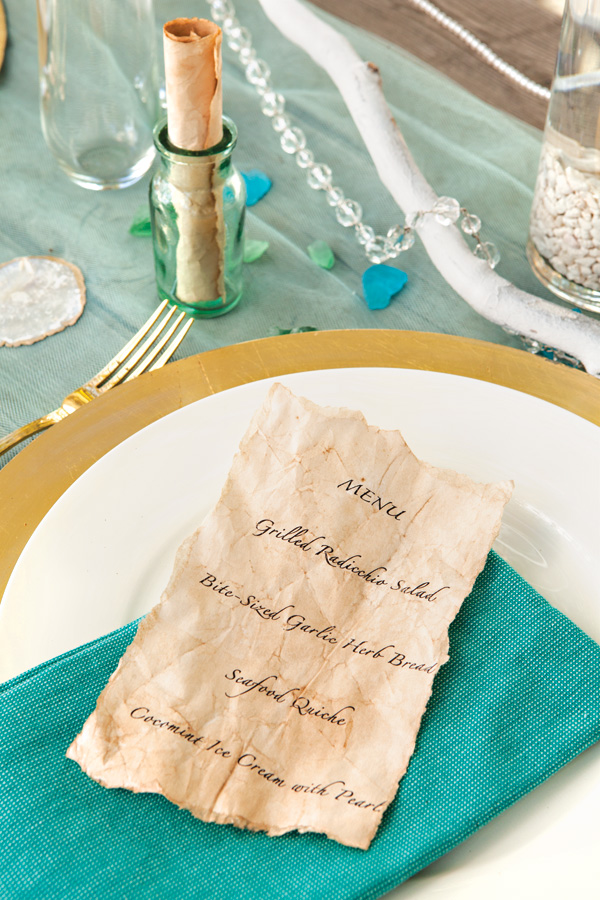 9. Treasure Menu. Part of the excitement of a trip to the beach is the possibility of finding treasure or a message in a bottle. Give your guests this thrill with a menu you've aged, rolled up and placed in an apothecary jar. To age your printed menu, dip it in tea to stain it, repeatedly crumple and flatten it to give it a soft feel and rip the edges to make it more rustic.
10. Fishbowls. If you want to really make a splash, add fishbowls to your centerpiece. Fill a clear vase with a layer of pebbles and dechlorinated water; then add a goldfish or betta fish. But please be kind and gentle. And if you're not up for being a fish parent afterward, this decor idea isn't for you.