Having the best house on the block. It's something cottage lovers strive for—after all, a cottage's alluring appeal begins outside, before you even step through the door. Whether you own your dream cottage and are just looking for ways to boost curb appeal, take a tip from these stellar structures and the expert homeowners and designers that made them the best.
Layer In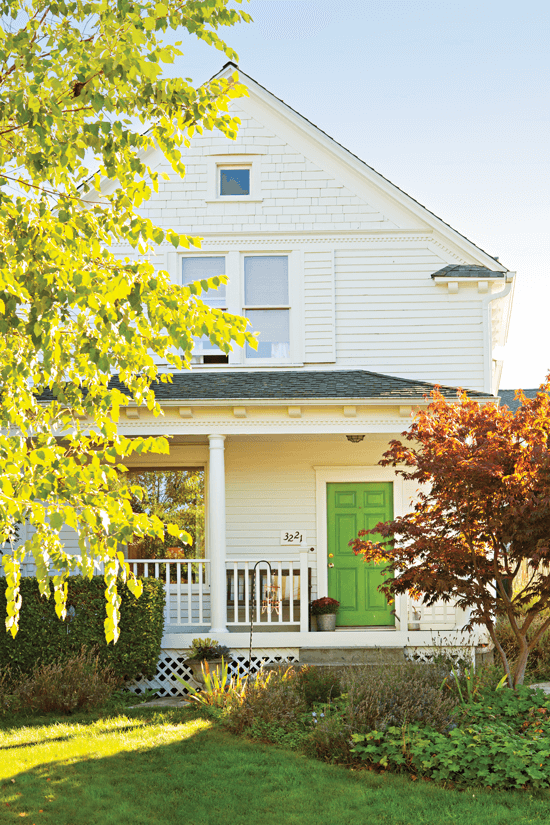 Artist Amy Duncan's Seattle area farm cottage already has some amazing assets, from the commanding roofline to the dreamy porch that spans the length of the home. But there are a few takeaways here that anyone can bring home: Use woodwork to add depth and dimension to your exterior elements. Shake shingles cover the topmost level of the gable and dentil molding traces the first- and second-floor ceiling lines. There are lots of subtle but effective details that add richness to the façade.
Amy also uses landscaping to frame the home's exterior with trees on either side and a sweeping curve that draws your eye to the colorful door, which is an automatic boost to curb appeal.
Say It with Stonework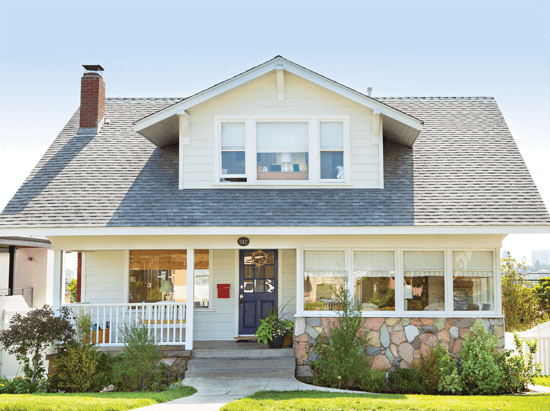 Interior designer Anne Collard's San Pedro, California, cottage has a great lesson for anyone dealing with trouble spots in their home's architecture. And her solution is easy on the budget. Because of the cottage's strong sense of balance, Anne used fieldstone rock siding to adorn the sunroom side of the house. This adds just enough detail to visually counterbalance the porch railing on the opposite side.
Read more: 4 Must-Haves for Farm Cottage Curb Appeal
Draw the Eye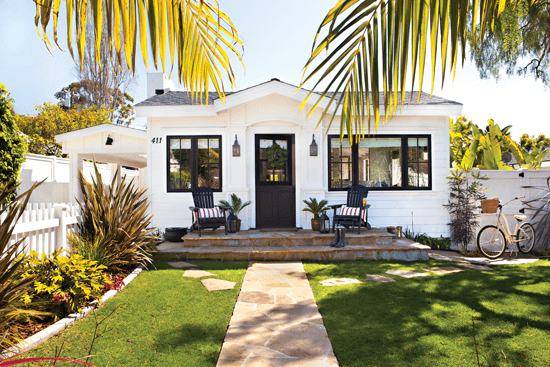 Despite its small size, Jamie Saunders' Laguna Beach, California, cottage packs a big style punch. To get her look follow these clever and easy styling choices. The black door and black window casings are a chic choice for the all-white cottage, instantly giving it a clean and fresh aesthetic. Eye-catching outdoor accents like the Adirondack chairs, lanterns—even the bike—create that charming cottage vibe that catches your eye from the curb.
It's Easy Being Green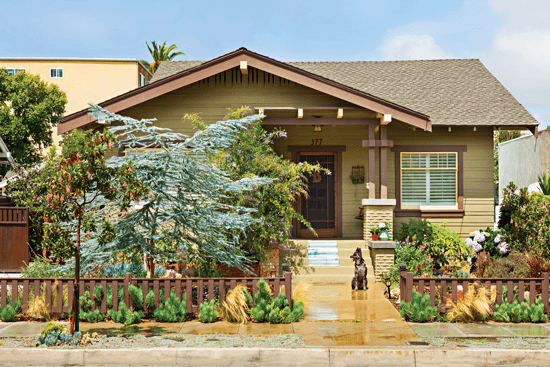 Jewelry designer Jurate Brown's Long Beach, California, bungalow is striking for many reasons. She opted for a traditional historic paint color scheme for the exterior, which instantly brings the home a sense of grandeur. And her drought-tolerant landscaping choices boost curb appeal. She also cut the front fence in half (and used the other half in the backyard) to make the home more open and welcoming.
Looking for more ways to boost curb appeal? Learn 6 more ways to add stellar style to your exterior.
Of course, don't forget to follow us on Instagram, Facebook and Pinterest to get your daily dose of cottage inspiration!