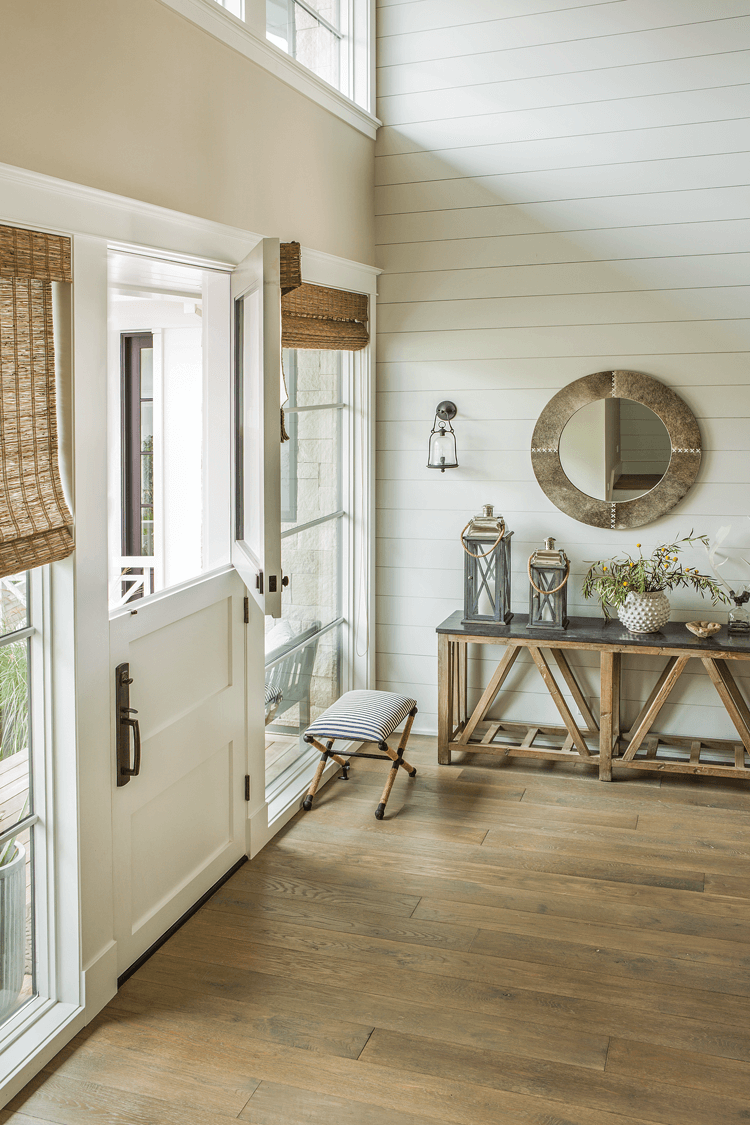 The earthy romance of an old rural farmhouse is undeniable. But is it possible to create that classic style in a new build incorporating modern elements and antiques? This home not only achieved that goal, but did so in an unlikely location: the upscale southern California coastal city of Newport Beach.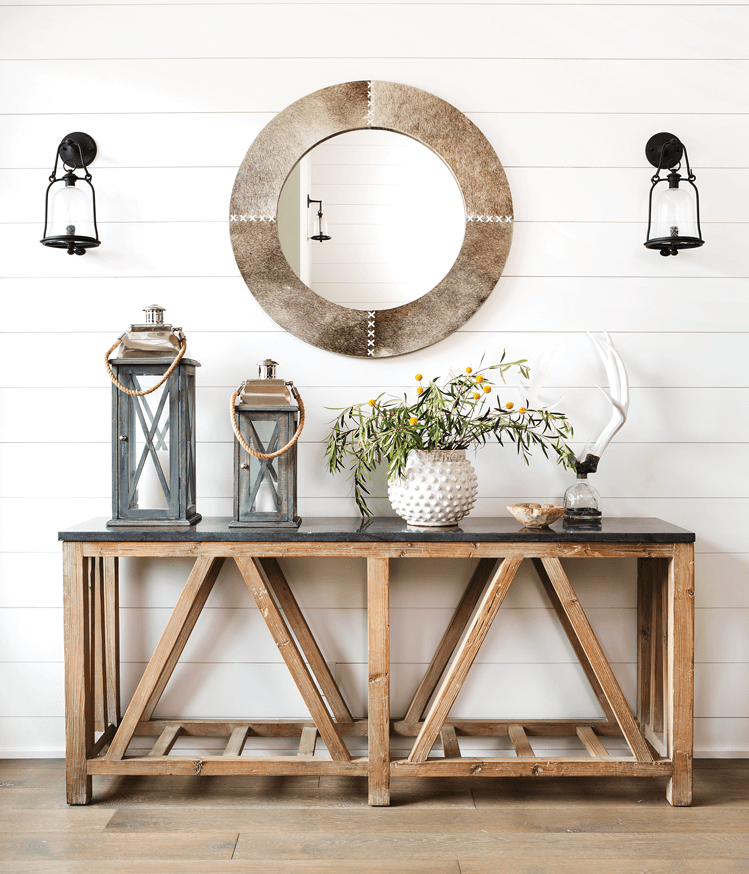 Homeowner Blair Box had a vision of what her beach farmhouse would look like, and a few years ago she found the ideal property in the community of Cliff Haven, only five minutes from where she grew up. But the small, decades-old structure on the property at the time could not accommodate her vision or her family's needs.  In it's placed, Blair built the four-bedroom, six-bath home for her family, which includes her two sons, their dog, Oliver and Nikki, the cat.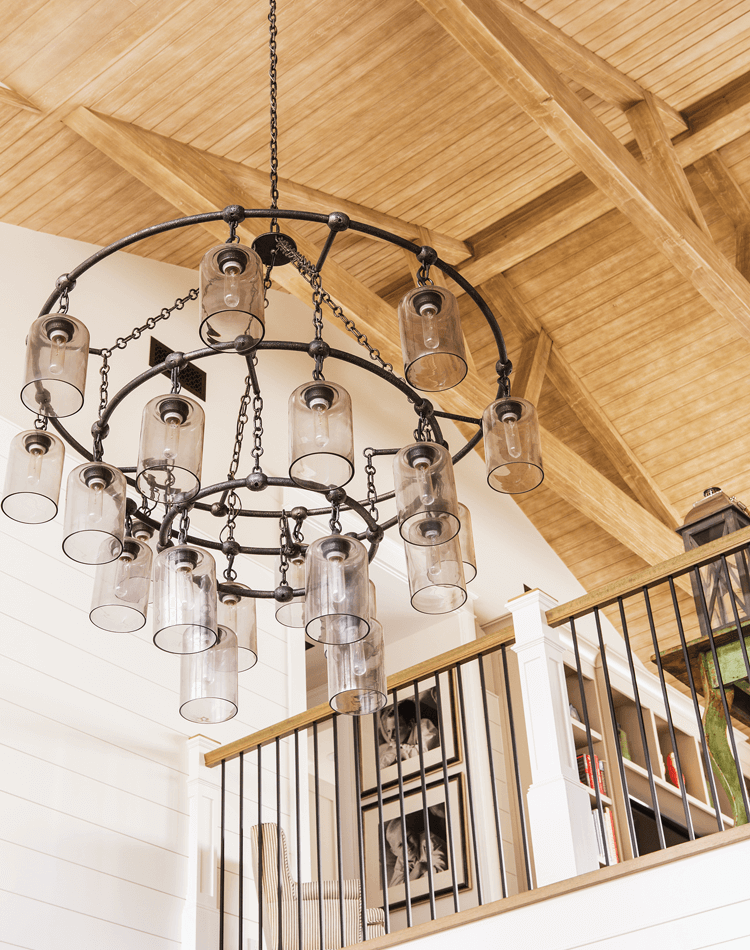 Blair wanted the home to have three main components: light, height and white. Light would come from lots of natural sunlight streaming through windows and light-colored paints and furnishings. Height would be attained through high vaulted ceilings. (Her sons, Ryan and Gordon, are both over 6 feet tall and used to bump their heads on the ceilings in their former home.) And white would be seen in the color palette, flooring finishes and furnishings.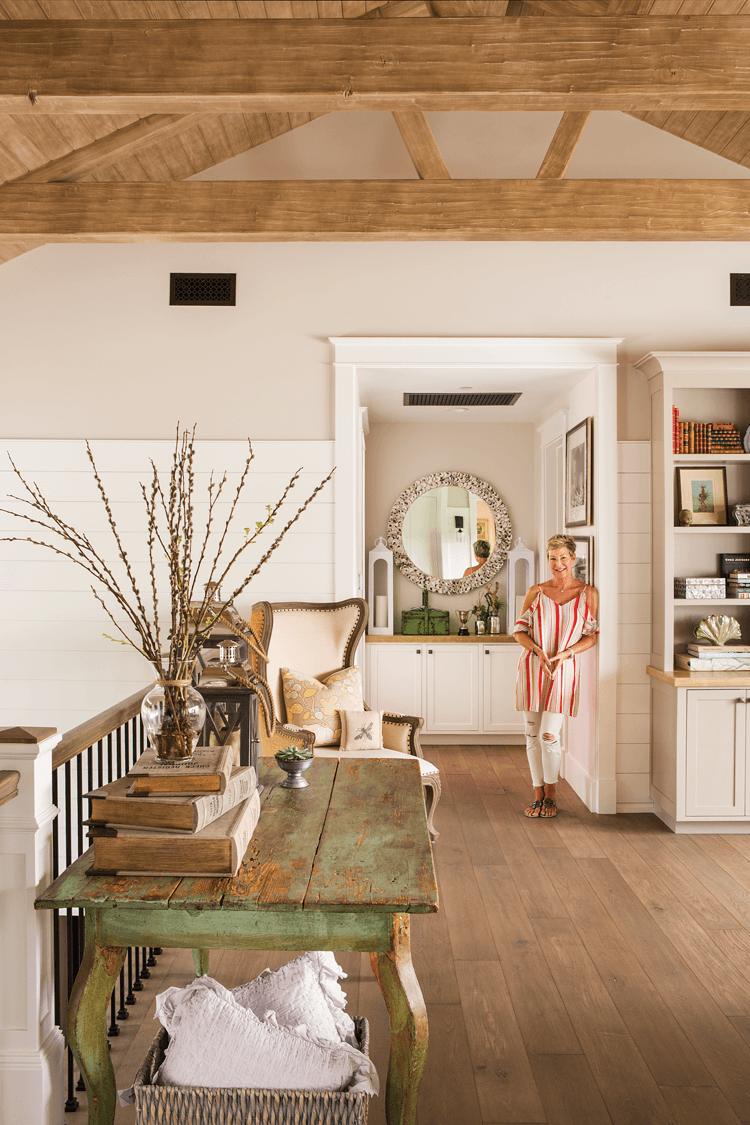 However, it was a daunting task for Blair to undertake the home's interior design herself, even though she had successfully redesigned homes in the past. So her contractor introduced her to an interior designer he had worked with and admired: Kathryn Smith of Kensington Smith Design in Newport Beach. The two women clicked immediately and found they had similar tastes. Blair was confident that Kathryn could make her dream home a reality.
Read More: See Blair's Modern Farmhouse Kitchen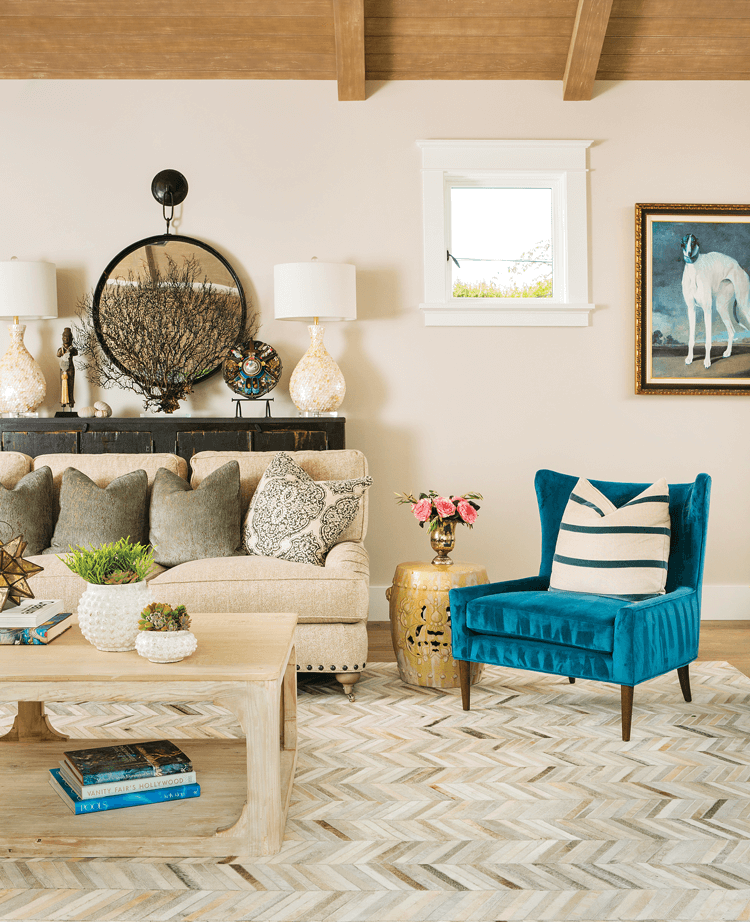 Rustic Charm
The home has a modern coastal farmhouse persona, and Blair calls the décor style of her home "rustic elegance." "One of the biggest ways I created the rustic look throughout the home, even though it was a new construction, was with all the finish carpentry—things like beams, tongue and groove, moldings, casings, trims above windows, shiplap and custom-designed cabinetry," Kathryn says. "Then layering the home with fabrics, furniture and accessories helps further this ultimate design goal of being transported into an earlier era."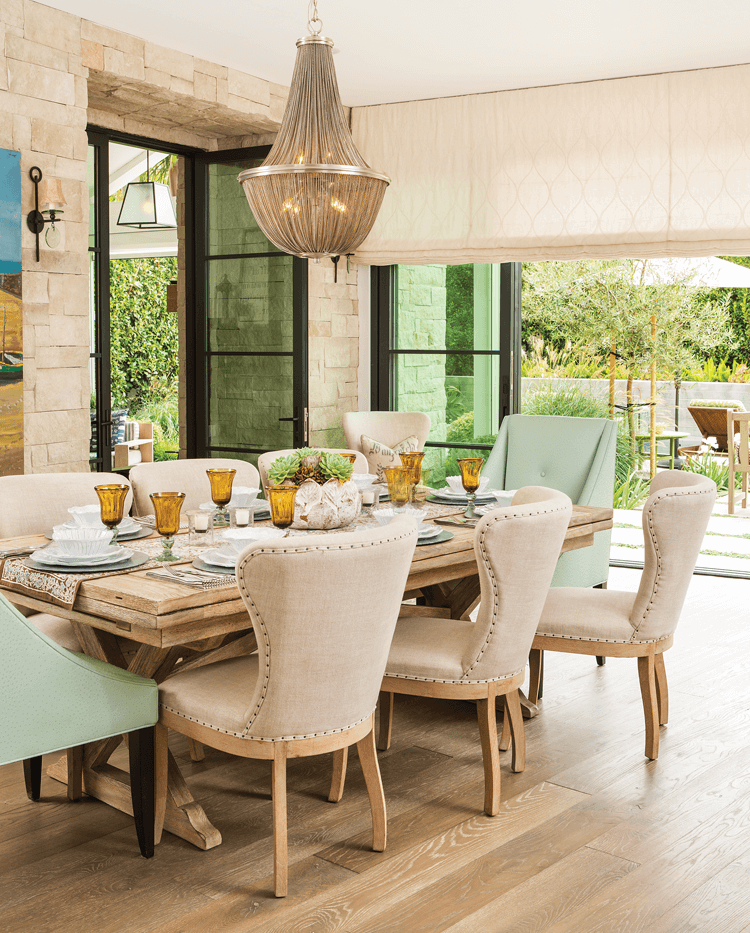 The color scheme was inspired by something Blair learned in her former faux-finish painting business. "Picture a bird's nest—those natural colors—and then picture a robin's egg of light blue," Blair says. "That was my inspiration for the color palette: natural colors dotted with light blue throughout the home. It's very soothing."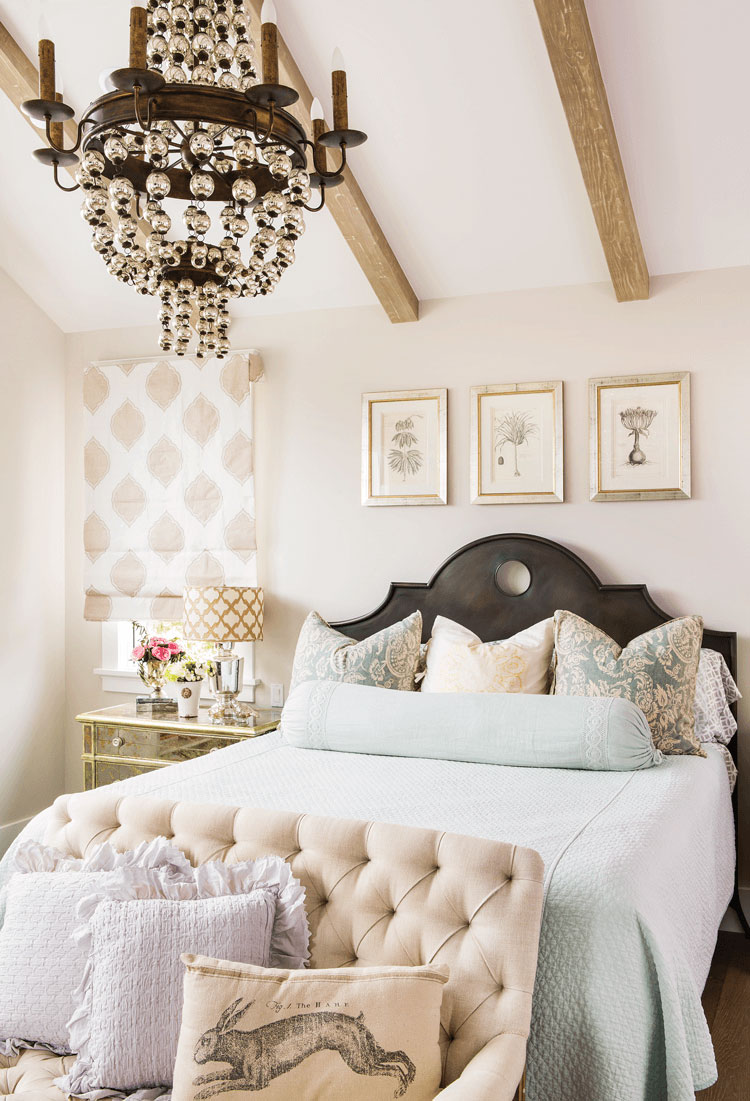 Kathryn listened closely to Blair's style preferences and kept in mind her fondness for French décor. "As a young girl, Blair grew up going to her parents' farmhouse, and she wanted to recreate that type of feel," Kathryn says. "Her style leans very French, so I started calling her home 'The French Farmhouse,' and that led us to furniture and accessories that really complemented more of a romantic style."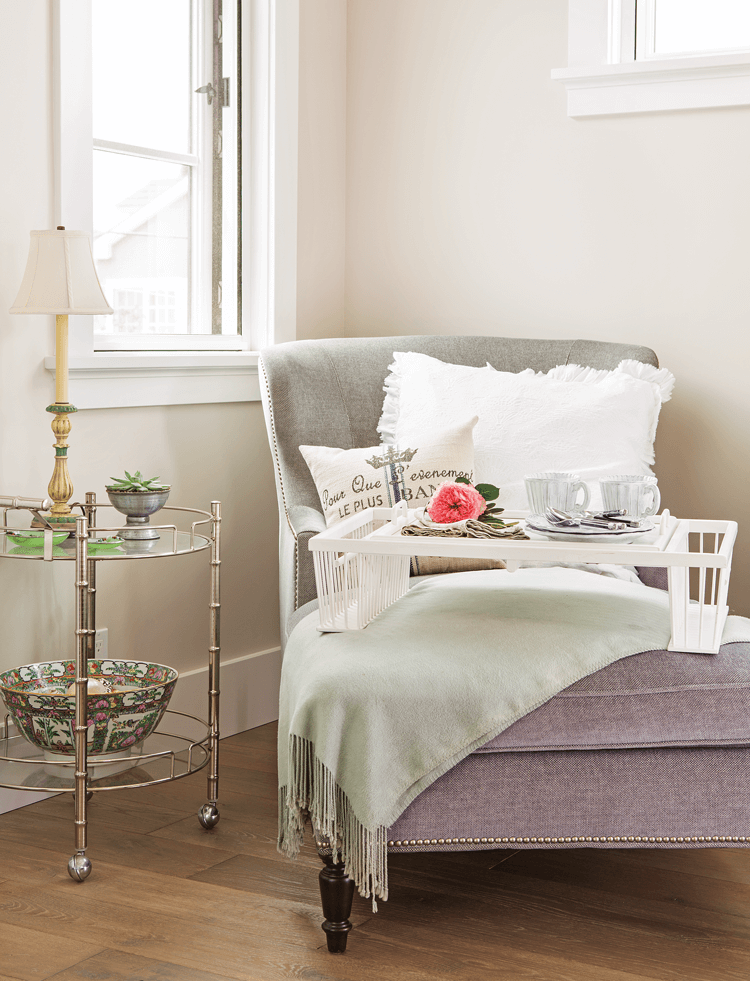 To add modern and French touches, Kathryn brought in finer materials than the wood typically found in a farmhouse, such as marble, tile and stone. Wide-plank wood floors look rustic but clean.
Making a Splash
The master bath features a beautiful cast-iron French bateau tub with aged chrome in a burnished antique finish. While it's a traditional slipper freestanding tub, the faucet and mirror styles give it a slightly modern look. A whimsical painting of a peacock wearing pearls, which shows the fun side of Blair's personality, is perched atop the cabinet in the master bath.

The design collaboration—and mutual admiration—between Blair and Kathryn made the homeowner's dream beach farmhouse come true. Blair says of her experience working with the interior designer, "I could not have done this house without her."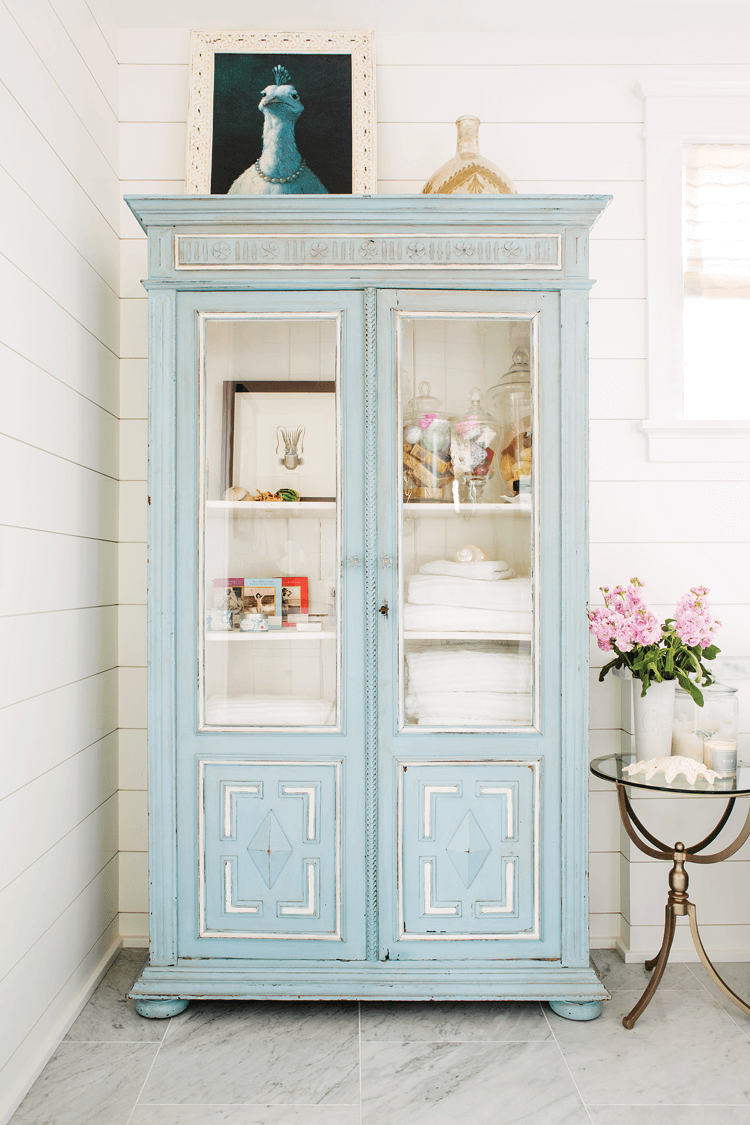 Looking for more farmhouse-meets beach style inspo? Check out this Rustic Coastal home full of natural elements.
Of course, don't forget to follow us on Instagram, Facebook and Pinterest to get your daily dose of cottage inspiration!