No Christmas decor is complete without a festive Christmas entryway. There's nothing like coming home to a cheerfully bedecked front door for Christmas. And you don't need a lot of things– or space to make yours merry and bright. Ready to give your curb appeal a merry makeover? We break the process down into 3 simple steps that will have your front door or porch looking festive and fresh in no time.

Step 1: Add Your Wreath
This one is a no brainer when decorating your front door for Christmas. But don't underestimate the size and scale of your wreath. There's nothing worse than a wreath that is too small or skimpy for the space. We love Balsam Hill's abundant incredibly real looking wreath. When in doubt, it's better to go big and oversized. A single great wreath can make your front door look like a million bucks alone, so invest into a good one that will stand the test of time.

Step 2: Frame the Front Door
You can't go wrong with luscious garland to wrap your Christmas front door in vibrant and welcoming style. Lighted ones also add a magical feel to the entire front entryway. Real or faux (like all these from Balsam Hill), either will truly celebrate the wintery vibe of your front door for Christmas. If you have the room, add additional accents beside the door to warm up the space with layers of extra interest.
Make sure you sign up for our 12 days of Cottage Christmas Newsletters to get access to all our free printables made with illustrations created exclusively for us by artist Lauren Rebbeck— they are one of a kind!!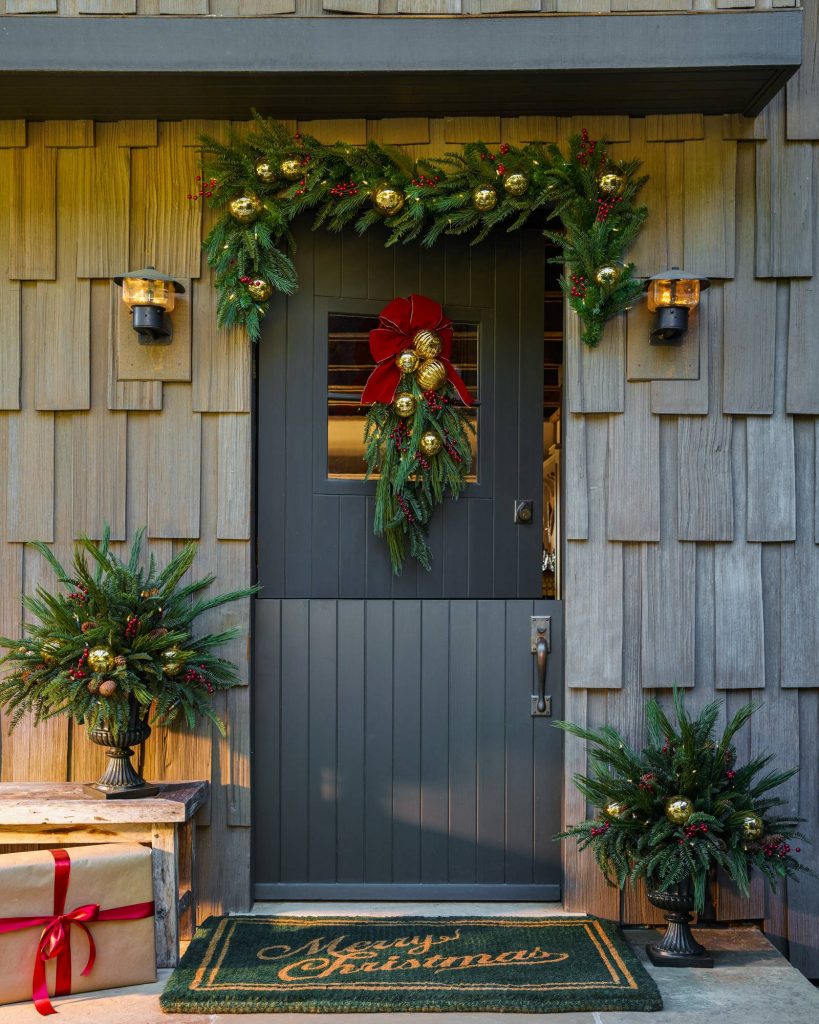 Step 3: Change up Your Mat
Go for one with a great color that complements your house color. And just like your wreath, it's better to go too big than too small. And have fun with it! Choose a mat with personality and give your guests a glimpse of the style that awaits them indoors.
Other Easy Ideas for that Wow Factor
Ready to kick it up a notch with your front door for Christmas? Just a few extra touches can really change the look of your Christmas front door. For a more a grand look and feel, go for symmetry. That traditional approach really does feel sophisticated. Also, if you're looking for a twist on tradition use a swag instead of a wreath. Lastly, add some extra lighting elements. There's no such thing and too much seasonal sparkle!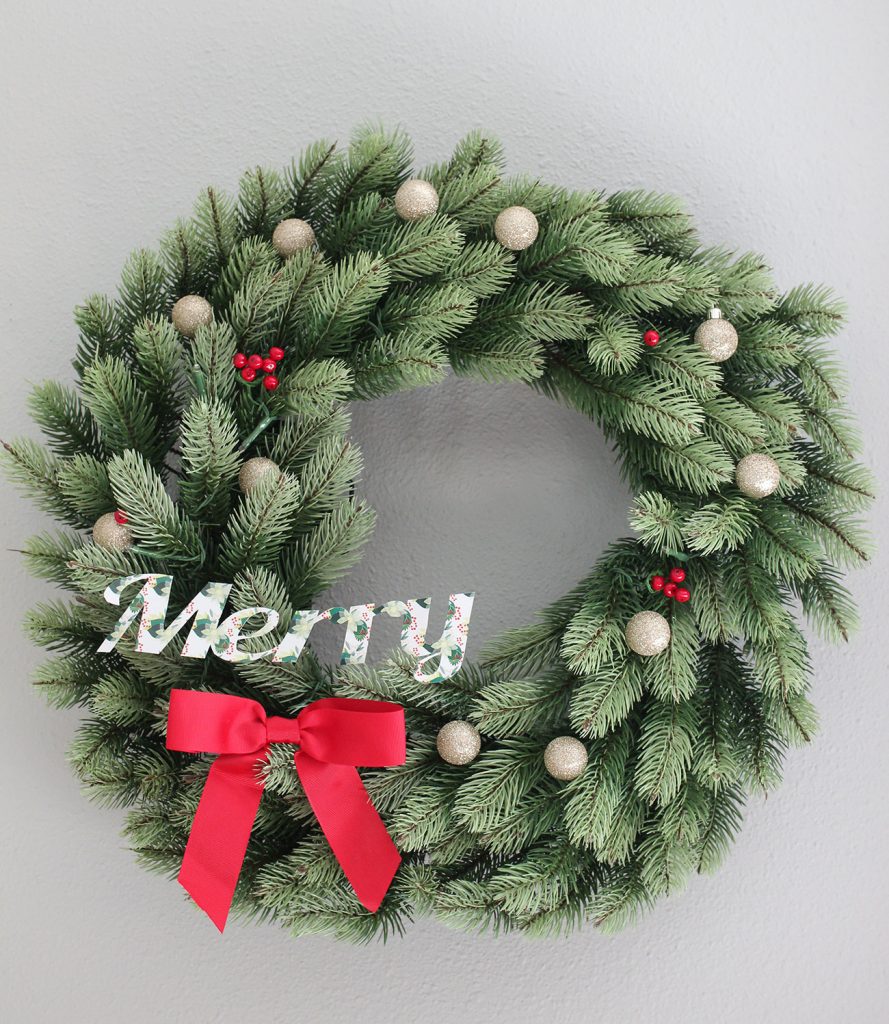 Don't be afraid to embellish a store-bought wreath to add some personality. This one above bas been adorned with some sparkly ornaments and a festive piece of word art we created using an illustration by Lauren Rebbeck as the pattern– which you can actually download for free if you sign up for our 12 days of Cottage Christmas Newsletters to get access to all our free printables! Use this word cutout to craft and adorn a multitude of crafts of this this year!
Did you miss the start of our 12 Days of Cottage Christmas? Catch up with Day 1!  Then check out the checklist below to see what's coming!

Looking for more outdoor Christmas decor ideas? Check out this post on creating holiday curb appeal.  
Of course, don't forget to follow us on Instagram, Facebook and Pinterest to get your daily dose of cottage inspiration!