The scents of pine and cinnamon fill the house, as the air outside begins to chill. The holiday season is here, and picking a Christmas décor theme is just as important as picking out your gifts. Ashley Frank, of Ashley Frank Interiors, likes to change up her Christmas décor every year. When decorating her Valencia, California, home, inspiration can strike from the smallest piece—a ribbon or fresh flowers—to create a feeling that keeps Christmas alive and magical in a place that's summer all year round. And this year? Thanks to a sparkling gold ribbon, her look is all about glimmering Christmas décor.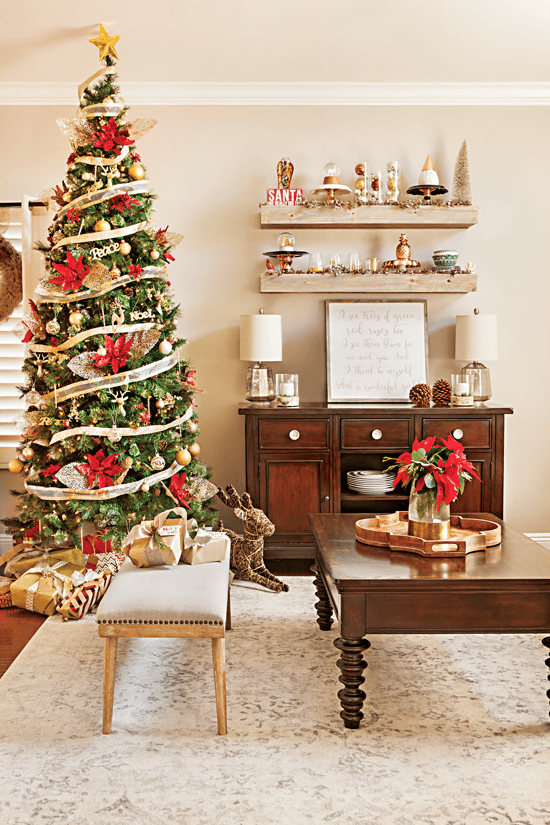 A Clean Slate
The Frank family had a lot of renovating to do on their 1980s fixer-upper. Ashley and her husband worked as a team to build their dream home, all while Ashley was 9 months pregnant. "He worked here over two months, and he would come straight from his job," Ashley says. Like any renovator knows, a home is never really finished; Ashley says that her house is "still a work in progress."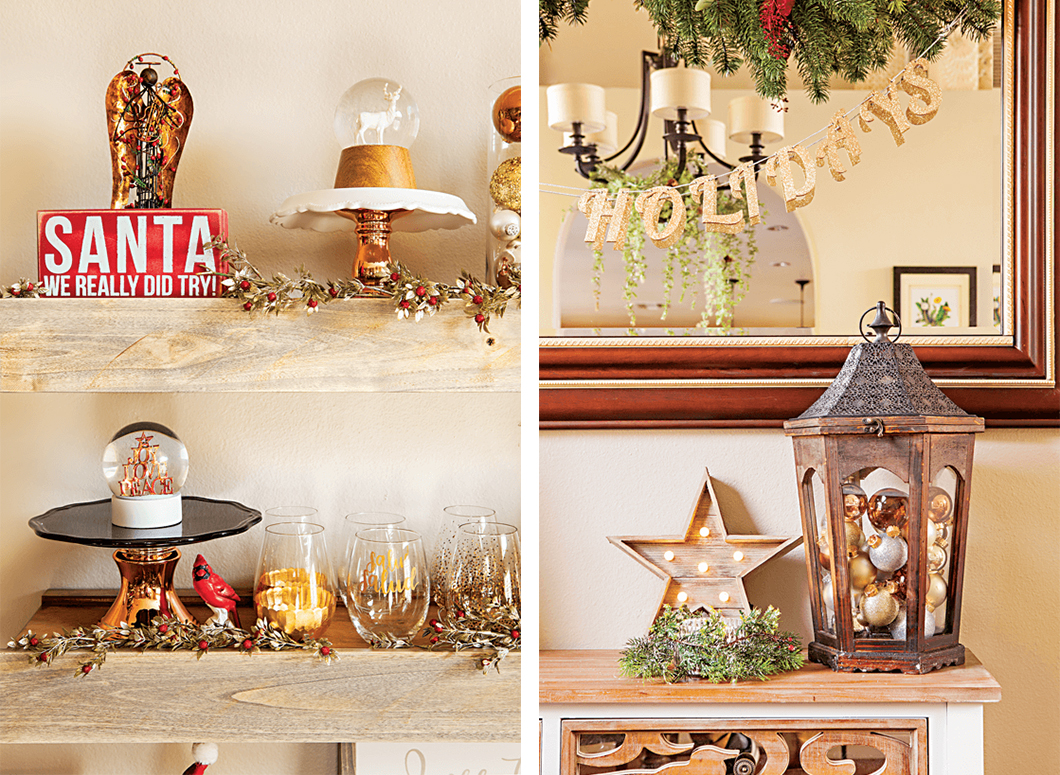 First to go was the original '80s orange-checkered flooring in the kitchen and in its place the couple put down travertine tile that matched the stacked stone fireplace in the family room. Hardwood floors complete the first floor, providing a classic timeless foundation.
Decorating Basics
Flow is the most important part of Ashley's home design. She experiments with a few neutral colors and mixes in pops of color. Although she finds and refinishes a lot of her favorite pieces, she slowly picks up furnishings that mix with her patterns and color palette too. She likes to mix colors and textures to create her own style. She advises, "Pull different colors from the rug, pillows, and the curtains—the larger aspects of the room." Attention to detail is critical so that the whole room comes together and "it looks like it was all meant to be."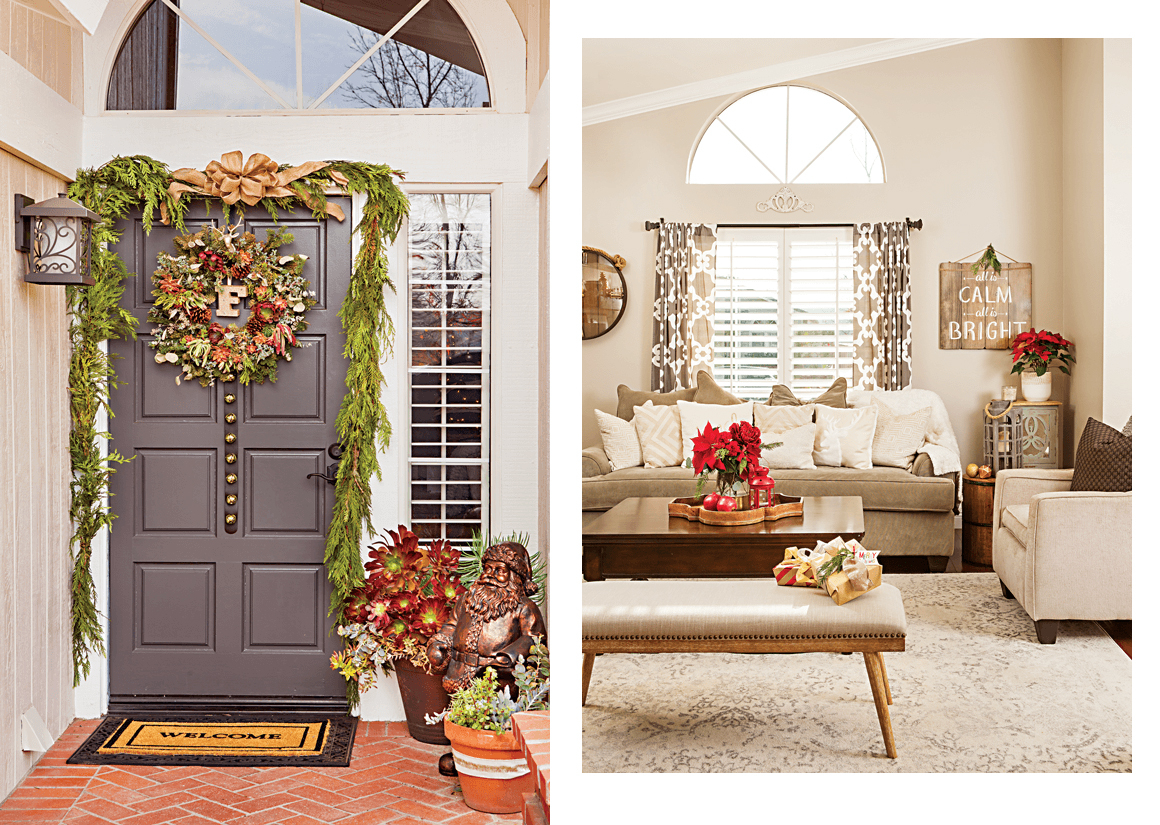 The More Christmas the Better
Ashley says the key to a full and vibrant glimmering Christmas décor theme is continuity of elements. "For Christmas, I like to go with a single idea," she says. The passionate DIYer and crafty designer uses her skills to make the rooms flow together through a color palette or similar patterns. Once she starts looking for décor, she tries to find a material that sparks her fancy. She says, "It starts with a ribbon and I go from there."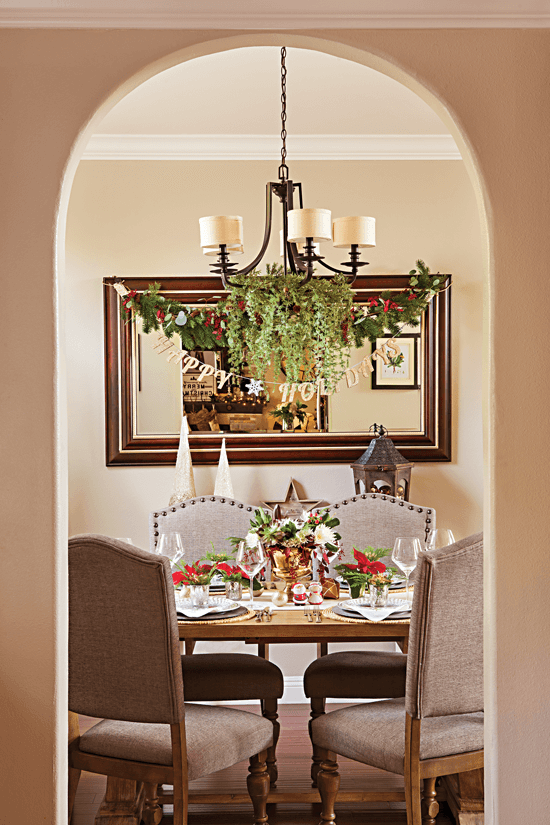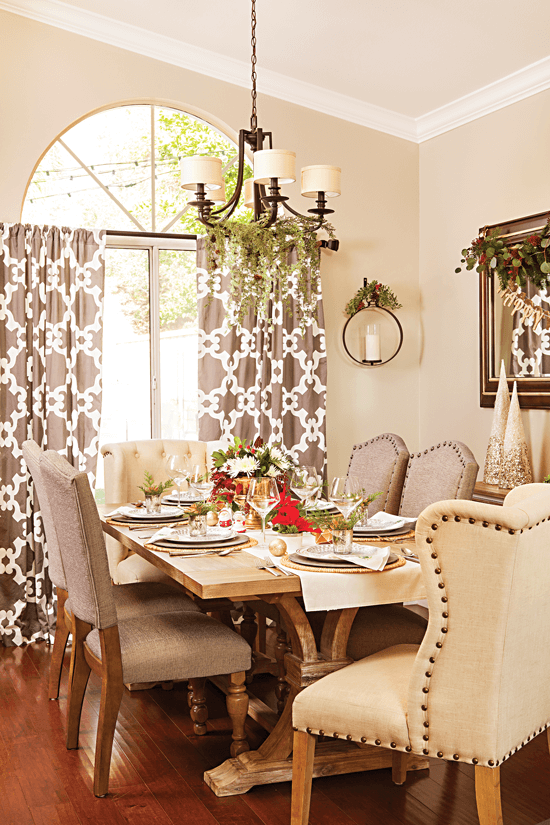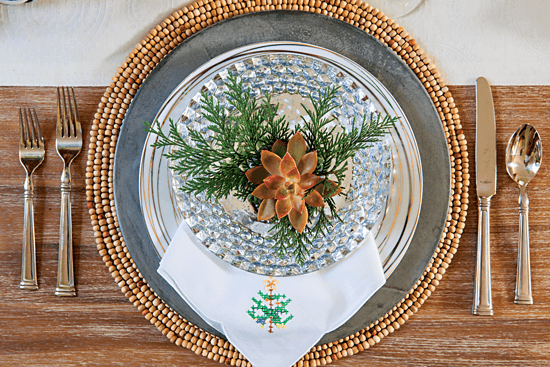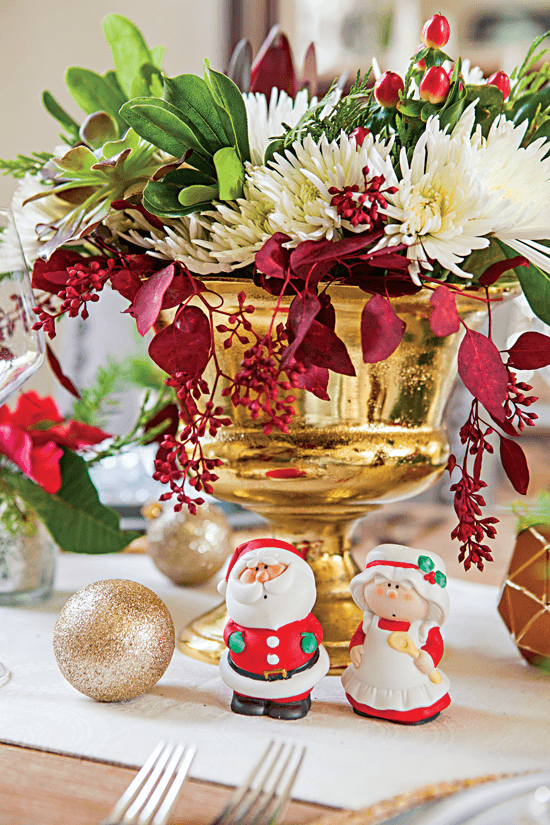 One mainstay tradition? Fresh greenery. Ashley incorporates pine and cedar all over the house. Since the Frank family lives in California, Ashley also incorporates succulents into her Christmas theme. "On the dining room table, I put succulents in vintage teacups," Ashley says. She even made her own succulent wreath, mixing the warm climate with the holiday season. Her décor starts with the wreath on the front door because she wants "the first thing you see to be beautiful."
The Centerpiece
The showcase, of course, is the tree and for her theme it's all about glimmering Christmas décor from floor to ceiling. "Start with the tree and how you want that to look," she says.  After wrapping her tree in a glittering gold ribbon as a garland, Ashley knew that this would be the focal point of her décor. With red, gold and a little bit of sparkle in her color palette, Ashley paired the ribbon with red poinsettias, gold deer and ornaments.  She placed these hues and the deer on shelves and tabletops throughout her home. Because the Christmas season can bring a lot of color into the home, she says, "I keep my house pretty neutral." She forgoes her favorite color, blue, and pairs her earthy neutral furnishings with pops of red and shimmery gold.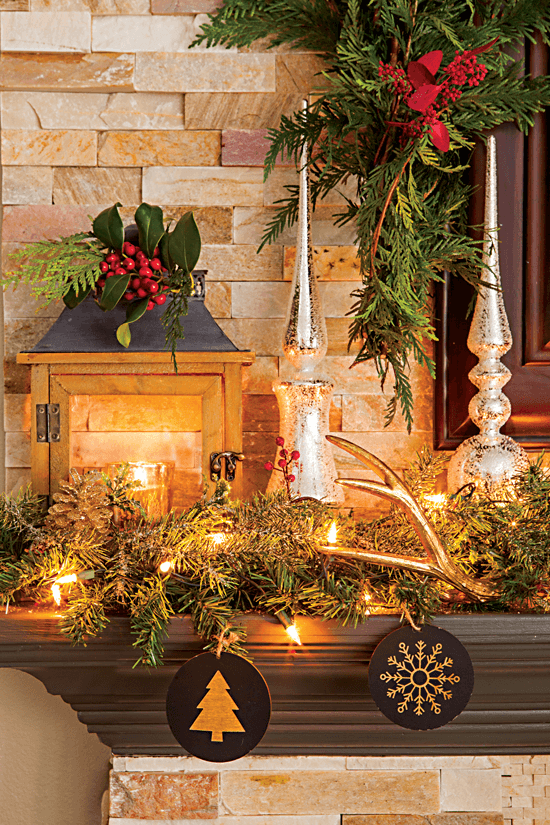 For many families, tradition is a big part of the holidays. Ashley has incorporated a lot of her grandmother's holiday items into her glimmering Christmas décor. On her dining room table, the adorable salt and pepper shakers, as well as the napkins, are from her grandmother's holiday collection. For the Franks, the Christmas season is about making traditions as a family. "Christmas is such a magical time of year, so I just want the house to feel magical, especially for my kids. They get really excited about it," Ashley says. Her children, ages 5 and 7, love decorating with their mom. Her kids inspire a lot of her décor. Stylish functionality is crucial for this mother of two.
"I want the first thing you see to be beautiful."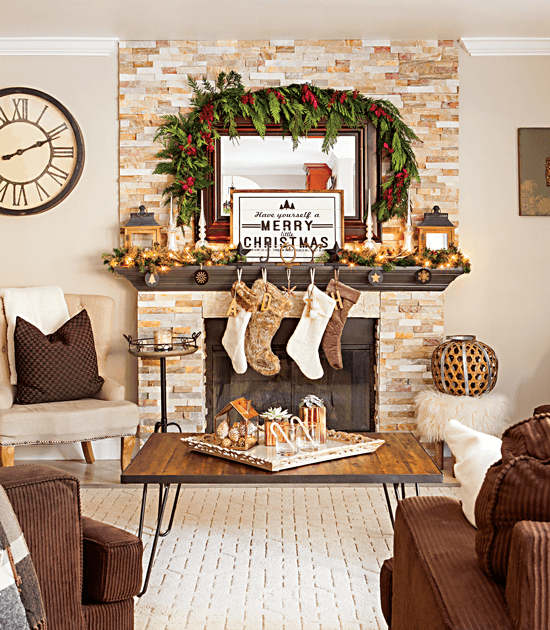 Personalize It
Ashley believes that "your home is a reflection of you and your family." So make sure you keep the style all your own. Incorporate colors and patterns you love along with your Christmas decorations. It's all about blending your style with the trends of the season. Keep your family traditions, and start some new ones as you pick your theme and fill your home with the magic of Christmas.
"Christmas is such a magical time of year, so I just want the house to feel magical, especially for my kids."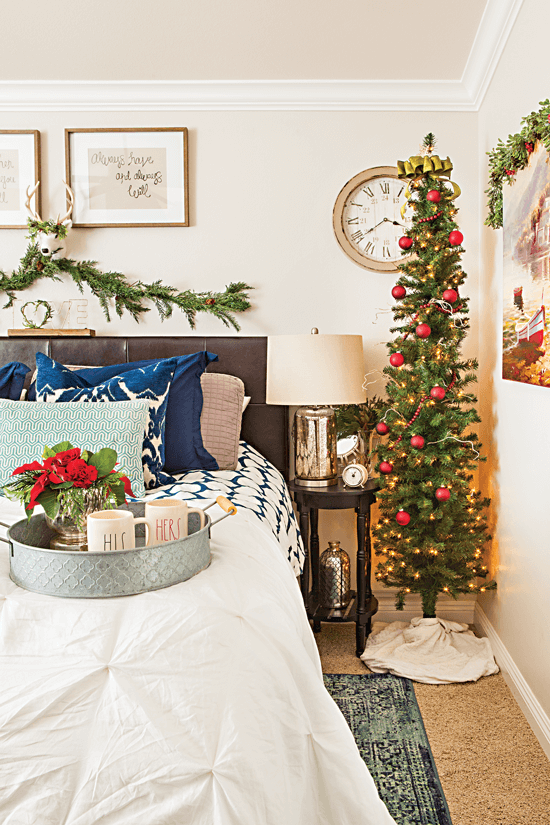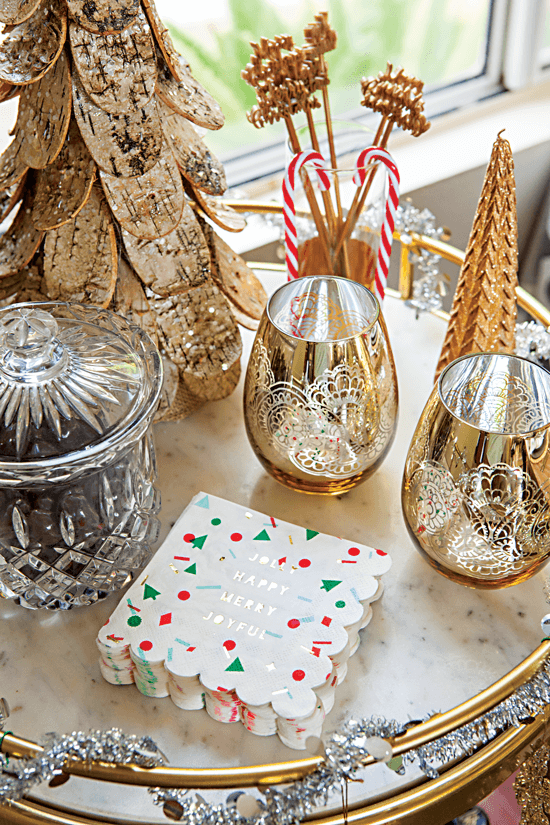 Looking for more holiday inspiration or glimmering Christmas décor ideas? Buy a copy of our holiday issue on sale now! Or check out this tour of Design Twin Jodi Kammerer's Northern California home.
Of course, don't forget to follow us on Instagram to get your daily dose of cottage inspiration!