Christmas is our family's favorite holiday, and I love to decorate and plan for it. There will always be a lovely Christmas Eve and Christmas Day meal where all 22 of us can gather together.
Our Christmas is a mix of family traditions, favorite foods and, through the decorations, a bit of all the different places we have been and lived. Each year, the color scheme is slightly different and the decorations are moved around.
However, one constant is a big tree in the corner of the living room with a red and gold theme. I always cut lots of fresh greenery from the garden to use around the house; various kinds of pine, eucalyptus, juniper, California holly or California pepper and several kinds of boxwood. We begin amaryllis bulbs whenever the new bulbs arrive by mail; eventually, the bulbs go in the garden, but rather than re-bloom on cue for Christmas, they arrive late summer.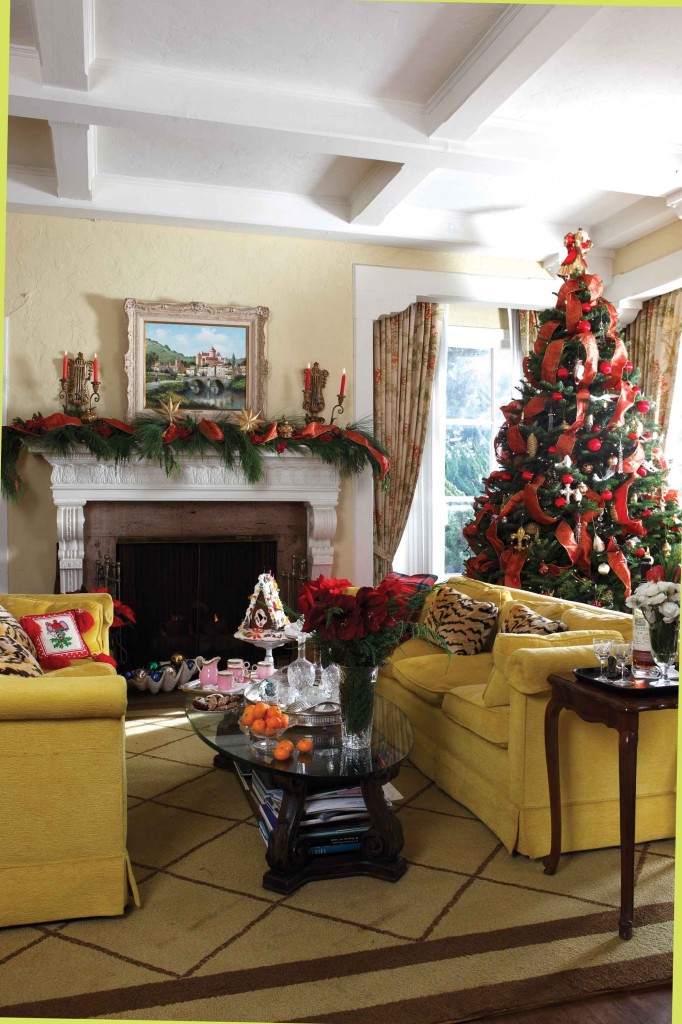 Spot the details: a homemade gingerbread house, clementines, a tea set and a rich tree adorned with thick holiday ribbon.
The dining room is usually where I use a lot of fresh flowers and play with color a little more. Whatever the color scheme (red, gold, silver or hot pink), we ultimately have a traditional, whimsical Christmas. This year I am focusing on a traditional European Christmas, channeling a Father Christmas or Père Noël theme.

Nature's greenery should always be included in a yuletide celebration.
American imagery is typically Santa in his sleigh. In European images, he is usually on foot, with a staff and sometimes on a donkey. Presents and toys in the vintage images are usually in a ribbon-tied or rustic basket, and sometimes with a large sack.
I filled vintage toys and presents in a French rolling cart that sits aside the front door. Santa's gloves and glasses are at the doorstep, and Grampy will tell the grandkids that Santa must have just been here to bring their presents.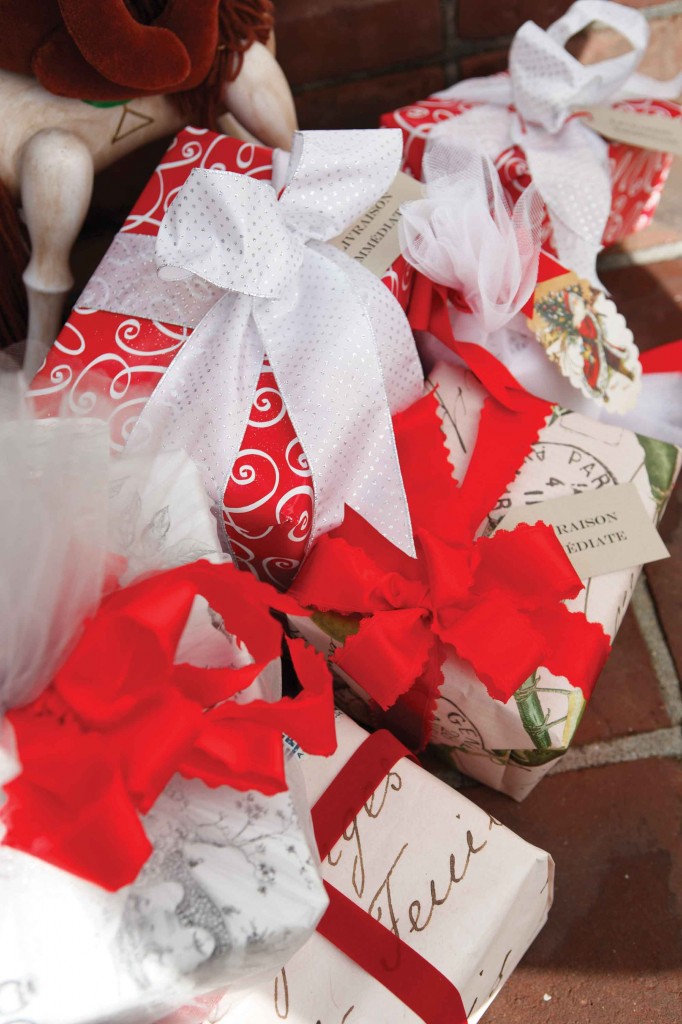 Handsomely wrapped presents, vintage toys, and mini bird nests are the details that make a holiday home.
I try to create an atmosphere that everyone will love and remember, one that is simple but elegant, fresh, creative and attractive to all the senses. I also like to have some activities. There will be jigsaw puzzles and a Santa basket this year for the little kids, billiards and backgammon for the teenage kids, great food and wine and visual treats for the adults.
The dessert table is always filled with delicacies, notably a towering plate of our favorite homemade "Sandies" cookies, rum cakes, a gingerbread house and a holiday tea and coffee service. The sachets and vintage postcards on the dining table are for everyone to take home as a souvenir.
Natural Elements
Greenery from the garden fills out a base made of curly willow. I'll freshen it up from fall through New Year's. Pine works really well because it lasts so long. All the della Robbia accents are fresh from the farmers' markets, except for the cluster of dates at the top, in lieu of a bow; this is from one of our palms.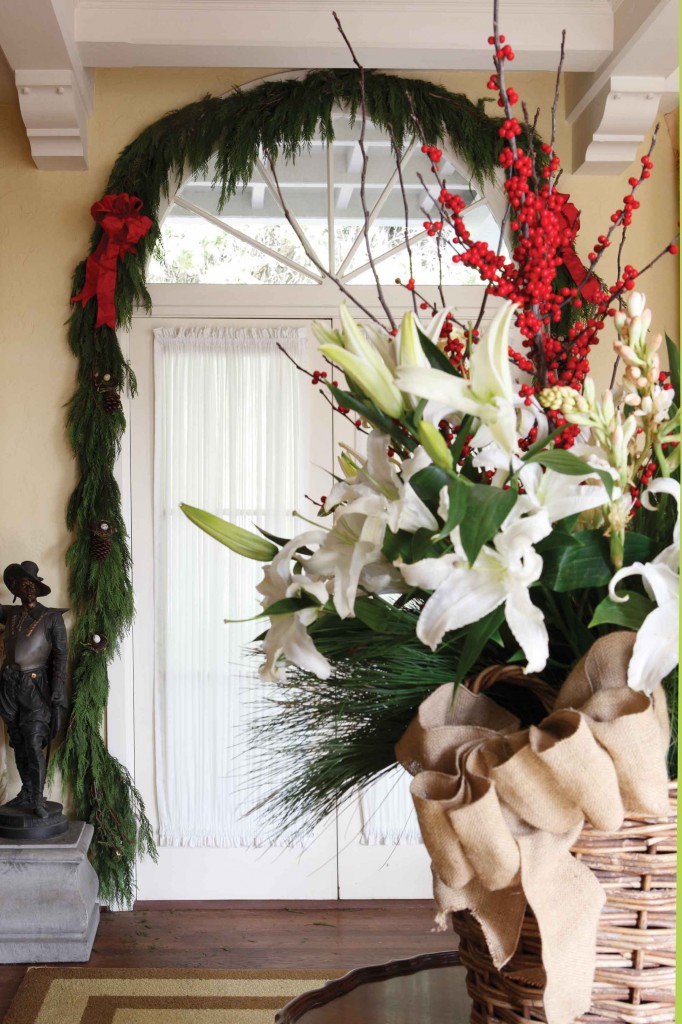 Fresh greenery and flowers show the richness of the season while scenting the home with the fragrance of Christmas.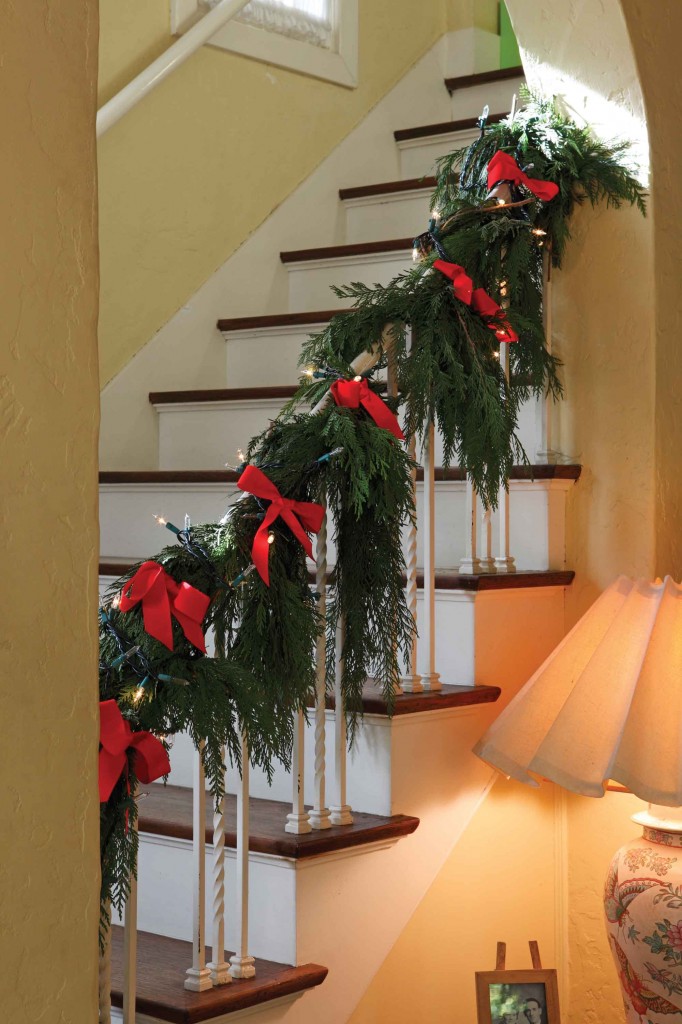 The boxwood wreath on the door is made of greens from our garden; I used the Ruban Croise look for the red ribbon. Greenery over the door is cedar garland filled out with pine from the garden. Such greens can also be found at a nursery, farmers' market or florist. There are blown-out quails' eggs in all of the nests on the garland.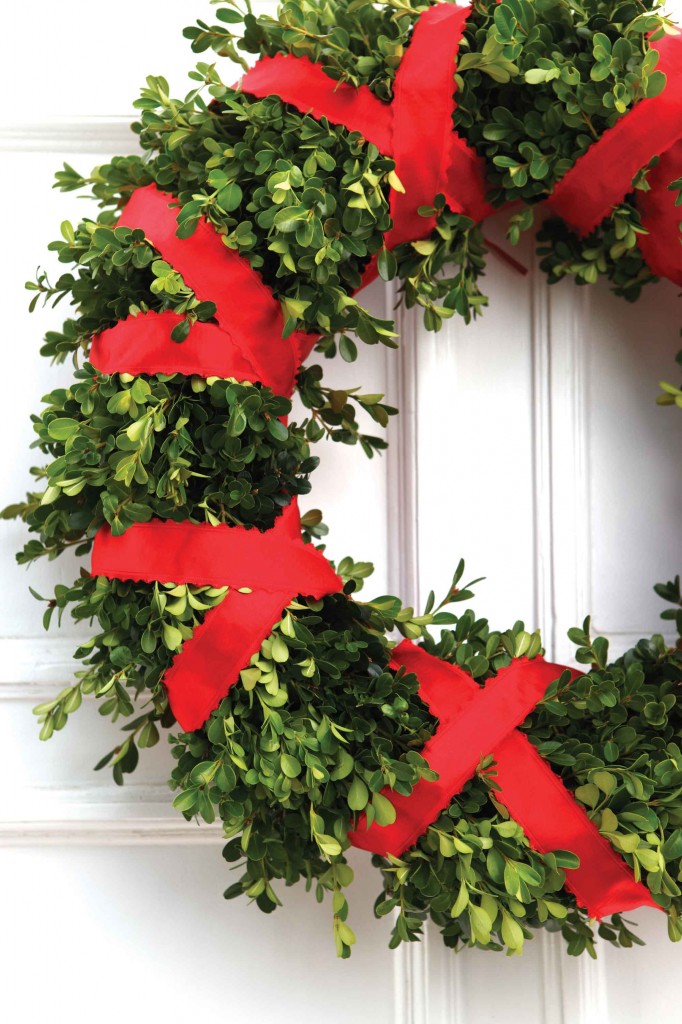 The Table Setting
I always do a white table and napkins, white Limoges plates with gold trim, and vintage French and American crystal. Table favors are a special touch for parties or dinners, and I prefer to give something universally useful such as soaps, salts, sachets and food items, like honey.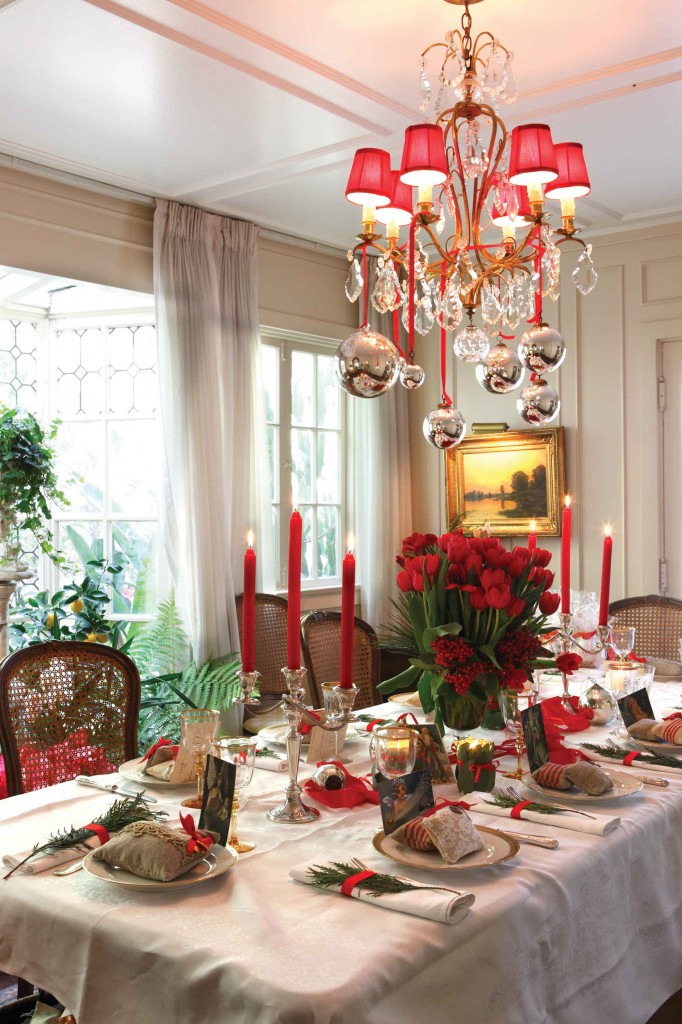 I make the sachets from vintage French fabrics and dishtowels, and vintage French lace and trim; one sachet is lavender and the other is made with homemade potpourri. Each place setting has one lavender sachet tied with a vintage French religious medal or cross and a vintage postcard. Old postcards are an inexpensive way to add some interest to a theme and are great to use later as a bookmark or tuck in a mirror.
Most of the postcards chosen for the table are of Père Noël or angels. The votive candles are great to cover with some other kind of material to go with an event theme. In this case, I used eucalyptus leaves and red ribbon.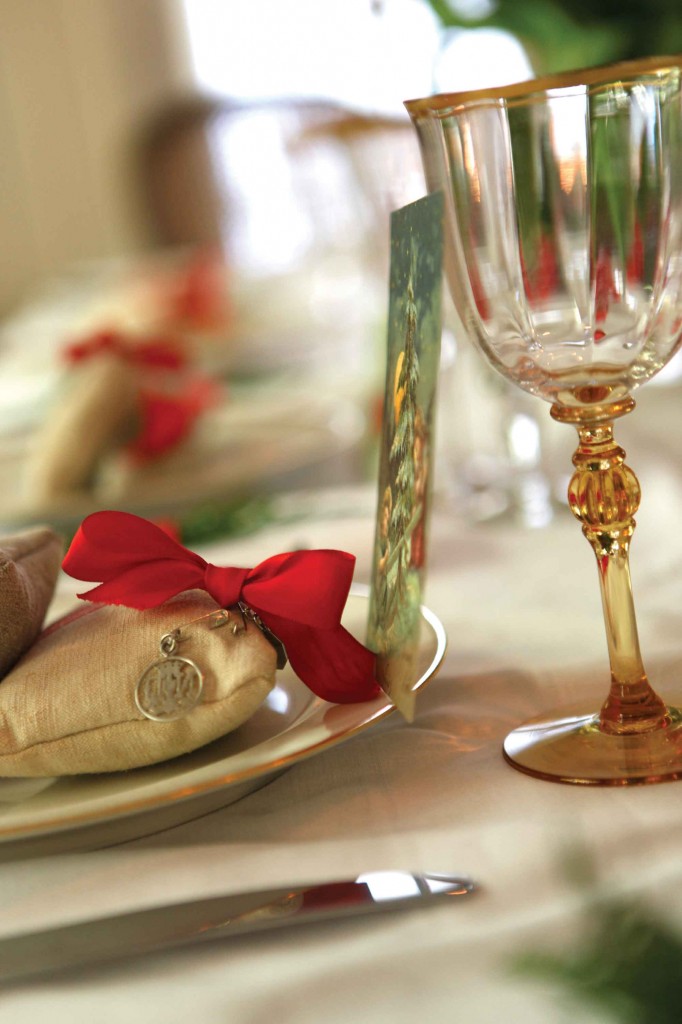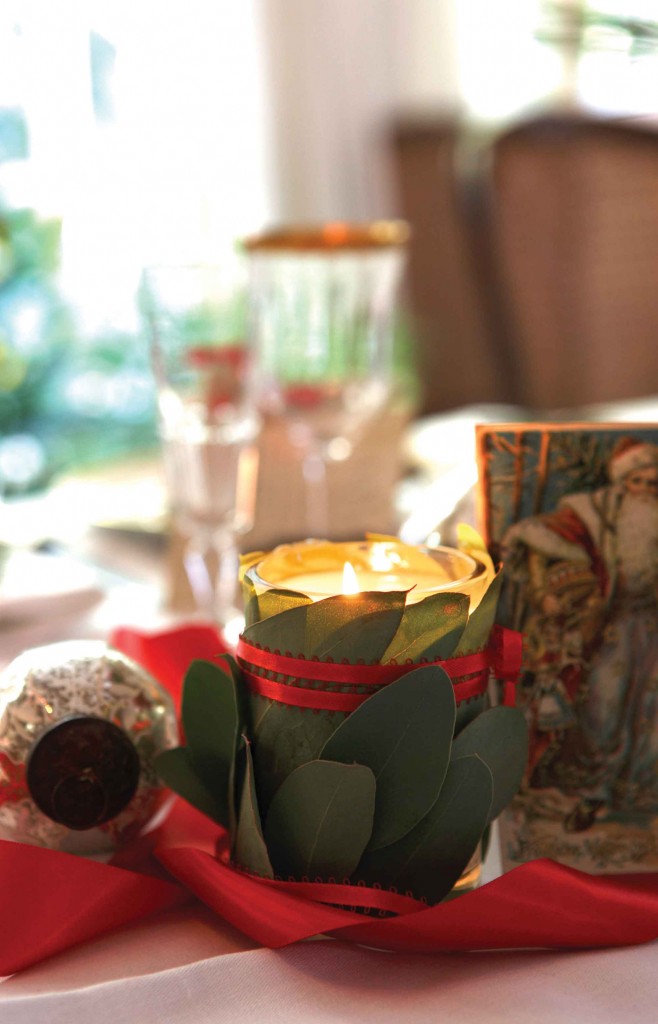 Inexpensive soy candles wrapped in eucalyptus leaves are an easy way to make the table sensual and memorable.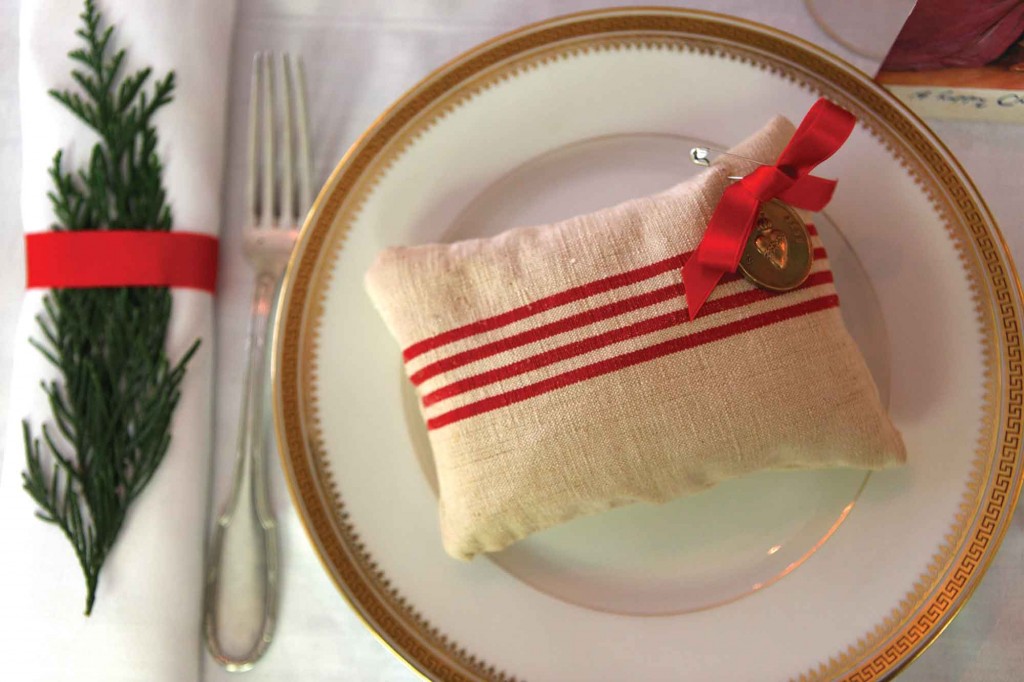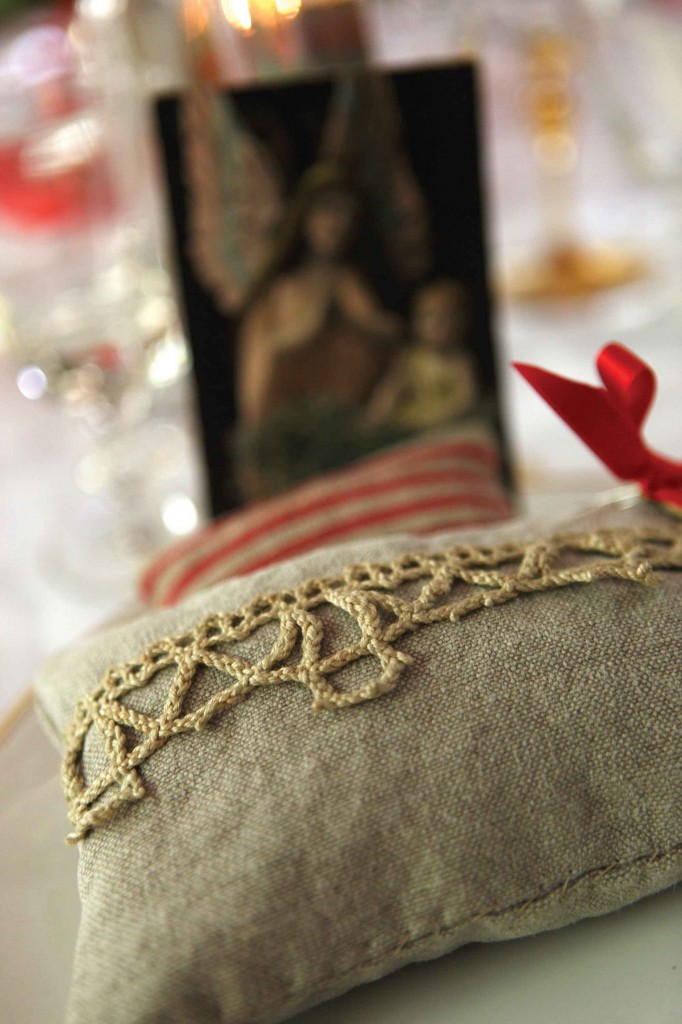 Lavender sachets pinned with French medals of honor are one-of-a-kind takeaways for guests to remember this holiday while adding intrigue to the table.
While one can do a lot of prep work and decorations for a party or holiday, sometimes the best (and most surprising) elements are those that are spontaneous and casual. What I like best about my decorations this year are the things that were done with little thought: the date cluster instead of a bow at the kitchen gate, because I was searching the garden for a "natural bow"; the ribbons on the dining table were there because I was wrapping other presents there earlier in the week, and I liked the look of the mass of various width red ribbon on the white tablecloth—I've never done ribbons like that on the table and probably never will again; the extra vintage postcards were spread around sort of casually on the table and in the mirror after I had set one at each place setting so that my family could see them.
The flowers, including the ones on the dining table, were hastily arranged by me and chosen based on what was available at the farmers' markets the week before. Rather than displaying mixed bundles, I tend to arrange like flowers together for visual impact. They were done in a minute, and I think they looked finished but not too "done."
Bottom line: Plan, but spontaneity keeps it all from looking too contrived.