Every holiday between New Year's Day through to New Year's Eve comes with its own set of cultural and individual traditions, but none more so than Christmas! From the treasured memories of winter activities together, to the ornaments that have been handed down through generations, these holiday traditions are sweet reminders of what really matters. Here are a few of our favorites!

Go Outside and Play
Chilly weather means we're tempted to stay inside (we readily admit to being homebodies!)  But a few of our favorite family activities have us excited us to bundle up and face the winter air. This year, we're looking forward to visiting a Christmas tree farm where we'll choose and chop down the perfect specimen to decorate with white lights and vintage ornaments. We'll also embrace opportunities to test our balance (or show off) at the local ice skating rink or find a hill to sled down before building a snowman. When the sun goes down, it's time to search out the neighborhoods with the best lighting displays or go caroling!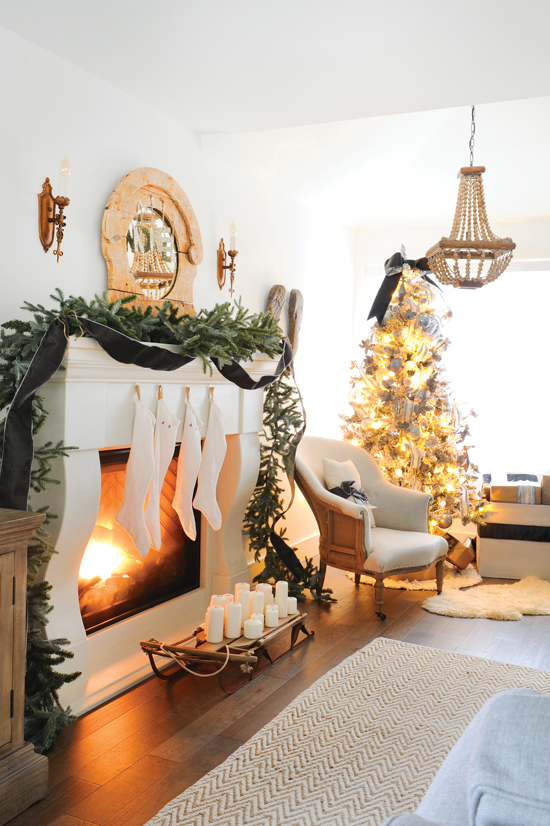 Tour Jamie's Cozy French Christmas Cottage Here
Get Cozy
After all that fun outside, there's nothing better than coming in to a warm and cheerful home that's full of the sights and smells of the season. We'll start by getting a roaring fire going, then mix up some hot chocolate and marshmallows and listen to Bing Crosby sing something festive.
If we're feeling particularly creative, a few delicious hours of baking and cookie decorating will do the trick. But if, after a long day, we truly want to relax, we'll gather some snacks and choose between holiday classics such as Christmas in Connecticut, Miracle on 34th Street or White Christmas for a family movie night.
Through this season, we'll do our best to balance between honoring old traditions and trying new things together, as all these moments will turn into memories in very little time!
What are your favorite holiday traditions? Share on Instagram with #cottagesandbungalows