If summer salad creation were a love-language then Sara, of Sprouted Kitchen, speaks it fluently. Her dressings are deliciously crafted from scratch and the flavors she pairs together will make anyone a salad fan. Her blog is littered with summer salads and dressings and sauces, OH MY. Head there for more inspiration. 
Finding seasonal, fresh produce guarantees a better product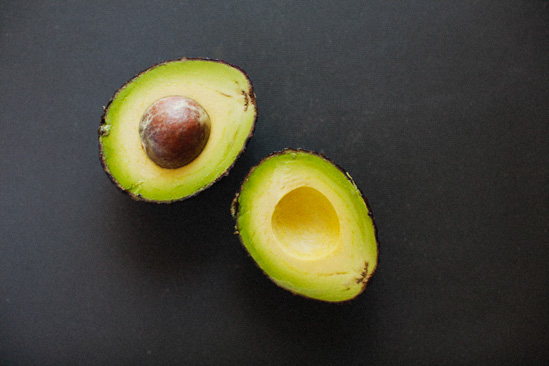 Fresh Ingredients: Yummier Salad
This summer salad is not complicated in the slightest, but it is the tastiest combination I've had in quite sometime. It reinforces the fact, that finding seasonal, fresh produce guarantees a better product. This was my first time cooking with red quinoa, and I found it to be a bit firmer, which is just perfect to toss into a summer salad. Although not crucial by any means, if you can get your hands on some red quinoa, it will certainly make a gorgeous alternative to the white variety. This salad would also be excellent with a bit of feta, goat cheese or a piece of grilled fish to make it more of an entree.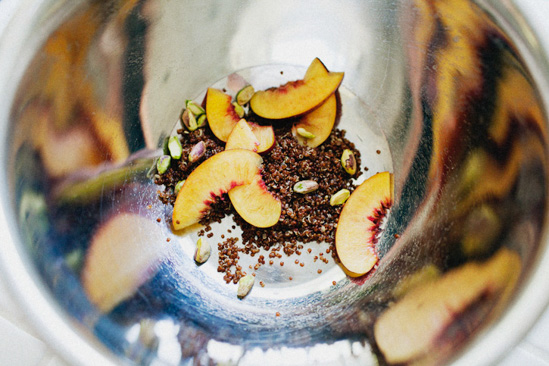 NECTARINE+FENNEL SUMMER SALAD //
Serves 4 
I cannot stress enough how important it is to buy your produce from a local farm stand or farmers market for this summer salad. Seek out an incredibly fragrant nectarine, a delicate avocado with buttery insides, a plump fennel bulb. It is very light, and what makes it great is the use of ripe, fresh produce. Just a mere suggestion that you could translate as a command.
1/2-3/4 Cup Cooked Red Quinoa
1 Nectarine
1 Avocado
1/2 Cup Shelled, Roasted Pistachio Nuts
1 Cup Thinly Sliced Fennel (use a mandoline if you have one!)
2 Cups Arugula (or lettuce of choice)
// Mustard Chive Vinaigrette //
* These are estimates, give or take to your own taste.
1 Small Clove Garlic
1/4 Cup Roughly Chopped Chives
1 Tbsp. Apricot Jam (Honey or Agave will work)
2 tsp. Dijon Mustard
1/3 Cup Fresh Lemon Juice
1/2 Cup Extra Virgin Olive Oil
Pinch Salt/Pepper
Put all vinaigrette ingredients in a food processor or blender and pulse until everything is combined for about 30 seconds. Taste for salt and pepper.
Working in a large mixing bowl, add the cooked and cooled red quinoa, and about 3 tbsp. of the vinaigrette to keep it moist. Stir. 

Halve the nectarine, remove the pit, and slice into thin pieces. Halve the avocado and cut into small chunks. Add the fennel slices, pistachios and half of the nectarine and avocado pieces to the bowl, save the other half for garnish.

I suggest using clean hands to toss everything that way you can be gentle and retain the shapes of the avocado and nectarine. Add desired amount of dressing and give one more toss to coat. Garnish with fresh slices of nectarine and avocado. Summer Salads are served!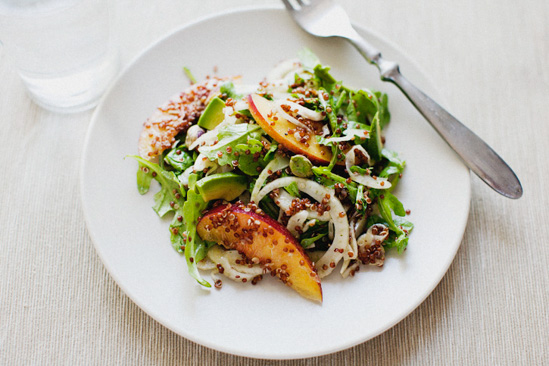 Like what you see? Short on meal ideas? Let the pros plan it out for you! Sprouted Kitchen's latest adventure is SK Cooking Club. Complete with photos, meal plans, creative swap ideas and shopping lists this weekly cooking club is perfect for anyone looking for kitchen inspiration. Find out all the details here, and happy cooking!
You can check out her latest cookbook here. 
Want more simple recipe ideas? Check out this post on a Yummy Vintage Dessert.
Of course, don't forget to follow us on Instagram, Facebook and Pinterest to get your daily dose of cottage inspiration!