Spring weather and gardens in bloom mean it's time to get back outside and enjoy the sunshine. If you're ready to head into the garden for some outdoor entertaining, get inspired by the season's casual air and let this soiree setting motivate you to host a garden party that's easy and elegant.

REFRESHED PALETTE
At the home of Leslie Saeta of My 100-year Old Home, leave behind the expected citrus hues of a garden party in the sun in favor of pastels; the palette is reminiscent of a breezy spring sunset. By using shades of blue, accented by dusty-pink florals, with hints of gray and matte metal finishes, it will ground the look with a decidedly cottage ambience.
Read more about Creating a Classic Cottage Garden
SETTING 101 FOR GARDEN PARTY
Galvanized metal chargers with subtle fluted edges are topped with off-white dinner plates. To ensure the setting has an appropriately casual aesthetic, reach for a few mismatched yet coordinated pieces. Here, blue and gray salad plates alternate with gray-striped and white-ticked linen napkins, creating a vibrant setting that doesn't try too hard.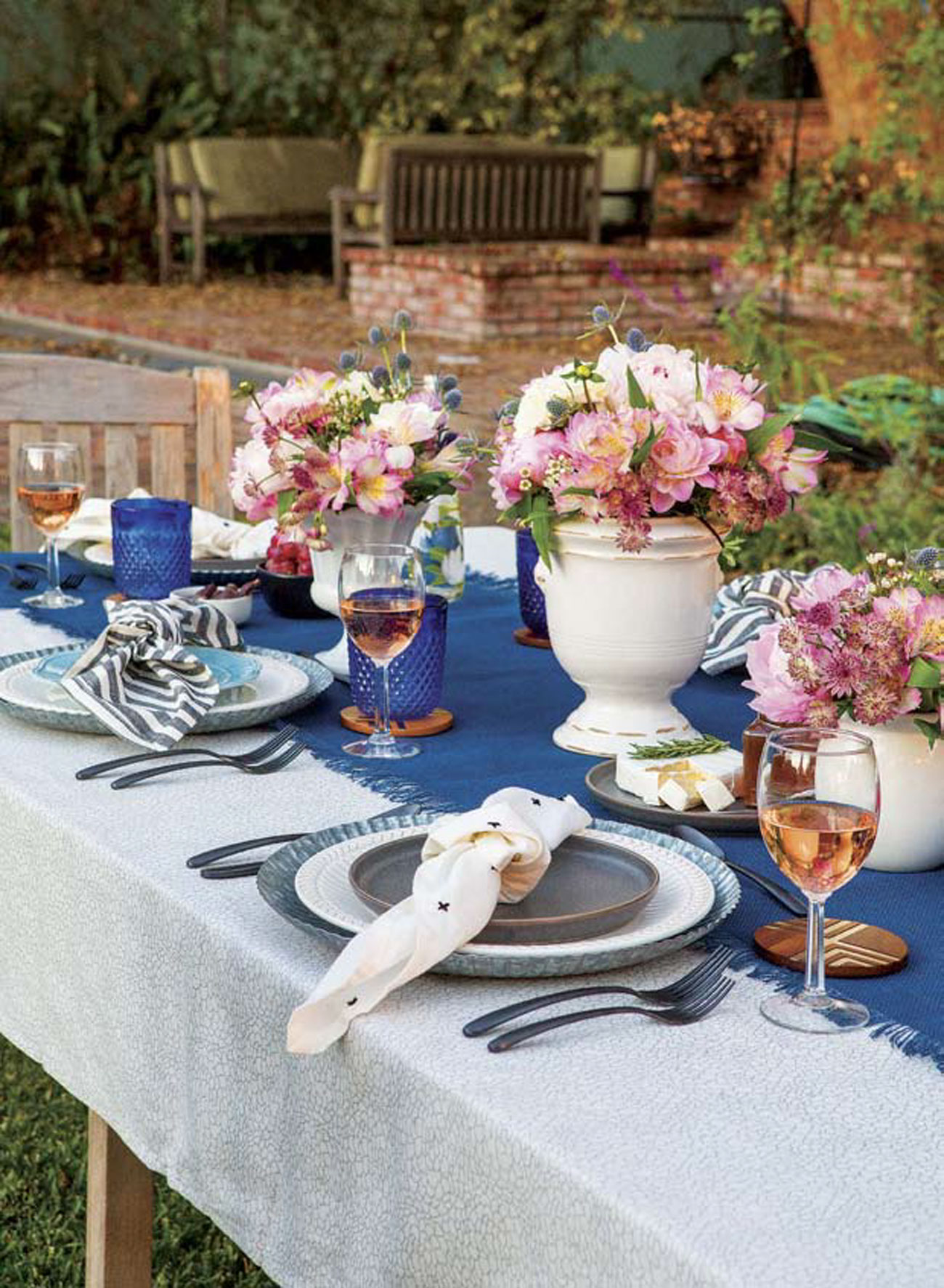 DETAIL DRIVEN
It's the little things that count, like the delicate silver-stitched floral pattern on the tablecloth or ditching the patio in favor of dining out on the grass. Finesse the ambience of your dinner with a few simple and refreshing swaps.
To learn more about Leslie Saeta, visit her at  My 100 Year Old Home 
Dessert Made Easy for the Garden Party
Transform a simple grocery-store cake into a party-ready masterpiece.
Cutting corners rarely bodes well for a host, but this easy trick is sure to get you out of the kitchen and spending more time with your guests—while also being a sure-fire crowd pleaser.

Buy a simple white cake at the grocery store, preferably without any colorful icing accents. Remove any plastic toppings. If your cake has colorful icing, roses or trim, use a butter knife to carefully remove them.
Using the back of a clean knife or a frosting spatula, scrape excess frosting off the top of the cake. Repeat around the sides of the cake. Vary your pressure slightly to create a rough frosting look. Smooth out as desired. Top the cake with a few flowers trimmed to short stems and proudly display your creation.
Build the Perfect Charcuterie Board
Must-haves for nearly any gathering, including a garden party, these crowd-pleasing trays are easy to put together.

• Meats: Most boards host some combination of salami, cured ham, pate, prosciutto and capicola.
• Cheeses: Stick to three cheeses in an assortment of mild, medium and bold flavors. A well-rounded board should have a soft cheese, something easily sliced and one with a blue-cheese mold or other bold flavor.
• Fruits: Both fresh and dried fruits are excellent choices. Consider grapes, figs, apricots and berries.
• Crackers: A few cracker varieties of mild flavor are great vehicles for your spread, as are thin slices of a baguette drizzled with olive oil.
• Nuts: Simple as it may be, a bowl of almonds or mixed nuts is a perfect addition.
• Chocolates: Feel free to get a little adventurous here. A dark chocolate with a kick of spice will be a palette pleaser.
Put It All Together: 
To put your board together, begin by slicing and laying out your meats. Create distinct areas for each, making it easy for guests to find their favorites. If you'll be including any bowls, add them to the board before layering in the cheese. Fill in the gaps with crackers and the rest of your assortment, making sure to balance color.
Create a spring-ready palette by reimagining dinnerware and linen pairings from within your own cabinets.

Give your drink dispenser a lift by setting it on a basket turned upside down. The wicker texture is the perfect companion for a cottage-inspired garden party.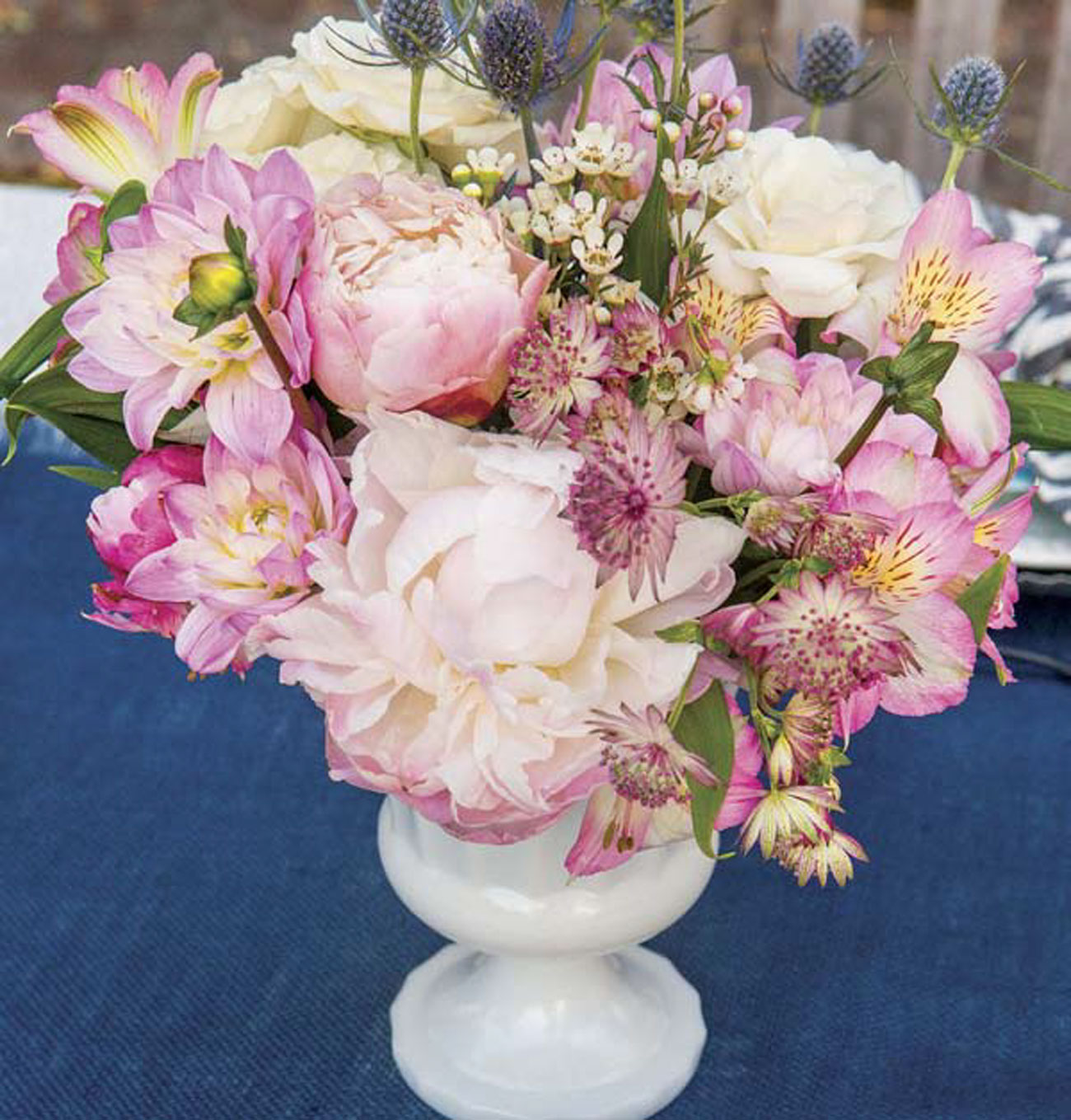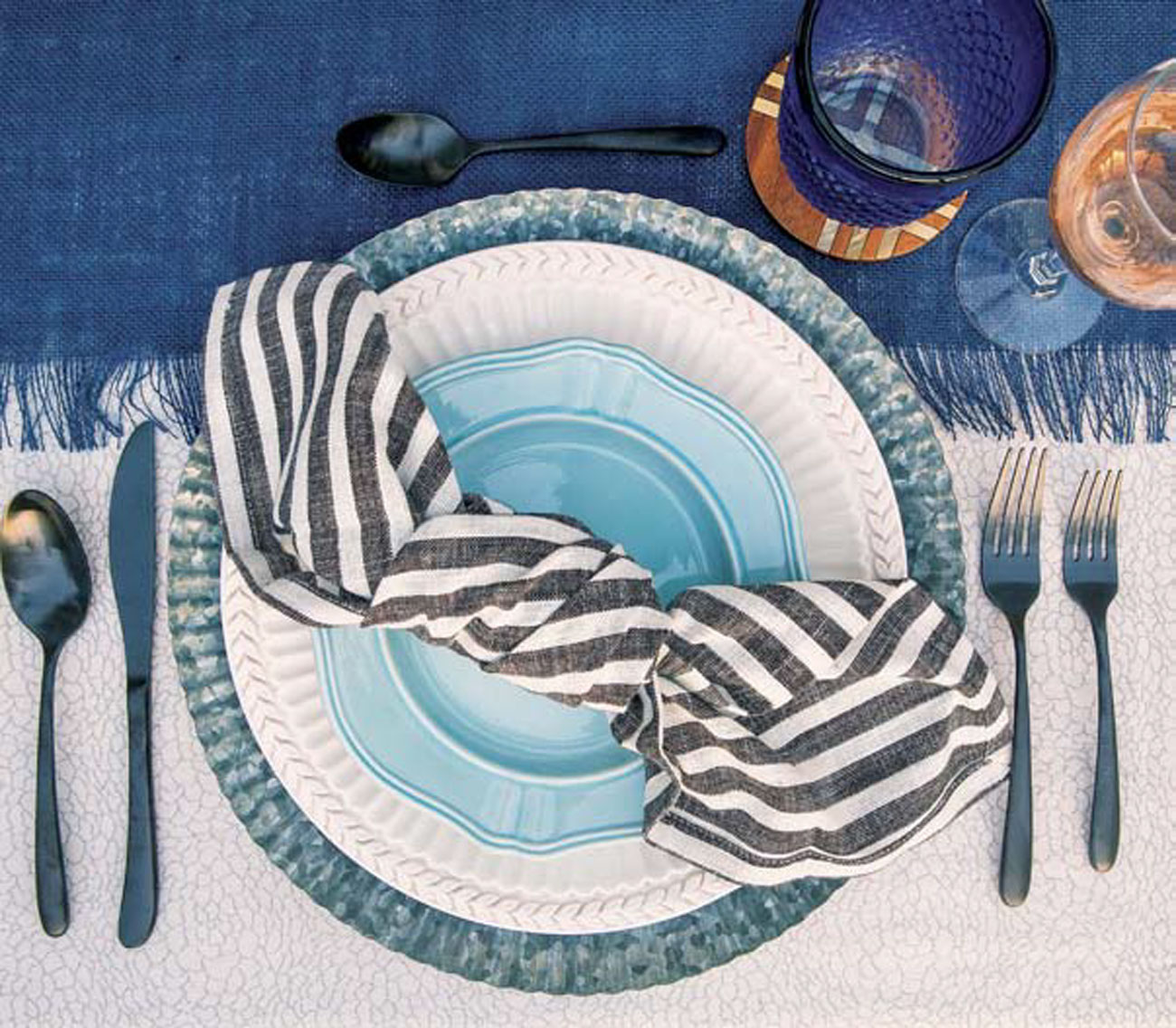 Top off your offering with a few sprigs of fresh herbs, such as rosemary, and your board is ready for serving.
Also consider adding to your board:
1 A variety of olives
2 Honey in several flavors
3 Pinch bowls of seasoned salt
4 Pickled vegetables
To read more about garden parties check out Gathering for a Garden Party.
Of course, don't forget to follow us on Instagram, Facebook and Pinterest to get your daily dose of cottage inspiration!