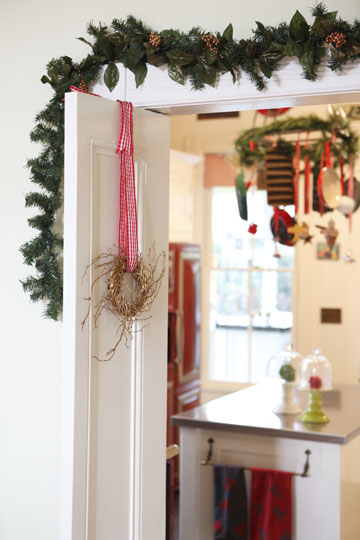 Incorporate these five tips for a festively-decked-out kitchen.
1. Adorn the doorways. The pocket doors that lead from the dining room to the kitchen are decked with garland, and small twig wreaths are hung from festive ribbon. These details make for a visually merry holiday season.
2. Use larger fixtures as holiday focal points. A hanging pot rack provides ideal storage for frequently used items and is a great place for adding seasonal style. Crown your pot rack with green garland and hang ornaments to help brighten up the kitchen and add a touch of sparkle.
3. Bring in a small tabletop tree. With ornaments or without, a tiny tree in the kitchen adds a quick and fun touch of holiday cheer. Adorn the top with a bow for a simple yet festive look.
4. Make seasonal swaps. Got plate racks and mug stands? Swap out everyday tableware with their holiday versions. Place small ornaments, gifts or holiday picks under glass for fun accents on the table or counter.
5. Make your holiday kitchen tools decorative. Santa cookie cutters and snowman cake molds look great as wall art or as charms hanging from ledges and shelves. Use festively patterned ribbon for even more fun.