Mother's Day only comes 'round once a year, so now's the time to create something special with mom in mind. Beautiful garden flowers and blue and white plates are the perfect jumping off point for setting the perfect French Country Mother's Day brunch table.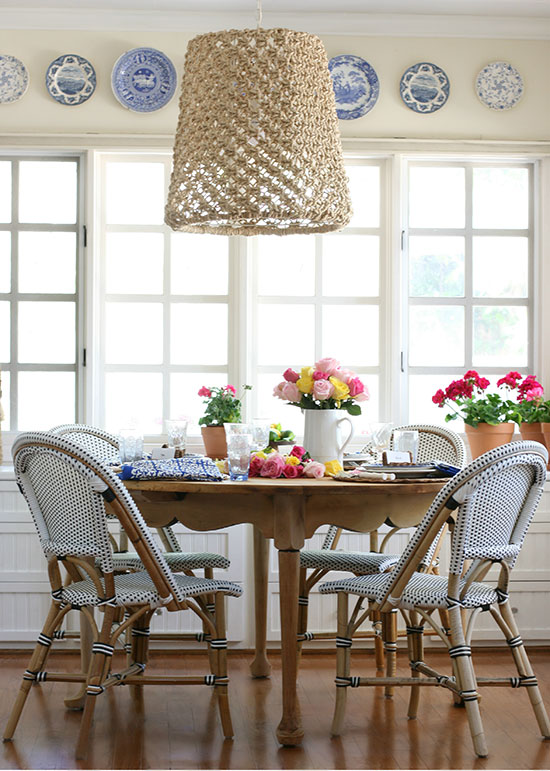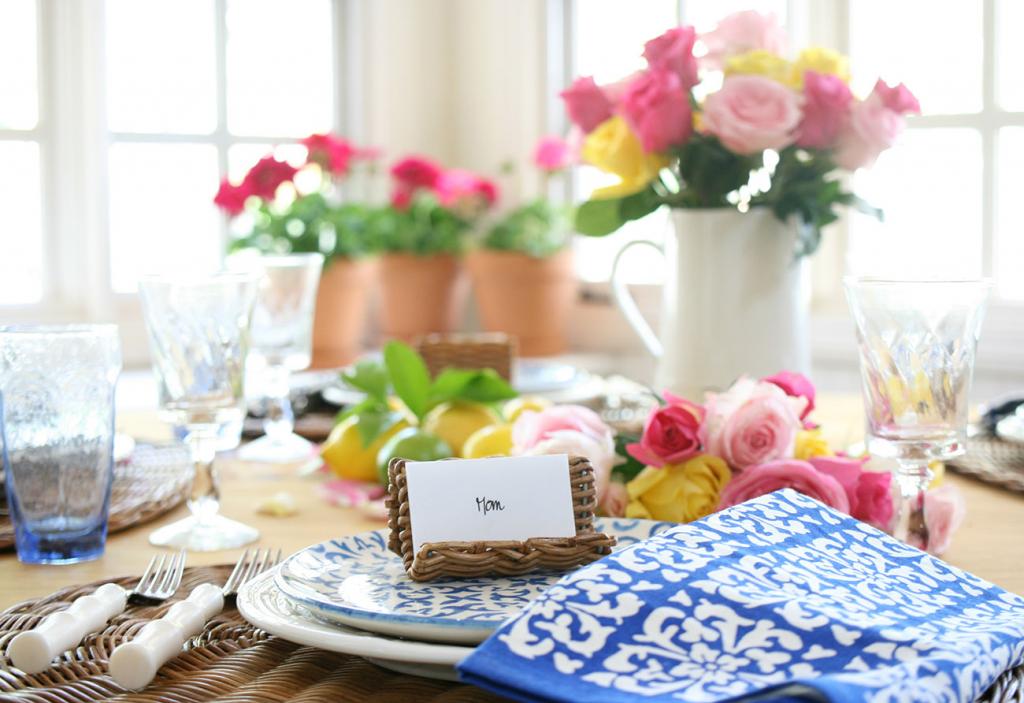 Inspiration Point
Have you ever visited a special place and want to bring a bit of it home with you? The Ivy restaurant in Beverly Hills is just that sort of place. It transports you to a magical secret garden and instantly enchants you with the unique French country style. For this tablescape, The Ivy was my inspiration, and here's my take on it. First, you'll want…
Roses of Three Colors
Pitchers full of colorful roses are the first things you'll need to recreate this charming Mother's Day brunch look. Simply gather roses in yellow and two shades of pink in your favorite pitcher and feature them as the centerpiece of your table. Sprinkle a few smaller vases with roses of the same color around the room, as well.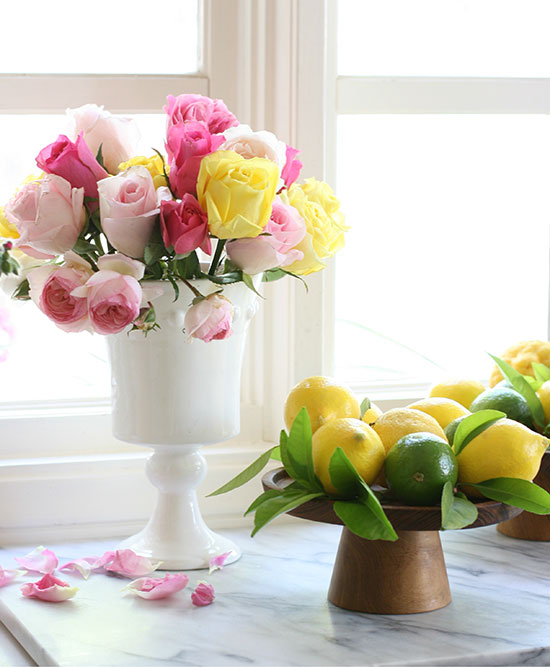 Blue and White Plates
The next major element for the table are blue and white plates. I'm totally in love with this new set of Ojai dinner plates by Mark D. Sikes. Each plate features and slightly different design inspired by vintage patterns of Portuguese tile, and it's fun to mix and match the coordinating napkins too.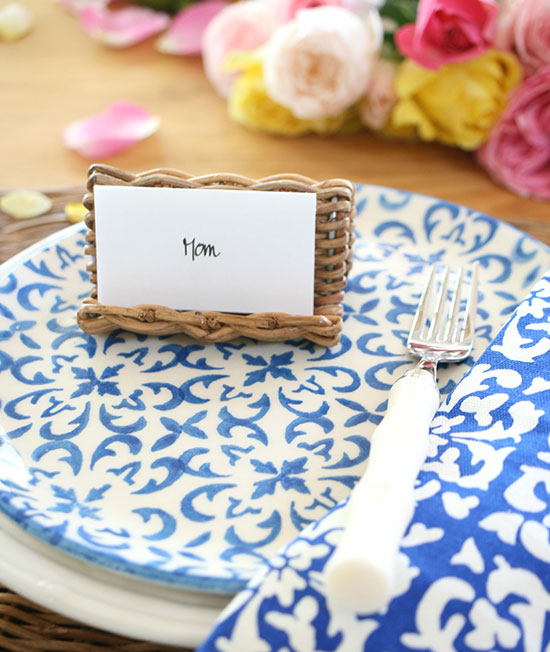 Related Reading: Building a French Country Cottage
Country Cottage Accents
Woven Texture is a key element at this gathering. We've chosen rattan placemats and matching place card holders that have a vintage wicker look that I love. French café bistro chairs add that authentic French garden look to the room.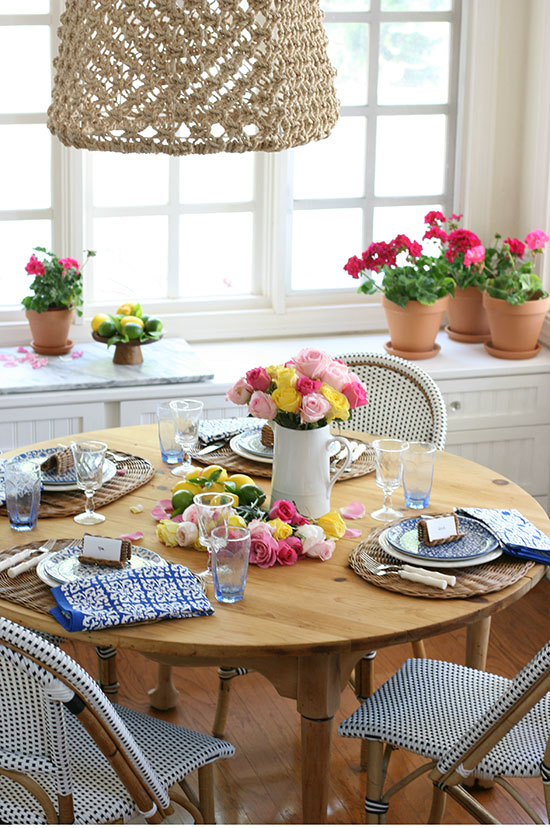 Potted Geraniums
Bright pink geraniums potted in terracotta really add to the garden party vibe going on here, and best of all, these can easily be transported back out to the garden for an impromptu alfresco dinner.
Citrus Accents
Lemons and limes are one of the easiest ways to add color and ambiance to any setting, and if your flower arranging skills are less than perfect, try arranging a fresh bowl of citrus instead. They'll look great on a pedestal or in any pretty bowl. The secret is to finish it off with just a few green leaves interspersed with the fruit, and you'll achieve this easy look.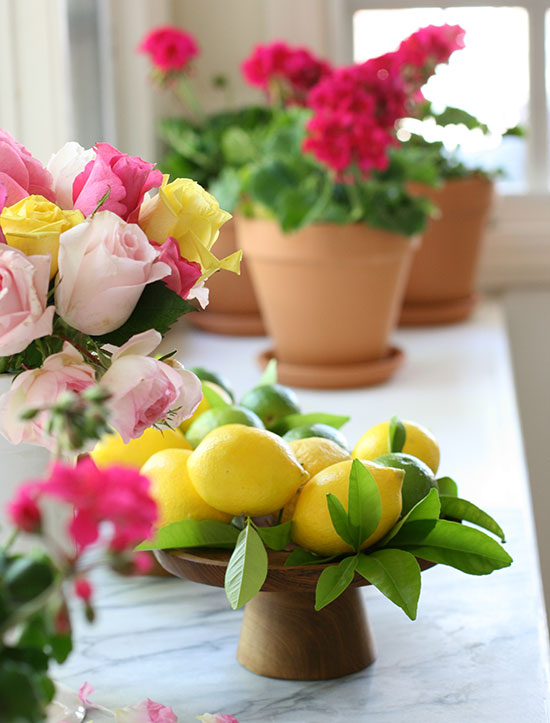 Brunch
To complete this colorful Mother's Day brunch table setting, be sure to serve some of our all-time favorite brunch items like Eggs Benedict, a Waldorf Salad, Zucchini Frittata or elegant tea sandwiches. This is the perfect day to spoil mom with fun, food and flowers!
Creating beautiful tablescapes is one of Fabiana's many talents and passions. She regularly shares her delicious recipes on her blog, Ciao! Newport Beach and on Instagram.
Looking for more French Country décor inspo? Tour this Toronto farm cottage with a European flair.
Of course, don't forget to follow us on Instagram, Facebook and Pinterest to get your daily dose of cottage inspiration!