It's the time of year for hosting. Whether you're throwing a holiday party or having family over for a Christmas feast, use these tips from blogger and designer Jodie Kammerer to create a perfect holiday table that will keep your guests gushing all night long. With an eye for vintage appeal, Jodie offers advice on creating a theme, structuring a sophisticated look, budget-friendly finds and tips for inspiration.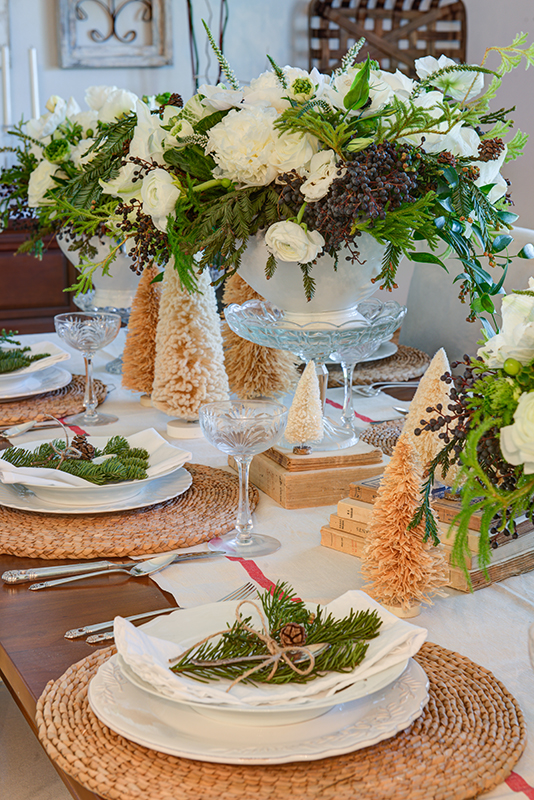 A Fresh Start
It begins with a theme, or a few key pieces of decor. Jodie reveals, "Every time I create a table it's something different: sometimes I have a few specific elements in mind and sometimes I'm inspired by a mood." It can be as simple as selecting a red and white color scheme, or centering your design around a few antique collectibles. For this look, Jodie began with a vision for an "Elegant Farmhouse." This meant incorporating vintage pieces. Knowing that these antiquated trinkets would bring plenty of personality to her table, "I wanted to keep the palette neutral with creams and whites," Jodie says.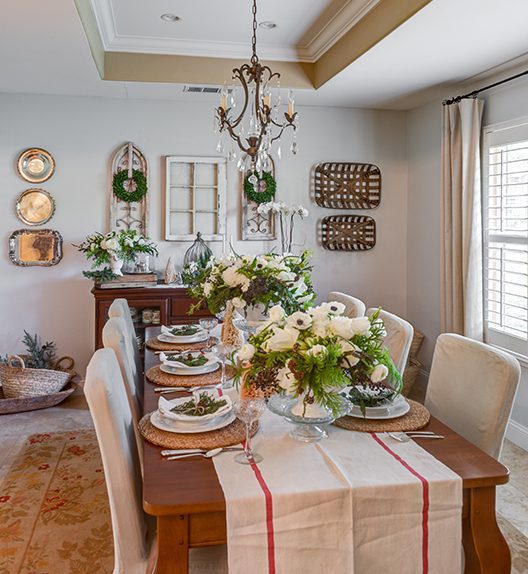 When it comes to centerpieces, Jodie recommends "building around the big element(s)." For her table, she began with vintage soup tureens and filled them to the brim with flower arrangements. Mixing vintage-style pieces with natural and earthy décor brings an "elegance and drama to the mix," Jodie says.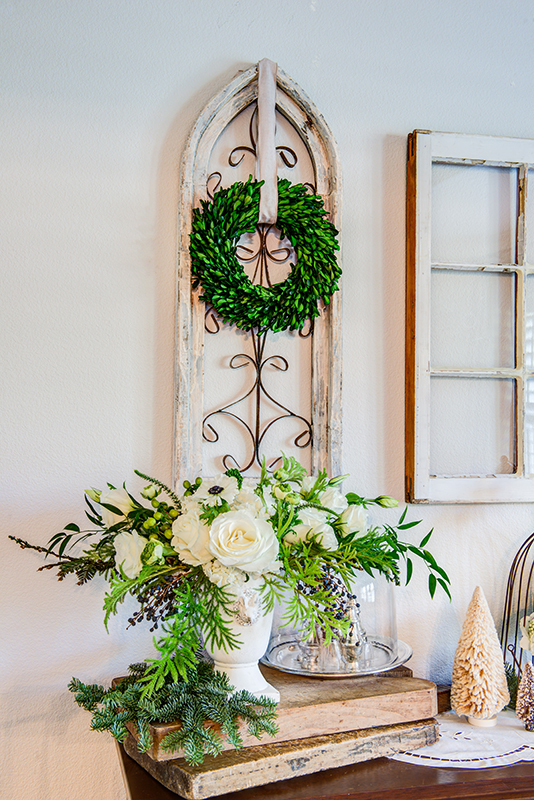 Holiday Table Trends
With these simple goals in mind, Jodie brought sophistication to her perfect holiday table with layers. "For this table I used pine greenery, white flowers, stoneware, metallic, pewter and glass to create neutral elegance," Jodie says. Combining different textures and materials creates a unique visual appeal. If you like the idea of a layered look, Jodie recommends, "adhering to a color theme to avoid a cluttered feel." Although Jodie's table is full of texture, with woven placemats and stylized dishes, she maintains a neutral color palette. Her touches of color are subtle and delightful: a table runner with red stripes and a few pieces of greenery bring festive Christmas cheer to the look.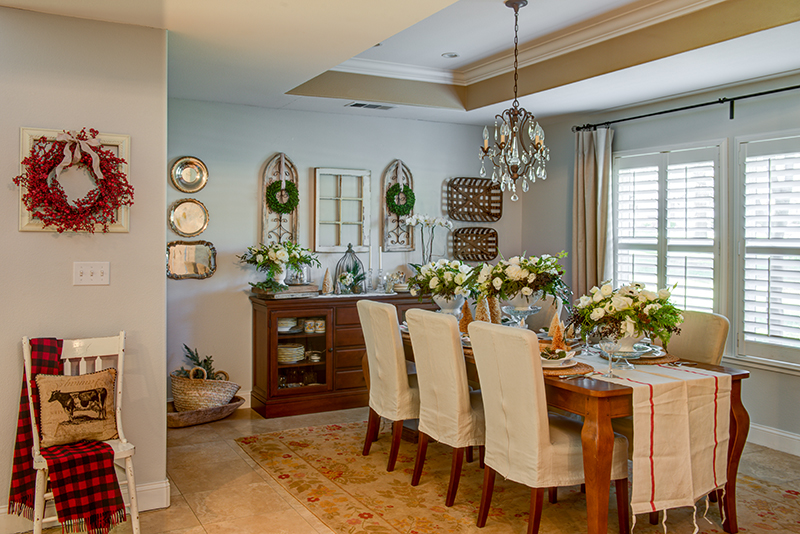 Collect, Curate & Create
You don't need to start from scratch when designing the perfect holiday table –use décor found in your own home! Jodie is always in favor of a neutral color scheme, which allows her to use her décor pieces all year long. Over the years, she's curated a collection of dishes by many different makers. "I feel a great freedom in mixing," Jodie says. Both real and faux dishes can be found in her home.
If you don't have vintage collectibles in your home, you have plenty of other options: browse thrift stores and magazines to find pieces that speak to you. Included in Jodie's array of vintage beauties are "authentic French antiques, like the red runner, soup tureens, vintage books and crystal cake stands, which are all sourced from a local vendor, Elsiegreen.com," says Jodie.
So where does all this inspiration come from? Jodie says, "I find inspiration everywhere, from Instagram to antique stores and magazines." But it's always helpful to have another set of eyes: although her twin sister Julie lives out of state, they are constantly playing their designs off of each other and communicating through FaceTime. "Julie helped me brainstorm and finalize a lot of ideas," Jodie says. Together, Jodie and Julie run the blog The Design Twins.
To see the full tour of Jodi's christmas home, click here. 
For more tips on styling and budget-friendly DIY designs, check out their blog or see them on Instagram @jodie.thedesigntwins and @julie.thedesigntwins.
And don't forget to follow us in Instagram for a daily dose of cottage inspiration!