"Plant smiles. Grow laughter. Harvest love." It's the kind of sweet saying that would be emblazoned on an art print or embroidered on a pillow. But for Sharon Brandt and her Redlands, California home (you can tour her entire home here), it's the kind of sentiment that captures her approach to designing and growing her vintage garden.
In addition to choosing classic cottage blooms, Sharon's signature is dotting her flower beds with vintage garden and flea-market finds. "I like to have one main focal point and leave space on either side of it," she says. "Start from the center [and move] out, don't try to fill the entire space, because then the eye doesn't have a place to focus on."

How does she manage her mix and execute her vignettes so expertly? Here she shares her top tips….
SEARCH FOR TREASURES IN NEW PLACES
Sharon's husband built this sweet vintage- style playhouse. Sharon got the windows at antiques stores, and the door and door handle were from Habitat for Humanity's ReStore. The playhouse sports asphalt shingles, corbels, brown scrolls and window boxes filled with geraniums, lavender and ivy. The purple and pink/white flowers are petunias. The little yellow chair was a thriftstore find for $3.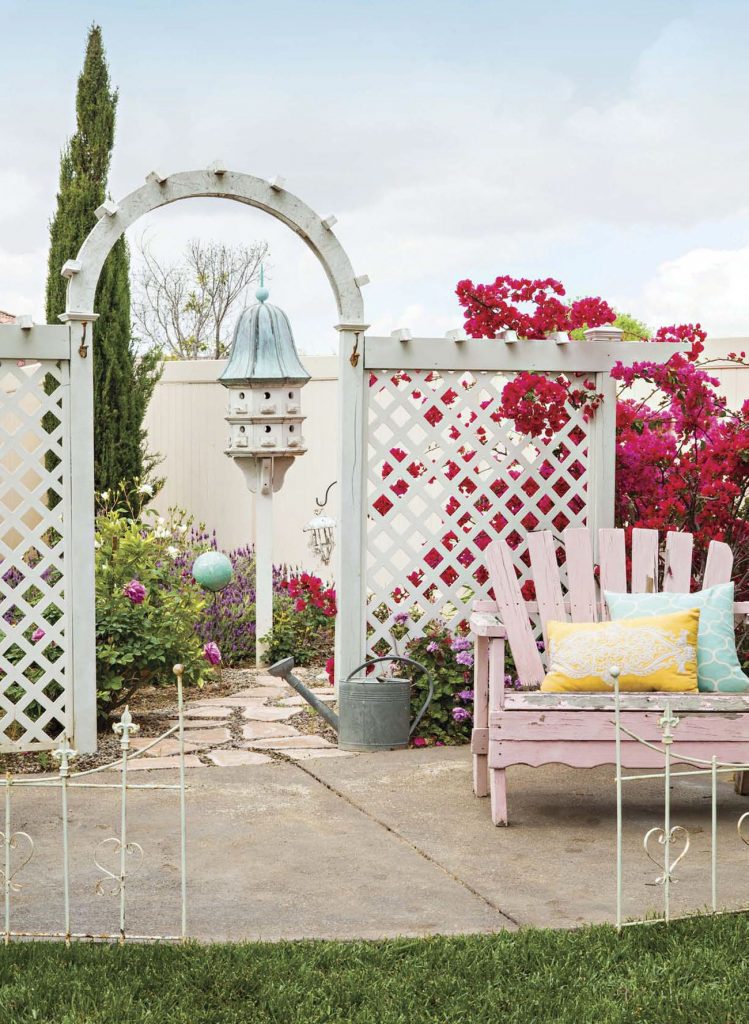 MIX & MATCH
Sometimes that means mixing vintage finds with home-made pieces made to fit. Sharon found the wrought-iron fencing, one section on each side in the foreground, at Treasures N Junk in Ontario, California. Sharon's husband made the pergola for her as a Mother's Day gift. The chair was a thrift-store find she painted pink. The flowers in the backyard include hearty lavender behind the birdhouse, a white floribunda rose bush, purple geraniums on the right and bright-pink bougainvillea.
Her charming outdoor spaces are built around the idea of entertaining, hosting and providing plenty of fun spots for her grandchildren to play.

REPURPOSE
The back porch showcases a Maid of Athens mint-green stove Sharon bought about 25 years ago at an antiques store. The two bins were originally for warming food, but Sharon keeps her gardening tools in them. The colorful flowers in the basket are petunias. Lavender is next to it in a little drawer. Sharon bought the weathervane at Target about 10 years ago; she thought it would be something whimsical for the yard. A turquoise flowerpot from Ross and a yellow citronella candleholder add more pops of color.
Related Reading: Take the Full Tour of Sharon's Home

CREATIVELY CRAFT VINTAGE
This section of the backyard features a birdhouse Sharon made to look old. She added an old doorplate to the post, and it looks natural coming out of ground. She bought the wrought-iron peacock bench from Pier 1 Imports 25 years ago and placed a wire birdhouse on the bench. White iceberg floribunda roses and lavender adorn the area.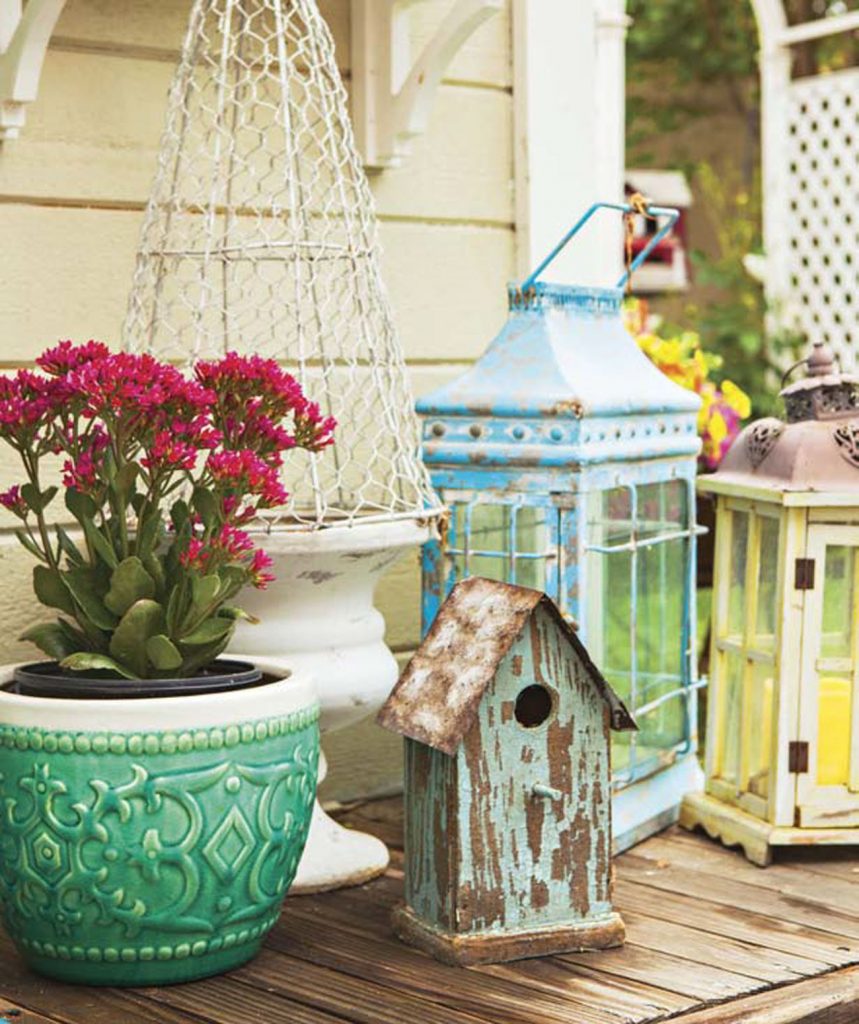 Cluster decorative elements for a more layered look. Sharon bought lanterns and birdhouses that sport weathered and distressed finishes for a more vintage feel.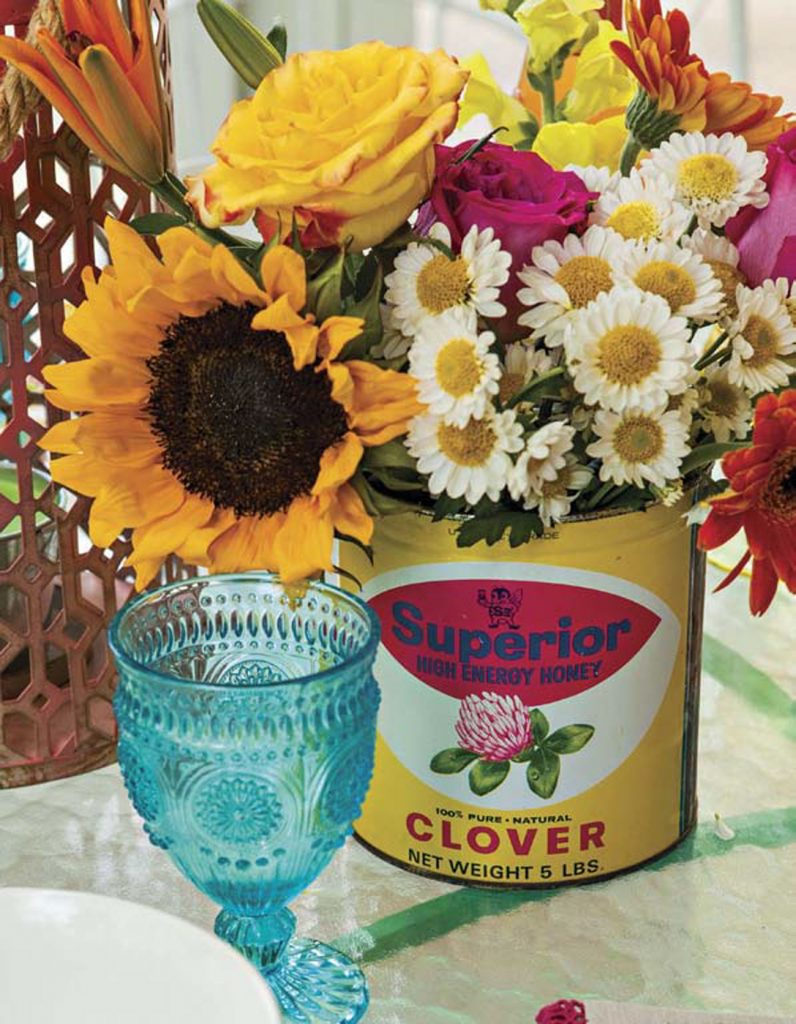 ADD A SPLASH OF COLOR
This patio area in the backyard blooms with vivid color, thanks to a patio table from a yard sale that Sharon spray-painted in Krylon's SeaGlass spray paint. The pom-pom napkins and plates were from World Market. Sharon filled a Superior honey vintage tin with flowers. Popping up in the patio area are sunflowers, Gerbera daisies, snapdragons, tiger lilies and roses.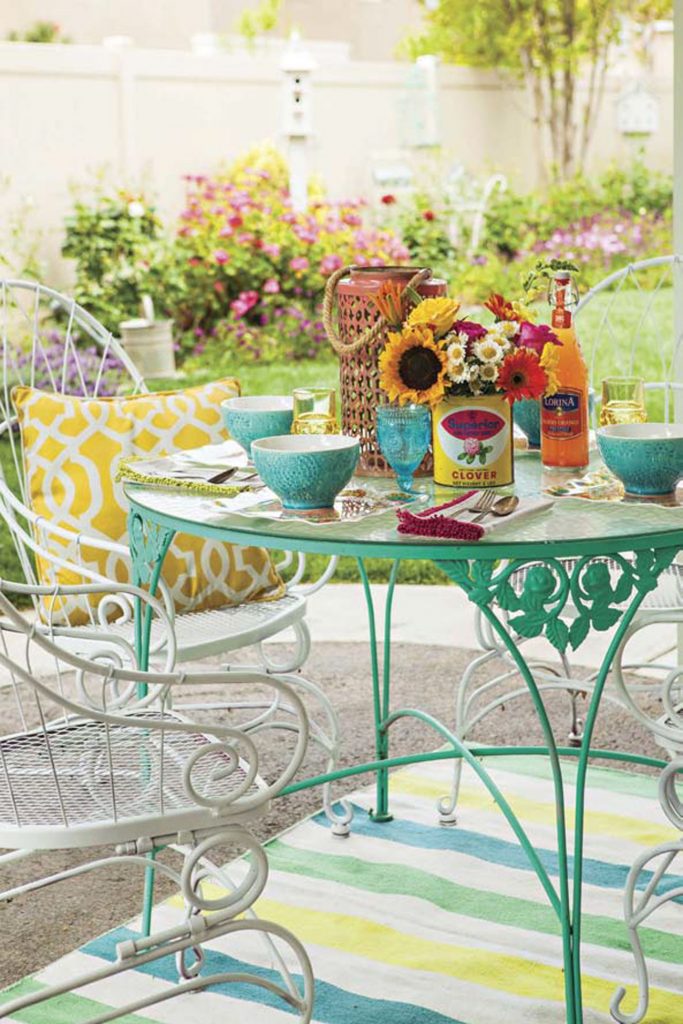 Plant smiles. Grow laughter. Harvest love.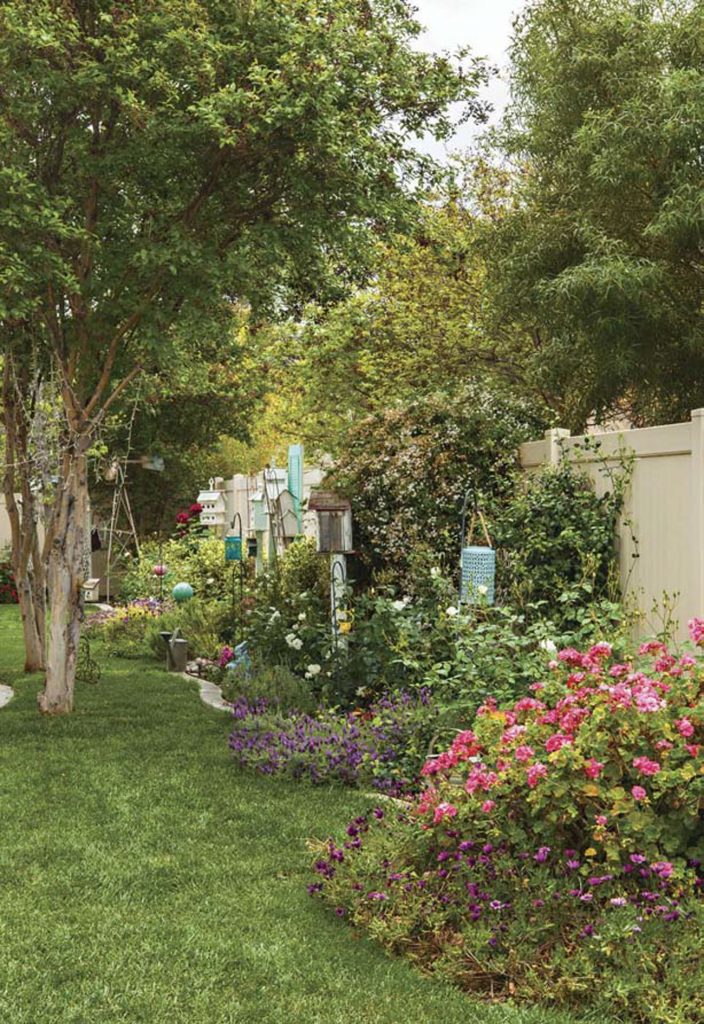 AN EVENING LOOK
If you like to entertain, don't forget about how your garden will present in the evenings. She hangs lanterns at various heights that light up the night. Behind the birdhouses are metal shutter doors she found at Treasures N Junk. "They provide a nice backdrop behind the birdhouse, and because they're metal, they hold up well outside," Sharon says. Crepe myrtle trees bloom in June in pink, purple and white; in the fall their colors turn to red and orange.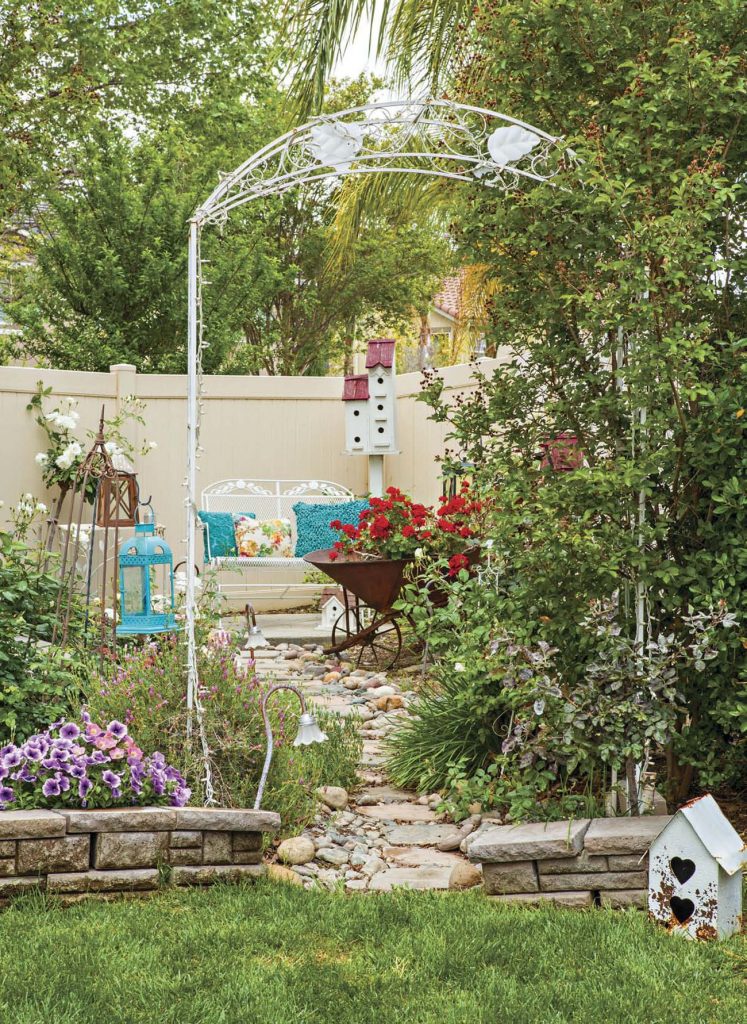 The front-yard garden includes a dry riverbed pathway. Sharon found the metal arbor at a home-décor store and added lights to it for evenings. She likes having a secluded spot in her vintage garden to sit in. The wheelbarrow was from her mother, and Sharon filled it with red geraniums. Sharon placed lanterns on the table and throughout the yard. She likes to put candles in them, hang them from posts and set them on tables.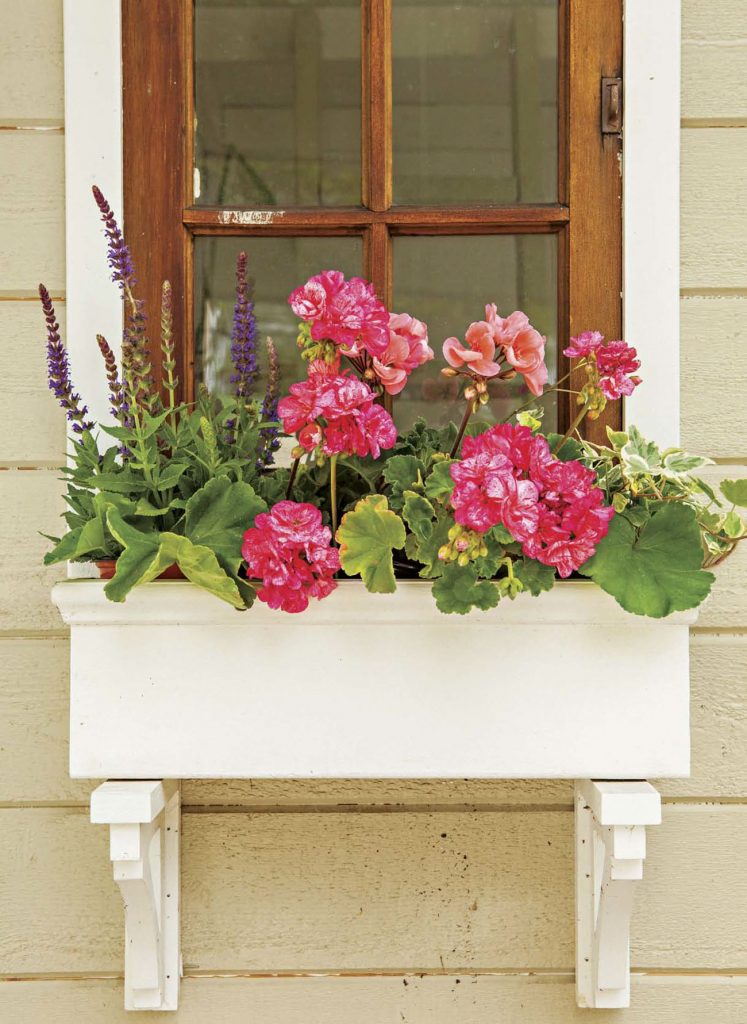 Looking for more vintage garden ideas? Check out this post on 10 Vintage Garden Decor Ideas.
Of course, don't forget to follow us on Instagram, Facebook and Pinterest to get your daily dose of cottage inspiration!